25 Very New York Things That Have Happened In New York City Since The Coronavirus Pandemic
"You are your safest sex partner."
1.
This woman with a sign on her back telling people to back the fuck up:
2.
This chart on the subway telling people they probably shouldn't be riding the subway: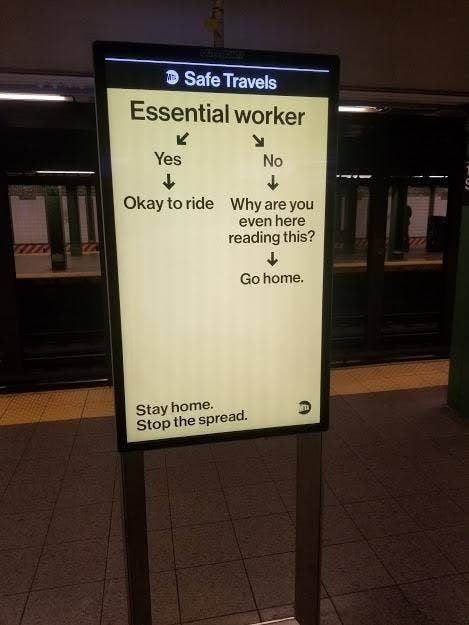 3.
All the people clapping at 7 p.m. every day:
4.
This doctor's reaction to hearing the 7 p.m. clapping:
5.
And this person yelling at someone who was singing out his window to "shut the fuck up":
6.
This banner hanging off of this building:
7.
This ambulance blasting Bill Withers:
8.
This person getting creative with their COVID protection:
9.
This guy getting creative with his face mask:
10.
These people playing Frank Sinatra:
11.
This neighbor:
12.
This NYC guide to sex during corona that basically tells you to just masturbate:
13.
This heart:
14.
This person screaming at people from his window to socially distance:
15.
This sign at a bodega:
16.
This bodega giving away free face masks:
17.
This bodega giving an update about their cat:
18.
This person giving away homemade face masks:
19.
This person who put a haiku on their fire escape:
20.
This sign of appreciation:
21.
This doctor going to work:
22.
The physician on the front line:
23.
This nurse saving lives:
24.
All of the retired medical professionals and mental health professionals who have stepped up:
25.
And lastly, this mattress: