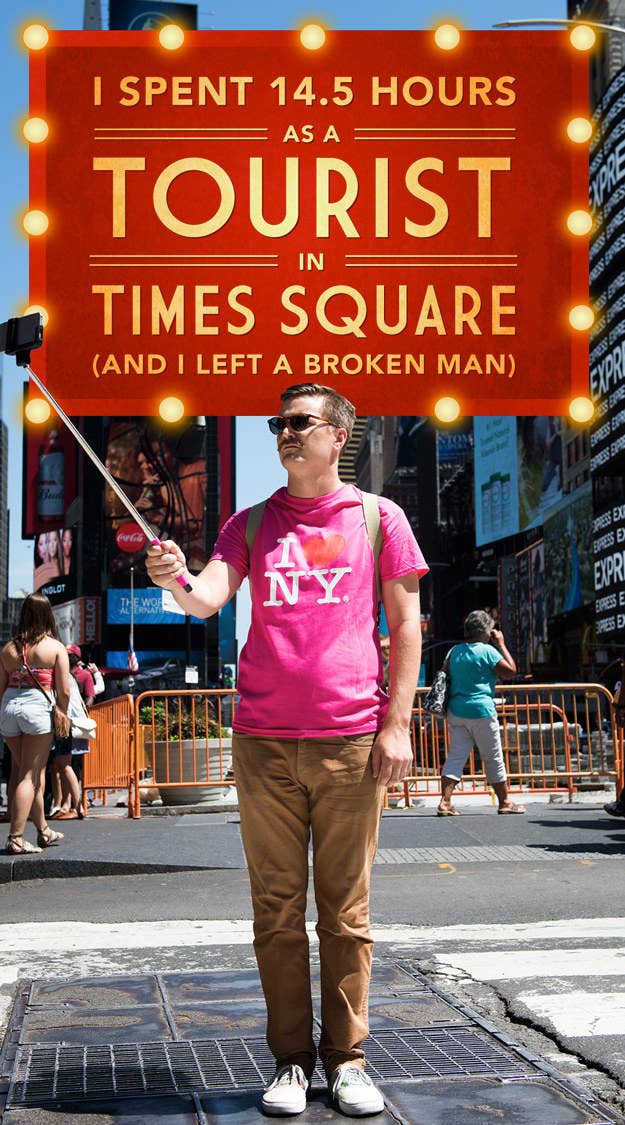 Hello there! My name is Matt, and like most people who live or work in New York City, I hate Times Square. However, I'm constantly baffled/intrigued by the hordes of tourists who flock to the well-lit hell, so I came up with an idea... And just to warn you, most of my ideas are bad.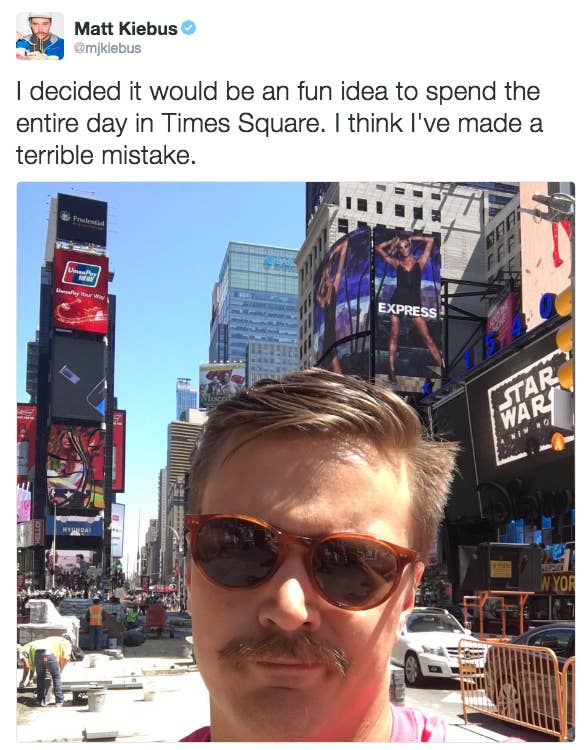 Nearly 60 million people are projected to visit Times Square in 2016 — 13 blocks of billboards, generic Irish bars, chain restaurants, and stores you can find in any mall — which makes it one of the most-trafficked tourist attractions in the world.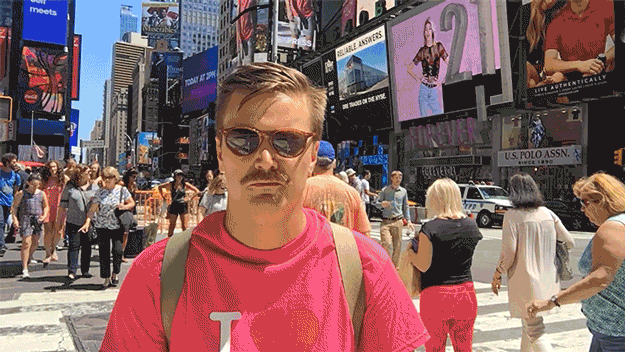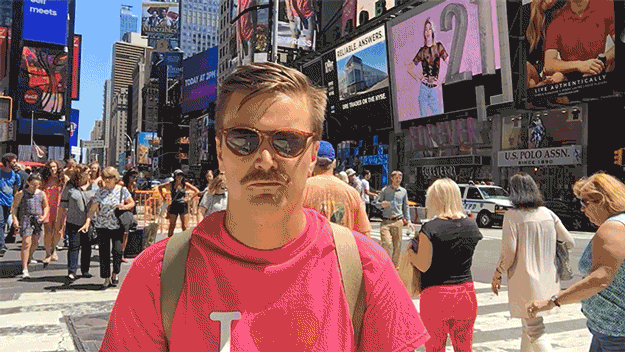 I woke up late and sweaty, stared at the ceiling, did laundry, watched Netflix, didn't fold said laundry, and then took the wrong subway to Rockefeller Center instead of Times Square. My brain was trying to abort, and I had the anxiety of someone who knew they were making a mistake, but drove past the last U-turn miles ago.
My original idea was to spend 24 hours in Times Square, but BuzzFeed and my girlfriend shot down that idea because of safety and mental health concerns. So I told everyone I was spending eight to ten hours in this hell — but I lied. I planned on staying there as long as my eyes stayed open and my legs could prop me up.
Like I said — I specialize in bad ideas.
As soon as I got to Times Square I purchased the cheapest and most obnoxious "I <3 New York" shirt I could find — bright pink with the ironed-on letters already wilting away.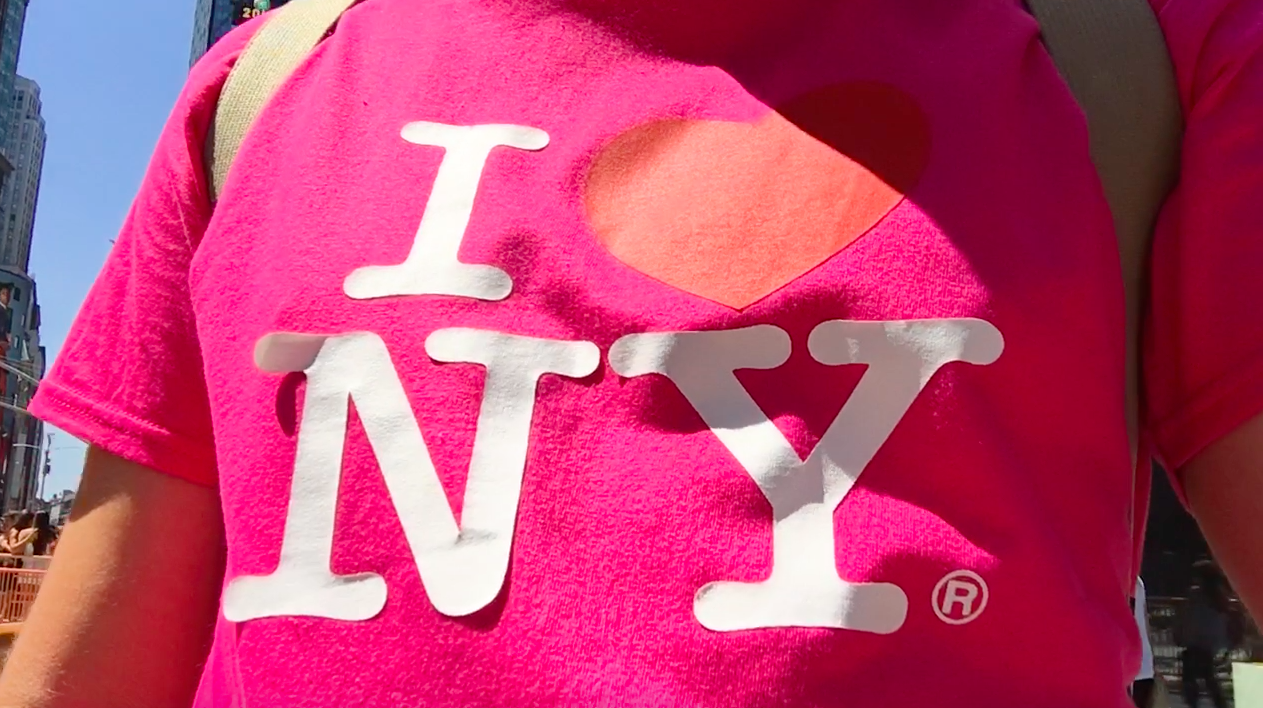 After trying to sneakily take pictures of the Naked Cowboy and those people on stilts dressed like the Statue of Liberty, I sat on the stairs and contemplated what I'm doing with my life.
I walked over to the Richard Rodgers Theater to catch the crowds flocking to see the Hamilton matinee...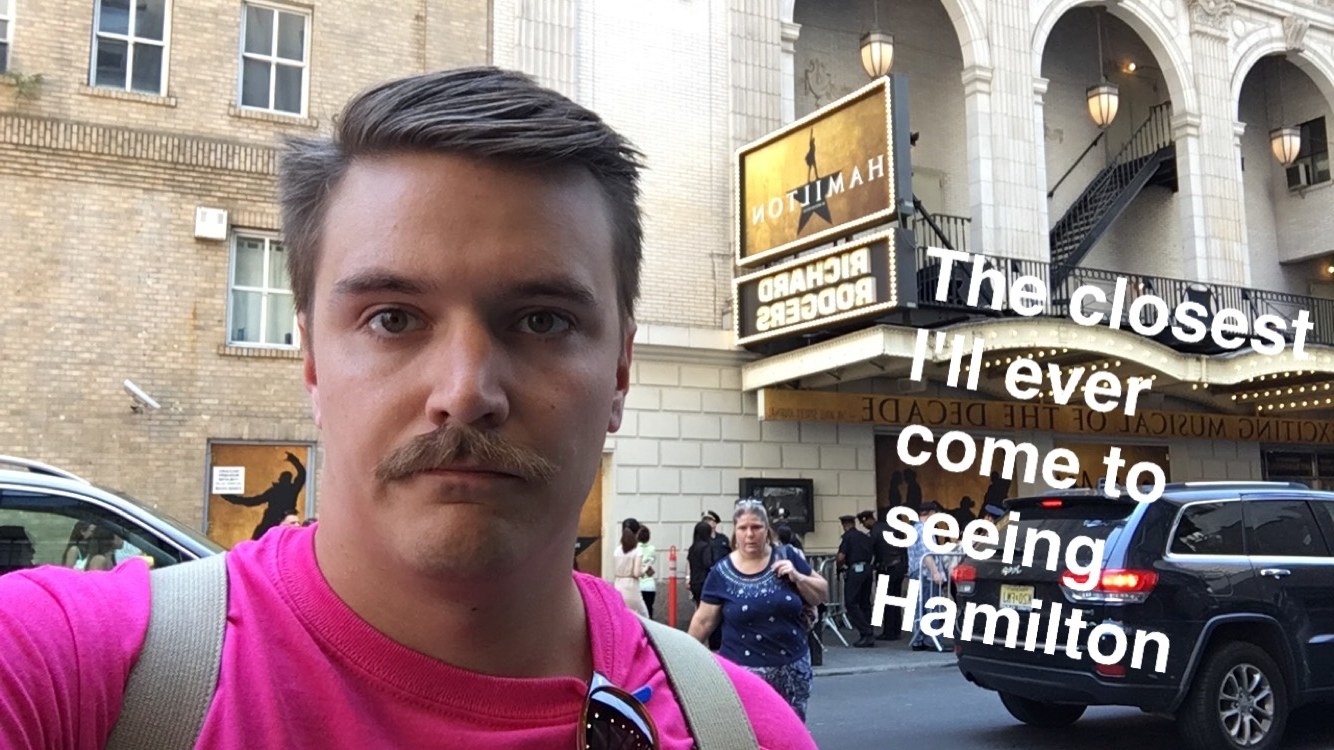 And almost got sucked in by the Church of Scientology across the street.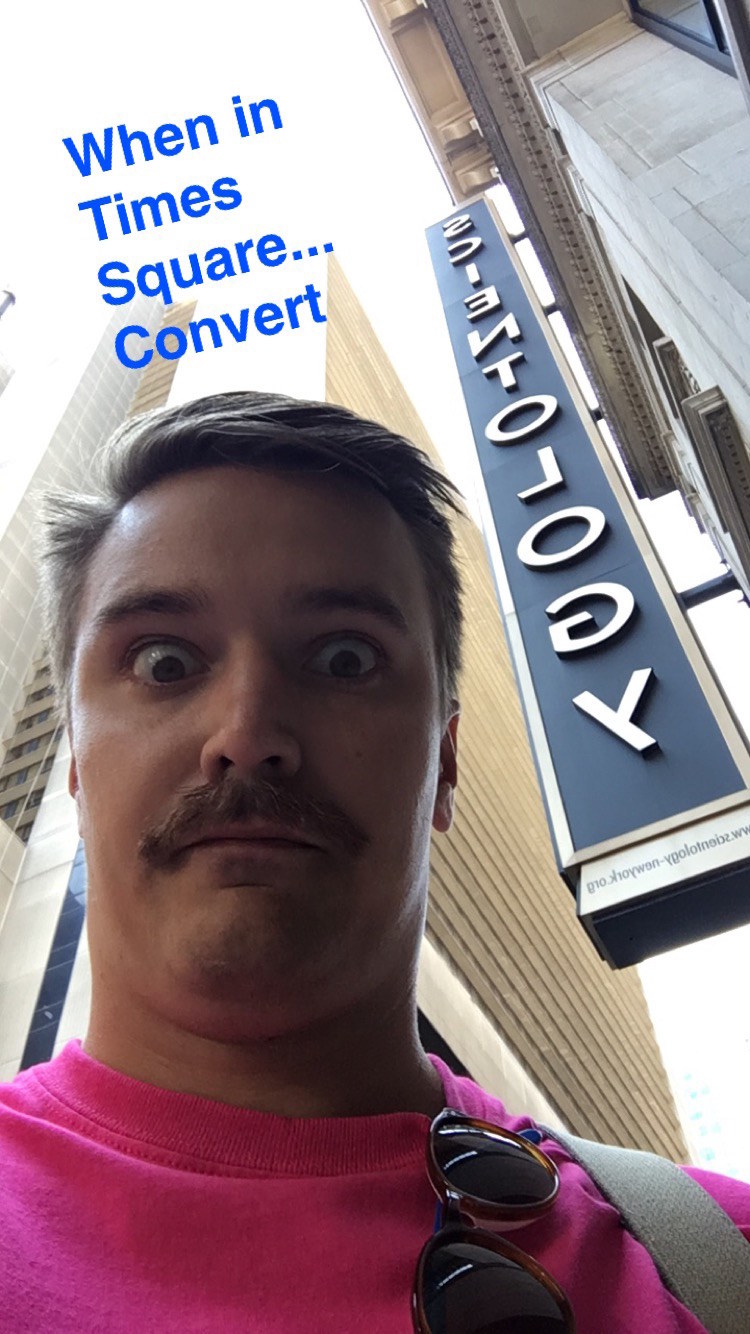 It was approaching lunchtime, and I'll admit it wasn't easy to choose between Applebee's, TGI Friday's, Olive Garden, Ruby Tuesday, Hard Rock Café, Chevy's, Dave & Buster's, or Bubba Gump Shrimp Co., but Red Lobster was calling my name.
So I ordered the Ultimate Feast, which includes garlic shrimp, breaded shrimp, a lobster tail, crab legs, and broccoli, to keep you honest. I proceeded to spend THREE HOURS in Red Lobster.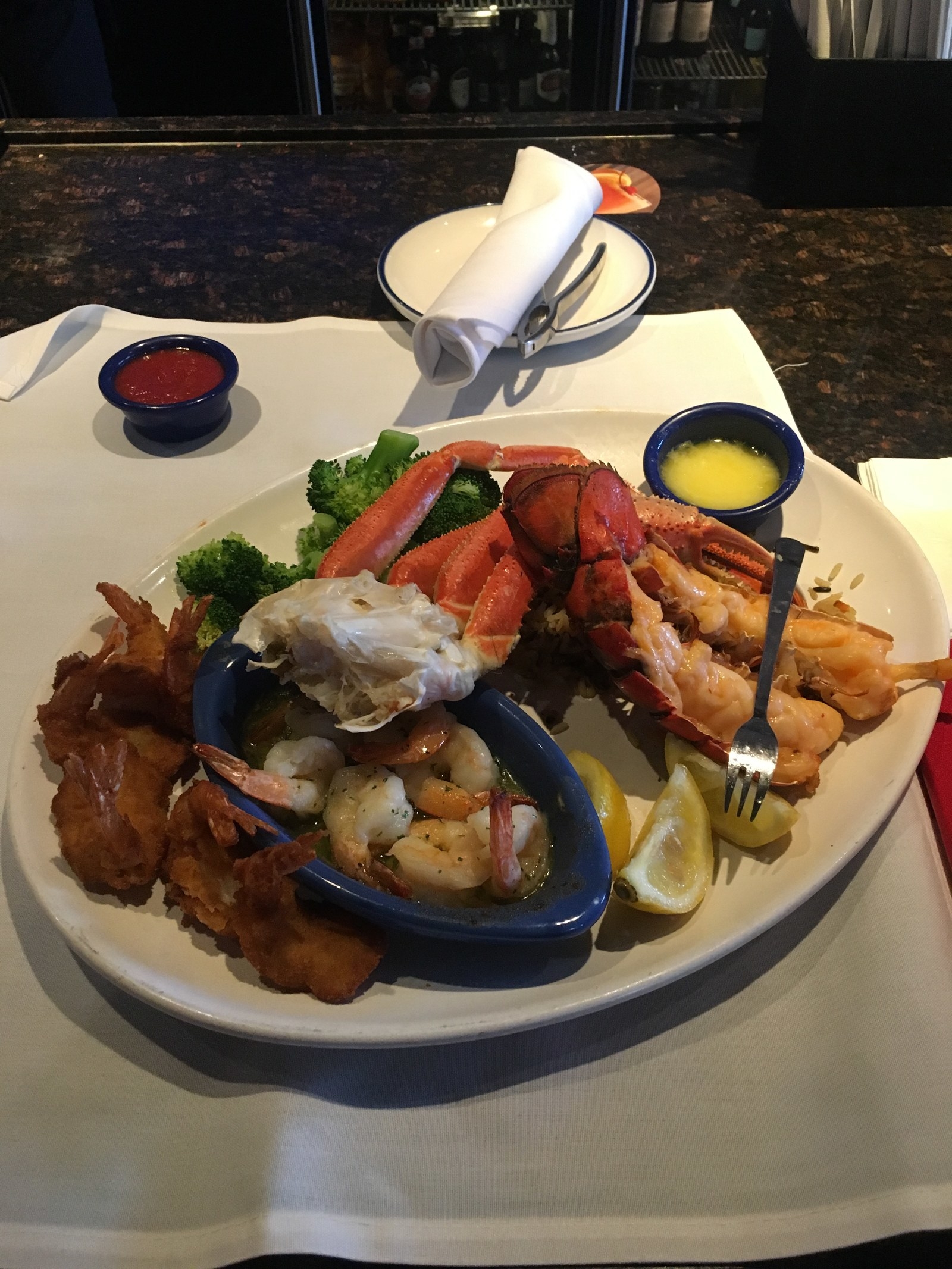 I even asked my bartender to take my picture. Look how happy I am!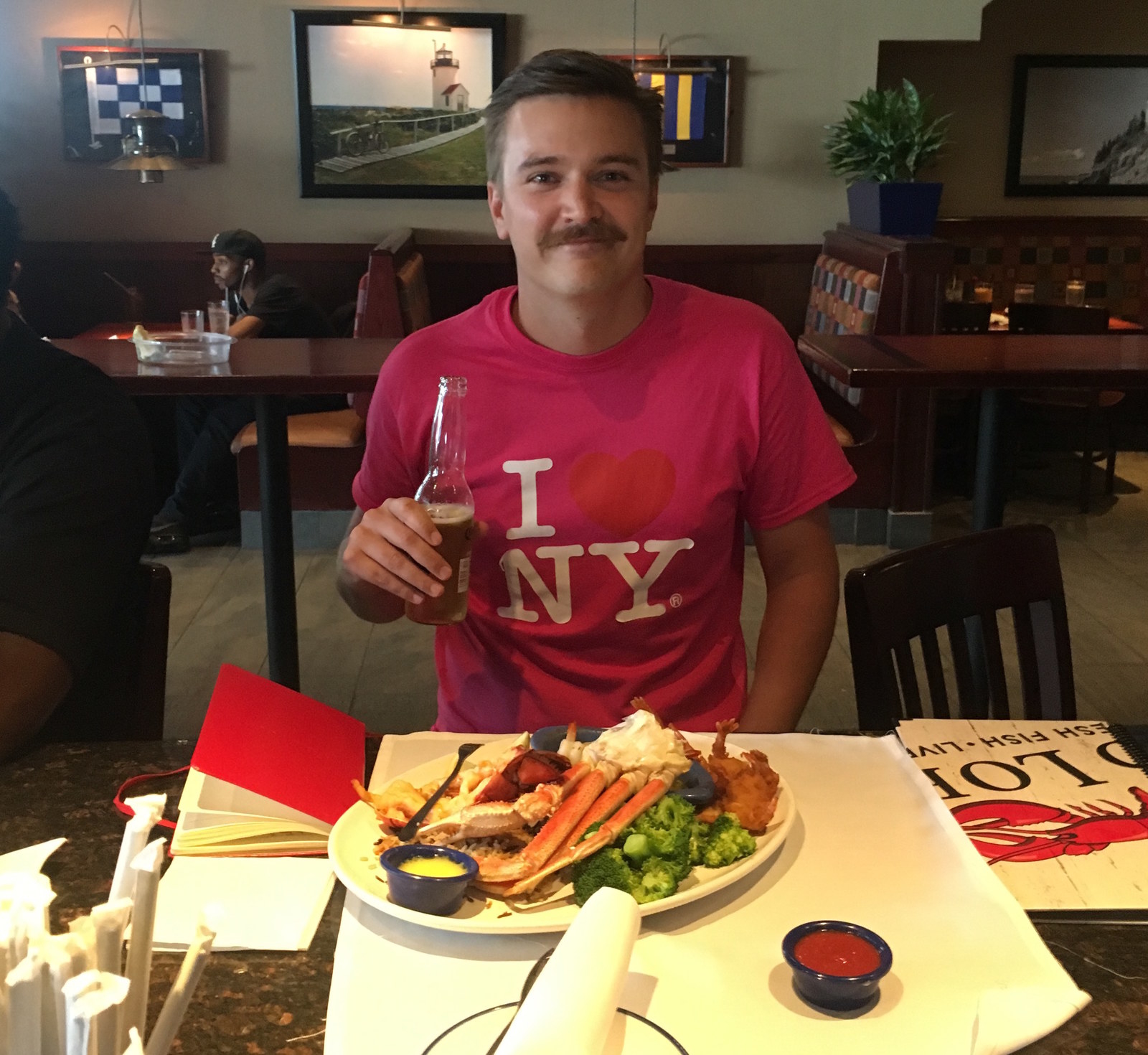 It wasn't really in my budget to see a Broadway show, so I decided to stroll down 42nd Street and hit the next best thing: that place with the creepy wax figures of celebrities, Madame Tussauds!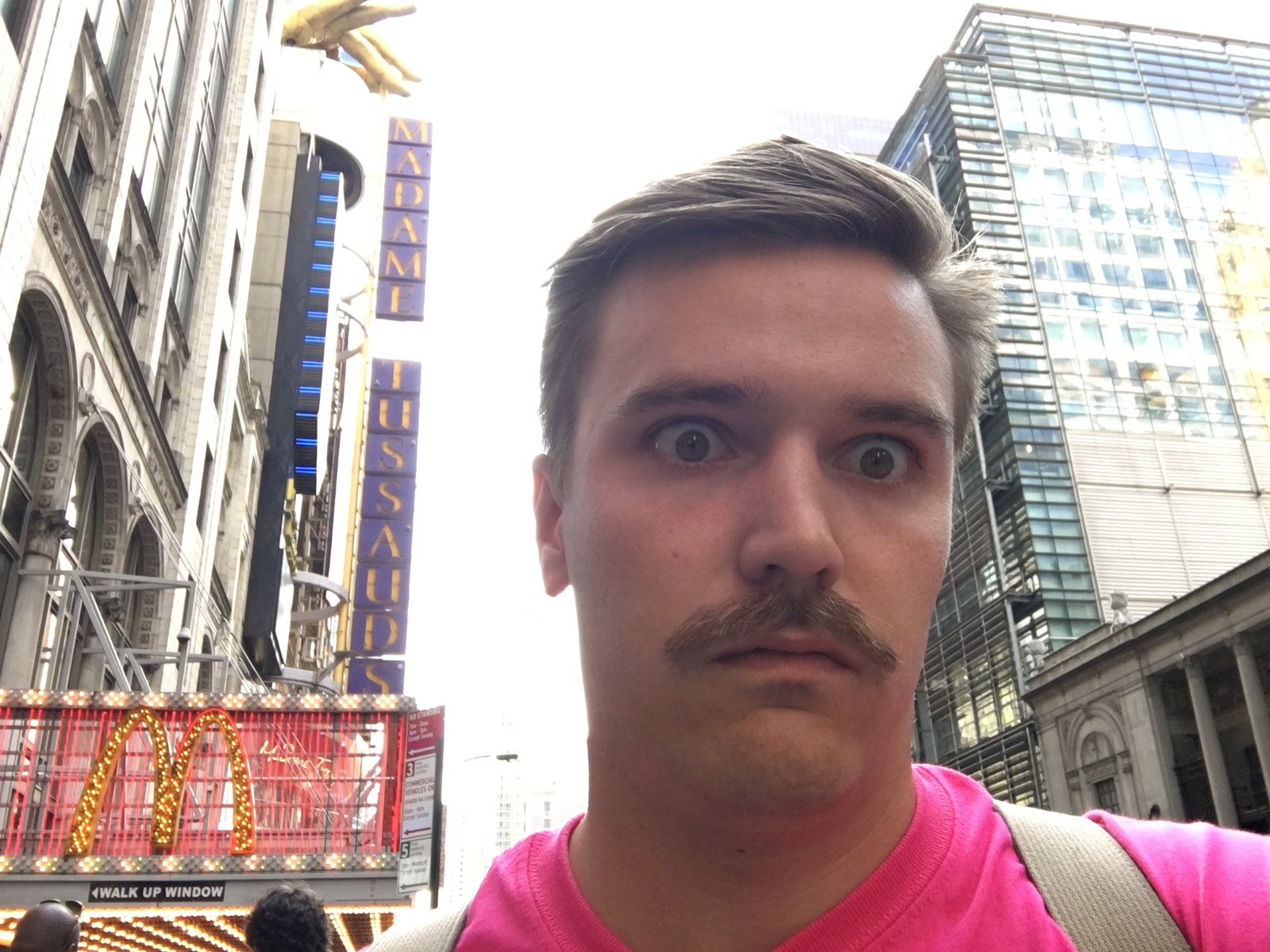 I found myself apologizing for bumping into wax figures of celebrities who look like they died, were embalmed, and propped up for our viewing pleasure.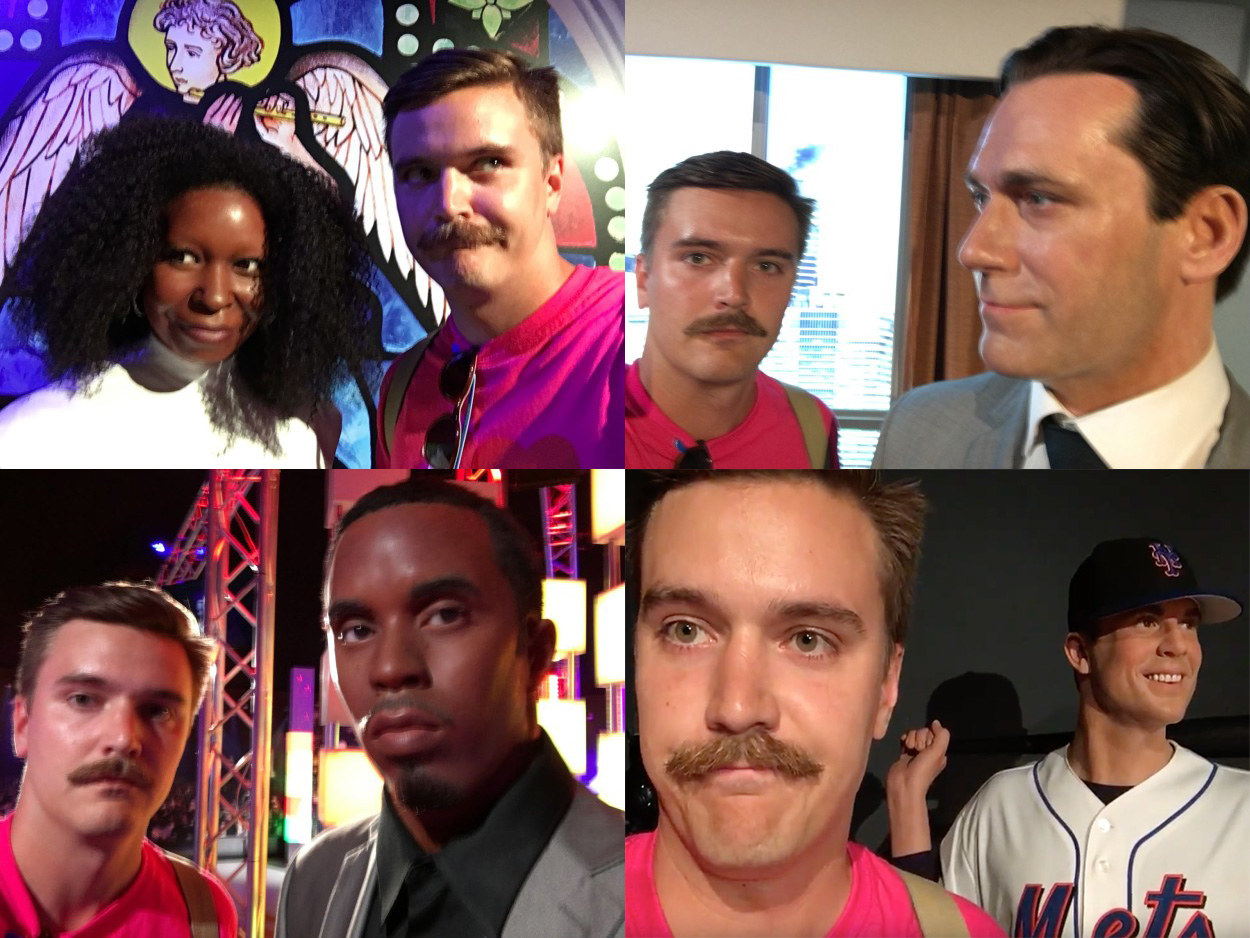 But if there was one thing worth the price of admission, it's this gem near the exit.

By the time I got back out into the not-so-fresh air, the after-work crowd had mixed with tourists to make sidewalks nearly impassable.
If there is one haven in Times Square, it just might be Strand's pop-up stand. They're doing the Lord's work by providing a tiny respite from this hell.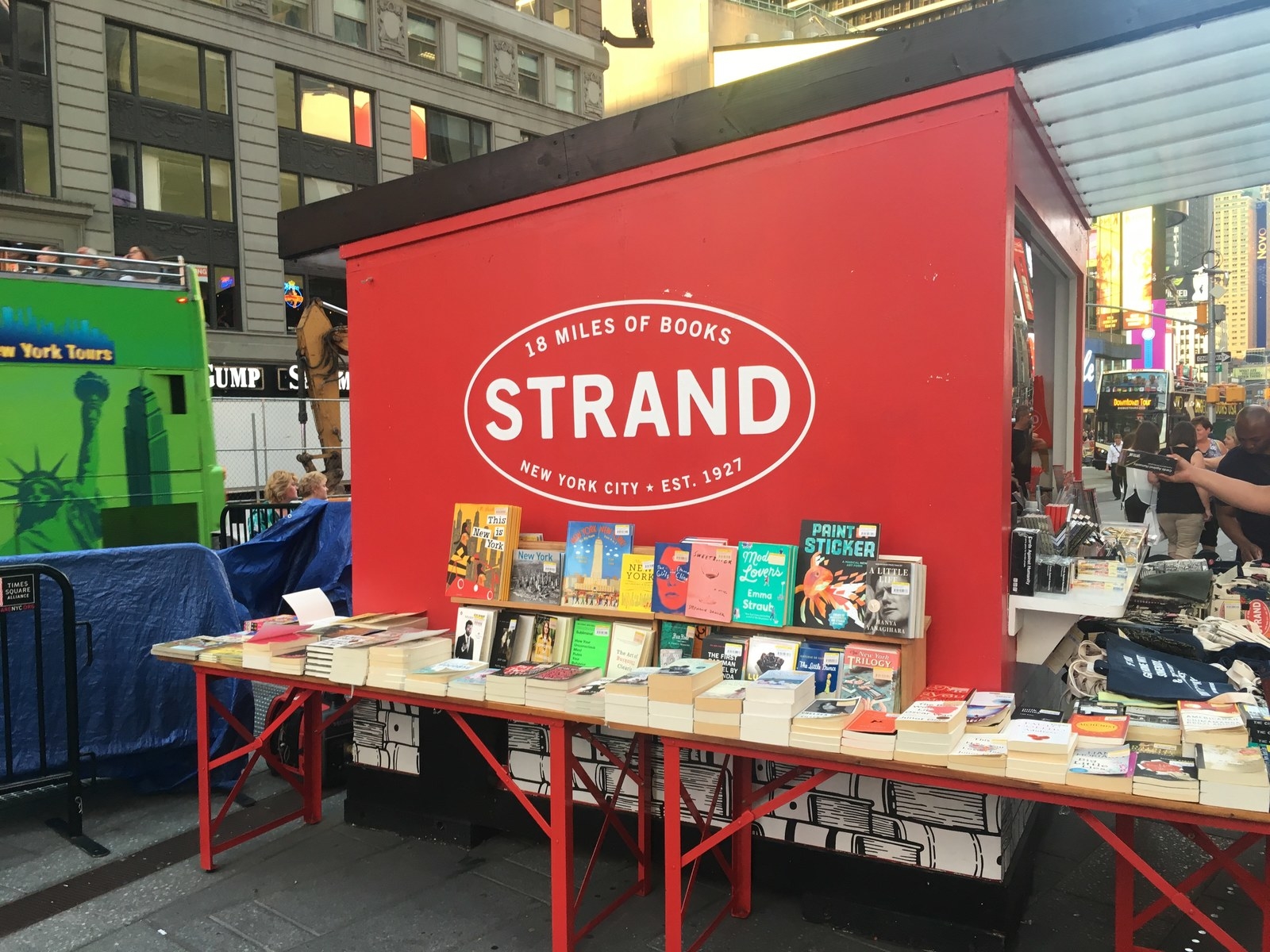 After eight hours I was starting to feel the fatigue, boredom, and frustration really kick in — but I knew I needed to power through.
As I sat and watched five Elmos and the world's creepiest version of Heath Ledger's Joker from The Dark Knight, I seriously contemplated going home early.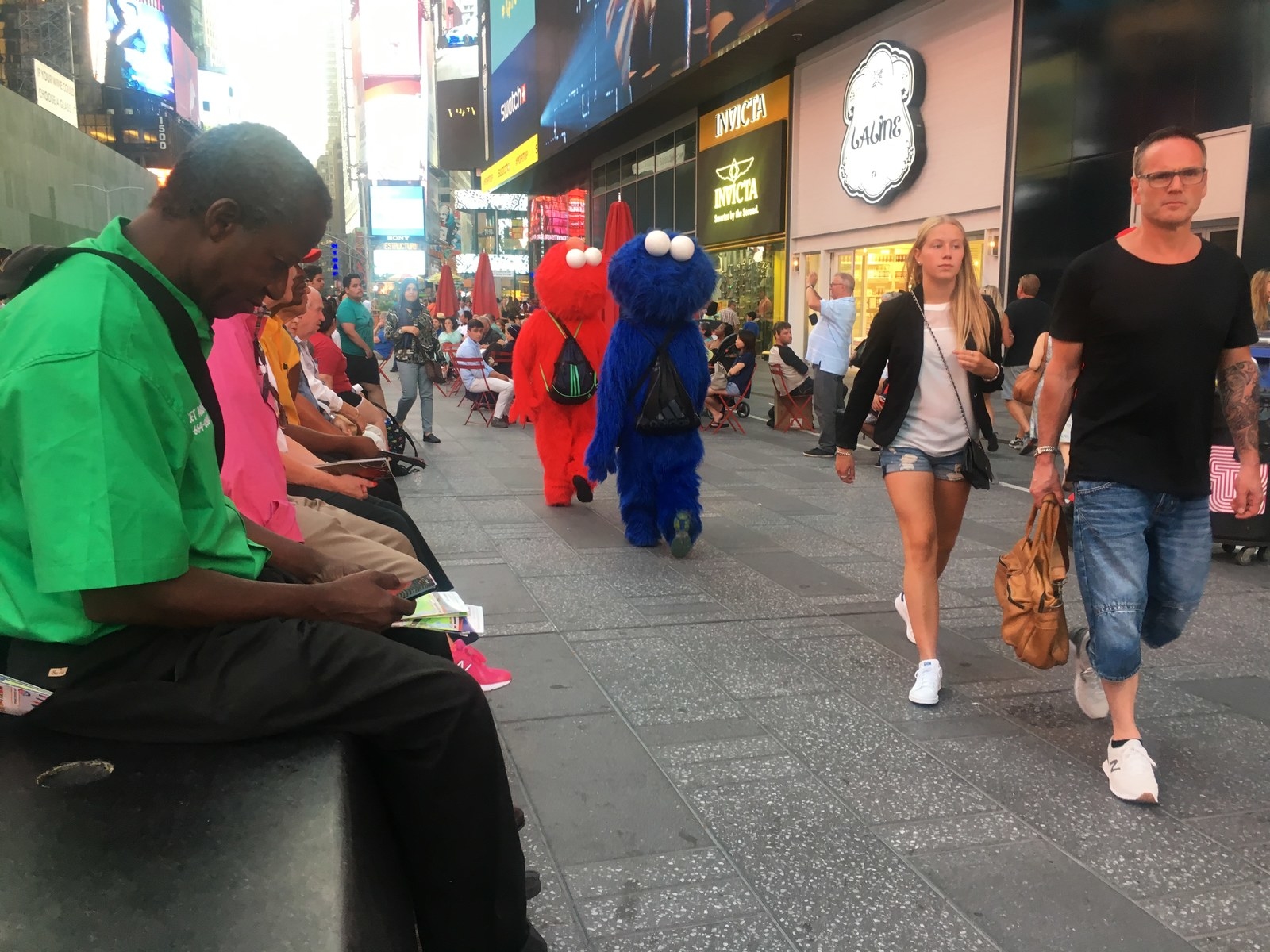 AND THEN I FOUND OUT I COULD GET MY FACE ON A BILLBOARD FOR FREE!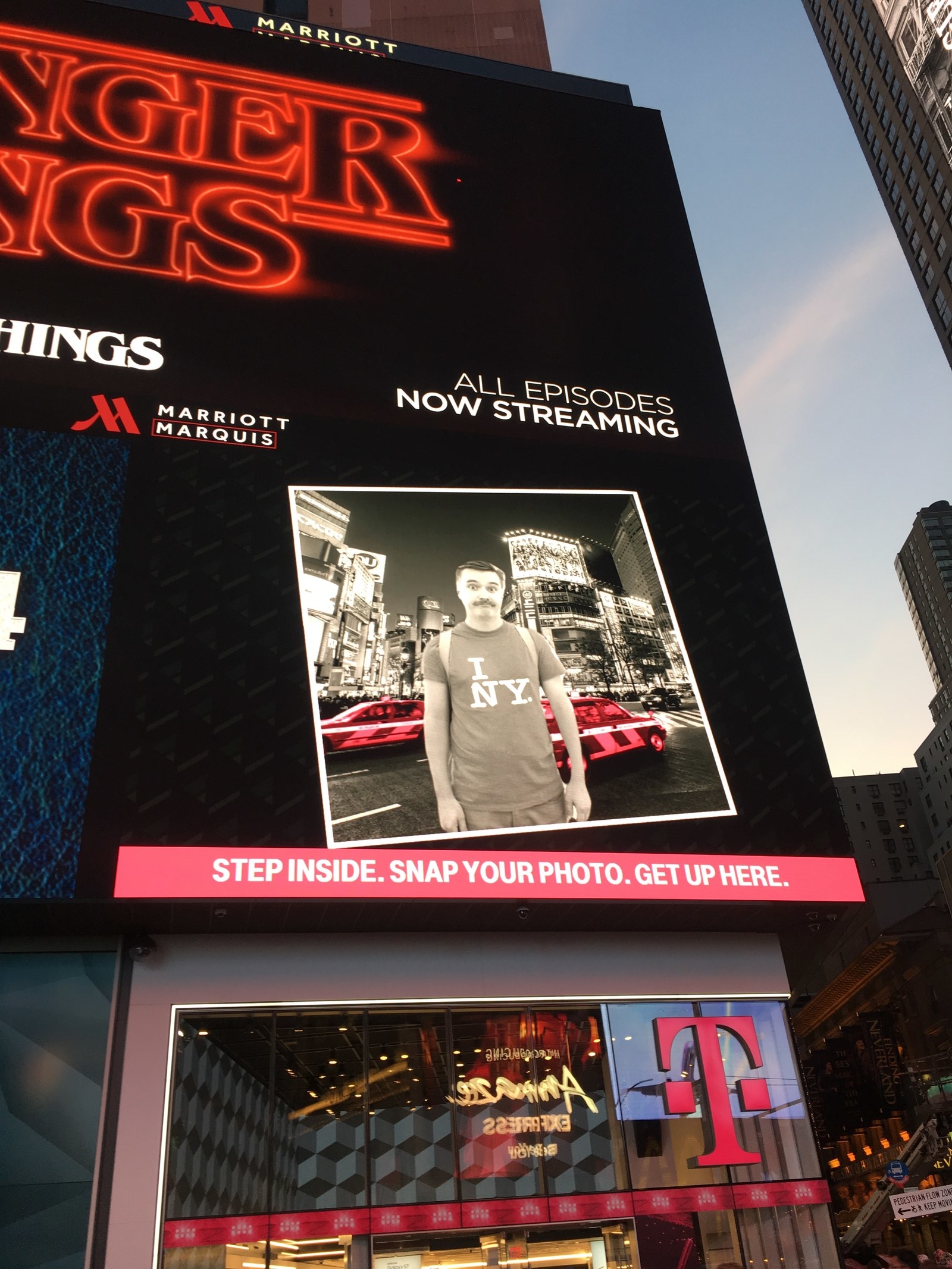 After the sun set, I knew there was more to explore and more misery to endure...so I entered the land of endless and pointless souvenirs.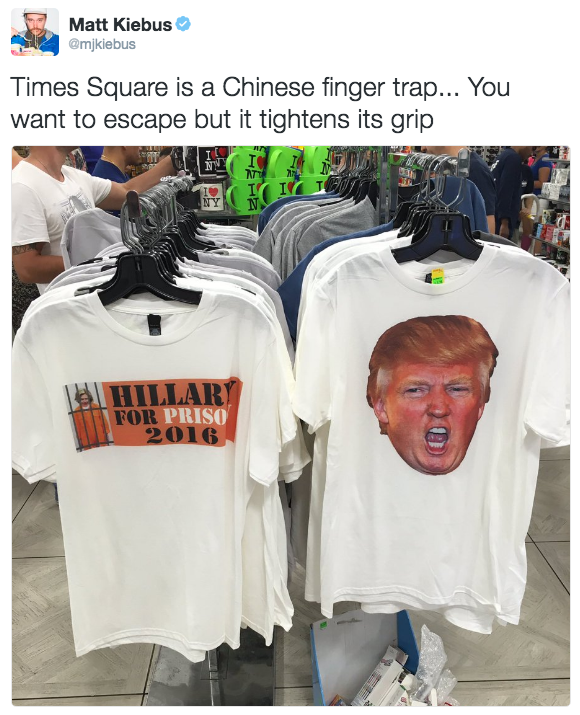 When I escaped souvenir hell, the first thing I saw was a horse standing in its own shit, which was exactly how I felt at that moment.
Around 9 p.m. I knew it was time for my second chain-restaurant meal of the day, and after momentarily considering doubling down on seafood and going to Bubba Gump Shrimp Co., I stumbled on Buffalo Wild Wings and I'm happy I did.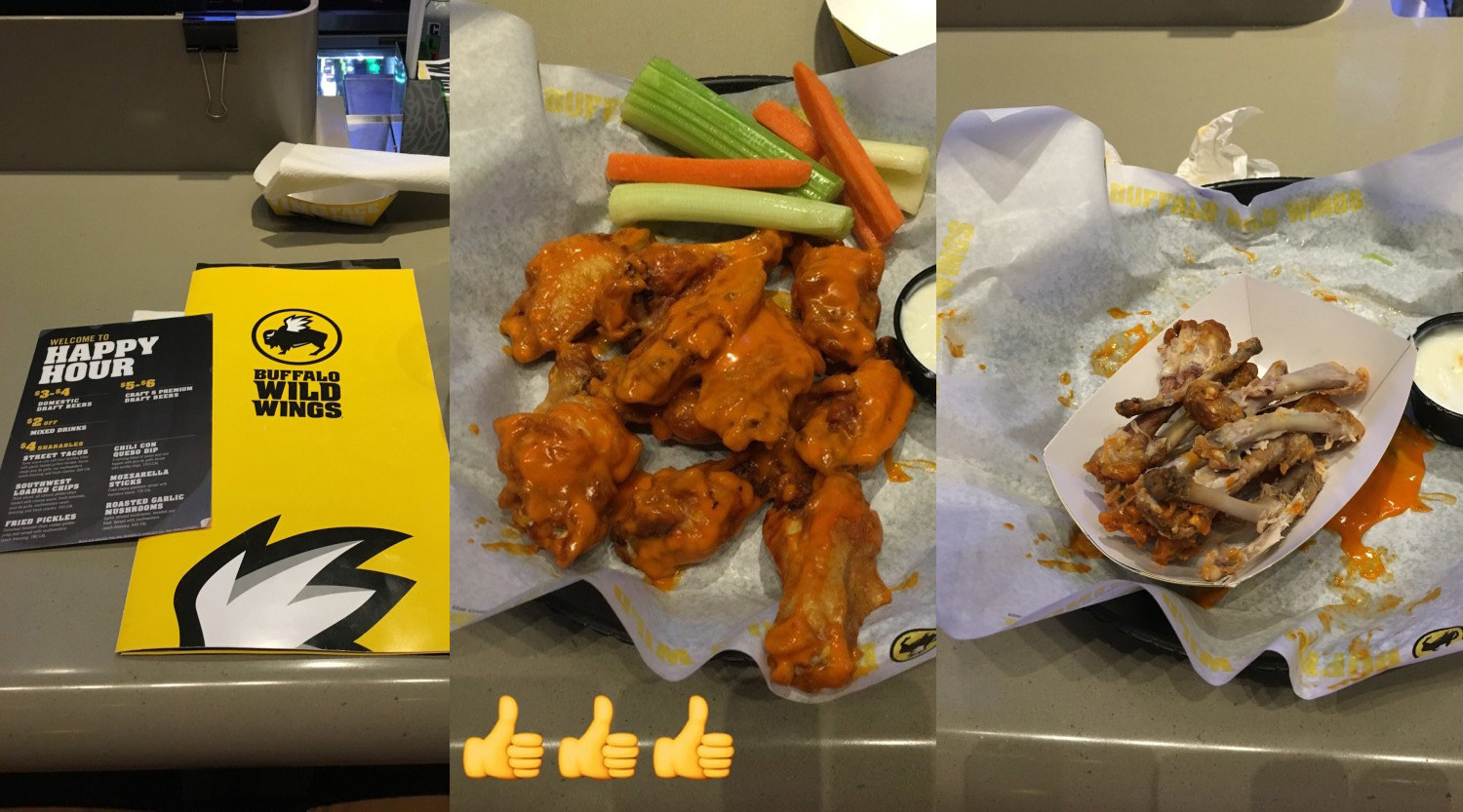 But Times Square wouldn't let me enjoy this moment of happiness, as I was reminded that I'm getting old and death is near.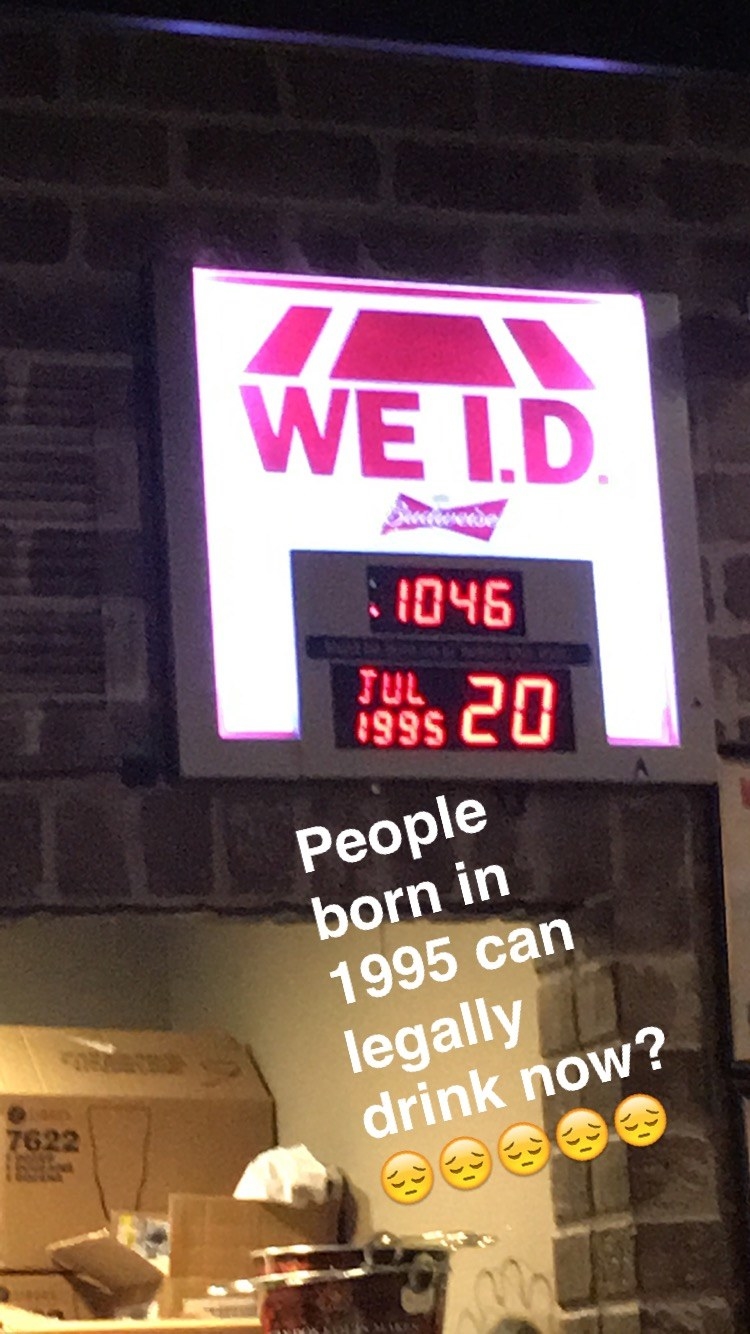 By 11 p.m., Times Square was about twice as crowded as it was 12 hours earlier. The stairs were almost too crowded to comfortably relax and digest my wings, so I started walking in circles around the hellscape.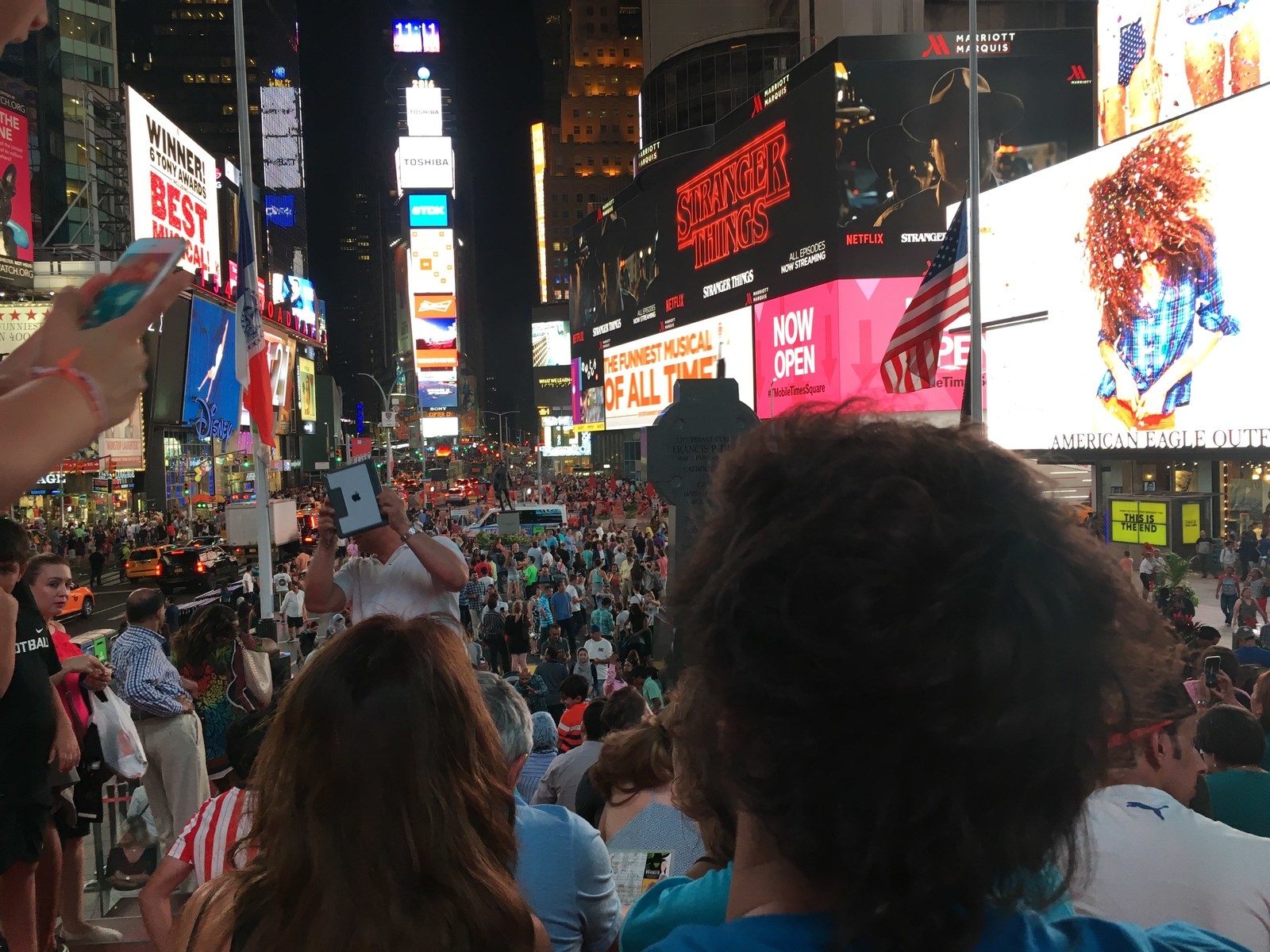 This day had revolved around where I could charge my phone and where I was going to pee next.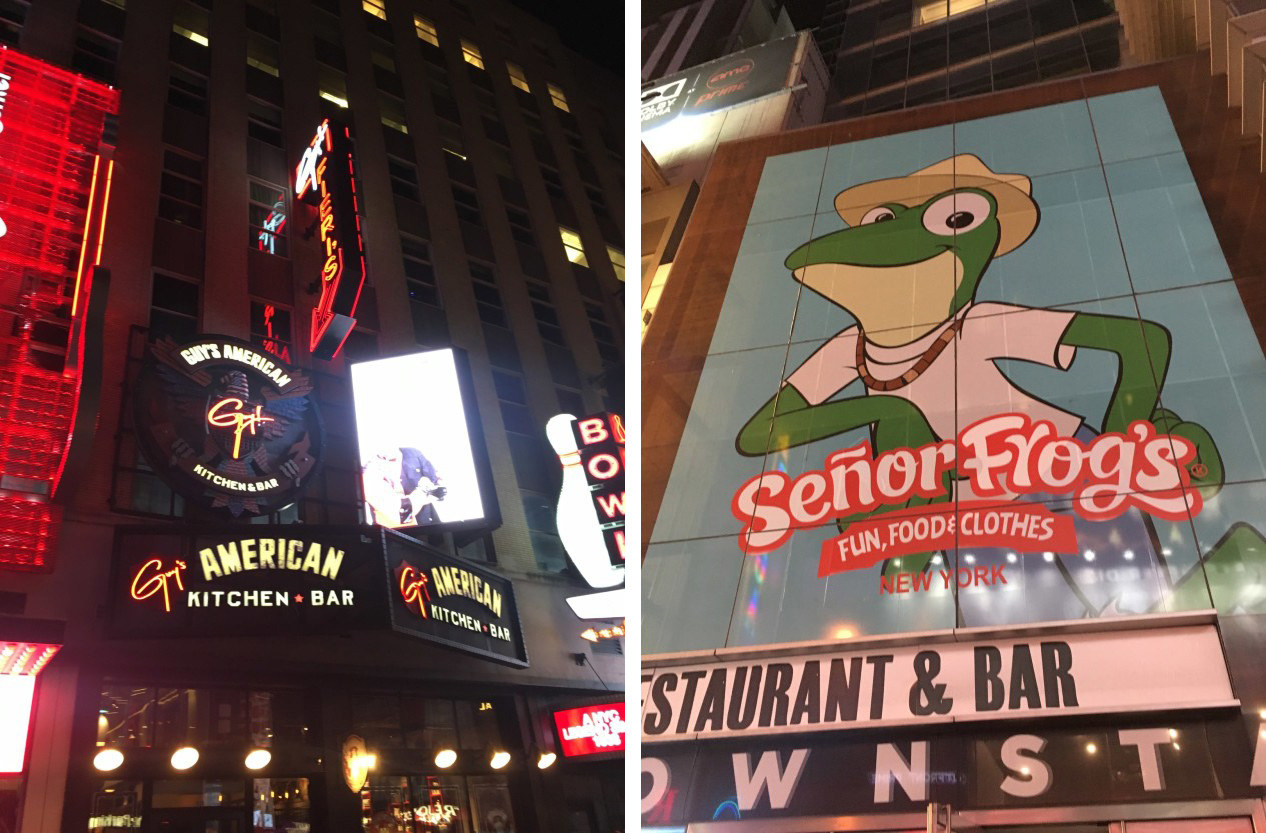 At this point I only wanted to make it past midnight. I just needed ways to kill time.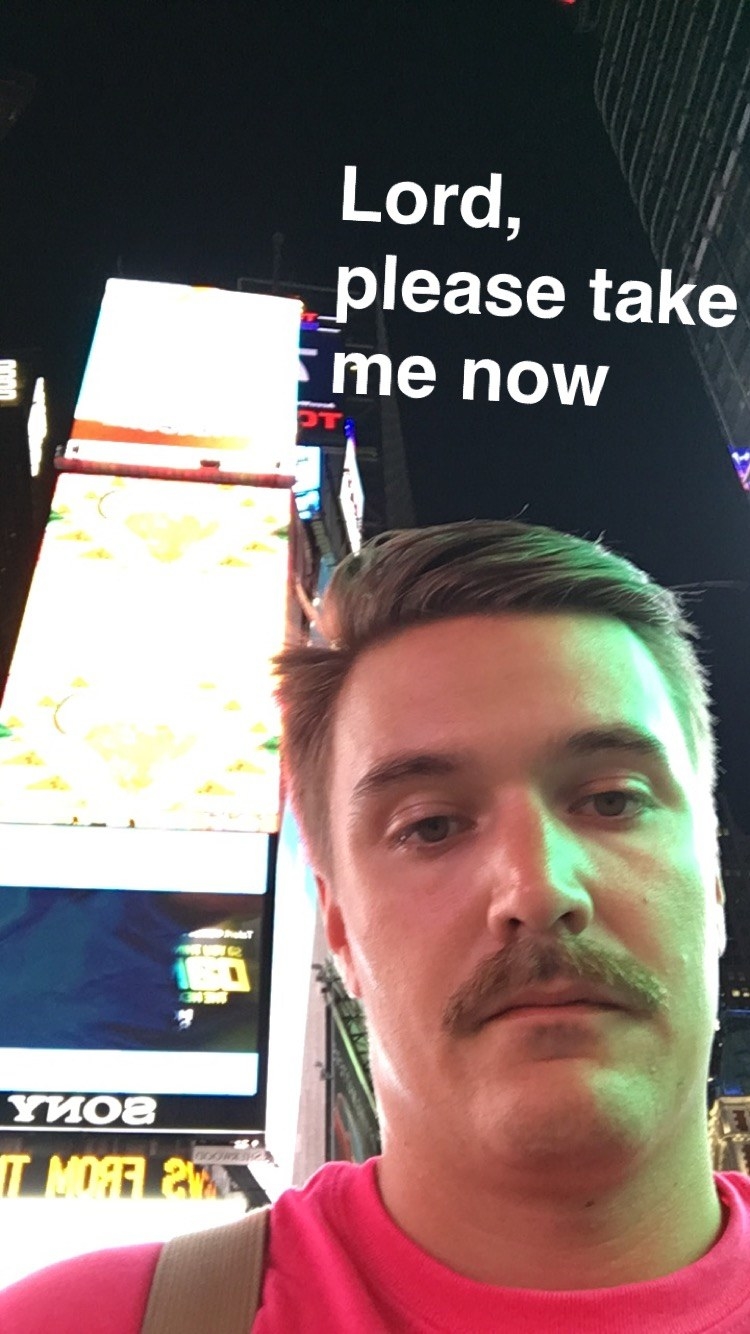 And I took another obnoxious time-lapse video in the middle of a crosswalk.

I felt like this puddle. This puddle was me.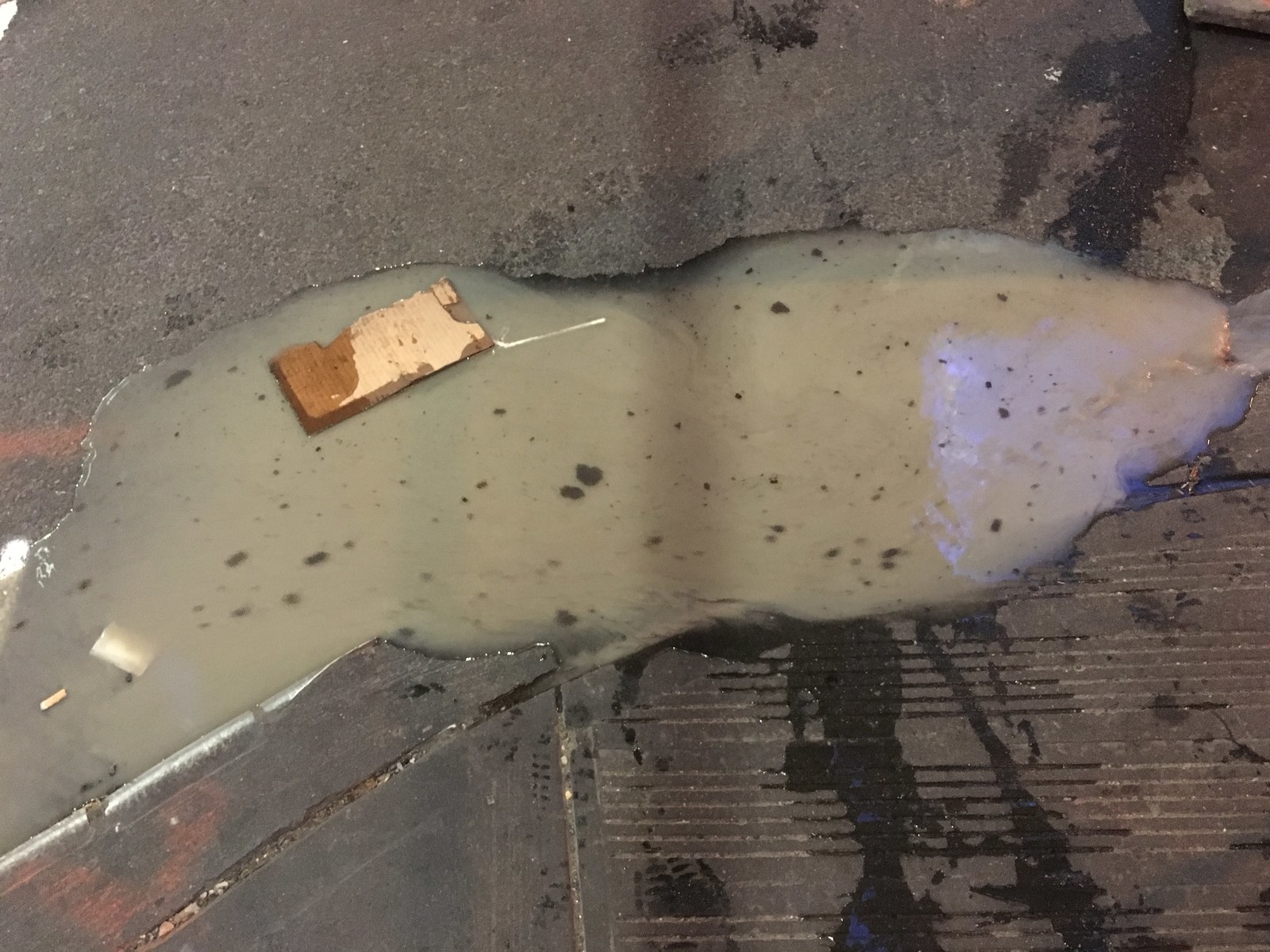 I walked into a generic Irish pub and tried not to throw up as the drunk and horny middle-aged couple next to me downed Irish car bombs.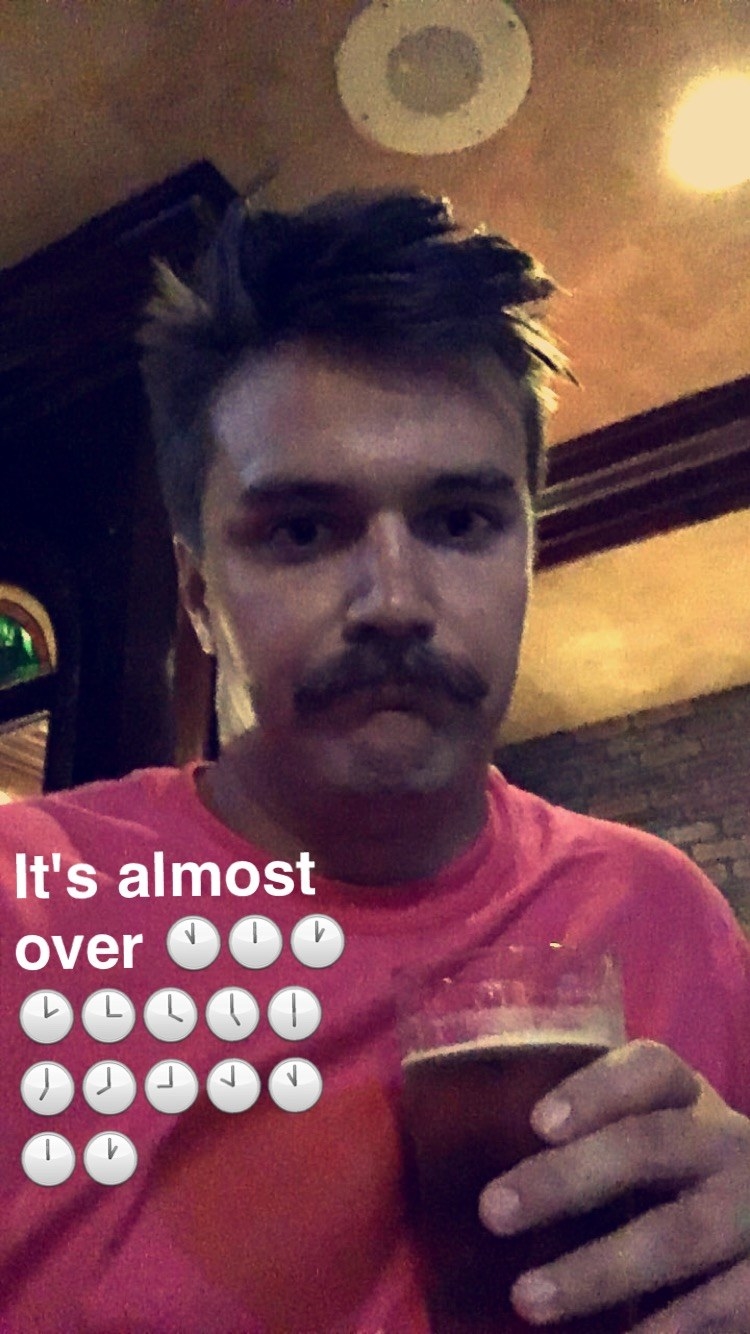 By 1 a.m., the stairs — my stairs — were closed, but people were still milling about. My girlfriend had been telling me to come home for hours, and my stubbornness was wearing down.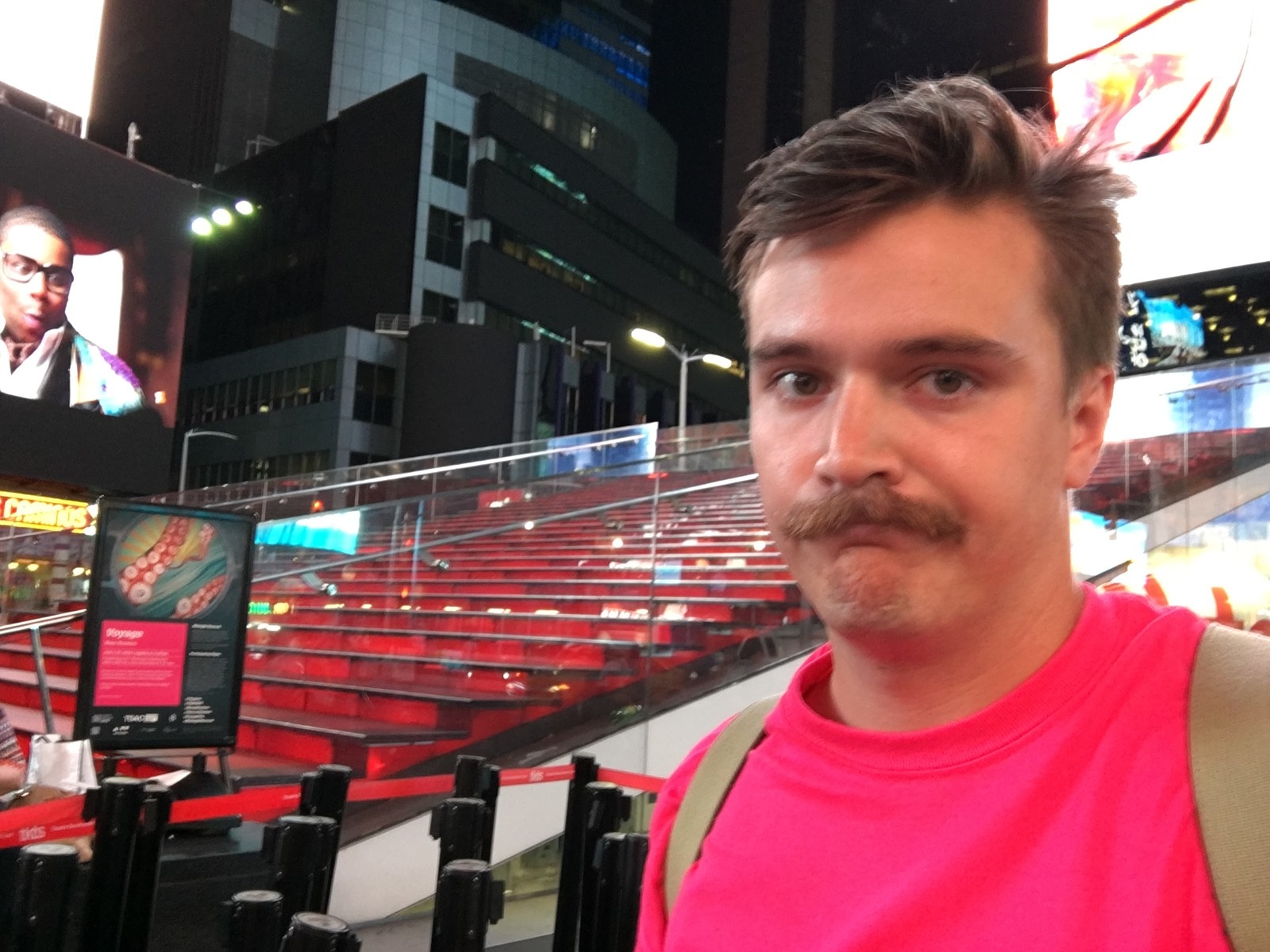 Times Square sucked out my soul and most of my happiness.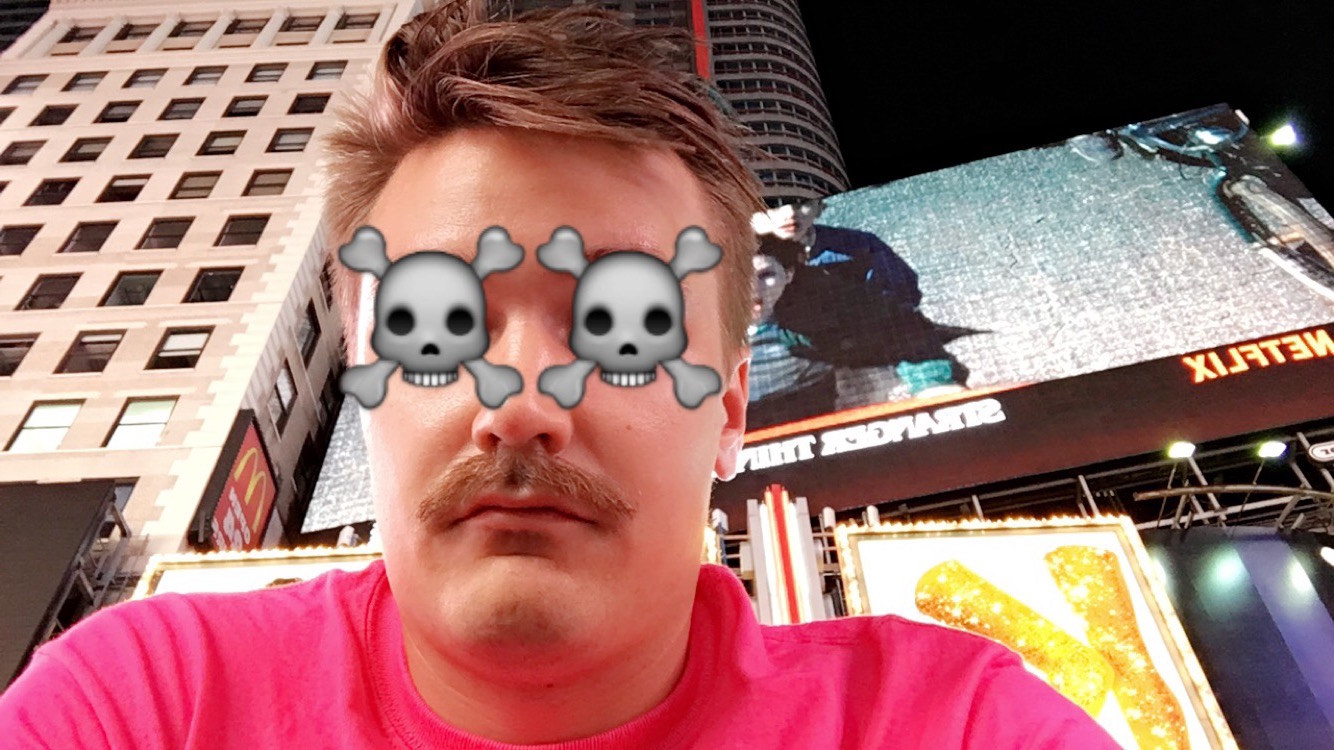 I never came to understand why tourists flock to it. I probably never will.