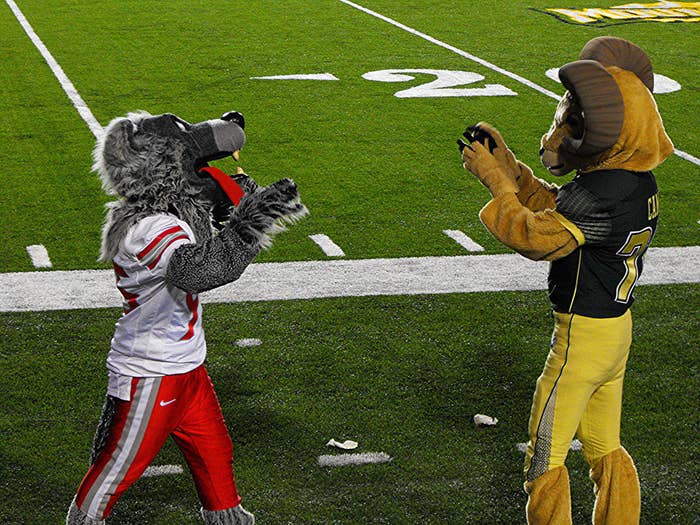 I'm not exactly the biggest fan of college basketball, but March Madness is a huge deal.
Rather than refer to the NCAA Championships as "the sports" or ridiculing people for being fans of something (two responses I find rather distasteful), I joined the fun by coming up with my own March Madness bracket — based on which mascot would win in a fight.
It's time to end things. Now that I've narrowed the list down to the final eight, who will win?
Southern Conference - Maryland Terrapins v Temple Owls
In the age old question of "How many licks does it take to get to the center of a Tootsie Roll Tootsie Pop", the pasty-white animated child asked a number of animals, including the tortoise.
What did the tortoise recommend? Asking Mr Owl. Who was the only one to take the initiative and count out the answer.
The Owls will take the initiative in this block, leading to a knock-out. It's as easy as 1...2...3.
Winner: Temple Owls
Western Conference - Duke Blue Devils v Oklahoma Sooners
France's special forces and Oklahoma's homesteaders both operated at approximately the same time. However, the Blue Devils received considerably more training than the Sooners Some training is more than none, right?
As much as it pains me to see Duke make it into the Final Four, Duke is making it into the Final Four.
Winner: Duke Blue Devils
EASTERN CONFERENCE - North Carolina Tar Heels v Xavier Musketeers
Alexander Dumas' Three Musketeers took place in the 1600s. The Tar Heels were active over 200 years later. The difference in equipment dividing these two groups of soldiers puts the Musketeers at a severe disadvantage.
Plus, Alexandre Dumas was kind of a jackass. He erased Auguste Maquet's contributions from the records. In a play dramatizing the trial attempting to hash out ownership, Dumas' character says,
When [my readers] open one of these books, do you know what they find there, Maquet? My heart. Mine. I can die tomorrow, my heart will continue to beat for centuries...when the reader closes the book, I am part of his life. Forever. Me and me alone....That's what makes me the author. And who cares by what means, who cares that people learn that I needed a Maquet?
In short: Dumas is a dick. Musketeers lose.
Winner: Maquet North Carolina Tar Heels
MIDWEST CONFERENCE - Purdue Boilermakers v Middle Tennessee Blue Raiders
The Boilermakers have put on a good show to make it this far, but unless they channel the powers of Hesphaestus, they won't be able to bridle the rampage of a Pegasus, no matter how blue it might be.
Winner: Middle Tennessee Blue Raiders
Temple Owls v Duke Blue Devils
The owl is a learned beast, and you'd think it'd be wise enough to avoid this fight altogether. For some reason, that didn't happen, and here we are.
Owls are used to tackling smaller prey, like rats. And as maligned as Duke sports teams may be, they aren't rats.
Winner: Duke Blue Devils
North Carolina Tar Heels v Middle Tennessee Blue Raiders
I'm tired of talking about Pegasus all the time. And I refuse to talk about My Little Pony for a fight. So what's that leave me? That's right, Yu-Gi-Oh!
In addition to being a mythical beast, Maximillion Pegasus is one of the main antagonists in the popular cartoon Yu-Gi-Oh! He spent lots of money to get a really powerful deck of cards so he could beat other people and win...their souls? I don't really remember the card game's stakes.
Point being, he's really rich and wasted his money on being the best at a card game, and failed at that. Sorry Pegasus, I choose the Tar Heels.
Winner: Yugi Mutou North Carolina Tar Heels
NCAA CHAMPIONSHIP - Duke Blue Devils v North Carolina Tar Heels
In 1880, the state of North Carolina had a population of approximately 1.1 million people. The Chasseurs Alpins started in 1888 and were comprised of twelve battalions. Since each battalion is six companies of 154 men, that means the Blue Devils numbered approximately 11,088 men.
So, the Blue Devils are entering the NCAA Championships outnumbered 100 to 1 - literally.
I suppose I could have used similar logic to resolve their bout against the Oklahoma Sooners, but I didn't think of it until now. Guess I should have worked out that logic *sooner*.
NCAA Champions: North Carolina Tar Heels