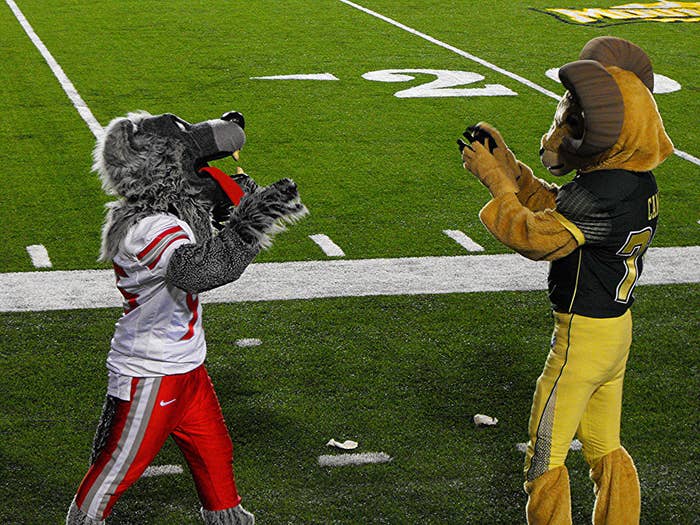 I'm not exactly the biggest fan of college basketball, but March Madness is a huge deal.
Rather than refer to the NCAA Championships as "the sports" or ridiculing people for being fans of something (two responses I find rather distasteful), I joined the fun by coming up with my own March Madness bracket — based on which mascot would win in a fight. My Round of 64 choices aren't looking too hot so far, so it looks like I'm not going to be getting a cut of Warren Buffett's money.
I feel kind of sorry for the Round of 32. Every other round in March Madness has a unique name: Sweet Sixteen, Elite Eight, Final Four, the Championship...but poor Round of 32 has to share its descriptor with the Round of 64. Almost feels like it diminishes the accomplishment of surviving the first and largest culling.
Kansas Jayhawks v Colorado Buffaloes
This match-up is going to be a literal slaughter. You're matching up Civil War soldiers (remember, the jayhawks aren't actually birds) against Buffalo.
That is exactly what happened after the Civil War. Fresh off his scorched earth policy in the South, General Sherman took his scorched earth policy to the Great Plains by encouraging veterans to hunt Buffaloes for sport, as part of a plan to beat the Native Americans without engaging in direct confrontation.
Let me reiterate - Civil War veterans almost exterminated the Buffaloes for sport.
Winner: Kansas Jayhawks
Maryland Terrapins v Hawaii Rainbow Warriors
The Hawaiian Department of Land and Natural Resource's Division of Fish and Game lists the Honu (sea turtle) as an endangered species and threatened species, subject to both state and federal protection.
As such, under §195D-4(f)(4) any efforts to "take" (down) the Honu may only proceed if doing so increases the likelihood that the species will survive and recover. The terrapins are the only turtles in the NCAA conference, and this is a single-elimination tournament. Therefore, the conditions have not been met and the Warriors will have to confer their protection on the Terrapins.
Winner: Maryland Terrapins
Arizona Wildcats v Miami Hurricanes
I have no reason to believe a wildcat would fare better in a hurricane than a cow. I watch a lot of cat videos (and I mean a lot of cat videos), and with a few notable exceptions, cats do not like getting wet.
And we're not talking about a spray bottle of water here...we're talking full-on natural disaster.
Winner: Miami Hurricanes
Temple Owls v Villanova Wildcats
I refuse to entertain the notion that owls and cats would ever fight. Just look at these two darlings playing with each other! Does that look like mortal enemies locked in snorgles to the death?
I thought the owl was cuter, so that's the deciding vote here.
Winner: Temple Owls
Southern Jaguars v St Joe's Hawks
The SEPECAT Jaguar and BAE Systems Hawk are both jet fighters, so I am assuming this round will be settled by dogfight. After reading the 50 Shades trilogy extensively, I like to consider myself as something of an expert on aviation, so this should be a breeze.
Both jet fighters carry similar price tags - the Jaguar went for $8M in 1978 (~$30M, adjusted for inflation), which is just about what the Hawk goes for today. Both fighters use the same Rolls-Royce Turbomeca Ardour engine. However, the Hawk sports a Mk861 engine to the Jaguar's Mk821, and bigger is always better, so it looks like the Jaguar is going to take a dive.
Winner: St Joe's Hawks
Yale Bulldogs v Duke Blue Devils
The Bulldogs had to down a bear to make it to this stage. While they emerged victorious, it can't have gone well for them. By contrast, all the Blue Devils had to do was shoot a few birds out of the sky. On a good day, a rabid bulldog might be able to take down the French. But everyone knows that the Dog Days are in Summer, and it's only Spring.
Winner: Duke Blue Devils
Northern Iowa Panthers v Texas A&M Aggies
If a couple of drunk frat boys managed to kidnap Reveille, the Aggies don't stand a chance at taking out a mother-flipping panther.
I don't have much more to add, other than a strong recommendation to watch Rooster Teeth's animated reenactment of Reveille's dog-napping. Scintillating viewing, that.
Winner: Northern Iowa Panthers
Oregon State Beavers v Oklahoma Sooners
Once again, history is our guide. According to the Oklahoma Historical Society, French trappers were active in Oklahoma as early as 1719, and beaver pelt was a top commodity. While the homesteaders didn't depend on trapping for their income, it still offered a nice supplement to the incomes of early American settlers.
Winner: Oklahoma Sooners
North Carolina Tar Heels v Providence Friars
Being men of the cloth, the Friars are entering this face-off at a distinct advantage. I'm pretty sure there's at least one Commandment that has very specific things to say about murdering people on the basketball court. Making matters worse for the Friars, the Tar Heels are an obstinate bunch, likely to really dig their heels in.
Winner: North Carolina Tar Heels
Indiana Hoosiers v Kentucky Wildcats
Pitting an average Christian against a wild beast seems more like the kind of thing that would happen at a Roman Colosseum than on a basketball court. I checked and Russell Crowe was born in New Zealand, so your average Hoosier can't expect to ask Commodus if he's entertained.
Two thumbs up for Russell Crowe, but one thumb down for the Hoosiers.
Winner: Kentucky Wildcats
Notre Dame Fighting Irish v Stephen F Austin Lumberjacks
Whenever somebody says "I'm not racist, but..." you can guarantee the next words out of their mouths will be racist as all get-go.
To avoid falling into that quandry, I'm not offering an explanation of my thought process here.
Winner: Stephen F Austin Lumberjacks
Pittsburgh Panthers v Xavier Musketeers
Guns beat cats. That's how it went down with the Wildcats, and that's how it's going to work with the Panthers. There's really nothing to add here that hasn't been said already.
Winner: Xavier Musketeers
Hampton Pirates v Butler Bulldogs
In the Round of 64, the Bulldogs faced off against Raiders. They won that round because bulldogs are fiercely territorial, and will defend incursions assiduously.
As a general rule if you're looking to steal something, you don't want to go up against Kevin McCallister in a Home Alone movie, and you don't want to face down a bulldog on its home turf. Sorry Pirates, it's not your lucky day.
Winner: Butler Bulldogs
Purdue Boilermakers v Iowa State Cyclones
I have an unfortunate tendency to watch absolute trash when I'm looking to unwind. One of the shows I'll fall back on is Doomsday Preppers - a show that features how people plan on coping with the end of the world. Natural disasters don't feature as prominently as Nuclear Armageddon, but preppers will still prepare steel-reinforced bunkers to weather just about any storm.
I can only assume boilermakers can whip up some mighty fine shelters on their off hours.
Winner: Purdue Boilermakers
Seton Hall Pirates v Utah Utes
It's common knowledge that pirates are stealthy to the extreme - in the immortal words of Gilbert and Sullivan, "With cat-like tread / Upon our prey we steal / In silence dread / Our cautious way we feel".
The Utes will never see it coming.
Winner: Seton Hall Pirates of Penzance
Syracuse Orange v Middle Tennessee Blue Raiders
It's a flipping orange. Did you really expect it to get through another round? I mean, come on.
Winner: Middle Tennessee Blue Raiders