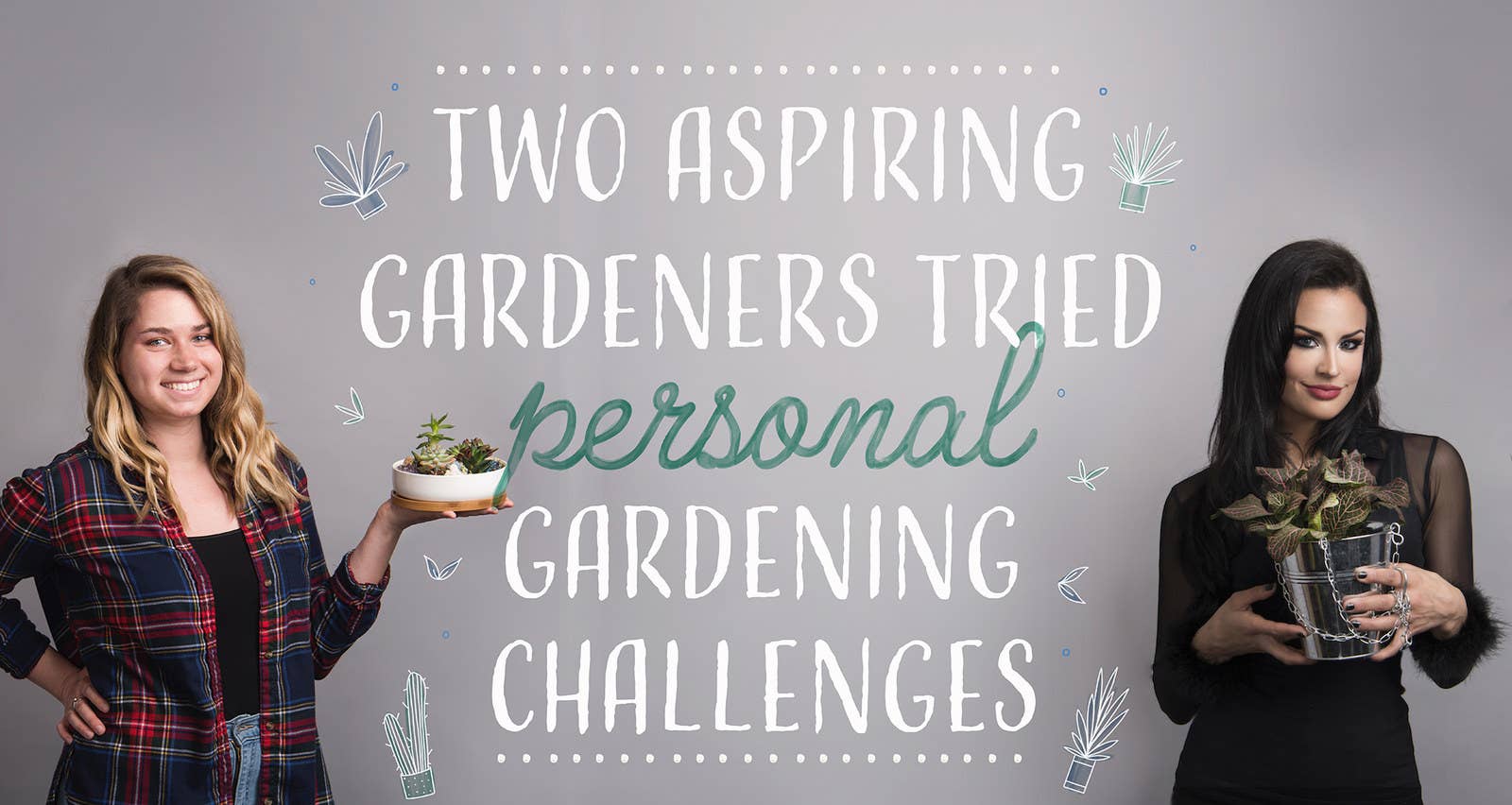 Communing with nature in a city is not easy, especially in a city like New York. With concrete and steel everywhere you look, limited space, and little to no time for personal endeavors, it is easy for therapeutic hobbies like gardening to take a backseat to the everyday hustle and bustle.
My coworker Mandy and I are pretty much complete opposites (if you can't tell from the picture above), but when we were introduced to the My Garden app, we teamed up like any great '90s sitcom duo to step up our urban gardening game and learn something new along the way.
Meet Us
Mandy: The only plants I can trust not to die under my watch are plastic ones. My large Italian family is filled with gardeners who love to grow flowers, herbs, vegetables, and even trees — but, being the beloved black sheep, it's no surprise I haven't inherited a green thumb. While I do appreciate the look of lush flowers and unique plants, my general aesthetic is what you may call...dark.
No, seriously, my room is like an homage to things that are dead.
I also recently adopted an amazing little dog named Zero. Even after just two weeks of being her mom, I have become 150% more selfless, and I'm seriously digging that. I think starting small on my mission to be a responsible plant owner is a great additional step in improving my mindset to make a lot more space for others and enjoying the benefits that come from giving mental and physical energy to things other than myself.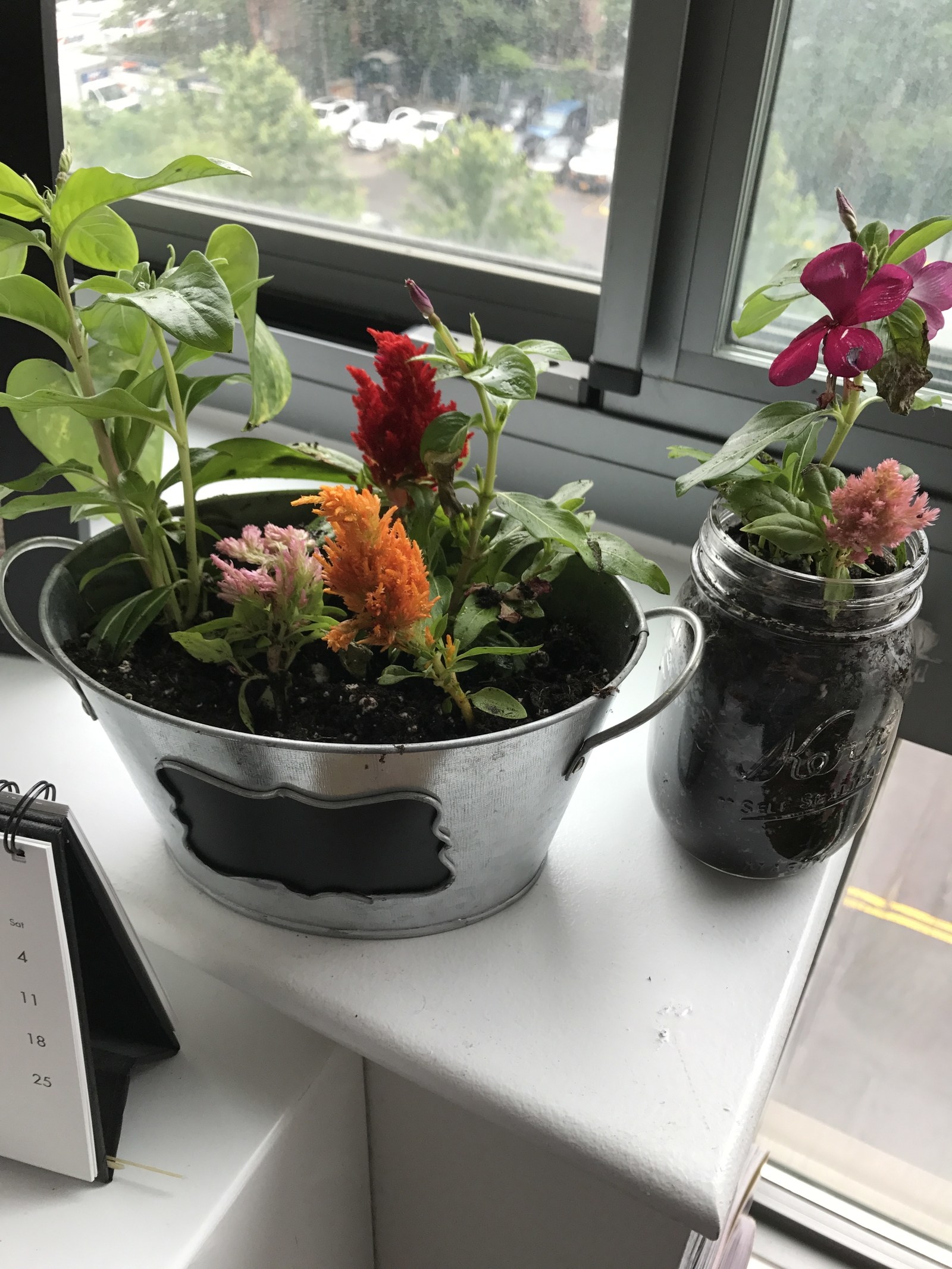 Emily: I'd say I'm a succesful-ish gardener. While I don't have an entire green thumb, maybe I have a green thumbnail. When I lived back home in the Midwest, my mom would take on huge gardening projects every summer (which meant I was bound to help at some point), and I've been propagating and keeping a "hard-to-kill" pothos plant alive in my room for about a year. After almost two years of city living, I've come to rely on the earthy zen my small apartment garden offers when I come home from a chaotic day.

Despite some trial and error with the more visual yet temperamental plants, it's pretty clear I can keep some things alive for an extended period of time, and with this challenge, I want to introduce new plants into my collection that will also add an aesthetically pleasing twist to my room.
Our Plan
Mandy: My goal is simple: to find an indoor flower or plant that inspires me visually and not kill it just by looking at it wrong. I want to embrace what my family has mastered for generations and see if that love of gardening really did skip my DNA or if I just haven't nurtured it well enough to grow!
Browsing the My Garden app, the section called "Plants I Can't Kill" calls my name like a siren song. After browsing through the plants recommended for me based on my location, climate, and season, I decide to commit to a nerve plant, which catches my eye not just for its cheeky name but for its anatomical-like pattern of veins on each leaf. Gorgeous! Plus, as an added bonus, nerve plants are nontoxic to dogs. I knew Zero would be thrilled.
Emily: After looking through the My Garden app, it was really easy to find the type of project I was looking for while keeping in mind the fact that I have little to no space in my NYC apartment that also worked within my budget and daily routines. I ended up selecting the "Indoor Succulent Garden." After a couple conversations with my coworker and fellow plant lover Kaye, I knew succulents could be a little different than regular houseplants. The thought of learning how to properly take care of them was exciting!
Our Supplies

Emily: My success plan for the Indoor Succulent Garden said I'd need the following:

Miracle-Gro Moisture Control Potting Mix

Miracle-Gro Plant Food

A container to house the plants

Aloe plant

Dwarf snake plant

Burro's tail

When I browsed my local garden center, it was a bit difficult to find the exact plants listed, but the shop owner was really nice and helped me out once I told him about my project. We talked for a good 15–2o minutes, and I found that he had a bunch of insights about how to take care of the succulents, as well as ideas for other projects I was considering in the future. Side note: Waking up early on a Sunday to bop around a plant store was so refreshing and relaxing. The earthy smell and lazy-morning haze took me back to when I was a kid and my mom and I would run gardening errands together (10/10 would recommend). Carrying all of my supplies home was a bit of a struggle, but it was outweighed by my excitement to finally bring all the pieces of my succulent garden together!

Mandy: According to the app, I would need the following to keep the nerve plant of this earth:
6" container
Garden gloves
Miracle-Gro Shake 'N Feed All Purpose Plant Food
Miracle-Gro Moisture Control Potting Mix
Nerve plant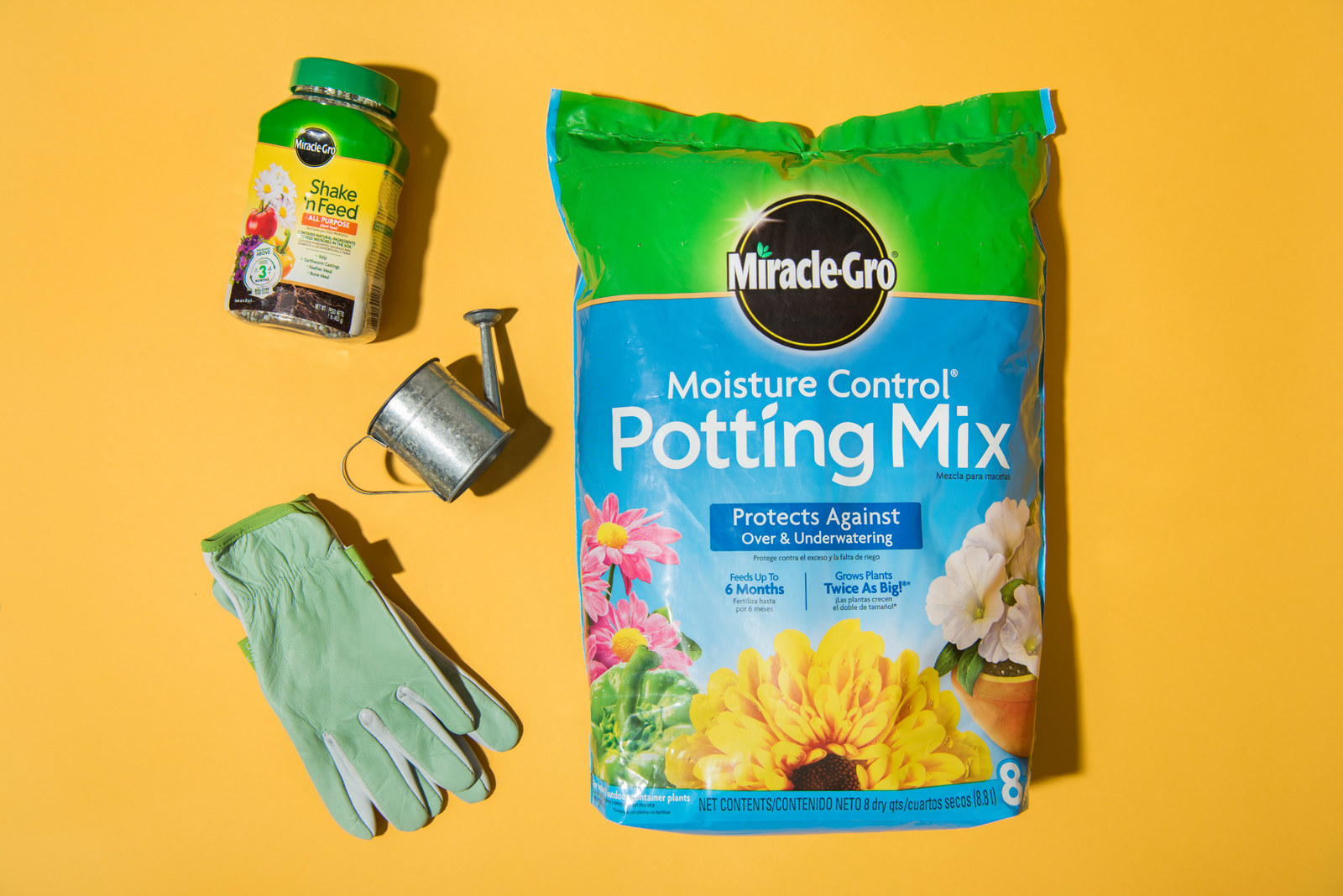 I felt very grown taking home all of my gardening supplies, let me tell you. I picked out a metal planter with chains to hang it because I think chains are cute and my plant needs to look the part if she wants to live with me.
Let's Do It
Emily: The hardest part about gardening in a city in a cramped apartment is that you pretty much have nowhere to do your work or make a mess. I ended up collecting all my supplies in my laundry basket to haul it up to the community roof, and luckily there was some free space on a sunny day.
I prepped the soil and my container as directed, and by the second succulent popping in with ease, I naturally learned how to maneuver the soil and mind the roots without any breakage. (I also found out that the tips of aloe plants are actually pretty sharp — ouch.)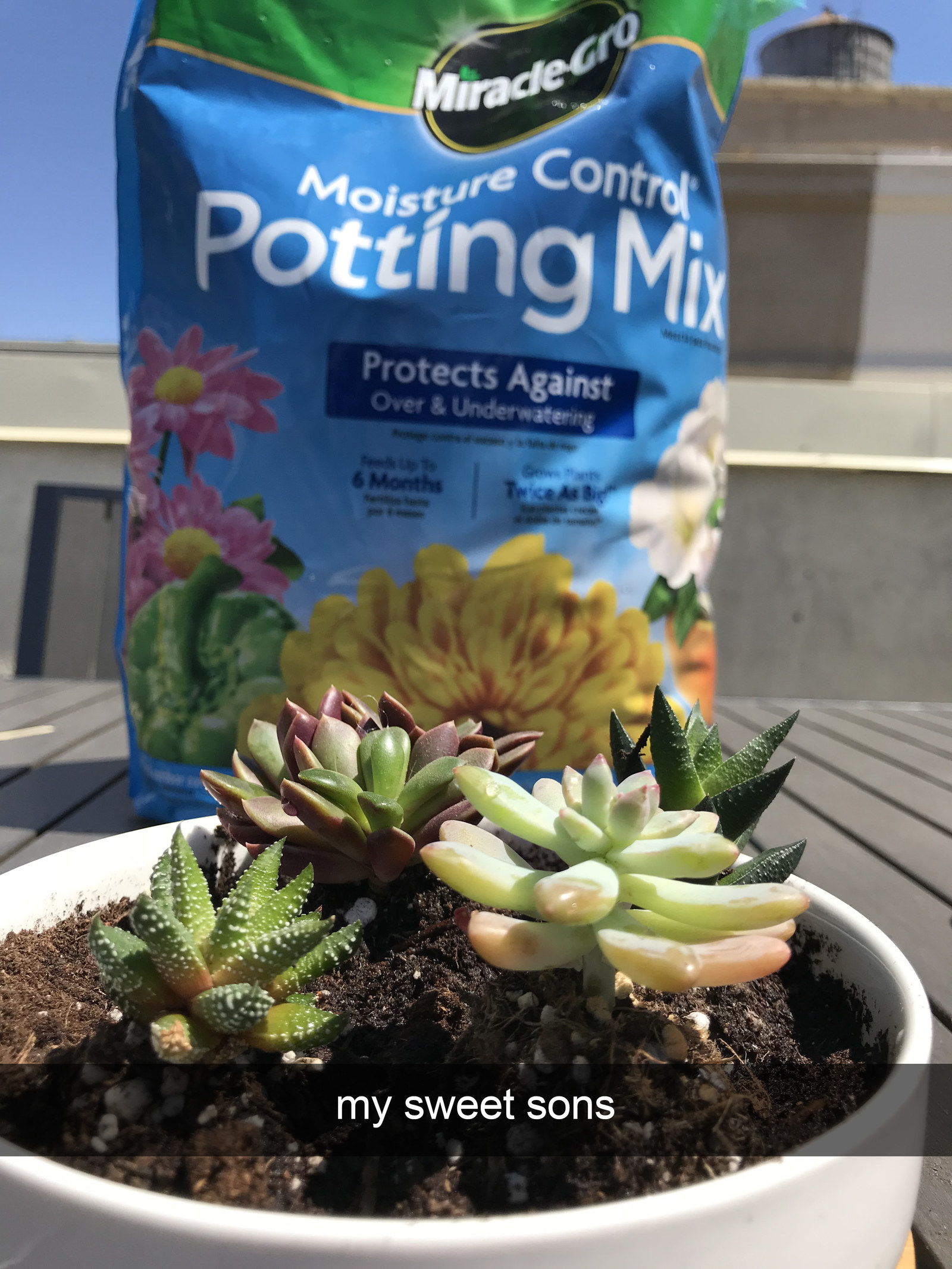 The great part about succulent gardens is that there's no wrong way to design one; it's just a matter of your creative vision. It took a good 20 minutes gently rearranging my plant babies in the soil until I was finally satisfied enough to snap a pic of my creation and send it to my friends.
I monitored the plants' health for a few days just in case anything happened. I kept on schedule with the watering and plant food, taking note of the soil and overall health of each plant.
After it was clear I was doing something right, I decided to add the next element: moss and crystals. I've been reading up on the benefits of crystals in a living space, so I figured the more good vibes the merrier! When it finally came together, I had a few minutes of satisfaction before looking to the empty corners of my room and considering my next project.
Mandy: I am not much of a planner; I like to live in the moment and trust that everything is going to work out fine. Some people may call this childish ignorance, and some people may be right, because it looked like a child potted this plant.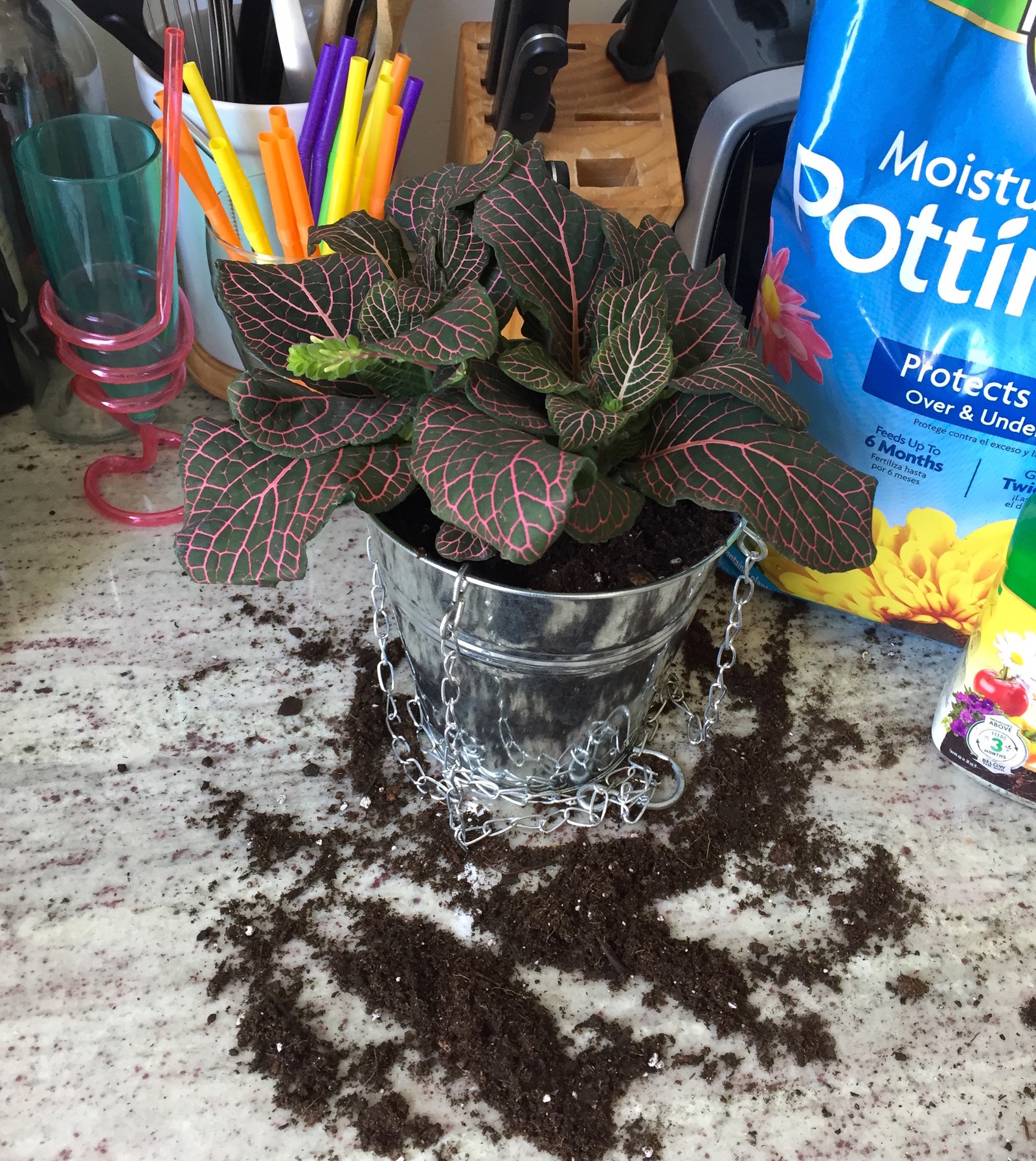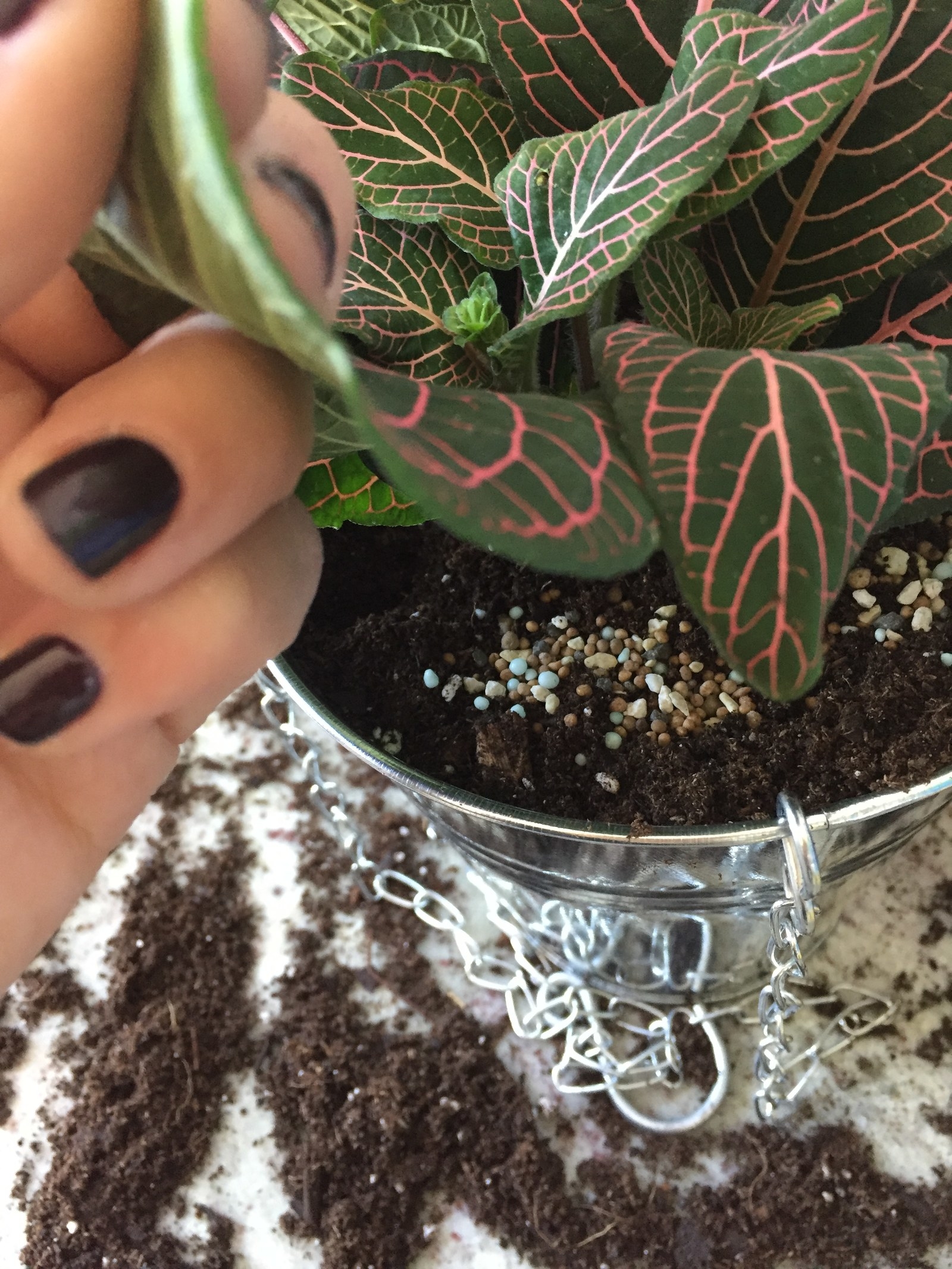 I also added the Shake 'N Feed without consulting the directions and learned that this is not how you do it. You're supposed to scatter it evenly on top of the soil and then rake it evenly beneath the soil, then add water. I figured if I'm going to be serious about trying something new, I should start following the directions for once in my life.
After taking note that my plant, Susan Sarandon, requires three hours or fewer of sun per day and needs watering every two to three days, the next step was clearly picking out where she would live.
She's cute in the living room living her best vintage life, but I wasn't sure she would get enough sunlight there, and I was committed to putting her life before her looks, remember? So I tried her out in my bedroom near one of my windows where she would definitely get her daily sun intake.
Though I was down for the shabby-chic look that Susan brought to my ancient radiator that hasn't worked properly since I'm assuming the '70s, I liked her better on top of my knickknack-filled dresser where she'd be higher up and in better line with direct sunlight. I do think I may swap out the metal vase for something midcentury, though.
Zero was mildly jealous that I was caring for a new darling and insisted on stealing the spotlight. She eventually warmed to Susan, and I'm sure they'll be best friends one day.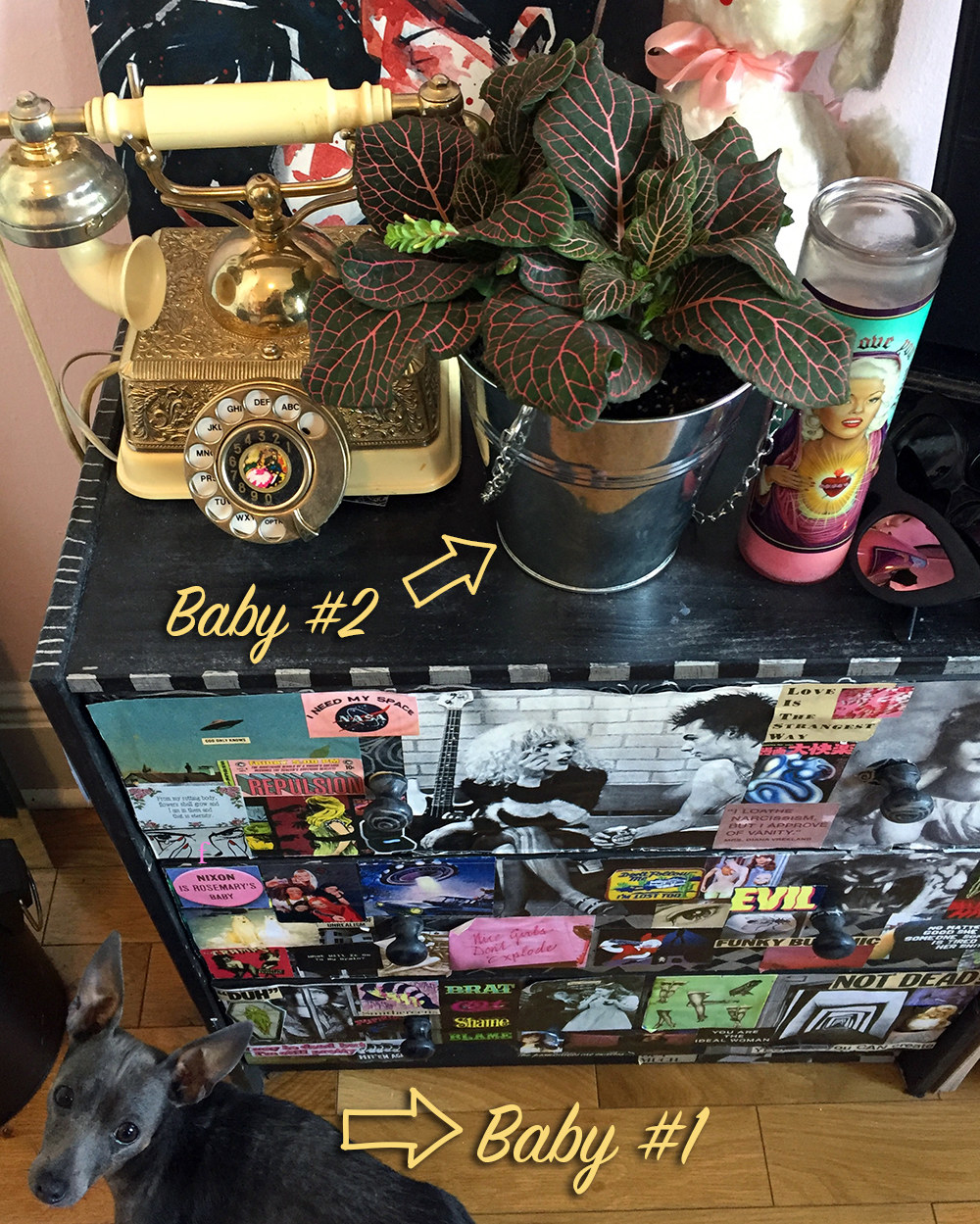 The Results
Emily: I loved being able to maintain my succulent garden and watch it thrive. Every time I walk into my room, I can feel the fresh and positive vibes that fill the space on sunlit days.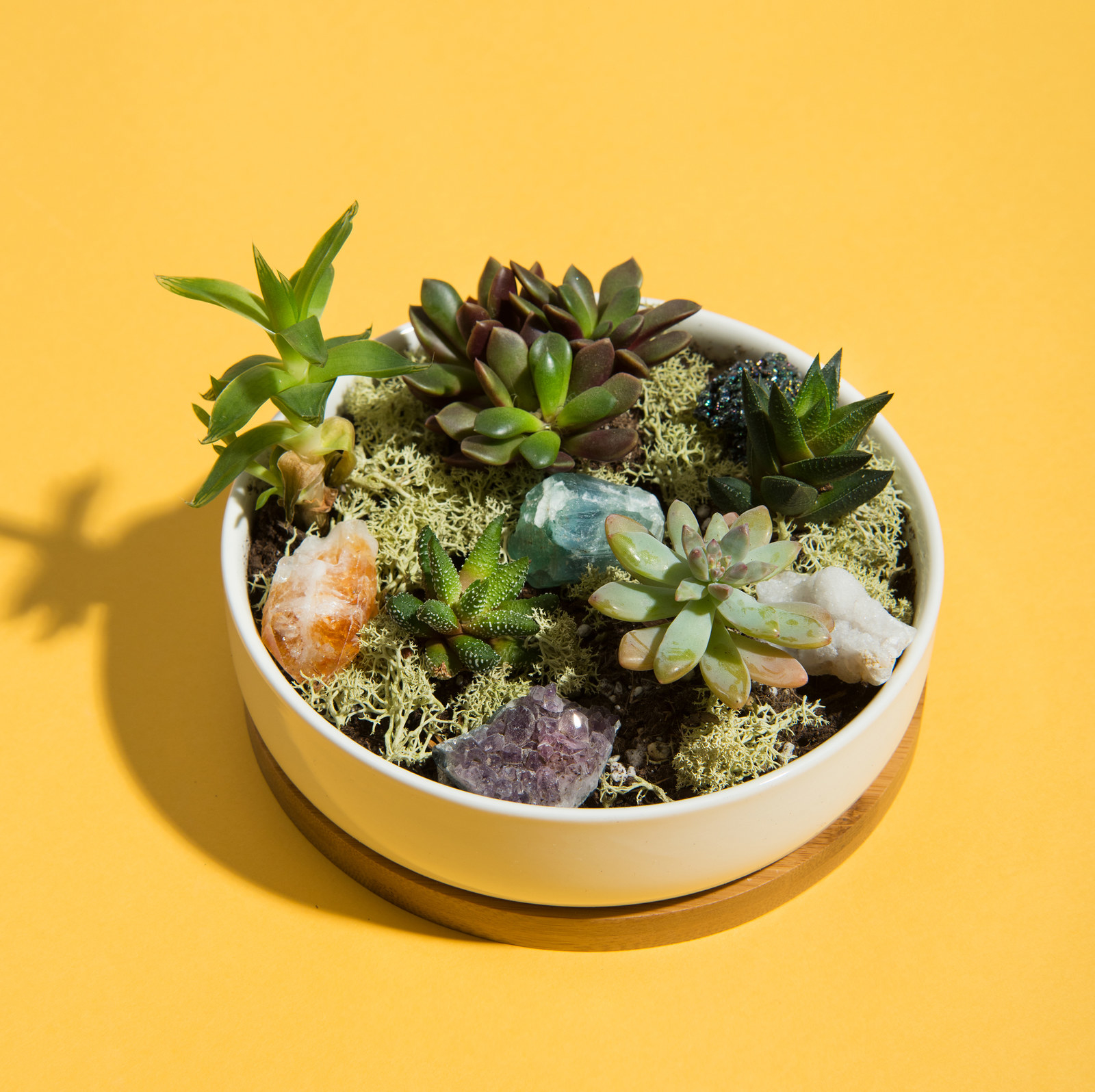 There are moments when the sunlight hits the crystals just right, and it gives the plants this sort of cosmic glow. As a beginning urban gardener, this project allowed me to connect with experienced growers and look to them as a resource in my future growing endeavors.
Gardening and plant projects are like a "good-for-you drug": They're healthy and meditative, and you always want your plant collection to keep growing (pun intended). I can't wait to start digging into gardening and start on my next project. Now I just need more space to fit them all!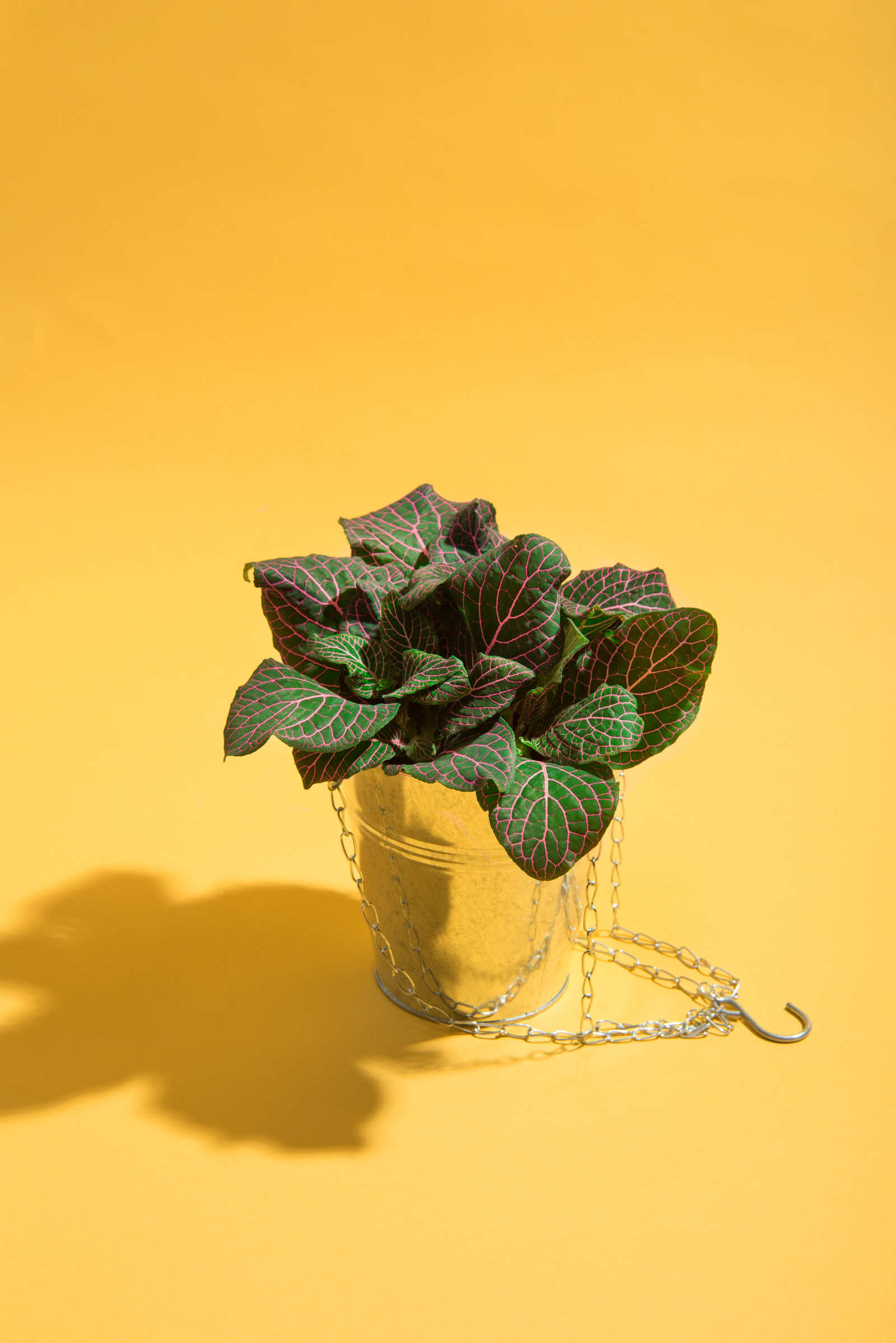 Mandy: It's been three weeks with Susan in my girl gang, and I'm happy to say she's doing amazingly — the little green bud has even begun to grow! I channel my maternal energy to my plant now, talking to her in the morning and cooing things like "Aw, you were thirsty, lil' girl!" when I water her. I don't even care how that makes me sound; I am seriously enjoying being surrounded by living things that give me beauty and happiness simply because I care for them and love them. I'm excited to grow my indoor plant collection and am planning to build a shelf above my dresser to house Susan and her eventual brothers and sisters. Snake plants and spider plants are next for me because duh.
Emily: Overall, I'd say Mandy and I killed this challenge by not killing our plants. Even though you might say we're opposites, we're both plant mommas now, and that's a bond for life.
Header photo by Sarah Stone © BuzzFeed
Design by Victoria Reyes
Find the projects that are perfect to hone your plant mama skills with the My Garden app.