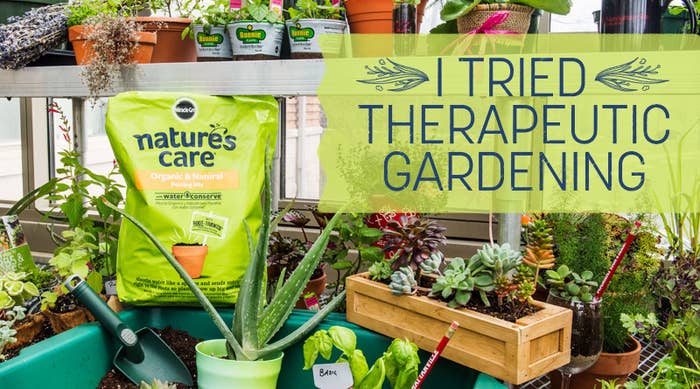 There's nothing quite like a day spent in the garden getting your hands dirty and feeling the sun on your face — or the satisfaction of enjoying a meal with vegetables you grew yourself. Growing up in Pennsylvania, I always had a garden where I grew hot peppers, tomatoes, basil, and a ton of other herbs. But now that I live in New York City, I rarely have the opportunity to do any gardening — and when I have tried to grow a few small plants on my windowsill, I've barely been able to keep the most low-maintenance succulents alive because I don't get enough direct light.
I miss gardening, so when I had the opportunity to try therapeutic horticulture as part of my job as a branded content writer at BuzzFeed, I was thrilled. I know gardening is an amazing form of self-care for relieving stress (and who doesn't need some self-care?), but I don't know why, and I am curious to learn more.
So what is therapeutic horticulture?
"I think of therapeutic gardening as purposeful planting or planting with intention."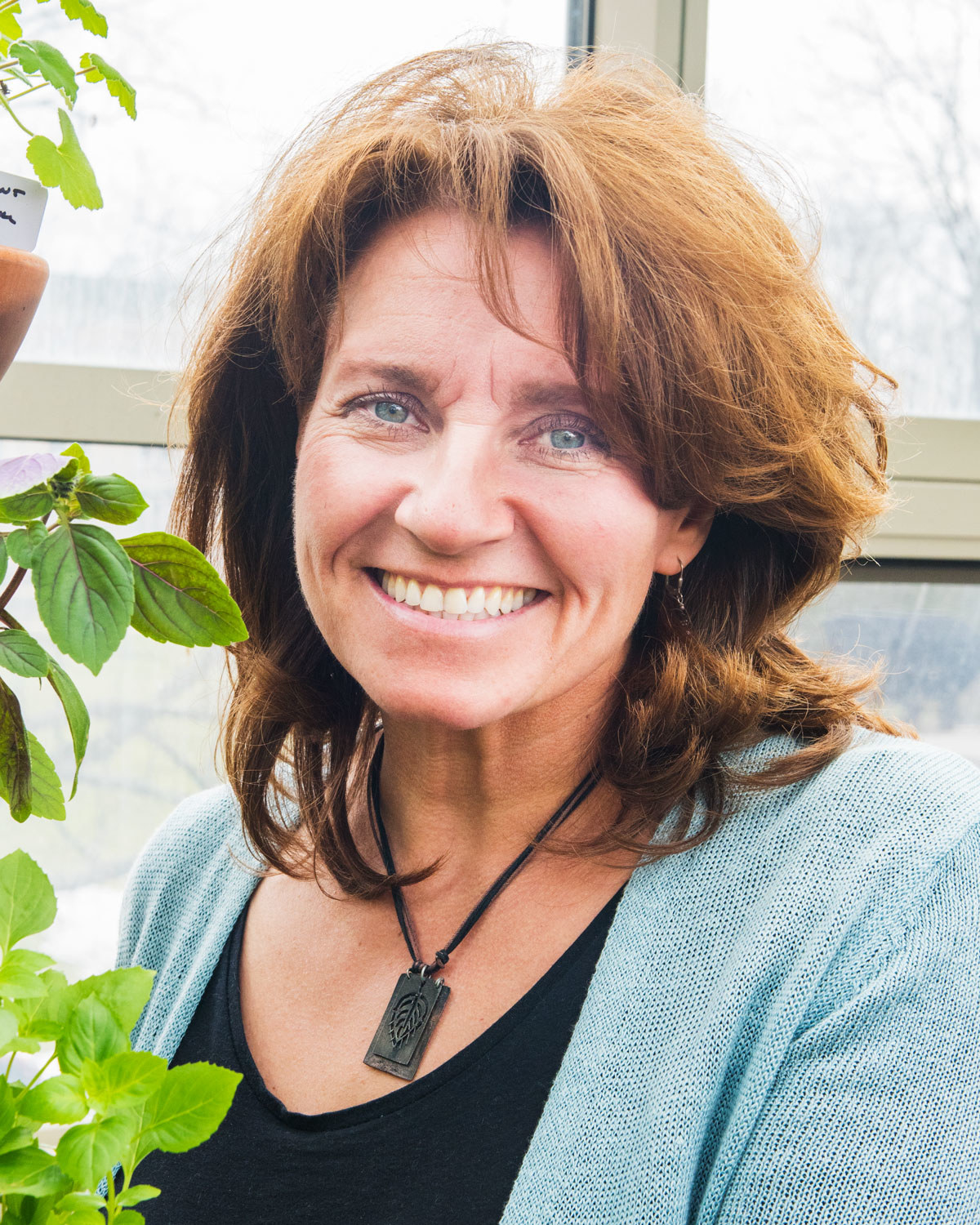 That's where Anne Meore comes in. Meore is a Licensed Master Social Worker and a registered horticultural therapist. One of her many professional pursuits is as a faculty member in the biology department at Manhattanville College, where I met her to learn more about how I — and anyone interested in engaging in self-care — can use therapeutic horticulture to enhance the quality of everyday life.
Getting my hands dirty
On a Friday morning, two of my coworkers and I drove the short distance from our office to Manhattanville College, where we were meeting Meore in a rooftop greenhouse. Inside the greenhouse — surrounded by students' projects in varying stages of the growth process — we felt much farther from the city than the 25 miles we'd traveled to get there. Immediately we noticed the aromas of the assorted herbs, which blended into a very soothing and even spa-like scent.
Before we put our gardening gloves on, Meore explained that we can draw parallels between plants and the human condition. The things we need to live — such as water, air, and space — are what plants need too. "Therapeutic gardening is about the people-plant relationship. And it works because plants don't judge. When their needs are met, they thrive — just like people," Meore said. "I think of therapeutic gardening as purposeful planting or planting with intention. Because when I am here with this plant, I'm being drawn to different parts of the plant — and, in essence, what is happening is that I am present."
"Gardening provides opportunities for involuntary attention"
Just like we practice mindfulness to reduce stress, we can garden to give our brains a rest. Most of what we do each day requires focus and energy, but when you have too much of this, you hit a wall. Gardening provides opportunities for involuntary attention — for our brains to not have to consciously decide what to attend — like smelling lavender as you walk past a garden or noticing a beautiful flower out of the corner of your eye. "To be able to have these restorative opportunities in our homes and lives, in general, will allow us to be less stressed, happier, more attentive," she added.
We then jumped right in by repotting some lemon thyme. In an exercise that proved to be both educational and therapeutic at the same time, she showed me how to carefully massage the thyme roots to loosen them from their current container and then how to tease the congested roots a little bit. Meore explained that just like when people move, it's a little bit of an adjustment when plants move, so the goal is to make it as comfortable as possible.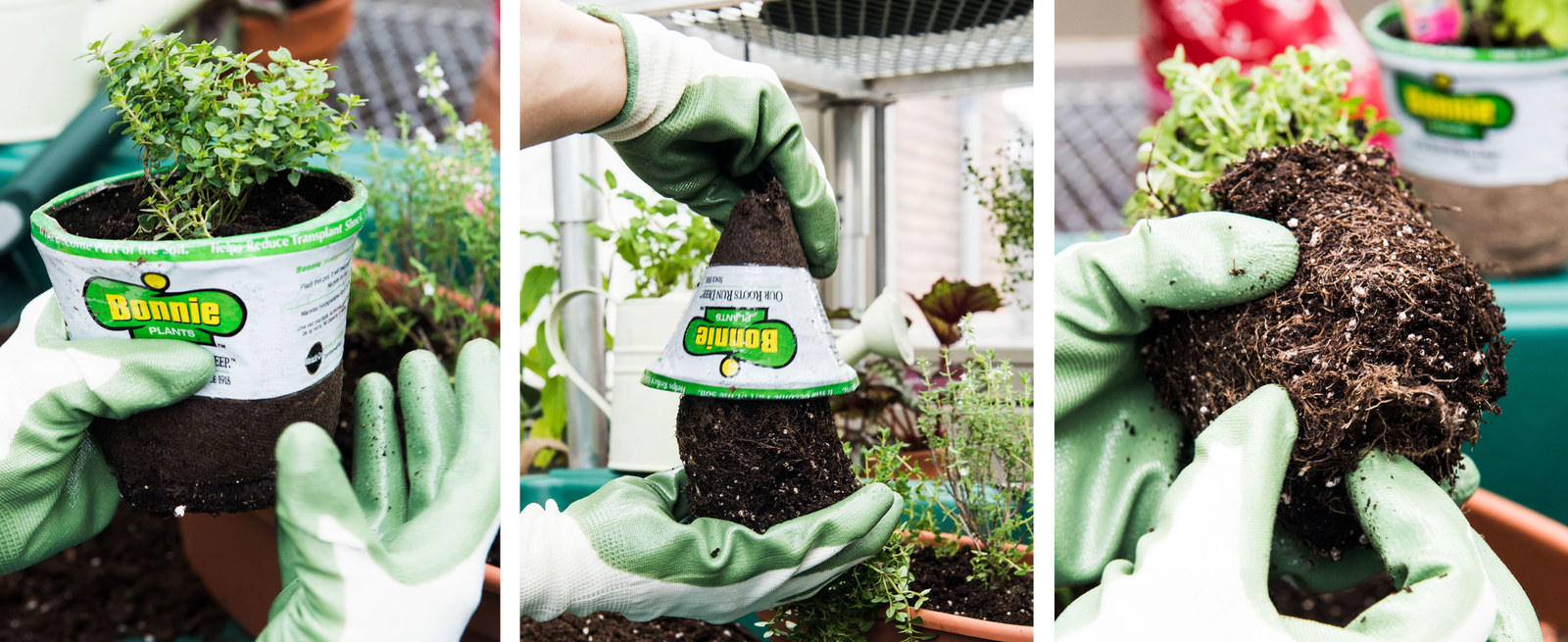 Another part of the multisensory experience? Scent.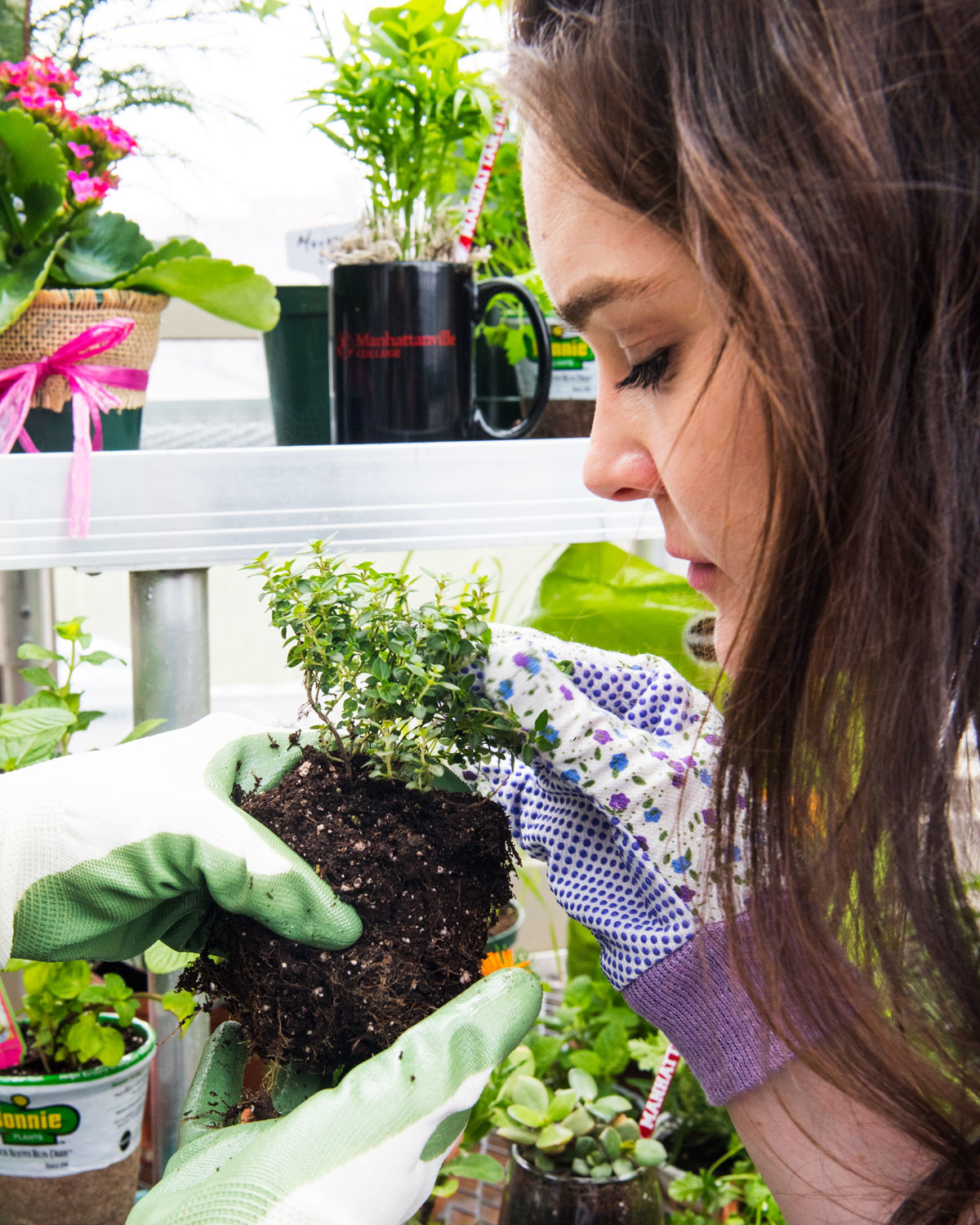 Before we planted the thyme in the larger pot, I took a big whiff. The lemon thyme's fragrance was more soothing than the fanciest aromatherapy candle. Along with the visual and tactile experience, this is yet another part of a larger multisensory experience that benefits us by stimulating our brains. "It is about engaging all of the senses or as many senses as you can in order to make this a therapeutic experience. You're smelling it, you're seeing it, you're touching it. You can't hear it, but there are certain plants that you can hear," Meore explained, as she demonstrated with the dried lavender.
And she added that even as you breathe in the scent, you're taking in more oxygen. Just as breathing exercises performed during yoga or meditation reduce your heart rate, decreasing your blood pressure, so does the act of smelling fresh herbs.
Meore explained that plants — again, like people — thrive when they're part of a community of "like-minded" plants. That's why our next step was planting our thyme in a larger pot with, yes, more thyme of a different variety! Other successful community pots include Italian kitchen herb groupings and drought-tolerant groupings. Something about the simple act of repotting the herbs gave me an immediate sense of accomplishment.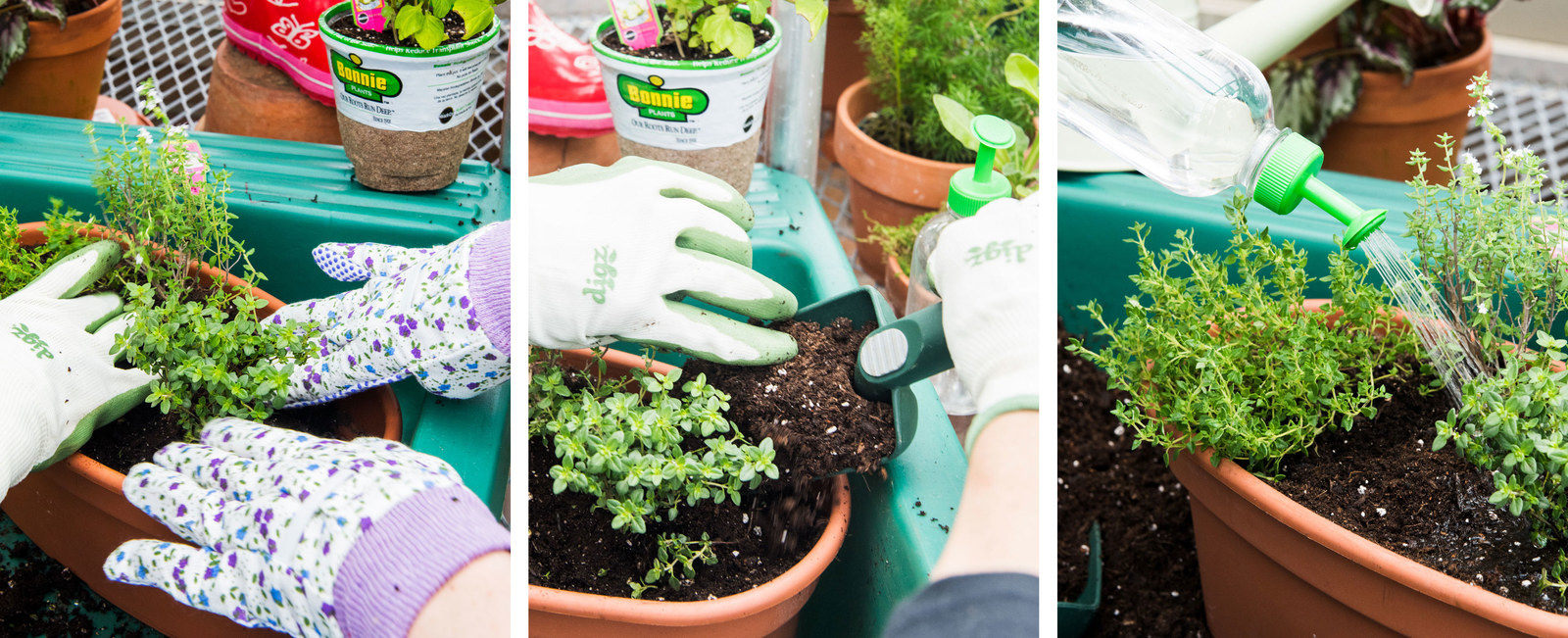 Meore also showed me how to take cuttings to encourage growth and expansion in the parent plant, and in doing so also allows us to share the plant by using a small piece of it to create a second plant that can be given to a friend. We took the cuttings of basil and rooted them in water. The key is to take snips of your basil from the top and it will grow exponentially — and you'll have a whole new baby plant! I had never tried this before, so I felt like I was learning as I was de-stressing.

Once the stem cutting has developed roots, it can be planted into the soil and given as a gift. So we filled a pot up with our soil and created spaces in there for the basil. With a little water, it was set!

I also asked Meore about the now-ubiquitous succulents and how they can fit into therapeutic horticulture. One reason succulents are so popular is that they are low-maintenance; you just give them what they need, like any plant and they will thrive. With therapeutic horticulture, setting yourself up for success is one of the most important things you can do. Because succulents require so little, they're a good place to start for many people. "What we want to do is create a successful experience. Nobody wants to fail."
In therapeutic horticulture, one of the added benefits of succulents is they easily propagate. To demonstrate, Meore snipped off a piece of a succulent and just stuck that into a small pot of soil. I tried it for myself too. I couldn't believe how effortless it was.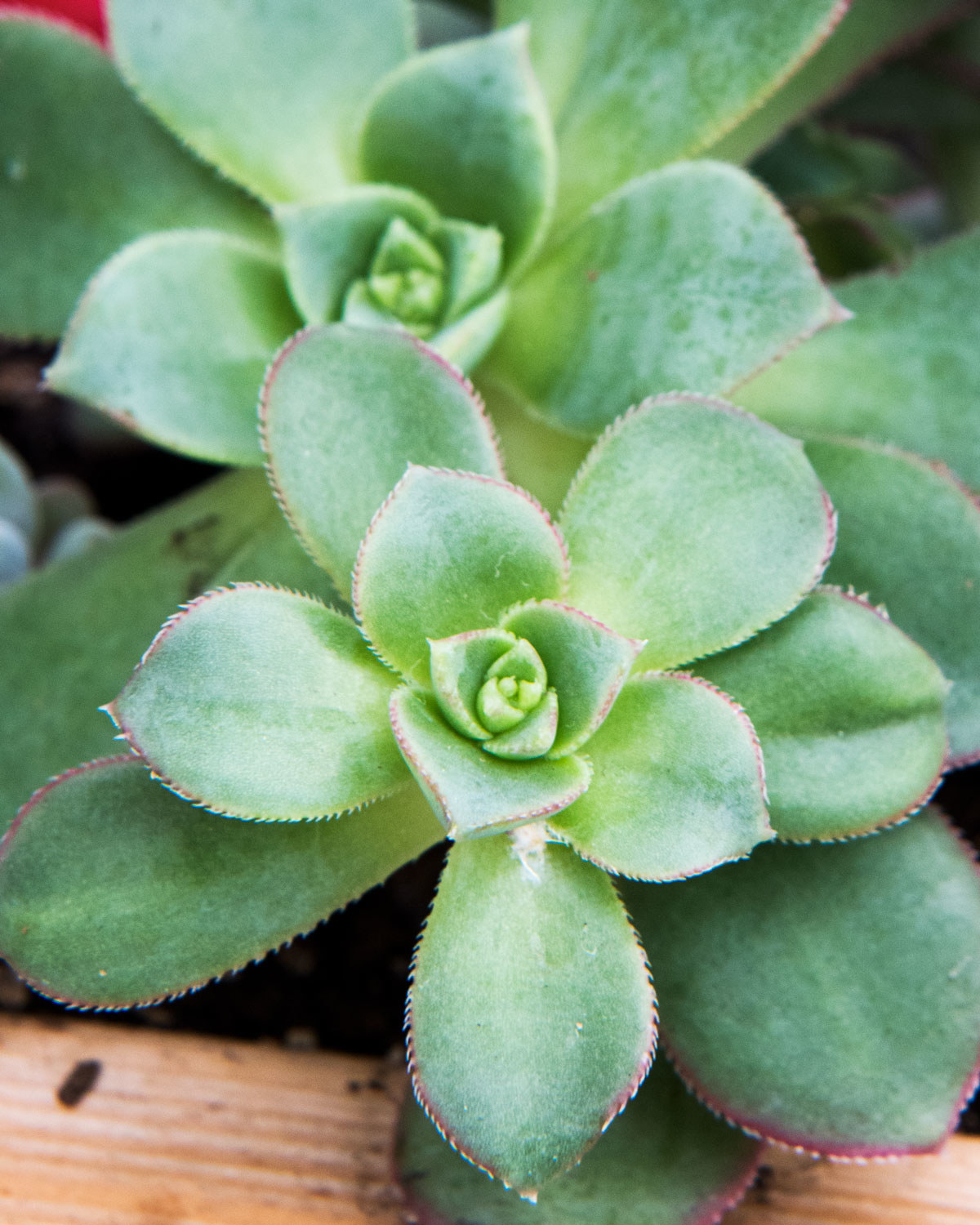 She added, "Our brains, whether we know it or not, enjoy symmetry. Your brain doesn't need to make a decision to look at it. Your focus is drawn to the middle of the plant. It's effortless."
Final thoughts
One of the things that stood out as I left the greenhouse was how relaxed I was at that moment. Even simply the experience of being around plants for a couple hours, allowed me to refocus my energy and find a little zen in my hectic week.
I also realized I may have been too harsh on myself with my past failures in urban gardening — like when I tried to grow a mini herb garden from seed on my windowsill only to find that the seedlings failed to thrive after peeking out of the soil because of a lack of sunlight. Setting yourself up to succeed is one of the most important steps in therapeutic horticulture. Now I understand that I wasn't doing anything wrong; an herb garden just wasn't going to thrive in my apartment.
So my next steps? Finding a few plants that will not only thrive in my environment but also help make my environment a calming, peaceful place where I can thrive.
See what therapeutic gardening can do for you with the My Garden app.
Images by Lauren Zaser / BuzzFeed
More about Anne M. Meore: Anne Meore, LMSW, HTR, is a Licensed Master Social Worker and a Registered Horticultural Therapist. She earned a Certificate in Horticultural Therapy from the New York Botanical Garden in 2007, a BA in Psychology & Elementary Education from Bethany College, an MA in School Guidance Counseling from New York University, and an MSW from Fordham University. Currently, Meore is a faculty member in the biology department at Manhattanville College; is the garden projects administrator for the Garden of Hope at Good Samaritan Hospital, a member of the WMC Health Network; is a faculty member and instructor in the Edible Academy at NYBG; owns Planthropy, LLC, HT program consulting and therapeutic garden design; and serves on the board of directors of the Mid-Atlantic Horticultural Therapy Network, Inc.
A special thank-you to Manhattanville College for allowing us to use their rooftop greenhouse.