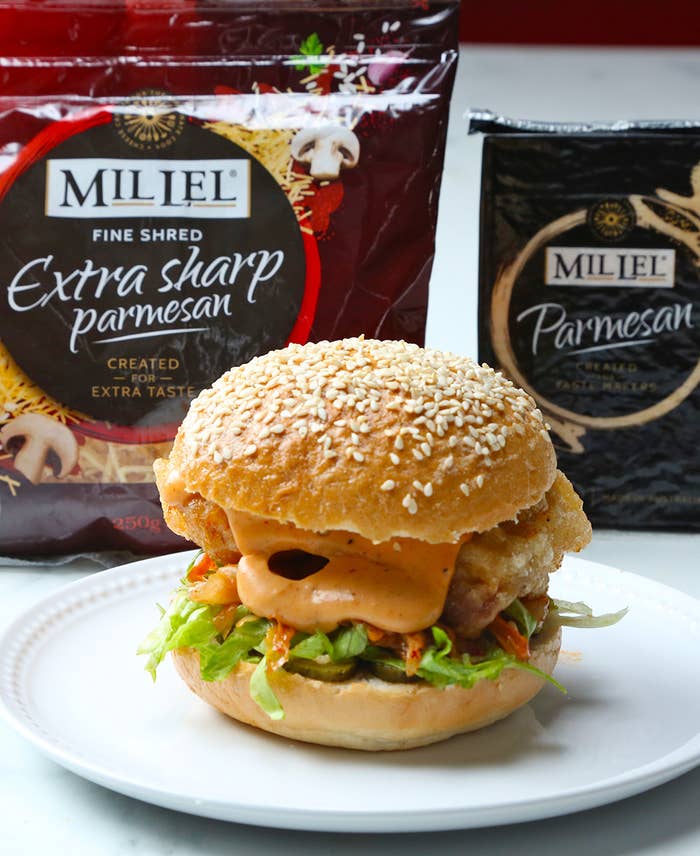 Ingredients:
6 burger buns
6 chicken thigh fillets
200g Mil Lel Fine Shred Extra Sharp Parmesan
2 cups glutinous rice flour
1 cup water
150g kimchi
150g iceberg lettuce, shredded
150g pickled cucumbers
1 tsp salt
1 tsp pepper
For the cheese sauce:
375ml evaporated milk
150g Mil Lel Parmesan Block, grated
1 tbsp corn flour
2 tbsp gochujang paste
1 litre canola oil, for frying
To serve:
Pickled daikon
Method:
STEP 1: Heat a medium sized pot of canola oil on medium-high heat to prepare for deep frying.
STEP 2: Individually lay chicken thigh fillets on a chopping board. Cover them with baking paper and then use a mallet to pound the chicken until flat.
STEP 3: Add 30g of Mil Lel Fine Shred Extra Sharp Parmesan cheese to the centre of the chicken fillet, then season with salt and pepper. Fold the chicken in half and seal the edges shut by pressing down on them. This should create a pocket that encases the cheese.
STEP 4: In a large mixing bowl add glutinous rice flour and water, then stir until combined.
STEP 5: Dredge the chicken in the batter being careful not to let it fall apart, then deep fry for 10 minutes until golden and crispy. Once cooked, allow the chicken to sit on paper towel to drain.
STEP 6: To make the spicy cheese sauce, add evaporated milk to a saucepan and place on low heat. Combine the corn flour, grated Mil Lel Parmesan block, then add to warmed milk and stir until the cheese dissolves. Once the sauce starts to thicken add Gochujang paste and stir until combined. Season with Salt and pepper.
STEP 7: To assemble burgers, layer the bottom side of a toasted burger bun with lettuce, kimchi, Korean pickled cucumbers, fried chicken, and spicy cheese sauce.
STEP 8: Serve hot with pickled daikon to accompany.
STEP 9: Enjoy!