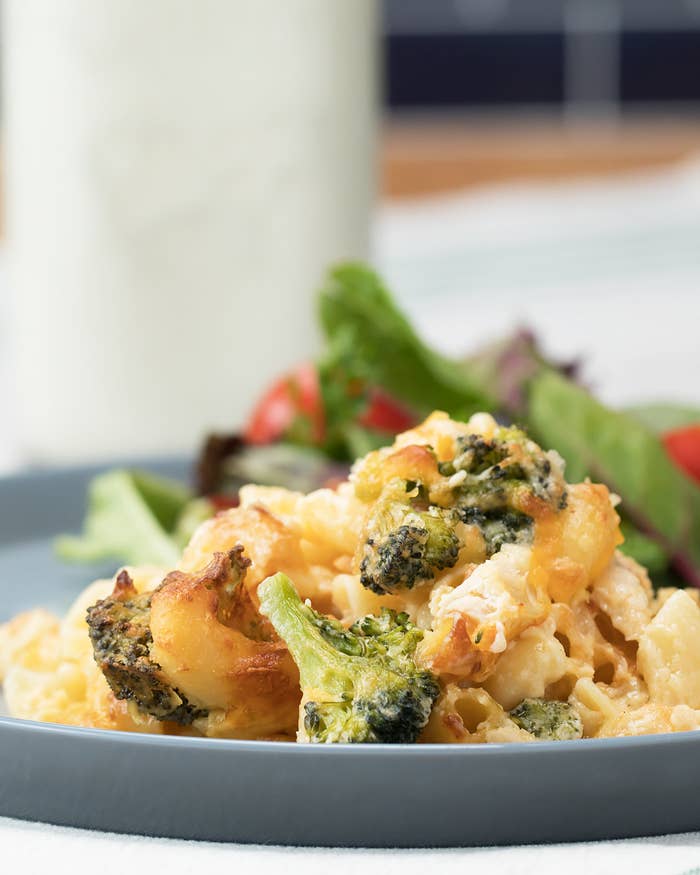 Broccoli And Chicken Mac 'N' Cheese

Serves 6–8
INGREDIENTS
1 pound elbow macaroni
3 tablespoons unsalted butter
3 tablespoons flour
5 cups MILK (whole)
5 cups shredded cheese, divided
1 cup whole milk ricotta cheese
2 cups shredded chicken, cooked
2 cups chopped steamed broccoli
1½ tablespoon seasoning salt
PREPARATION
Preheat oven to 375°F.
Bring a large pot of salted water to boil, then cook pasta according to package directions (about 8 minutes). Drain and reserve.

Over med-high heat, melt butter, add flour, and stir until blended (about 1 minute; do not brown).

Slowly whisk in milk, ½ –¾ cup at a time, periodically using a spatula to scrape up the thicker sauce from the sides of the pan. Then, switch to whisk to incorporate. Keep whisking until sauce is thick and smooth.

Whisk in ricotta, then 4 cups of the shredded cheese, one by one. Add seasoning salt. Add pasta, chicken, and broccoli to cheese sauce and combine.

Pour ½ of contents into a baking dish and sprinkle with ½ cup shredded cheese. Add remaining pasta and top with remaining ½ cup cheese.

Cover with foil.

Bake for 20 minutes and remove foil, then cook for remaining 5 minutes or until browned.

Serve!