1.
If you've taken a walk around the block while self-isolating, you might have noticed a lot more sidewalk art than usual:
2.
Many of these feature messages of hope, like this timely twist on "April showers bring May flowers":
3.
And this one that reminds us "we can do hard things":
4.
Artist Dawn Morrison Wagner left this bit of positivity for kids and their families to come across:
5.
And this talented family left space + social distancing–themed sidewalk art for their neighbors to find:
"Be like NASA: give people space" LOL 😂: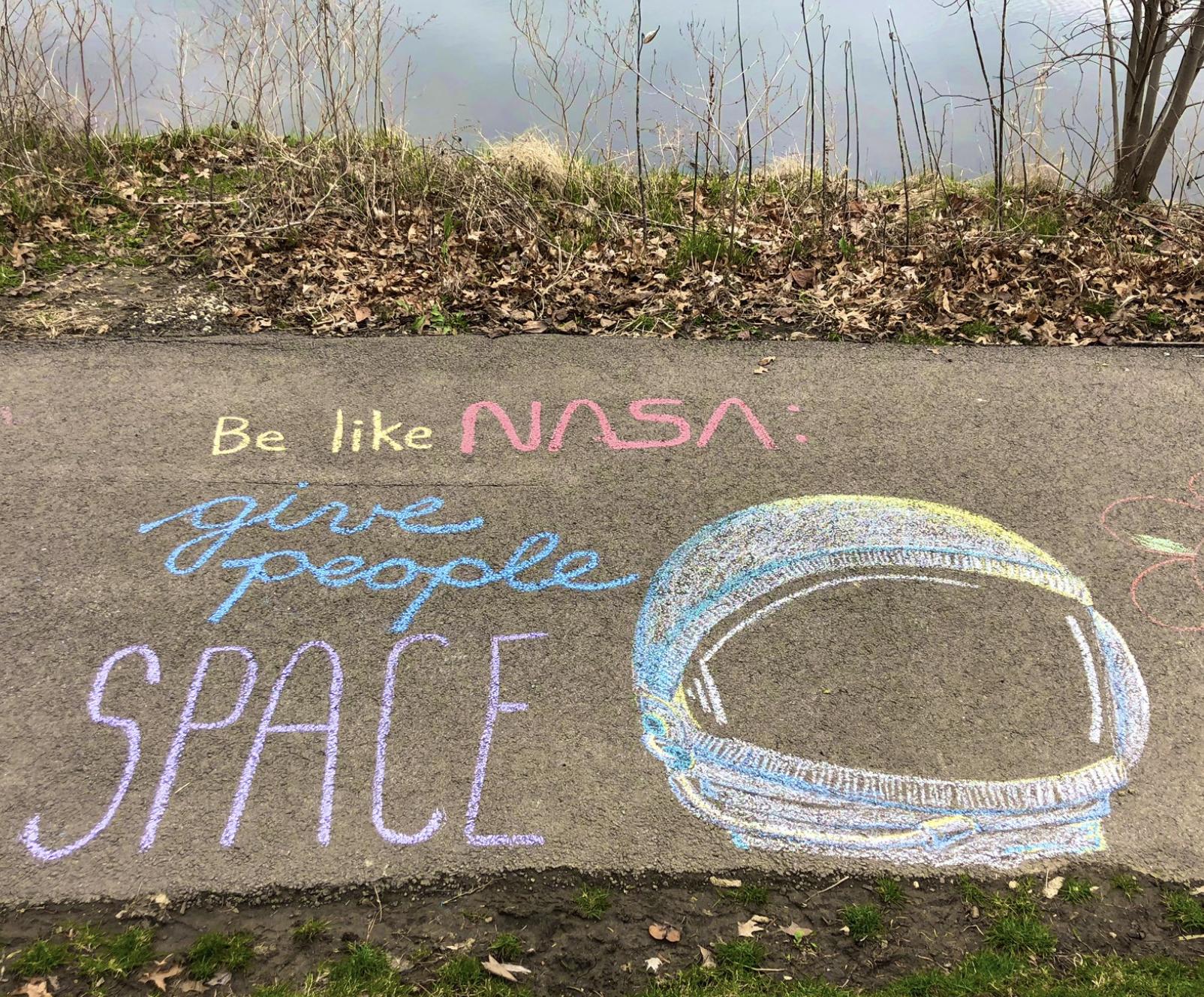 6.
This one comes with a sweet story — when a boy was sad about not being able to have a birthday party, artists Jan and Olivia Riggins left him this as a pick-me-up:
7.
I love the story here, too — a math teacher left some math questions on the sidewalk and ended up bonding with an Amazon delivery guy over them:
8.
This pretty "stained glass" sidewalk art technique using masking tape is also making the rounds:
10.
This sidewalk art, meanwhile, helped people visualize exactly how far apart we should stay from each other:
11.
This one used a Mr. Rogers quote to thank the first responders:
12.
And this one proclaimed, "You can't hug me, so hug a tree":
13.
Erik Greenawalt, aka "The Chalking Dad," made this amazing tribute to the wonders of hand sanitizer:
14.
And he also made this one about the Bill Murray classic Groundhog Day, because right now we're all basically reliving the same day over and over:
15.
Artist Janet Tombros reminded Minions-loving kids to wash their hands:
16.
While this talented artist depicted the gang from South Park:
17.
So if you need a little pick-me-up:
18.
Or a reminder of the good in the world:
19.
It may be as close as the sidewalk outside: