9 Tweets From British Mums And 9 From American Moms That Are All Hilarious
Mum...mom...they're all mothers.
British mums and American moms may live across an ocean from each other, but when you get right down to it they aren't all that different from each other.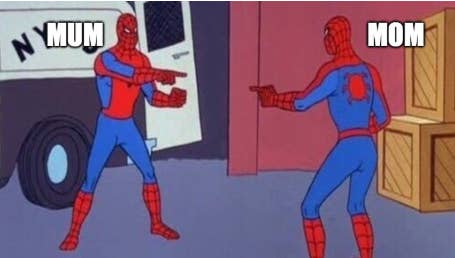 1.
For example, mums have to deal with sassy kids...
2.
And so do moms over here.
3.
Motherhood changes you in the UK...
4.
And it changes you in the US (well, at least a little).
5.
Mums struggle with their kids and food...
6.
And, yep, so do moms.
7.
Mums can't help but notice things are a little different when their kids are on break...
8.
And neither can moms (although the mum's day above sounds a lot more pleasant).
9.
Mums sometimes say stuff they know they probably shouldn't...
10.
And so do moms.
11.
Mums can seriously frustrate their kids when they're trying to tell a knock-knock joke...
12.
And moms can frustrate their kids just as much when playing peekaboo.
13.
Mums know that having your kids around other people can be a trial...
14.
And so do moms (if not quite in the same way).
15.
Mums (and aunties) know that kids are REALLY big on snacks...
16.
And so do moms here in the ol' US of A.
17.
Lastly, in the UK mums like hang out with other moms...
18.
And in the US, samesies.