Hi! I'm Mike, and this is my 12-year-old daughter, Annie, and — what with everything going on the last few years — it's been a minute since we got to enjoy Disneyland together. So, we took a trip to see how the Happiest Place on Earth is celebrating the 2022 holidays...AND the release of Black Panther: Wakanda Forever!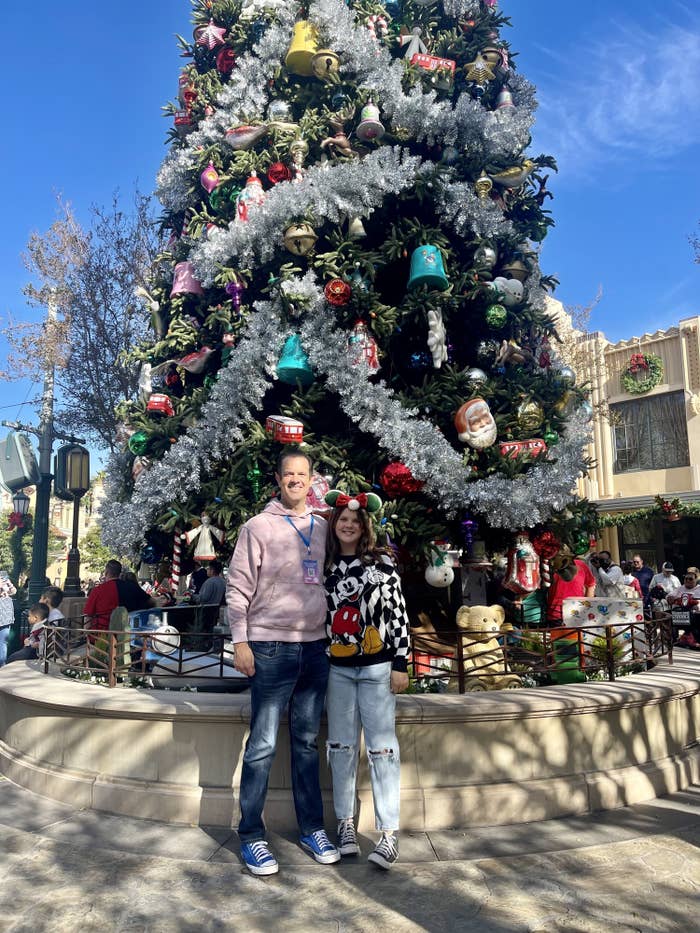 Since Black Panther: Wakanda Forever is the big buzz, let's kick things off by talking about that. From now through January 8, you can find a LOT of cool BP:WF stuff at Disney California Adventure Park, including the Black Panther Celebration Garden just beyond the Avengers Campus. There you'll find this Instagrammable Wakanda Forever wall...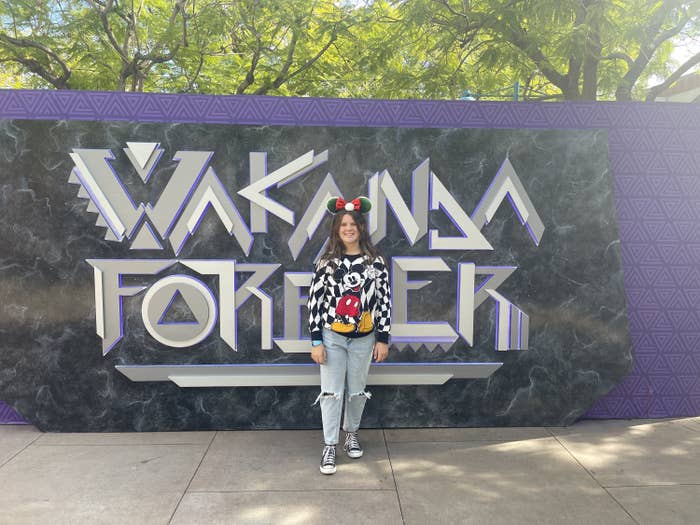 ...and this incredible memorial for T'Challa, which, as you can see...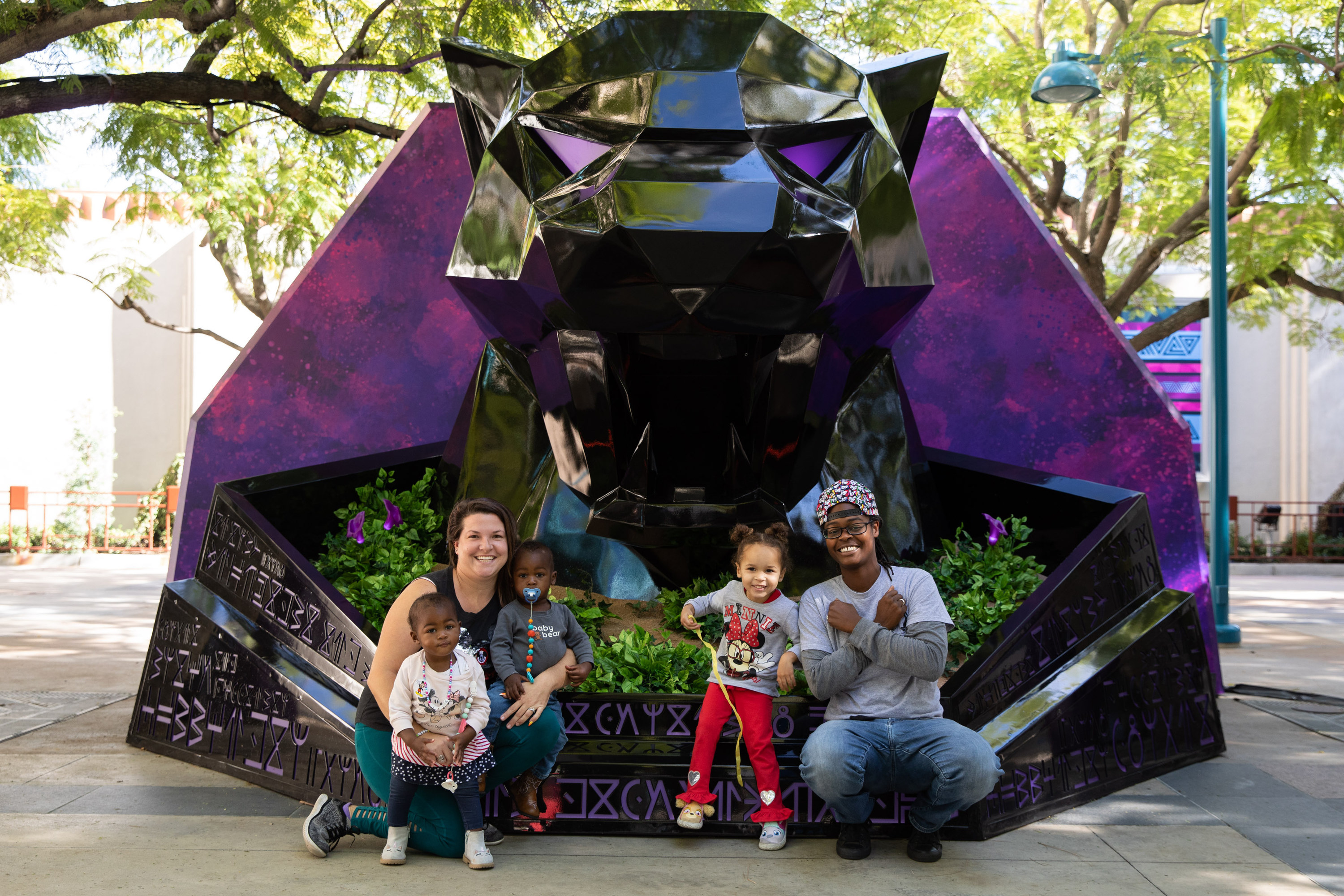 ...looks absolutely amazing lit up at night.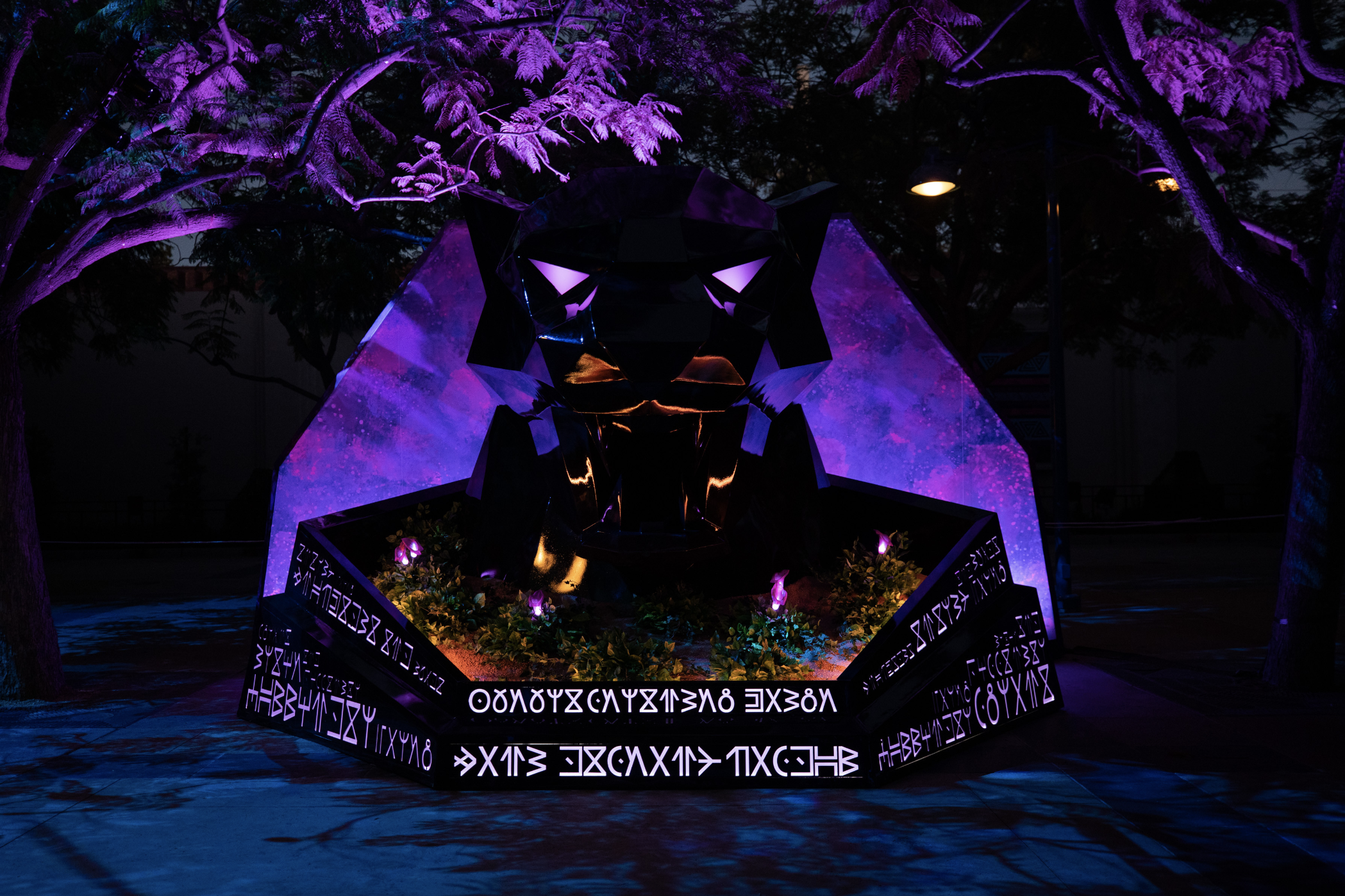 Our favorite part, though, was seeing that Black Panther is now part of Avengers Campus too. We were lucky enough to be there when the new Black Panther appeared atop the Avengers Headquarters for the very first time ever!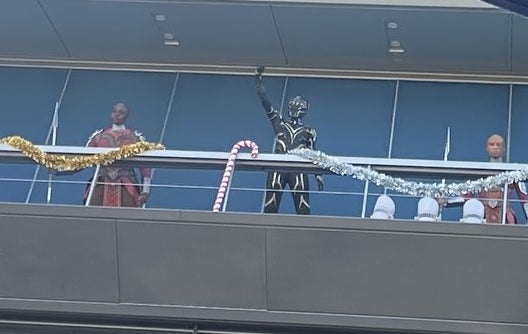 What's that? My crappy, zoomed-in iPhone photo of the Black Panther didn't satisfy you? OK, here's a much, much better photo not taken by me.
In addition to seeing Black Panther on the Avengers Campus, there's also an all-new experience there starring M'Baku, who invites Avengers Campus recruits (that's, you know, all of us schlubs standing around) to join in "The Way of the Jabari," complete with chants and percussion. If you've been there for any of the other Avengers Campus experiences, you'll find this new one every bit as memorable.
You can also see props and costumes from the movie (plus Black Panther merchandise I'll get into in a sec) at the Super Store Featuring Avengers Campus at Hollywood Land. Pretty cool!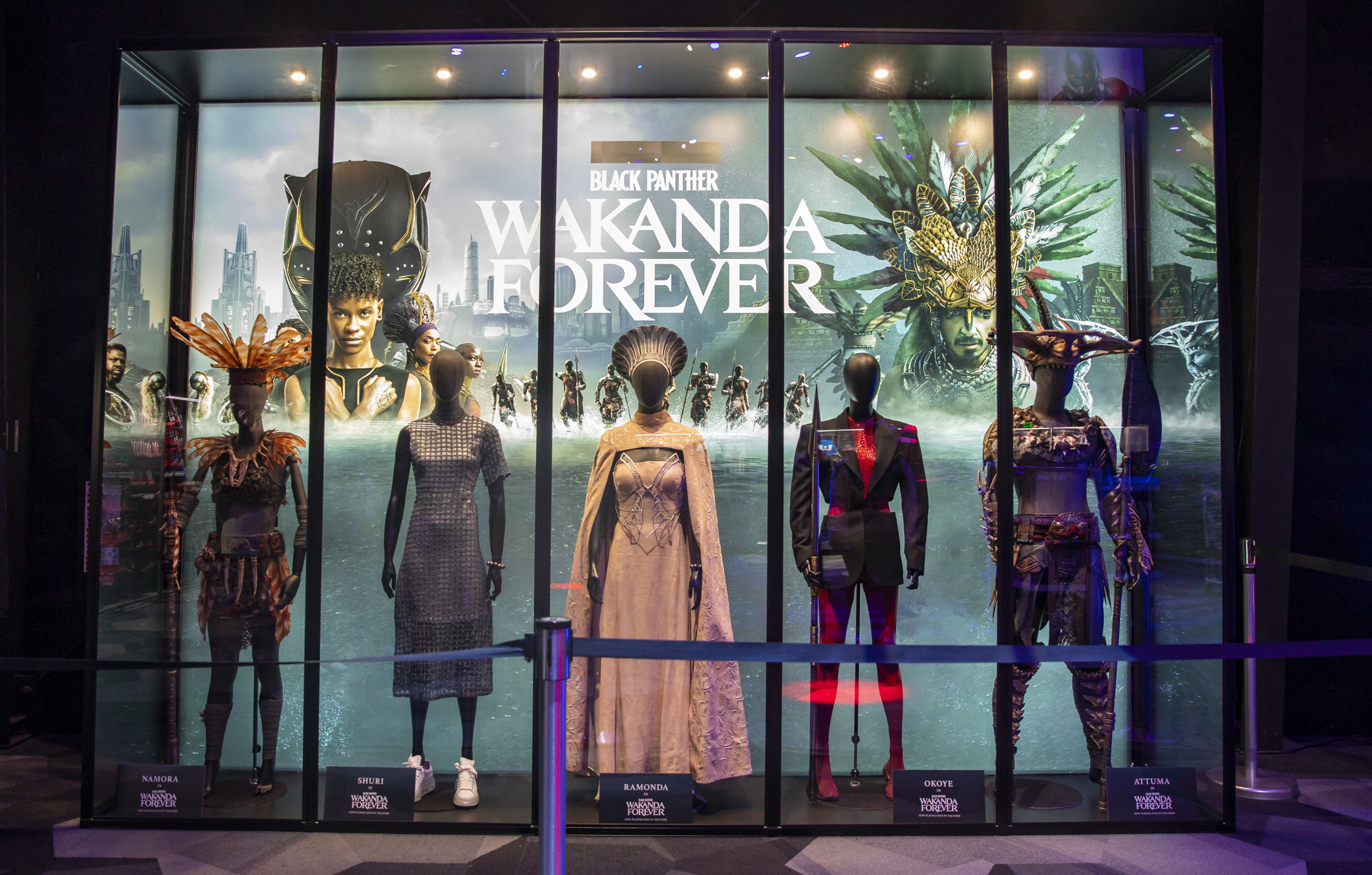 Curious about that sweet, sweet Black Panther swag? Well, Disneyland didn't disappoint. First, they've added a new drinking vessel — Shuri's gauntlet!
There are also T-shirts...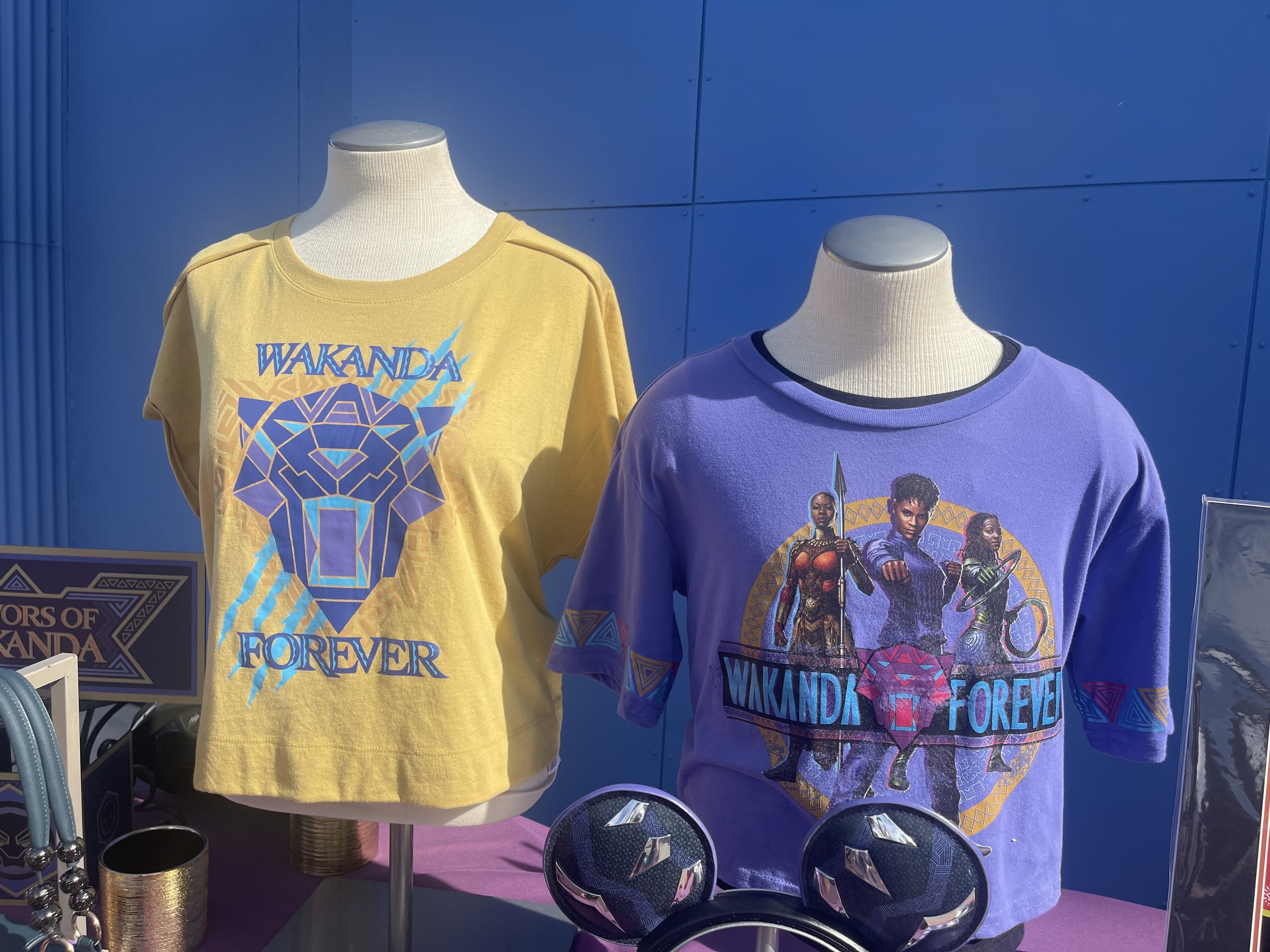 ...this adorable doll (and yes, those are Black Panther Mickey ears behind it!)...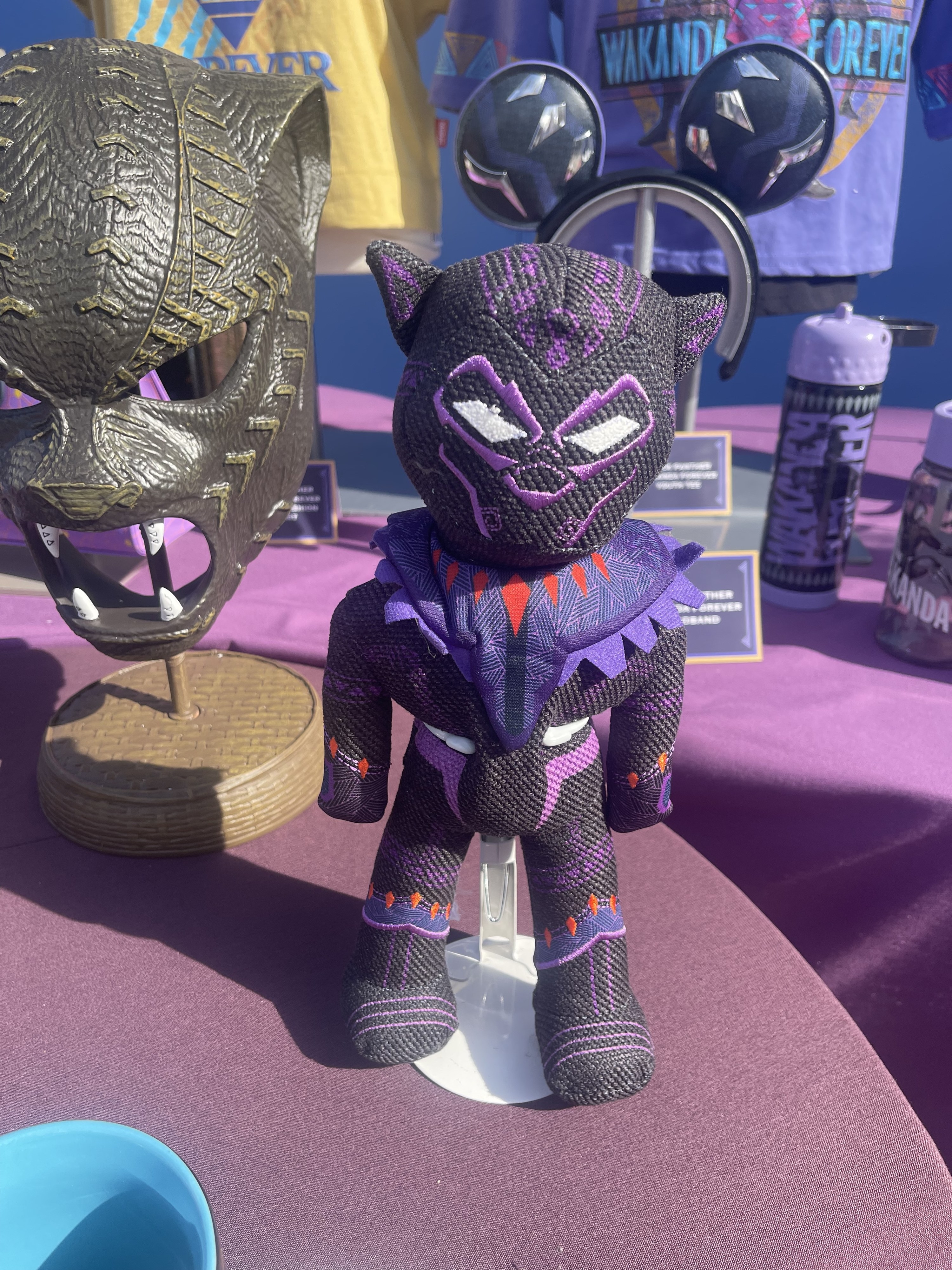 ...and this striking mask (among other items).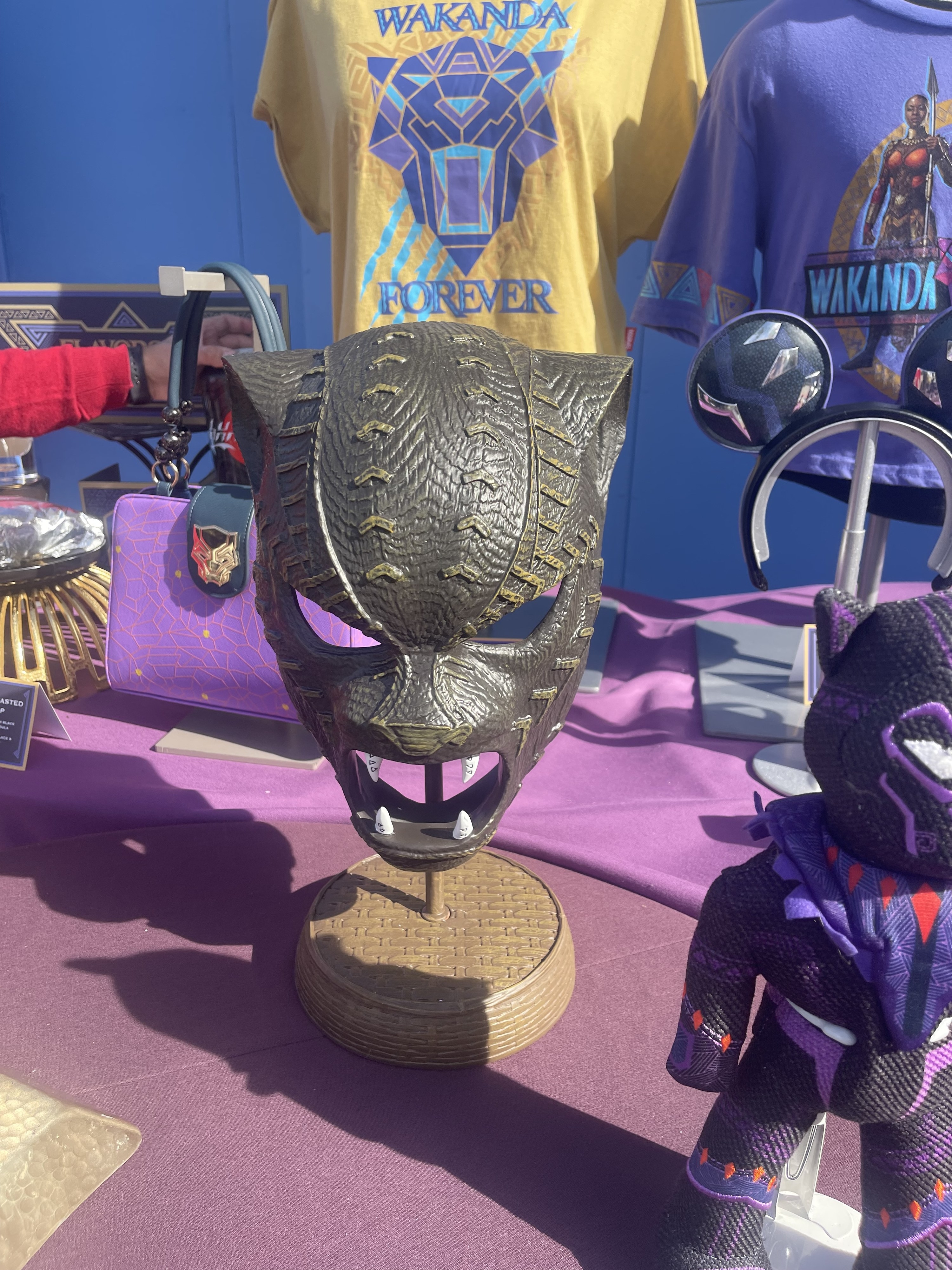 There's also Black Panther: Wakanda Forever food! The Flavors of Wakanda marketplace — located in the Hollywood Backlot — serves traditional African dishes including Maafe, a ground peanut stew with sweet potatoes, tomatoes, black-eyed peas, and spices, served with naan...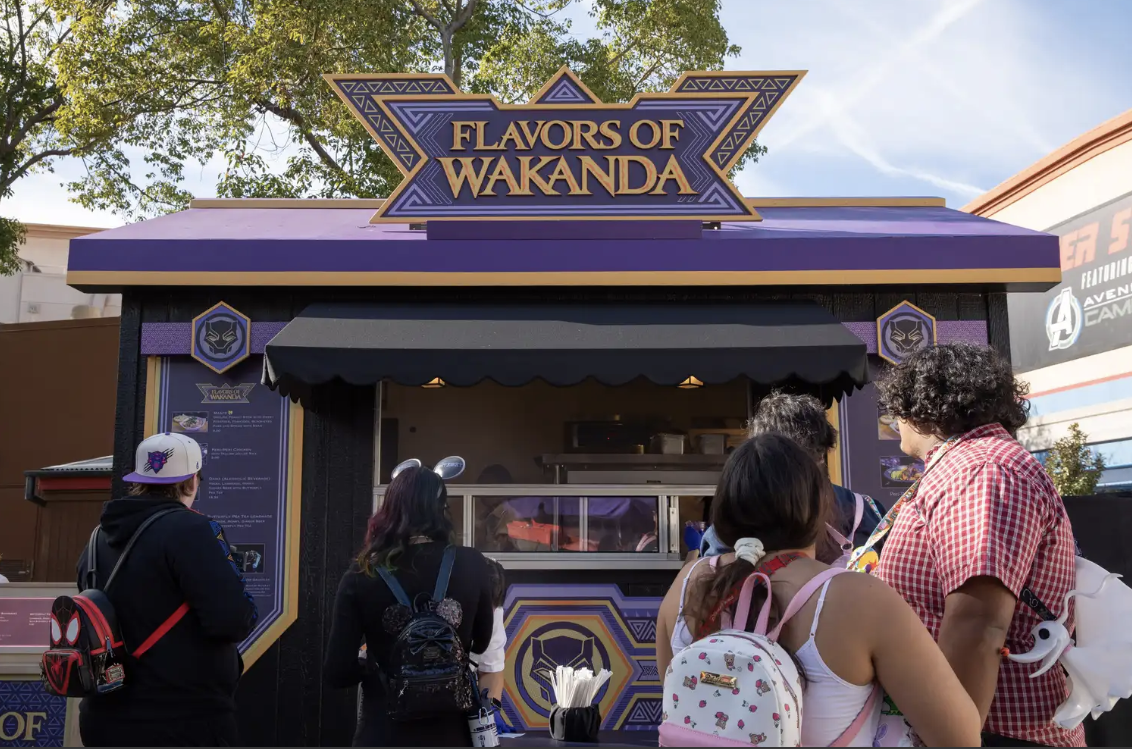 You can also get a Wakandan Roasted Pork Wrap — featuring spiced pork with black garlic sauce and chermoula — at the Shawarma Palace and Shawarma Palace Too inside Avengers Campus.
Speaking of food, that leads us to one of the other big things we were really excited to experience — the Festival of Holidays...especially all of the food booths at the Festival Foods Marketplace! This year there are nine booths serving wildly inventive, multicultural and diverse cuisine...plus beers and other alcoholic libations for the adults to try.
OK, so here's what parents need to know — the non-dessert food options at the Festival of Holidays will definitely excite adults, but might be a bit too adventurous for kids (this was definitely the case with Annie). The good news is a) there are plenty of places there to get kid-friendly non-dessert food, and b) there are lots of dessert options at the Festival Marketplace your kids WILL be very interested in.
All of that is to say we started things off with dessert! So what did we try first? The Chocolate Bourbon-flavored Tart made with Twix Cookie Bar Pieces!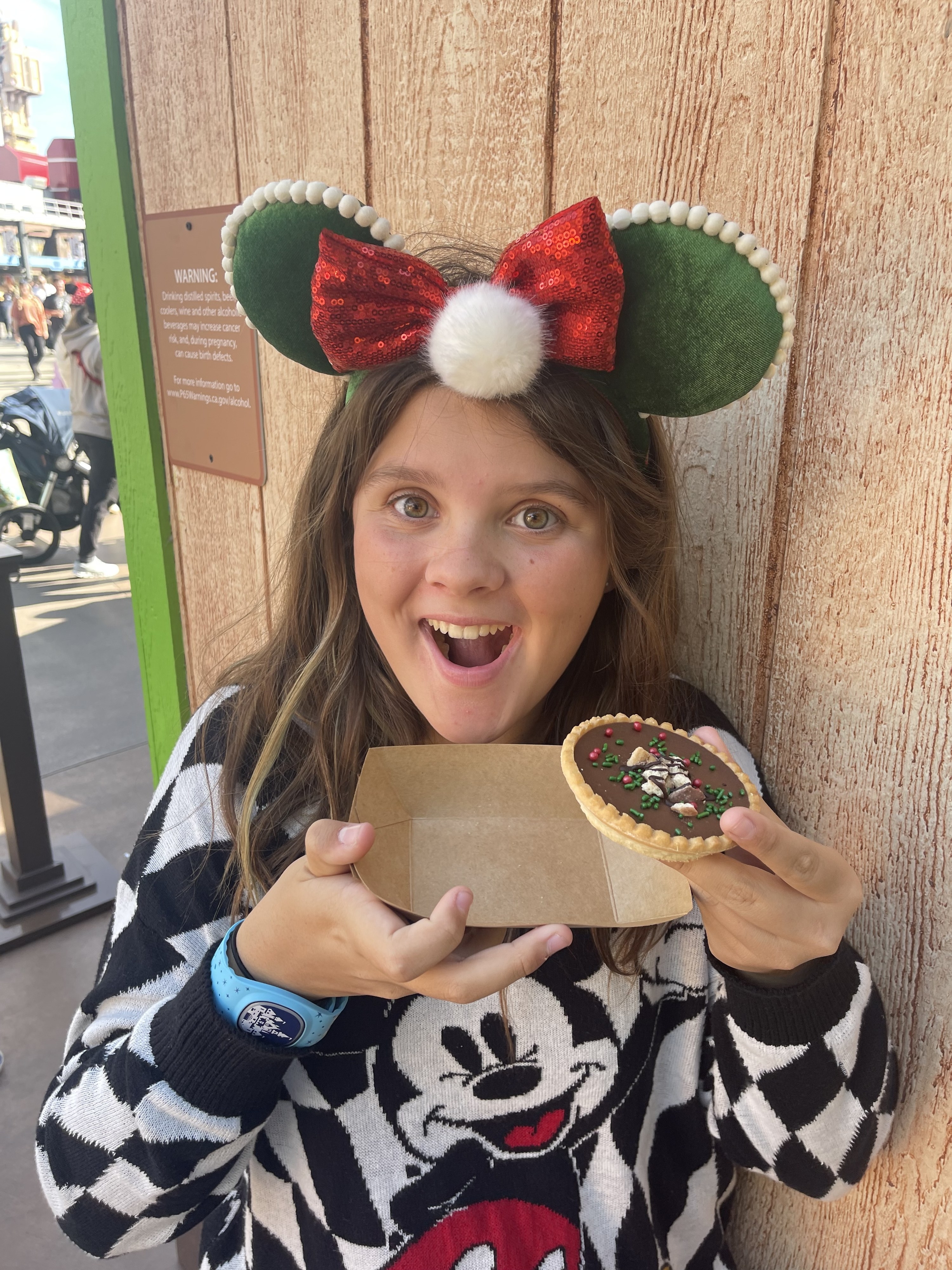 This was the dessert we were most excited to try...but it ended up being a bit underwhelming. You can't taste the bourbon, so it's definitely kid-friendly, but it's a pretty straight-forward chocolate tasting pie. OK, but not fantastic.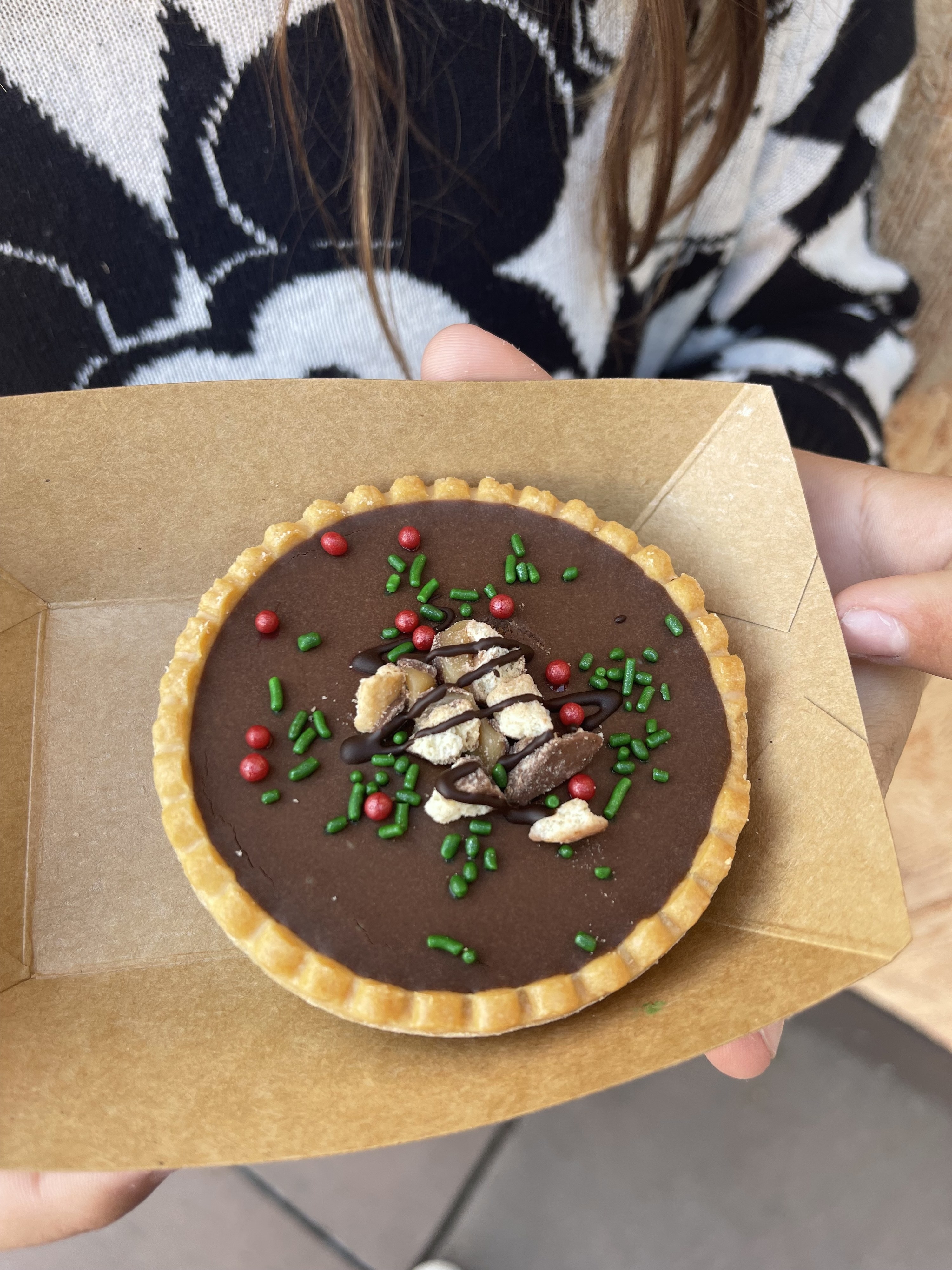 Fantastic, though, is definitely how Annie and I would rate the Milk and Cookies Hot Cocoa!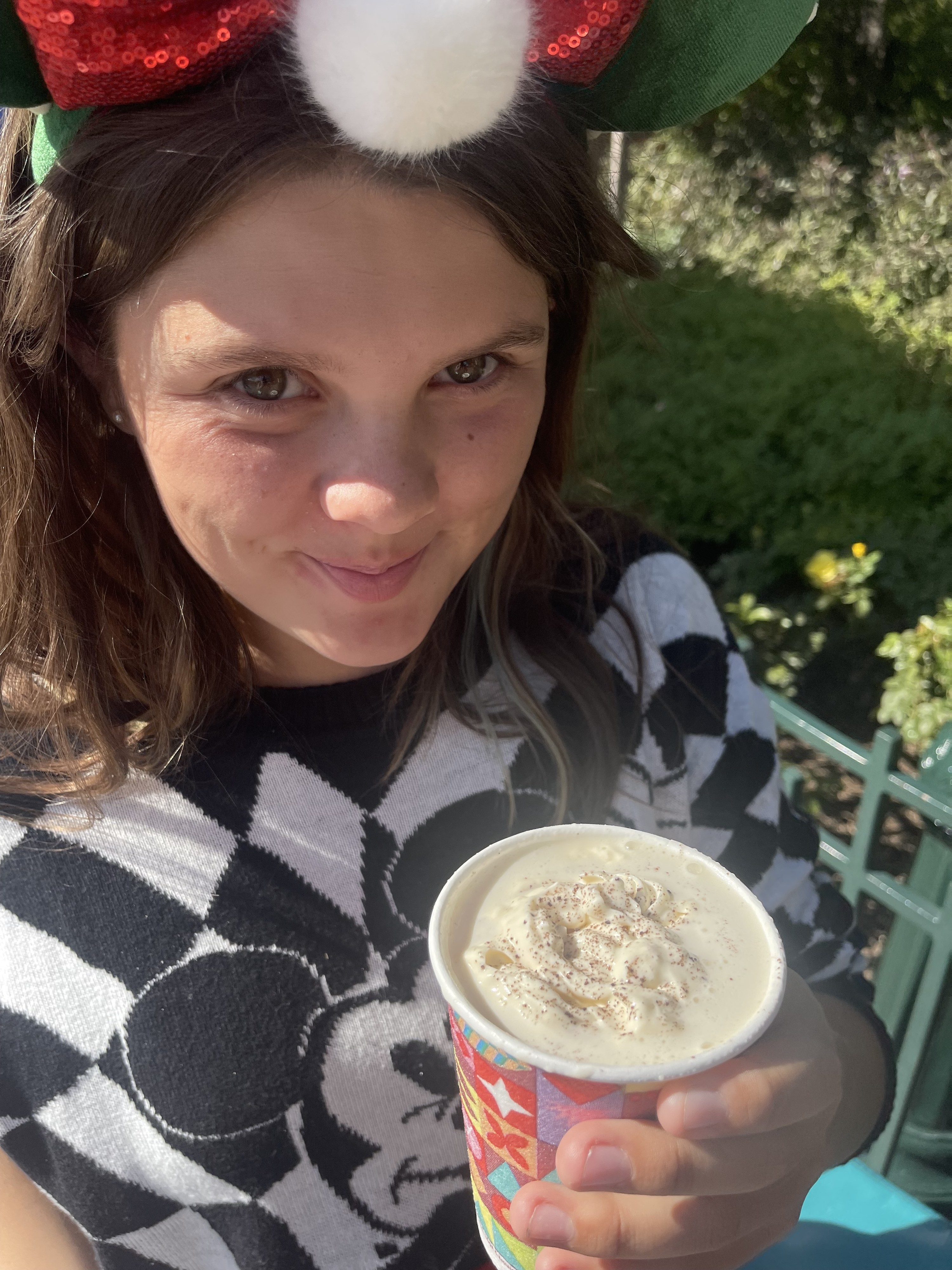 It's a delicious twist on hot cocoa, and you can really taste the flavors of Cookies & Cream and White Chocolate. Both dad and daughter found it super satisfying. Would definitely recommend!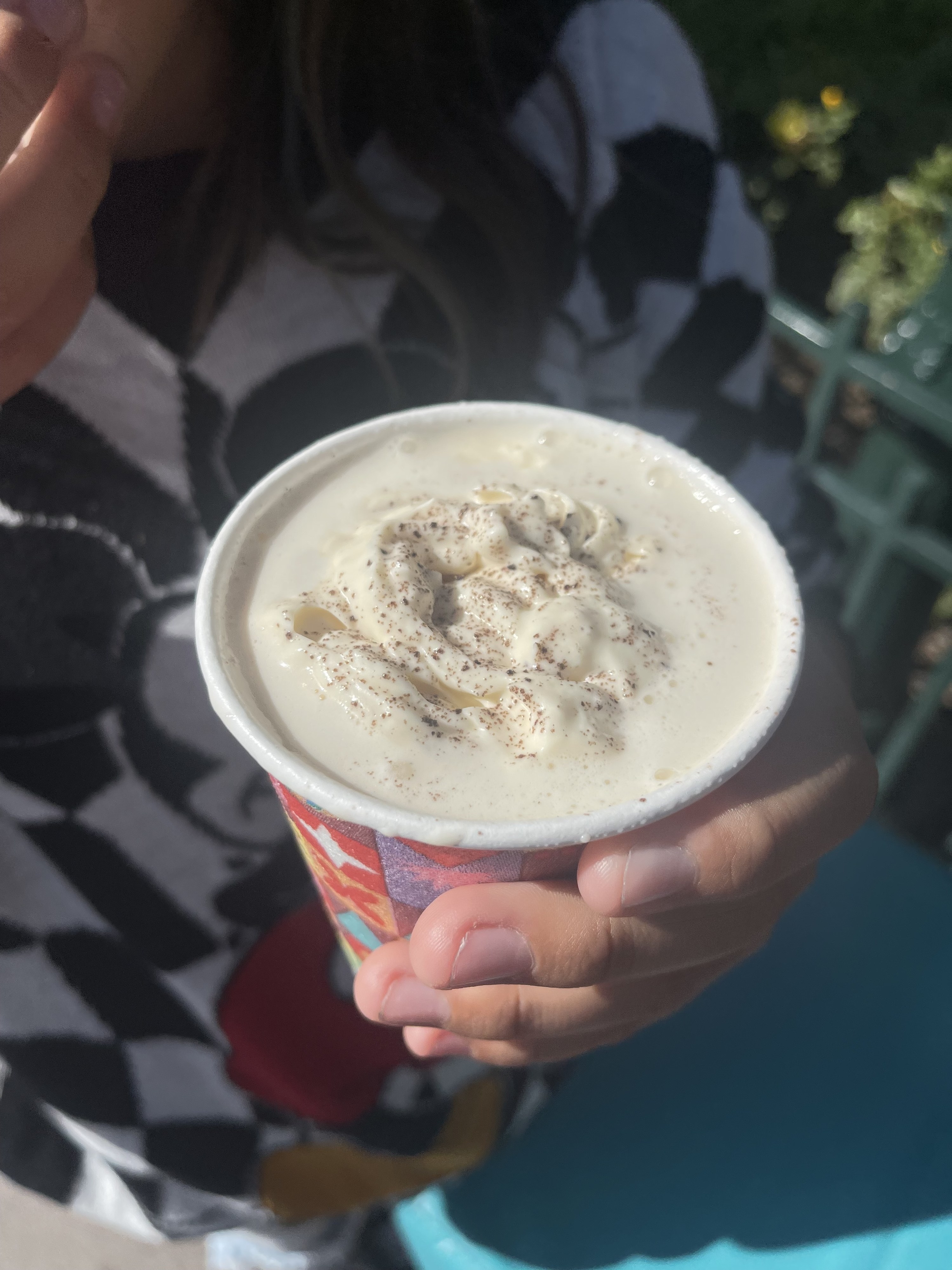 Next, since I am a sort-of responsible parent, I made us get some non-dessert food. I got the Pork Belly Adobo (Garlic Fried Rice with Braised Pork Belly, Chicharron Pieces, and Green Onions) and it was fantastic — definitely deserving all the drool-inspiring buzz around it!
Annie got the Southern mac and cheese (Cajun-style Mac & Cheese with Andouille Sausage and Spiced Panko Crunch) and liked the mac and cheese part but picked around the sausage. As I said, many of the Festival Marketplace meals aren't totally on the kid palette. For the record, I tried a bite with the sausage and was a fan!
One more food thing before we move on — and please don't judge me for giving my kid a boatload of sugar (we were having a fun day, ha) — the special holiday shakes at Schmoozies! were truly out of this world!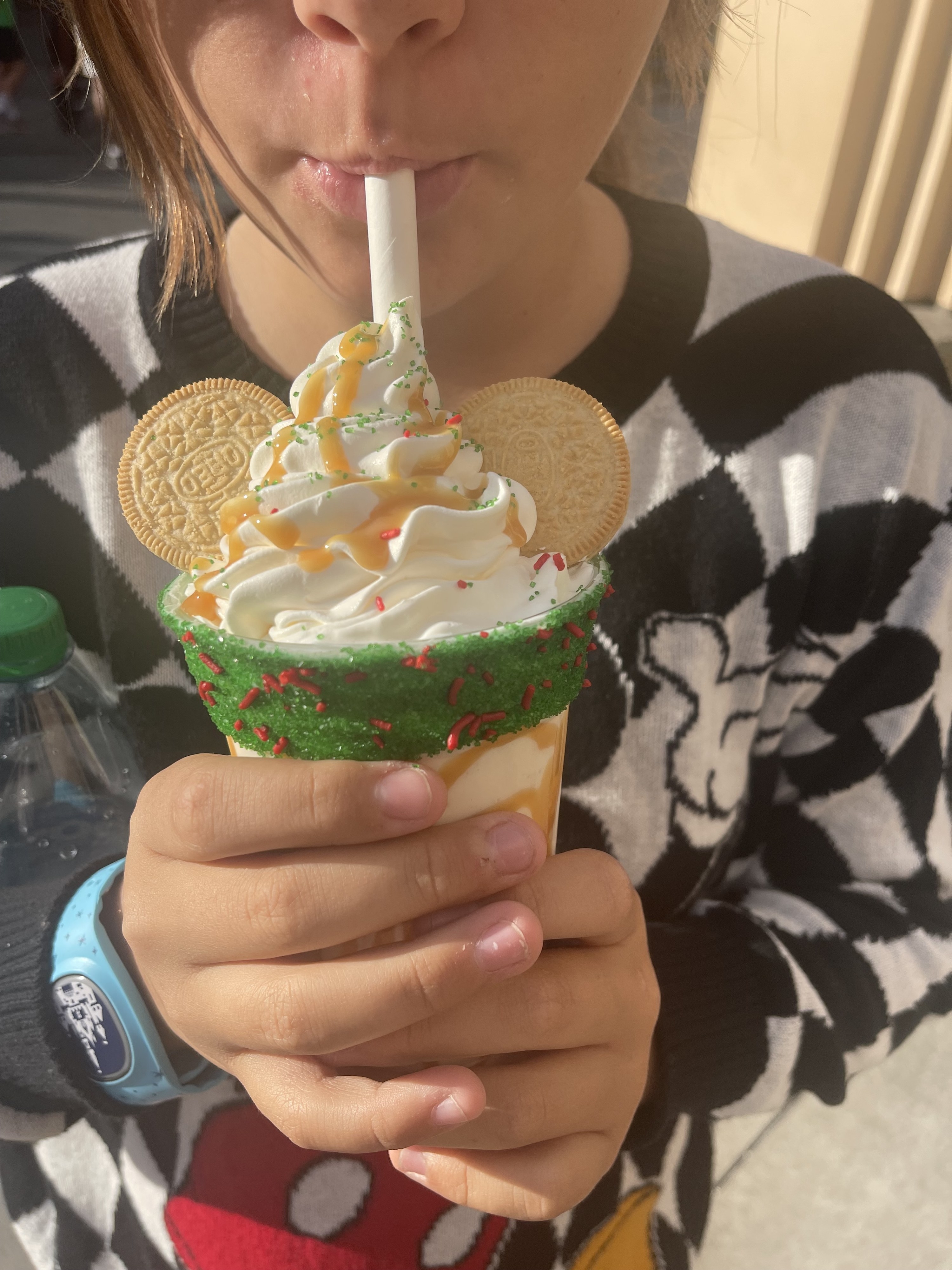 OK, OK. The Festival of Holidays is not ALL about food. There's so much other stuff there that will bring a smile to your face. Annie — who like all kids her age never stopped singing "We Don't Talk About Bruno" — was stoked to discover Mirabel from Encanto was having meet and greets at Paradise Gardens Park.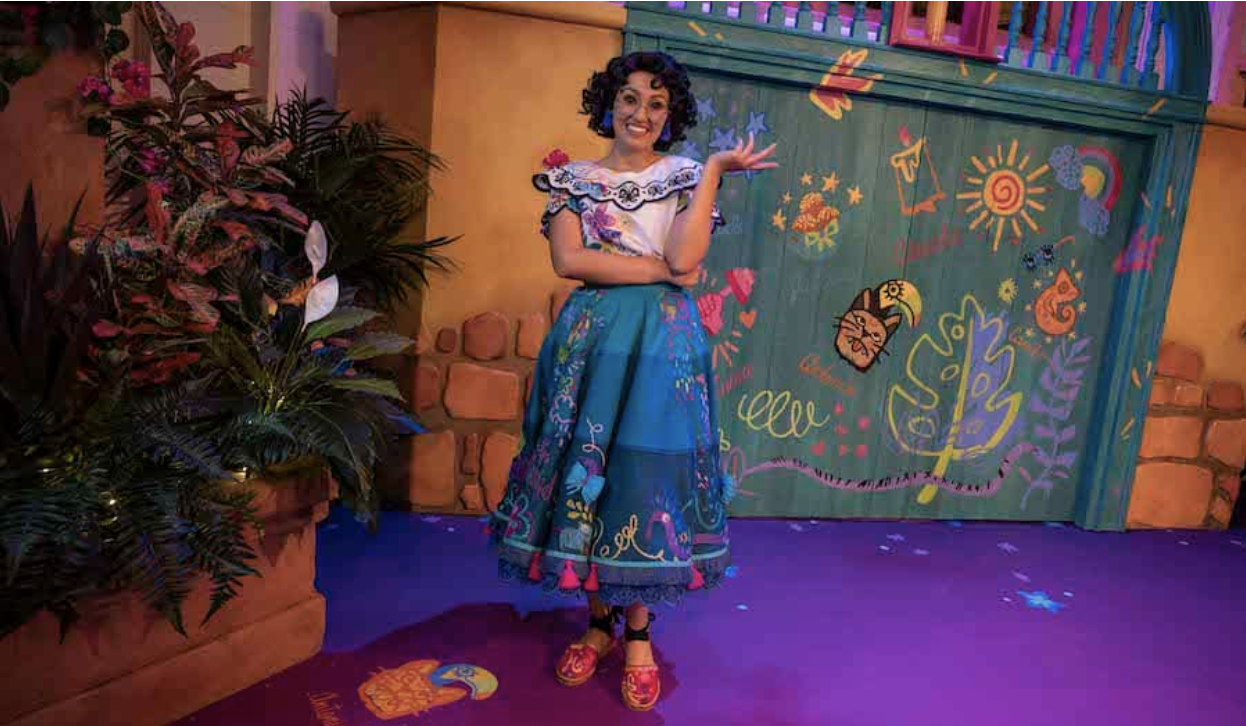 There are other characters to meet too, made up for the holidays. Here, for example, are Judy and Nick from Zootopia!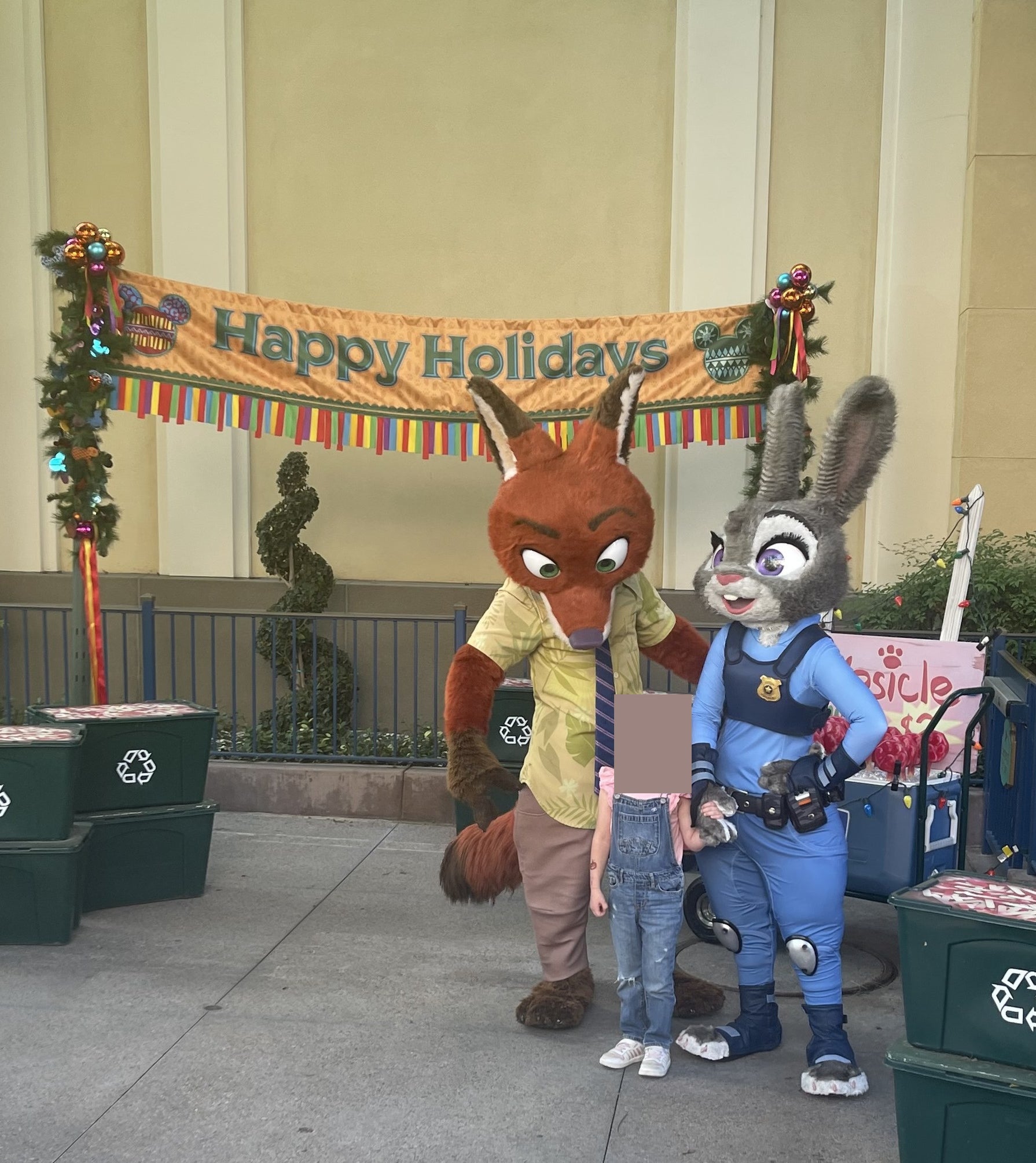 While enjoying the Festival of Holidays you're likely — like us — to see Mickey's Happy Holidays. It's basically a moving party full of Disney and Pixar characters celebrating the holidays!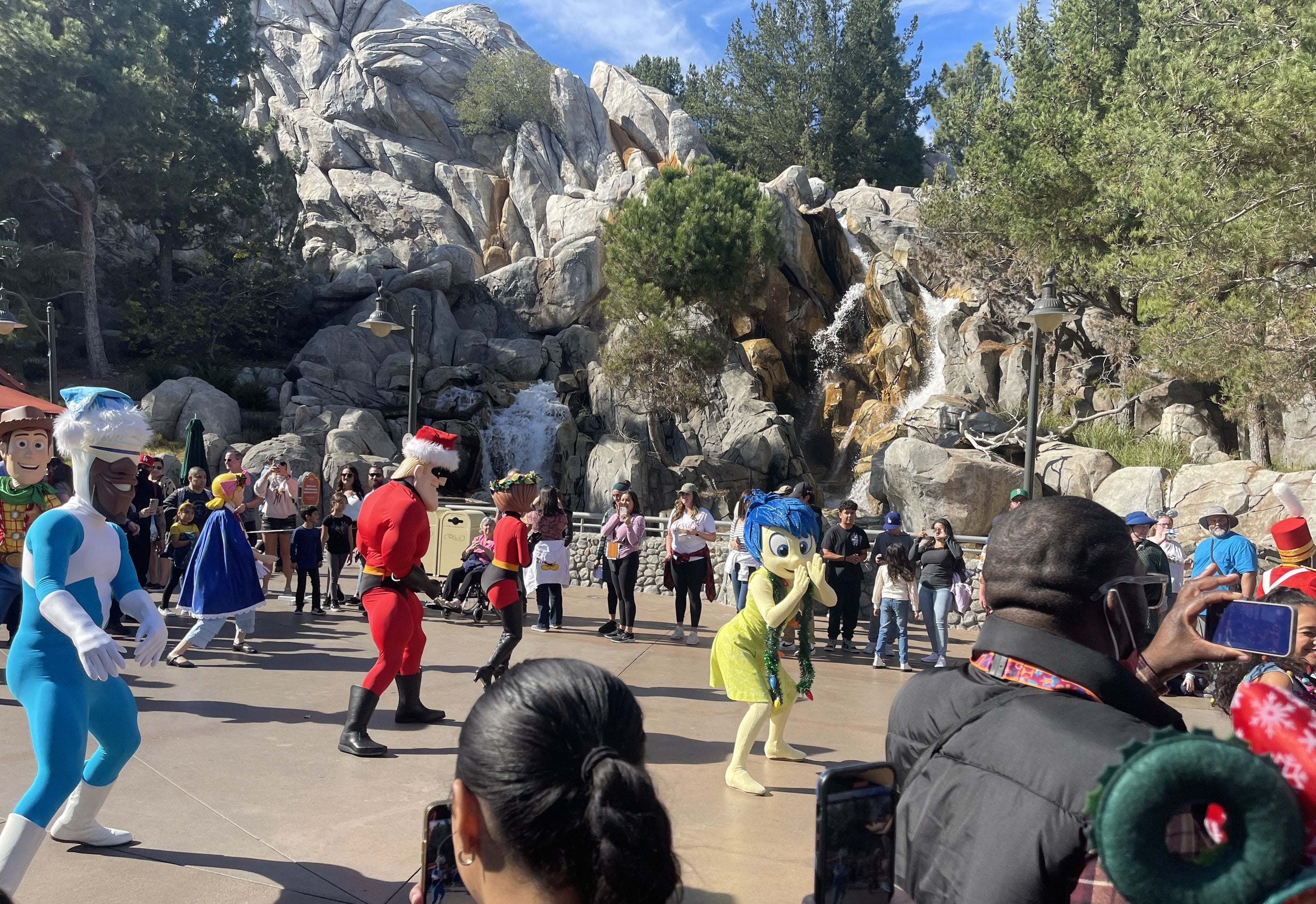 At Paradise Garden Park there's also the Disney ¡Viva Navidad! Street Party…which includes Mickey and Minnie in their fiesta gear, the three caballeros (Donald, Pancho, and Jose), samba dancers from Brazil, and more!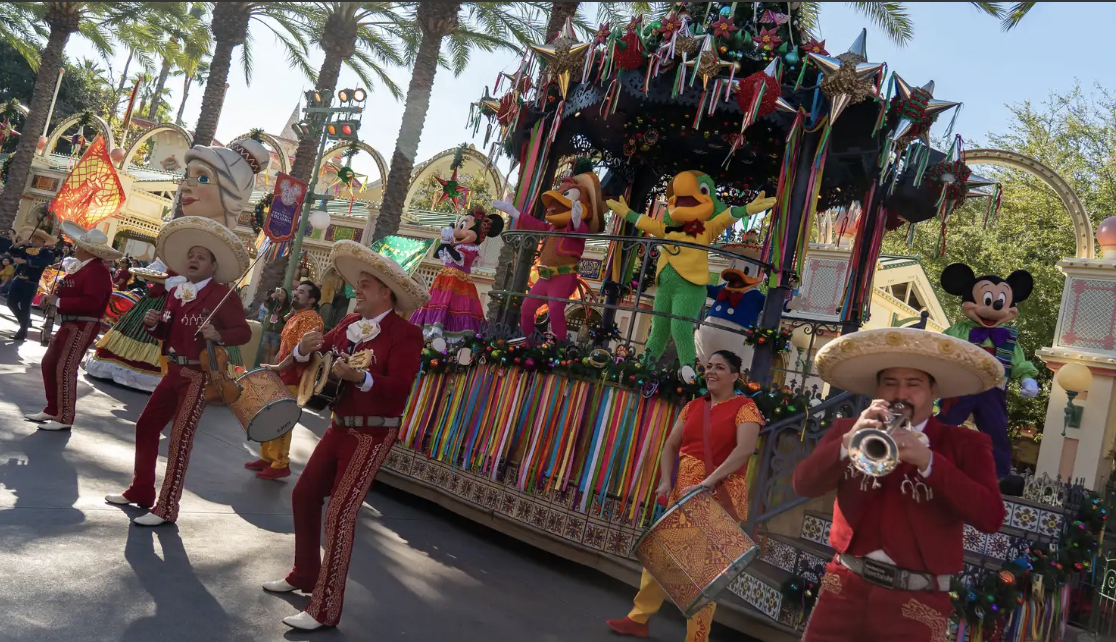 Meanwhile, Cars Land has been transformed for the holidays too!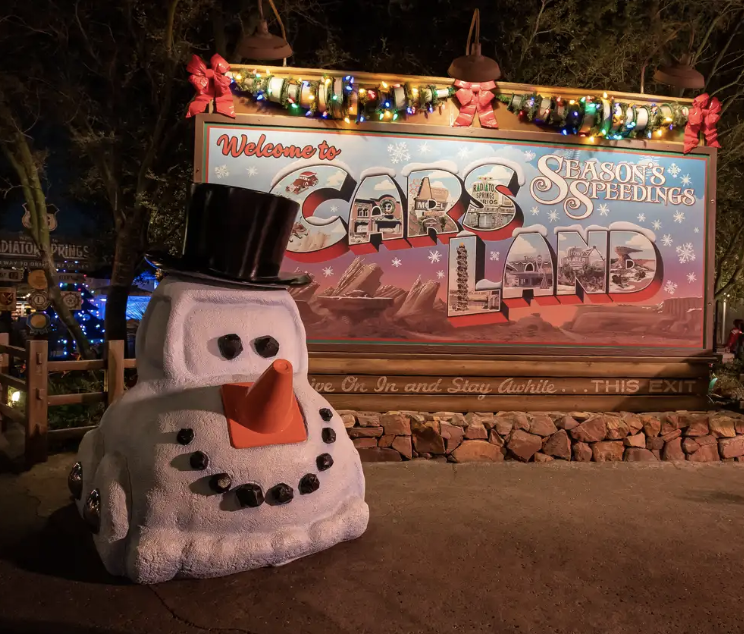 Gotta love this Christmas tree...cars-style.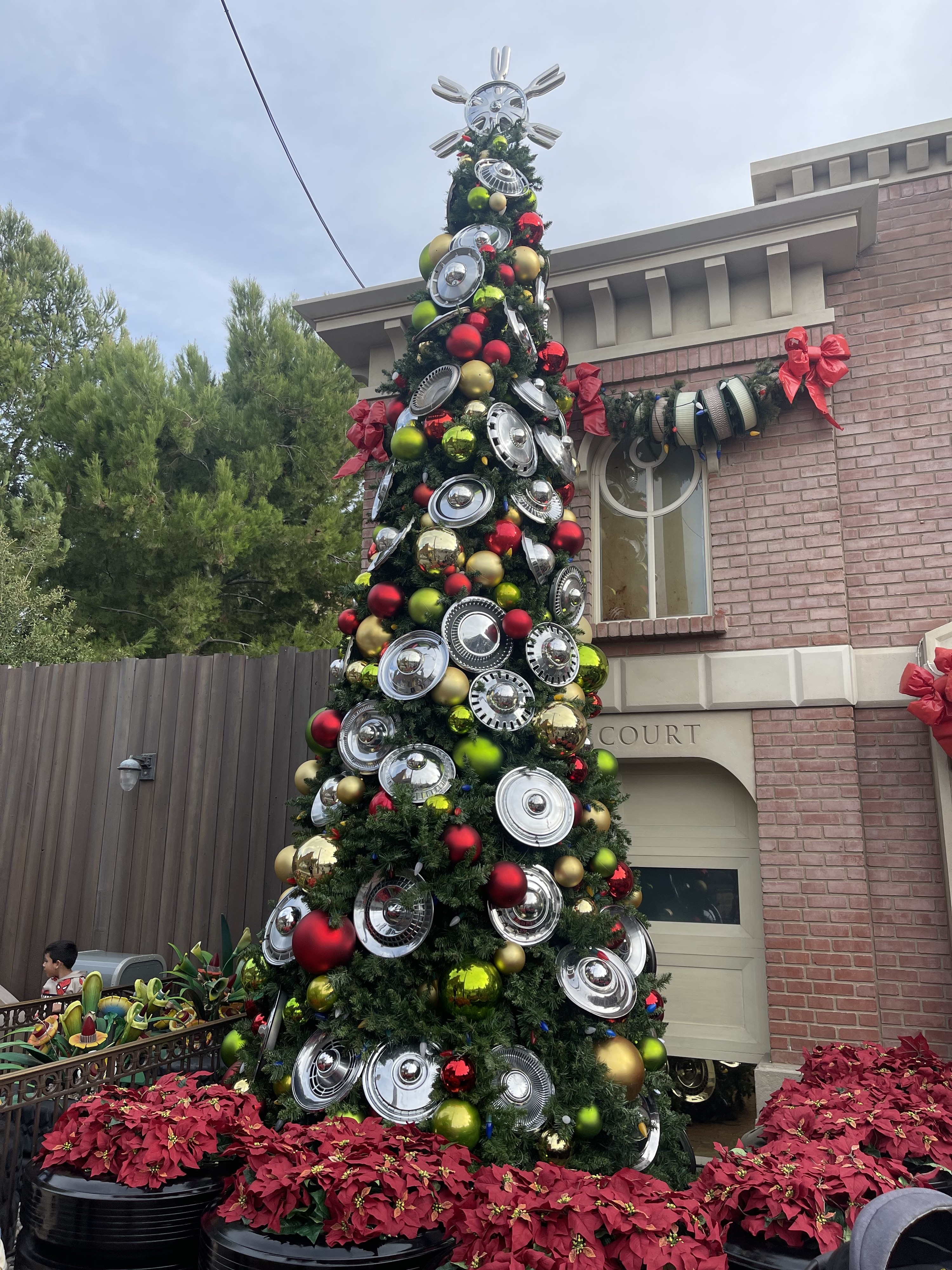 Now — as you can probably tell — Annie and I spent so much time at Disney California Adventure that we didn't have a lot of time left to explore Disneyland...but when we did it was spectacularly lit up for the holidays.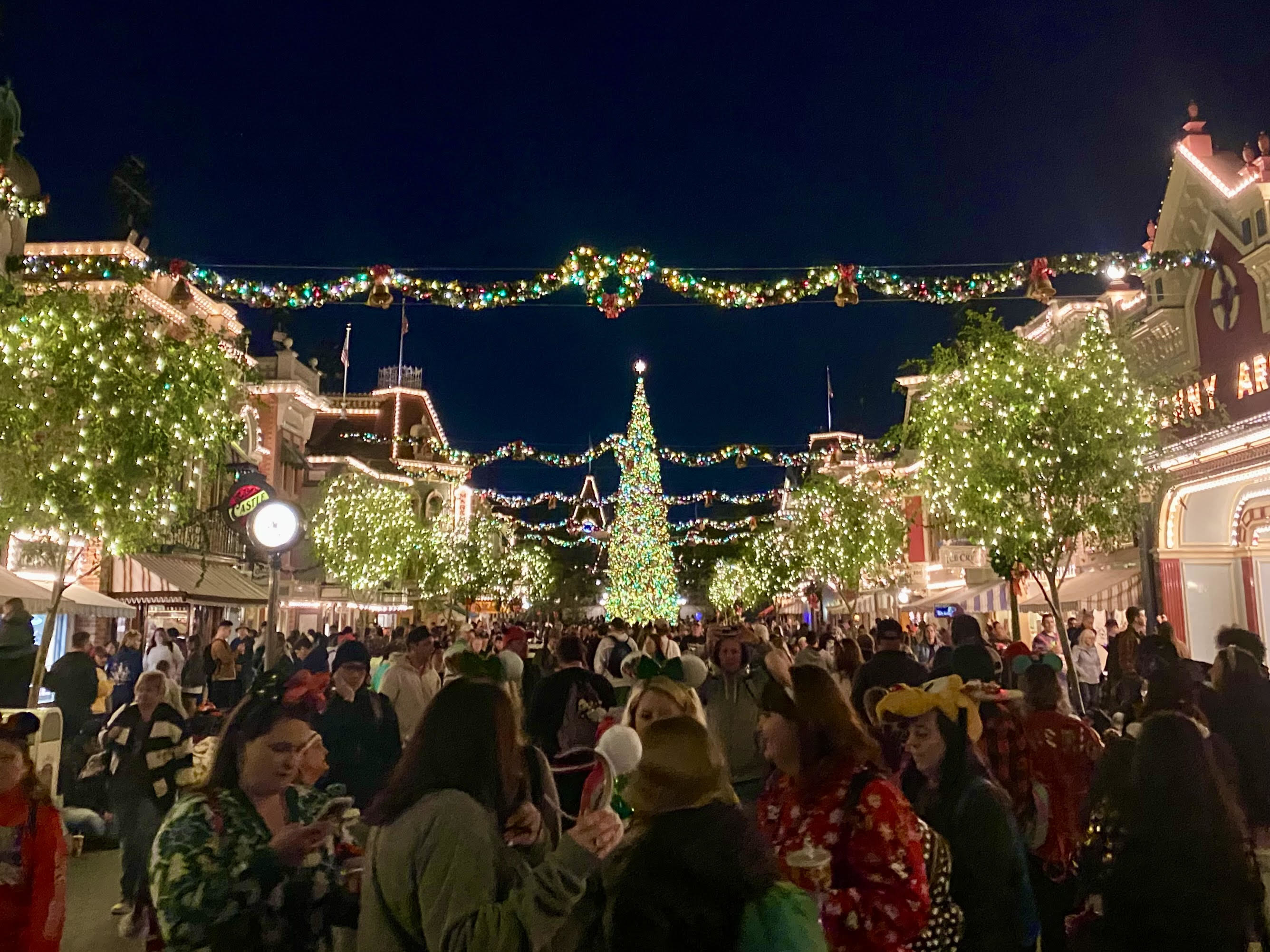 Pretty impressive, huh?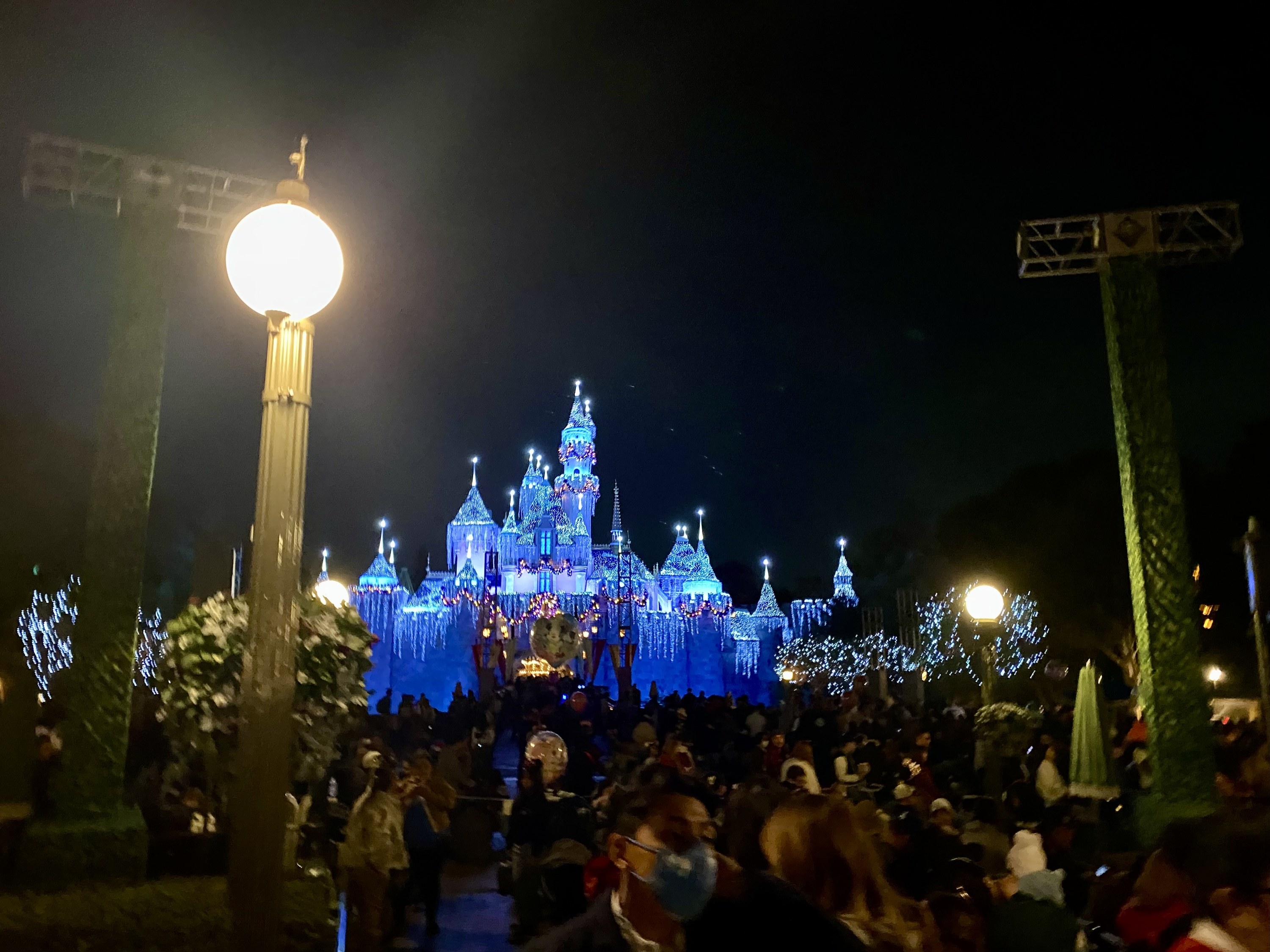 Here's but a few of the special things they've got going on for the holidays: The Haunted Mansion and "It's a Small World" have both been transformed for the holidays...
...the "A Christmas Fantasy" Parade is better than ever, featuring some Disney characters debuting new, vintage-inspired outfits...
...and the "Believe… in Holiday Magic" fireworks spectacular ends with "snowfall" trickling down on you, which is about as magical as things get!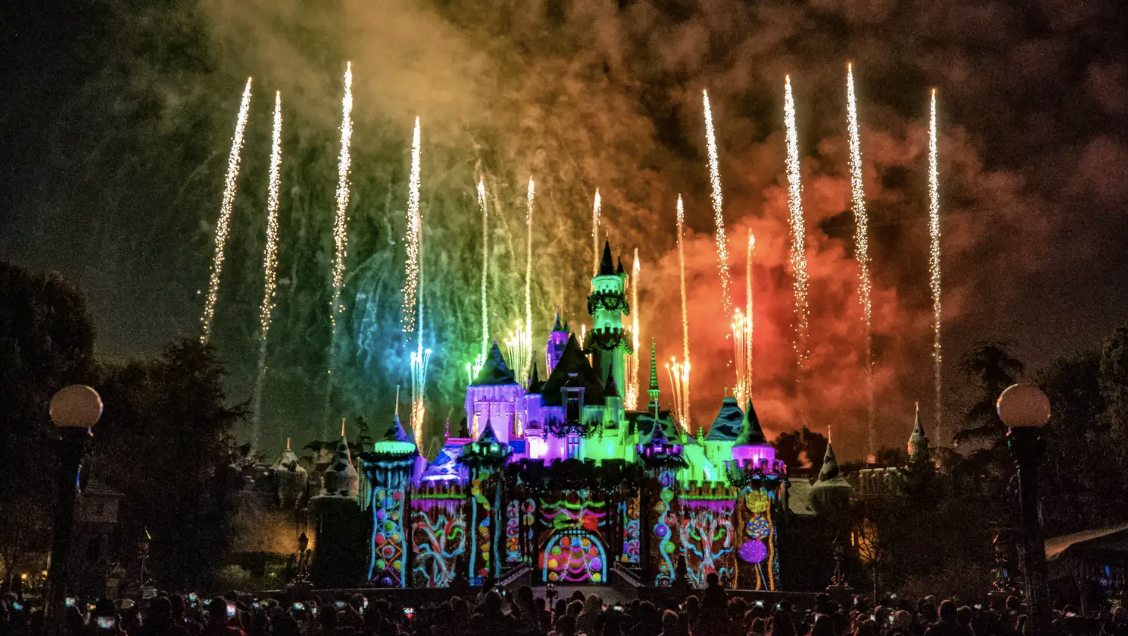 The Disneyland Resort will be celebrating the holidays at both parks through January 8, 2023!