Peach Cherry Blueberry Shortcake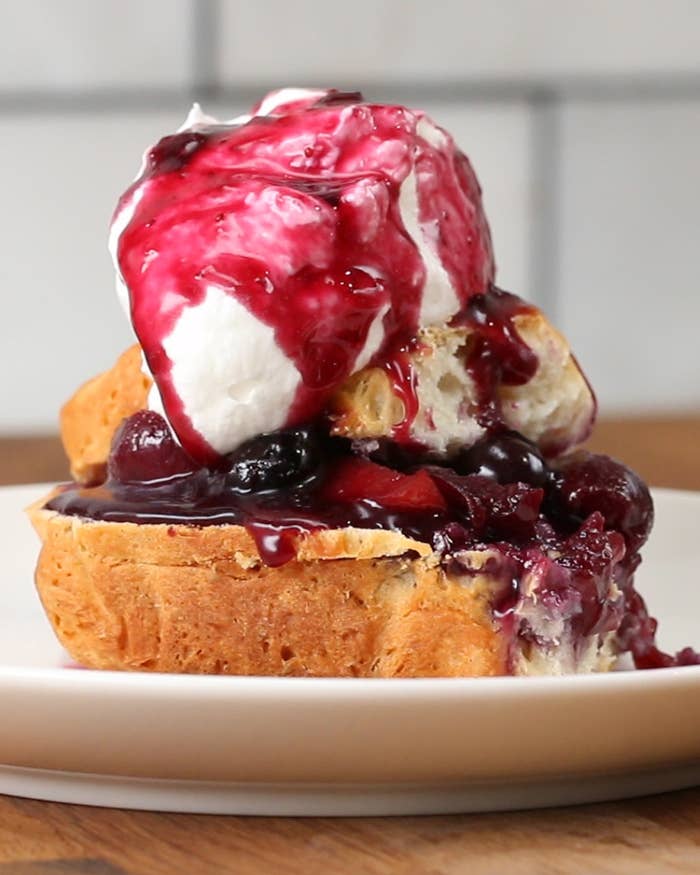 INGREDIENTS
Serves 8
1 tube of pre-made buttermilk biscuit dough
2 ripe yellow peaches
1 cup bing cherries
1 cup blueberries
¾ cup cane sugar, divided
¼ cup water
2 tablespoons fresh lemon juice
1 cup heavy whipping cream
PREPARATION
1. Preheat oven to 350˚F/175˚C.
2. In an 8" square baking dish lined with parchment paper, arrange the biscuits side-by-side to cover the bottom of the dish, forming a sheet. Bake for 20 minutes or until biscuits are golden brown.
3. Slice the peaches, discarding the pits. Destem and pit the cherries.
In a large skillet, combine peaches, cherries, blueberries, ½ cup of the sugar, and water. Heat to a simmer. Cook for 15-20 minutes, stirring occasionally. Remove from heat.
4. In a large bowl, beat 1 cup of heavy cream with a whisk or electric mixer until frothy. Add remaining ¼ cup of sugar. Continue to beat until the whipped cream forms soft peaks.
5. Remove the sheet of biscuits from the dish. Slice in half lengthwise, like a bagel.
6. Spoon the fruit mixture onto the bottom half of the biscuits, reserving some of the liquid.
7. Replace the top half of the biscuits. Carefully separate into individual portions (the syrup will still be quite warm!)
8. Spoon whipped cream over the top and drizzle with reserved fruit syrup.
9. Enjoy!
Want BuzzFeed Tasty right in your inbox? Sign up for our newsletter!