U.S. troops captured one of the suspected ringleaders of the attacks on the U.S. consulate in Benghazi, Libya that killed four Americans, the Washington Post reported:
The officials said Ahmed Abu Khattala was captured near Benghazi by American troops, working alongside the FBI, following months of planning, and was now in U.S. custody "in a secure location outside Libya." The officials said there were no casualties in the operation, and that all U.S. personnel involved have safely left Libya.
Officials did not disclose where Khattala was being held, but did confirm that he is alive and en route to the United States.
The U.S. State Department declared Khattala a "specially designated global terrorist" in January and called him a "senior leader" of the Benghazi branch of the militant organization Ansar al-Sharia and is reported to have been the mastermind behind the 2012 attack.
In October 2012, the New York Times published an interview with Khattala, where he reportedly scoffed at the American and Libyan governments investigation into the attack, while sipping a strawberry frappe on the patio of a luxury hotel in Benghazi. At the time, Khattala had not been questioned about his suspected involvement in the consulate attacks:
Libya's fledgling national army is a "national chicken," Mr. Abu Khattala said, using an Arabic rhyme. Asked who should take responsibility for apprehending the mission's attackers, he smirked at the idea that the weak Libyan government could possibly do it. And he accused the leaders of the United States of "playing with the emotions of the American people" and "using the consulate attack just to gather votes for their elections."
President Obama released a statement Tuesday confirming Khattala's capture and promising that he will face "the full weight of the American justice system."
The United States has an unwavering commitment to bring to justice those responsible for harming Americans. Since the deadly attacks on our facilities in Benghazi, I have made it a priority to find and bring to justice those responsible for the deaths of four brave Americans. I recently authorized an operation in Libya to detain an individual charged for his role in these attacks, Ahmed Abu Khatallah. The fact that he is now in U.S. custody is a testament to the painstaking efforts of our military, law enforcement, and intelligence personnel. Because of their courage and professionalism, this individual will now face the full weight of the American justice system.
Even as we welcome the success of this operation, we also pause to remember the four Americans who gave their lives in Benghazi representing their country: Ambassador Chris Stevens, Sean Smith, Tyrone Woods, and Glen Doherty. As I said shortly after the attack, they exemplified the values that we stand for as a nation, including a commitment to freedom and justice. All Americans should be grateful for their service, just as we are grateful to all our personnel – civilian and military – who represent our country around the globe. We will continue to honor our fallen by carrying on their efforts in support of the Libyan people's aspirations to live in a peaceful, prosperous, and democratic society.
With this operation, the United States has once again demonstrated that we will do whatever it takes to see that justice is done when people harm Americans. We will continue our efforts to bring to justice those who were responsible for the Benghazi attacks. We will remain vigilant against all acts of terrorism, and we will continue to prioritize the protection of our service-members and civilians overseas. We will also sustain our support for the Libyan people, as they work to overcome years of tyranny and do the difficult work of building a democracy.
Speaking at an event in Pennsylvania, President Obama confirmed that Ahmed Abu Khattala is currently being transferred back to the United States.
House Speaker John Boehner released a statement Tuesday following reports of Khattala's arrest:
"It is obviously good news that this terrorist is now in American custody, and I am grateful for the work of our military - assisted by the FBI - in capturing him. I look forward to hearing more details regarding the raid, and I expect the administration to give our military professionals time to properly gather any useful intelligence he has."
Other Republicans in Congress offered their thoughts on Khatalla's capture Tuesday, too.
Sen. Saxby Chambliss said, "They'd been in touch with us for the last several days" on the operation. "I'm really encouraged by finally getting some good news on Benghazi."
Sen. Lindsey Graham said, "If they bring him into the United States, they're going to Mirandize this guy and it would be the biggest mistake for the ages to read this guy his Miranda rights. We should have quality time with this guy. Weeks and months. Don't torture him, but have some quality time with him."
Sen. John McCain said, "Obviously he should be put on trial. I'd bring him to Guantanamo. Where else can you take him?"
Sen. Marco Rubio joined McCain Tuesday and said that Khatalla should taken to Guantanamo Bay:
"The Obama Administration should immediately transfer him to the military detention center at Guantanamo Bay for detention and interrogation. In order to locate all individuals associated with the attacks that led to the deaths of four Americans, we need intelligence. That intelligence is often obtained through an interrogation process."
On the decision to try Khatalla in the U.S., a National Security Council spokeswoman told NBC News, "The Administration's policy is clear on this issue: We are seeking to close Guantanamo, not add to its population."
Criminal complaint against Khattala accuses him of three charges, including "killing a person in the course of an attack on a federal facility."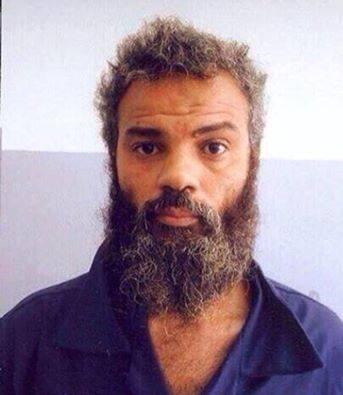 Update: Khattala could face execution.
Khattala's first charge — killing a person during an attack on a federal facility — could earn him the death penalty, according to the Department of Justice. Attorney General Eric Holder said Tuesday in a statement that Khattala's arrest proves the U.S. will go to any length to capture terrorists that attack Americans:
Our nation's memory is long, and our reach is far. The arrest of Ahmed Abu Khatallah represents a significant milestone in our efforts to ensure justice is served for the heinous and cowardly attack on the U.S. diplomatic facility in Benghazi. Since that attack – which caused the deaths of Ambassador J. Christopher Stevens, Sean Smith, Tyrone Woods and Glen Doherty – we have conducted a thorough, unrelenting investigation, across continents, to find the perpetrators. The arrest of Khatallah proves that the U.S. government will expend any effort necessary to pursue terrorists who harm our citizens. Khatallah currently faces criminal charges on three counts, and we retain the option of adding additional charges in the coming days. Even as we begin the process of putting Khatallah on trial and seeking his conviction before a jury, our investigation will remain ongoing as we work to identify and arrest any co-conspirators. This is our pledge; we owe the victims of the Benghazi attack and their loved ones nothing les.
Michael Hayes is a senior reporter for BuzzFeed News and is based in New York.
Contact Mike Hayes at mike@buzzfeed.com.
Got a confidential tip? Submit it here.