Prime Minister Najib Razak said Malaysia has negotiated a deal with pro-Russian separatists in command of the region to hand over the black boxes and the remains of 282 victims from Malaysia Airlines Flight MH17.
"We need to know what caused the plane to crash and who was responsible, so that justice may be done," Razak said at the midnight press conference.
The self-proclaimed leader of the Donetsk People's Republic, Alexander Borodai, told Razak that separatists will give the black boxes to Malaysia officials at 9:00 p.m. local time in Ukraine.
Borodai claimed over the weekend that the separatists in control of the crash site had in possession what he believed to be the black boxes.
Razak added that the bodies of 282 victims of the MH17 crash will be handed over to Dutch authorities.
Earlier on Monday, a train carrying the remains of the victims departed from the Torez train station en route to Kharkiv, where they will reportedly be handed over to representatives from the Netherlands. The remains will then be flown to Amsterdam on board a Dutch C130 Hercules, the Malaysia PM said.
Ukraine President Petro Poroshenko told CNN's Cristiane Amanpour Monday that 16 bodies are still missing from the crash.
Razak "guaranteed" in his statement that independent international investigators will have full access to the crash site.
The United Nations Security Council, meanwhile, unanimously voted on Monday in favor of an Australian resolution that calls for an international investigation into the crash of MH17. Russia reluctantly voted for the measure following intense lobbying from the other members of the Security Council.
The measure calls for a "full, thorough and independent international investigation" into the downing of MH17 and an end to military activity in Eastern Ukraine. Said U.S. Ambassador to the United Nations Samantha Power, "Access must be immediate and it must be full. Period."
"If Russia is not part of the solution, it will continue to be part of the problem," said Power.
Malaysia and the pro-Russian separatists have officially handed off the black boxes.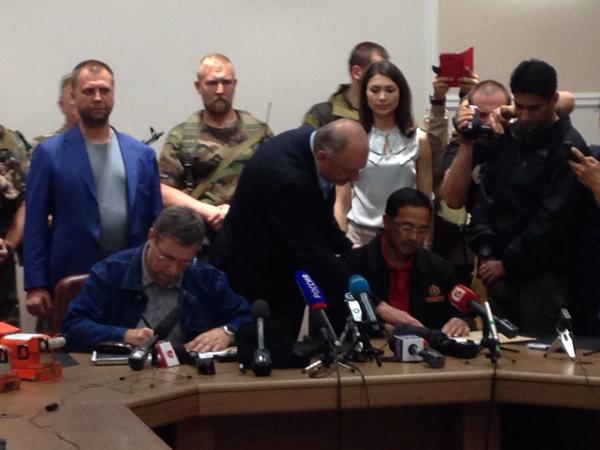 Michael Hayes is a senior reporter for BuzzFeed News and is based in New York.
Contact Mike Hayes at mike@buzzfeed.com.
Got a confidential tip? Submit it here.