Healthy Shrimp Salad Recipe With Lettuce Roasted Veggies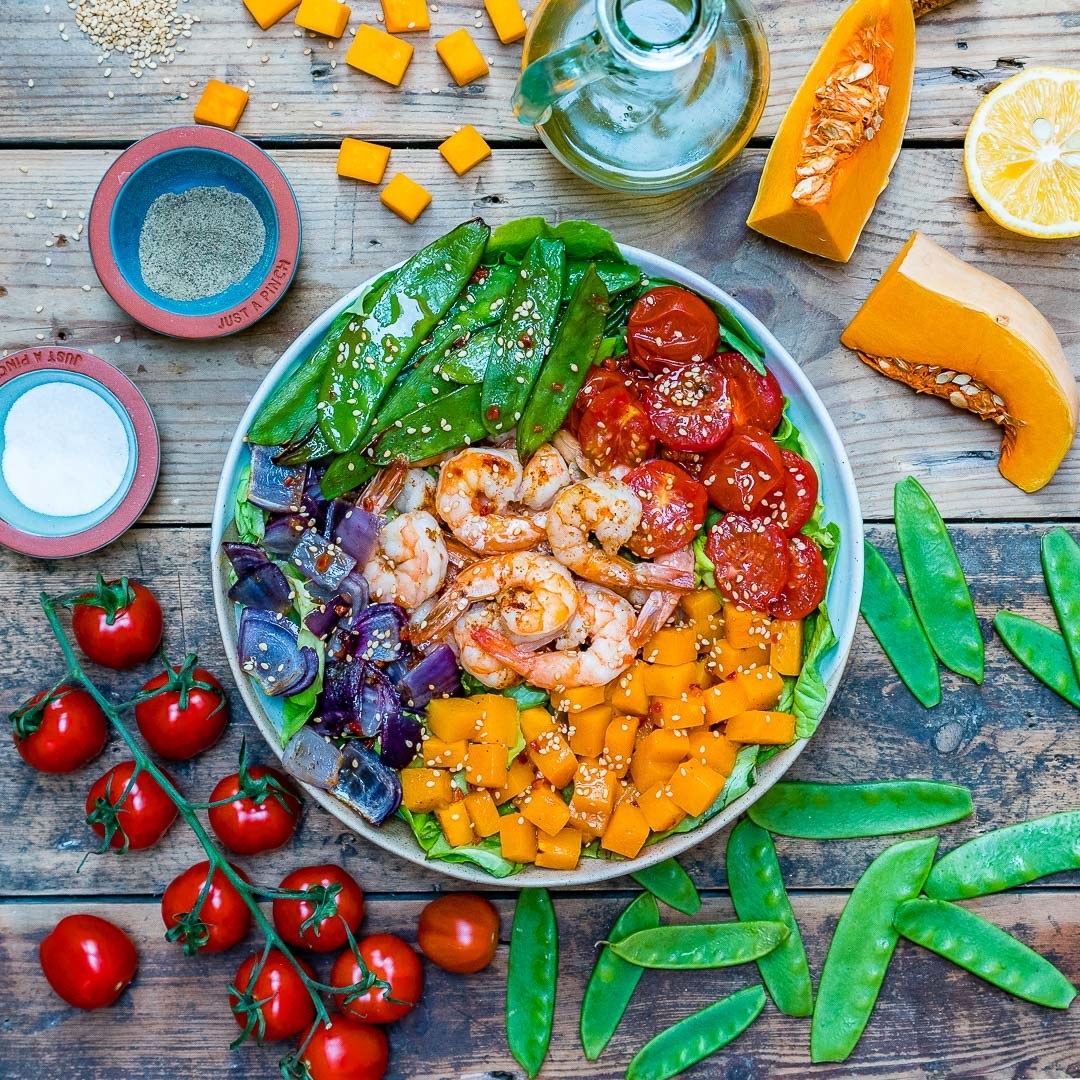 Ingredients:
* 1 cup Cherry tomatoes cut into halves
* 1 Red onion cut into bite-sized pieces
* 200g/7oz. Mangetout
* 200g/7oz. Butternut squash peeled and cut into 1 cm/0.5' cubes
* 450g/1 pound Frozen jumbo shrimps
* 2 Tbsp Olive oil
* 1 Tbsp Smoked Paprika
* Salt & pepper to your taste
* One large chopped lettuce or romaine salad
* 2 Tbsp sesame seeds, to garnish
Ingredients For Chili Lime Vinaigrette Dressing:
* 3 Tbsp Lime juice
* 2 Tbsp Soy sauce
* 1 Tbsp Sesame oil
* 1 Tbsp Honey
* ½ Tsp Chili powder
Instructions:
# Start by defrosting the shrimps. Transfer them to a bowl, add enough cold water, and soak them for 15 minutes.
# Preheat the oven to 400˚F/200˚C.
# Once defrosted, peel the shrimps and place them in the middle of a baking sheet. Make sure you leave some space for the veggies. Alternatively, you could use 2 medium baking trays, one for shrimps and the other for veggies.
# Add lines of veggies to the baking sheet next to the shrimps. Sprinkle with seasonings (salt, pepper, smoked paprika) and drizzle some olive oil. Bake for about 10 minutes, until the shrimps turn pink and the veggies are tender-crisp. Be careful not to overcook.
# In a small jar, mix all dressing ingredients. Shake well to combine.
# In a large salad bowl, combine the mixed greens, roasted shrimps, veggies, and dressing together.
# Toss, serve and enjoy!
TIPS:
# If you can, make it with fresh shrimps. This way, you won't need to defrost them so it will take just 15 minutes to make this easy shrimp salad recipe.
# If you can't find them fresh, don't be afraid to use frozen. Often, this is as fresh as it gets, due to nowadays technology which is able to freeze them right after they're caught.
# When you buy fresh shrimps they should be grey colored. This may be obvious for most of you foodies, but I've met a lot of people who think they should be pink. They are pink if they've been precooked (boiled) and those may have added sugar and salt to last longer on the shelves.
# It is very important to defrost the shrimps in cold water to prevent any bacteria spreading. Not warm, nor hot. Just cold water! They will need about 15 minutes to defrost.
# The veggies I used in this easy shrimp salad recipe can get cooked really quick. So if you want to change them make sure to use ones that will get ready in 10 minutes. (that's how long it takes to cook the shrimps). Also, dice the butternut squash into small cubes so that it will get cooked at the same time as the rest of the veggies.
This post was created by a member of BuzzFeed Community, where anyone can post awesome lists and creations.
Learn more
or
post your buzz!
Looks like there are no comments yet.
Be the first to comment!