How to make roasted smashed potatoes with garlic and parmesan – Best Tips & Tricks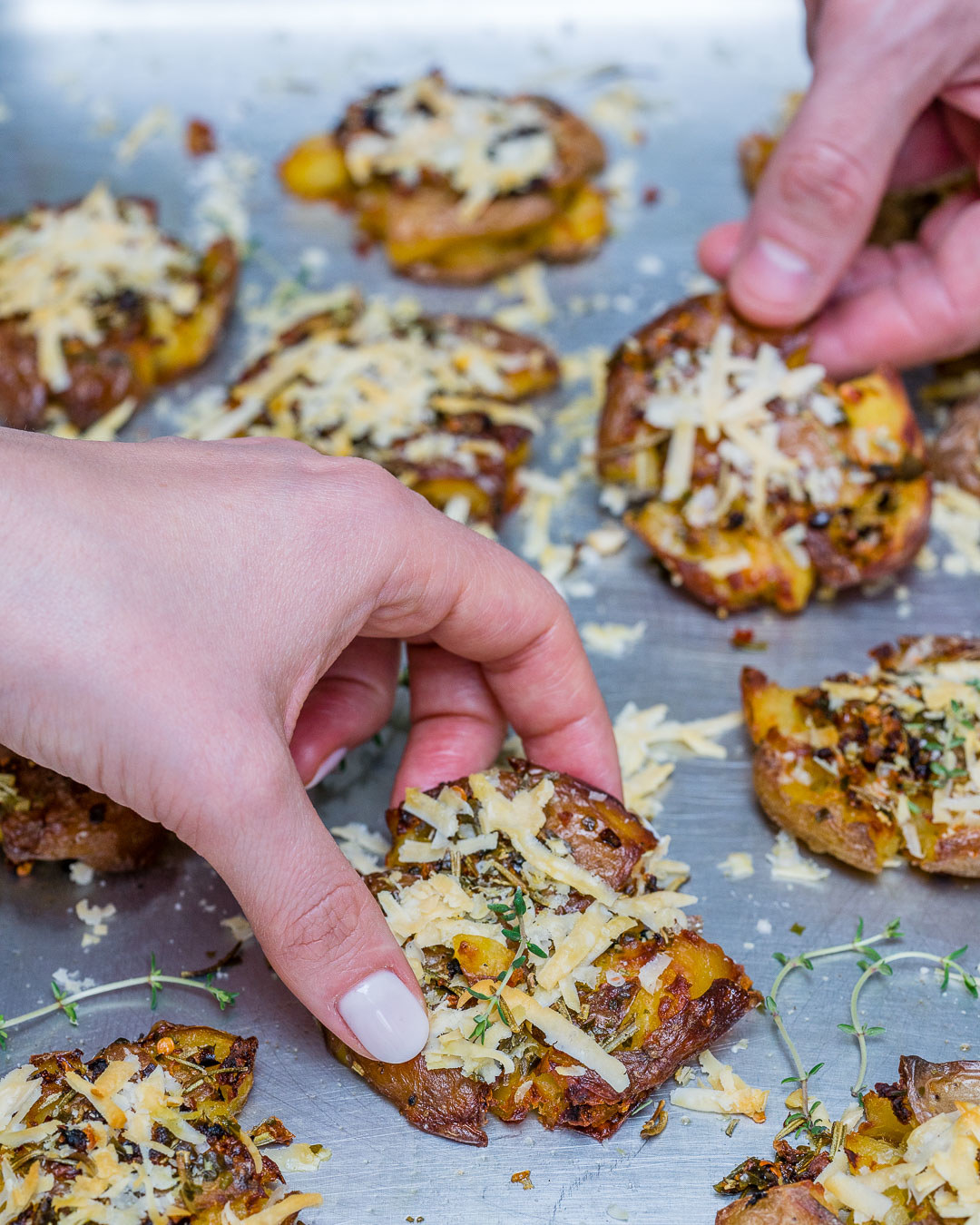 1. How to smash them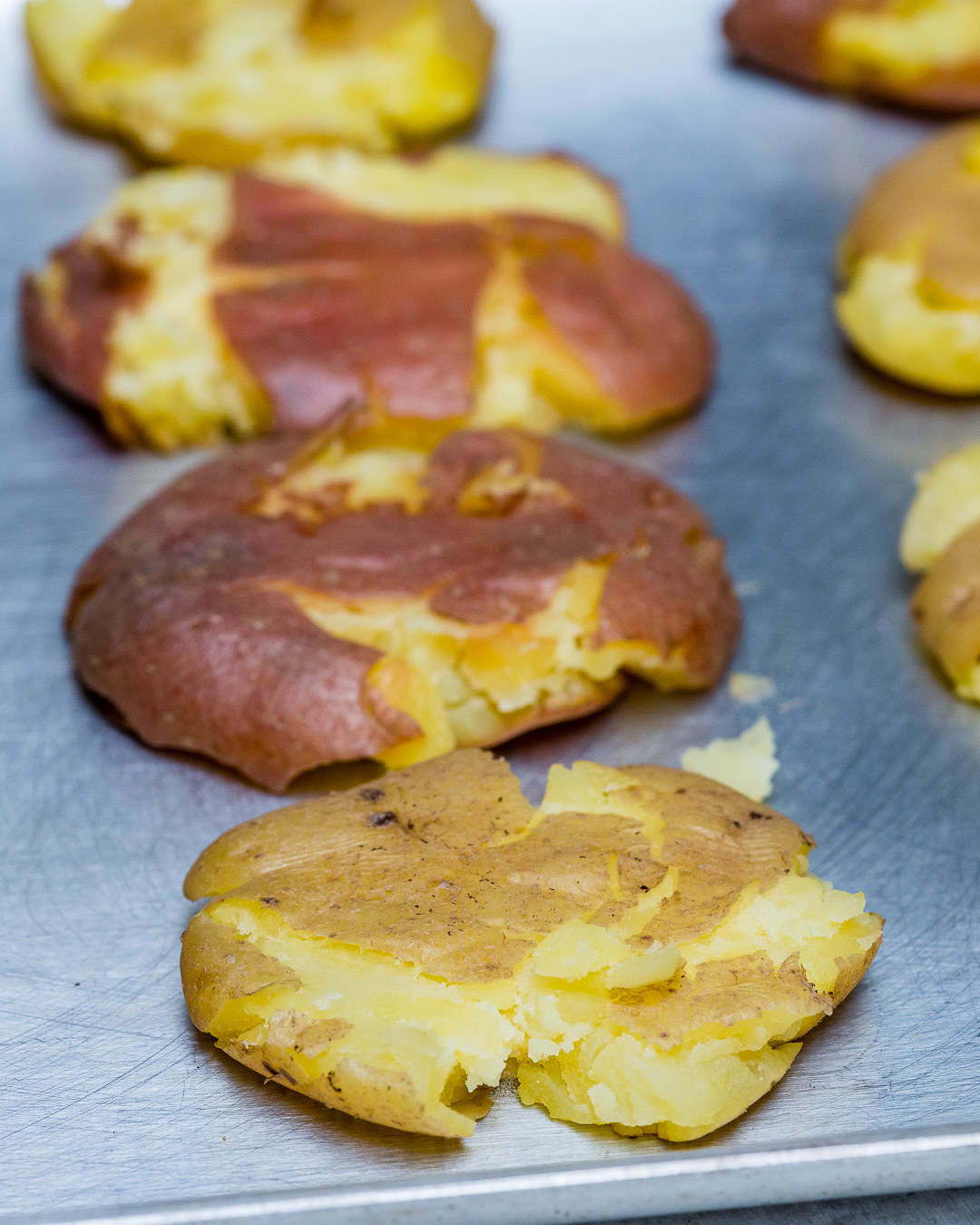 2. Try different toppings and herbs.
I topped these garlic smashed potatoes with parmesan but you can change that with your favorite cheese. Almost all kinds of cheese fit perfectly.
And here are a few good ideas:
Mozzarella
Gruyere
Cheddar
Blue Cheese
More than that, you could also change the herbs. Try it with thyme, oregano or Italian spices. Any of them will make them crazy delish.
Oh, and you can also throw some crumbled crispy bacon on top which will add tons of flavor and texture.
3. What to serve with garlic smashed potatoes.
Well, I could make an endless list here because they are perfect with so many dishes. This is one of the things I love most about them.
But I will keep it short and just list a few of my favorites:
* Grilled or Roasted Chicken
* Baked salmon or any white fish
* Whole Roasted Chicken
* Burgers
* Salads
4. What sauce should you serve them with
I served these Parmesan smashed potatoes with a dollop of sour cream and fresh chopped basil. I highly recommend that!
But if sour cream is not your cup of tea, you can try any of the following:
* Homemade Basil Pesto
* Tomato Sauce
* Garlic Mayo
* Tzatziki Sauce
If you follow the tips and tricks outlined above, you will surely make the best roasted smashed potatoes ever.
Now, I don't want to keep you any longer, as I am sure you can practically feel the taste of garlic parmesan in your mouth.
So let's wrap it up and fire up the ovens, shall we?
Roasted Smashed Potatoes With Garlic And Parmesan
Ingredients:
* 900g / 2 lbs baby potatoes
* Sea salt & fresh ground black pepper to your taste
* 3 Tbsp olive oil
* 1 Tsp dried basil leaves
* 1 Tsp dried rosemary
* 1/2 Tsp chili flakes
* 3 garlic cloves minced
* 1/4 cup grated Parmesan
* a small bunch of fresh chopped basil (optional)
* 1/3 cup sour cream (optional)
Instructions:
# Preheat the oven to 200C/400F and spray a large baking sheet with cooking oil.
# Place the potatoes in a large stockpot and fill it with water, just enough to cover them.
# Bring it to boil then lower the heat and simmer for 10-12 minutes, or until they are fork tender, then drain.
# Arrange the potatoes on a baking sheet, making sure you leave some space between them.
# Using a potato masher, press down in the middle and smash the potato lightly; repeat the process for all of them.
# In a small bowl, mix the olive oil with herbs and garlic.
# Spoon the oil mixture over potatoes then season generously with salt and pepper.
# Place them in the oven and bake for 20-25 minutes, or until golden brown and crispy.
# Then, you need to sprinkle generously with parmesan cheese and return to the oven for another 2-3 minutes.
# Serve warm with a dollop of sour cream and fresh chopped herbs.
# Enjoy!
This post was created by a member of BuzzFeed Community, where anyone can post awesome lists and creations.
Learn more
or
post your buzz!
Looks like there are no comments yet.
Be the first to comment!