If you've been reading my blog for a while, then you know how strong I am advocating for healthy food and ingredients. And today's recipe is my delicious way to show you what I stand for.
Most of us want to eat healthy at all times. But we also cut corners sometimes, don't we?
Don't worry, it's ok. Everybody does it. And it's normal because we live hectic lives. Work, gym, children, travel… everything requires time and attention. So we're not always in the mood of cooking fancy, healthy meals.
That's when take-away comes handy. But after that we feel guilty because it feels like we've cheated.
And then there's breakfast. How easy it is to skip it during those busy mornings when you don't have the time to put something together or order take-away? But before skipping it, take a look at how important breakfast is.
Well, there's a solution for that. We need to cook healthy and tasty food, in the shortest amount of time possible.
Sound's impossible? Trust me it isn't. And I will prove it with this Chia Seed Pudding Recipe.
This is a healthy breakfast that you can cook in 10 minutes. It's best to cook it in the evening, because it needs to cool in the fridge for a while. It's best to leave it overnight, so you won't waste anytime in the morning.
You can even take it with you and have it on your way to work.
Chia Seed Pudding works great with most weight-loss diets, and in the same time it's very filling.
But before making it, I want to tell you a bit about Chia seeds and why they are so healthy. It's always best to know as much as possible about what we're eating, right?
Where do Chia Seeds come from?
These seeds come from the plant Salvia Hispanica. But did you know that they come from ancient times and that the Mayans and Aztecs used to consume it? Chia means Power in Mayan language and they ate it to gain energy and endurance.
They used to call it the "runner's meal" , because of the energy they got from it. A single spoon of chia seeds was filling enough to support a man throughout the day (nutritionally).
See below why they are so healthy
Check out what Holistic Health Journal has to say about them:
I know I've hooked you by now so it's time to get to the best part of the article.
Today I used these healthy seeds to make one of the best Chocolate Chia Seed Pudding Recipe. Oh yes, now it gets interesting. Who can say NO to chocolate puddings, right?
I mixed the seeds with organic cocoa, honey and milk and I left the blend in the fridge overnight. And when I woke up in the morning, a delish Chia Seed Pudding was waiting for me.
I topped it with caramelised bananas, greek yoghurt, fresh berries and roasted nuts. But you can try this Chia Seed Pudding with other toppings, like your favourite jam or peanut butter.
I have to admit, it's so delicious that I sometimes have a Chia Seed Pudding for dessert. I know, it might seem too much but heck, what am I paying the gym membership for, if I 'm not allowed to have a filling dessert from time to time ?!
The Chia Seed Pudding has one other benefit that is worth mentioning. Because it's got chocolate and fruits, it makes breakfast more enjoyable for children. So no more hard-time convincing your kids to have their healthy morning meal. You can also put it in an air-tight container or plastic jar and give it to them to have it during school time.
And now it's time to cook the Chia Seed Pudding.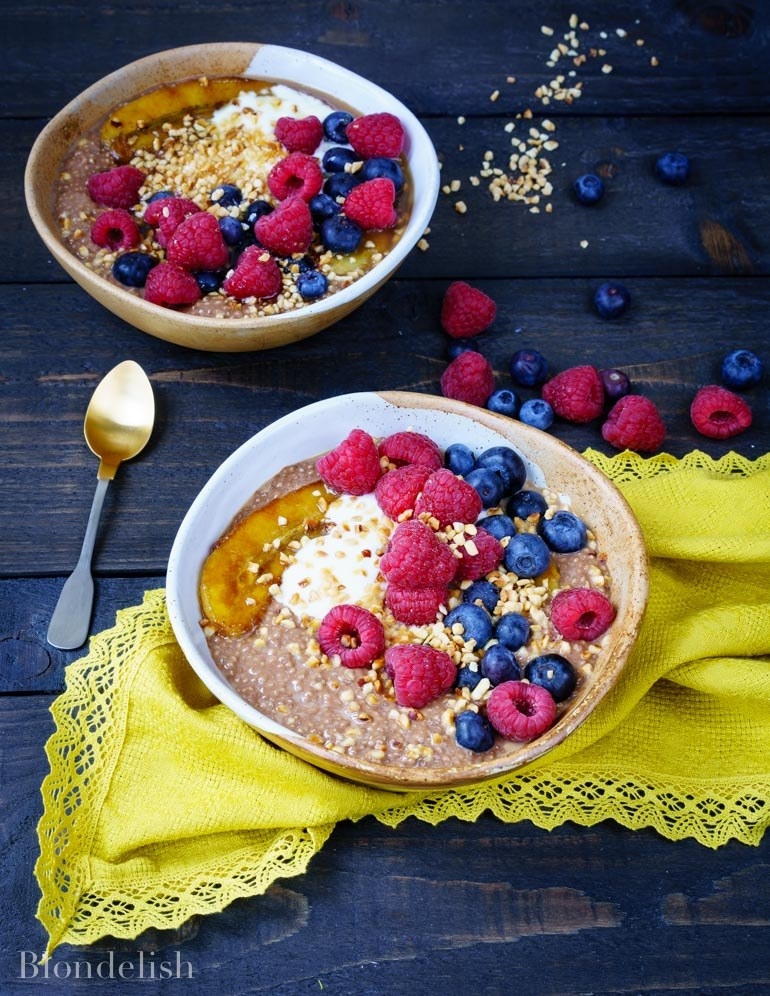 Chocolate chia seed pudding with fresh berries and caramelised banana
Chia pudding:
1 1/2cup milk (you can use classic milk or any other dairy-free version- I used coconut milk)
1/3 cup chia seeds
21/2 Tbsp organic cocoa powder
2-4 Tbsp raw honey
1 tsp vanilla paste/extract
Toppings:
1/3 cup Fresh raspberries and blueberries
1/3 cup yoghurt
1 Tbsp coconut sugar
1 Tbsp coconut oil
1 banana, cut into half on length
1 Tbsp chopped toasted unsalted nuts of your choice (I used almonds)
Mix the chia pudding ingredients together in a bowl and stir well until everything blends perfectly.
Keep the mixture in the fridge for a minimum of 2 hours (it's better to leave it overnight), to gain consistency and transform into pudding.
To make the coconut caramelised banana topping, heat up a pan over medium heat. Once hot, add the coconut oil, coconut sugar and both halves of the banana. Cook for 2 minutes, until it starts to caramelise and get golden brown then flip and cook for 1 minute more.
When the chocolate chia pudding is ready, pour it in a two breakfast bowls and add the toppings: caramelised banana, yoghurt, berries, toasted nuts and a drizzle of extra honey.
Enjoy!