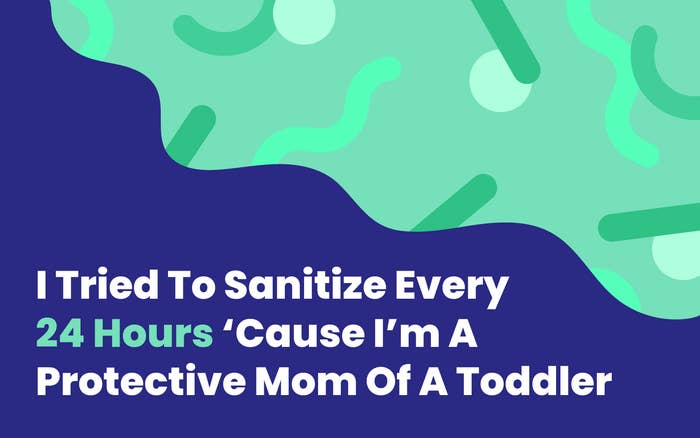 I am a "scrape the mold off the cheese" kind of gal.
This used to be okay, but I'm a mom now. As with all babies, my daughter's immune system isn't as strong as an adult's. So transforming my habits to look after my baby's best interests was already a personal challenge. And, at times, it was quite awkward for me. I nervously asked coworkers to stay a few feet away when I brought my little sweet potato into the office to visit. I was embarrassed, and I made jokes about how I'm an eccentric new mom. It just felt weird.
As much as I wanted to parade my baby around and let everyone hold her, I didn't want to have regrets.
"Look at her squishy little legs — just don't pinch 'em. Please. Sorry. Ahh! I'll go home now."
That was early 2020. The glory days. Now it's 2021. We know that story. Gone are the days when I can happily live in ignorant bliss without thinking about bacteria and viruses growing all around us. I have to develop a routine to keep her as protected as possible at home, while still living like a regular human. I've started using Microban 24, which initially kills 99.9% of bacteria and viruses, including cold and flu viruses and the virus that causes COVID-19* — it seems easy enough for a newbie like me! Plus, as an added bonus, it keeps killing bacteria on surfaces for 24 hours, even after you touch the surface** again… again… and again — so I'm conducting an experiment to see what gets touched every day and where we need to sanitize!


Step 1: Note what I touch in 24 hours
Step 2: Note what the baby touches in 24 hours
Step 3: Sanitize everything
Doorknobs: I grab them all the time! Closets. Bathrooms. Baby's room, too, of course.
Faucets: It's right next to soap, but there's still that issue of after you wash your hands, you touch the dirty faucet. Why do we do this?
Light switches: I lost count after 1 million light switch flips.
Diaper station: The whole thing, from the wipes to the furniture surrounding it, including nobs to her drawers, gets my grubby fingers (and who knows what else) all over it.
Dresser: While I may not change out of my sweatpants anymore, I am always changing my daughter's clothes. I didn't realize how many times I open and close her dresser drawers…until now.
Desk: I haven't left my home office desk in…months.
Mostly everything I touch was as expected, but I was surprised by how often I touch them. And I noted that I bounce between one object to another, probably spreading bacteria everywhere!


Toys: Her little play area is scattered with toys, books, a walker trainer, etc. Stuff everywhere. She violently throws her toys on the floor, then kisses them to apologize. That can't be good, right? (Because of germs, not her personality. That's a different topic.)
Baby Gate: All day she is leaning on it, fantasizing about the day she can go to the great beyond.
Table: She constantly reaches for any loose item on there, but then she just ends up touching the table itself.
The Toilet: OMG. The toilet. Even though we have baby-proofed in 87 ways to keep her out of the bathroom, life necessitates that she join me from time to time. She rushes for the toilet like it's a giant sippy cup. Gross. I guess she is like her mom.
Diaper station: She does this too! Aside from her favorite diaper-changing pastime of taking out wipe after wipe and throwing it on the floor, she touches the surrounding areas too. I never thought about that.
Her Face: Specifically her nose. On a work video call, a coworker made a "digging for gold" comment. I looked at my baby and she was picking her nose!
The fact that she touches her face so often, plus all of these surfaces, made me realize I have to protect her even MORE than I originally thought.

As any parent knows, as soon as you mutter the words, "I have this whole parenting thing down," there's a new stage that surprises you like a tiny fist to the face. My teeny-tiny baby can now walk. All of a sudden, she is a giant toddler who touches even MORE! Her small play area is now too limiting. So I expanded her baby-proofed space so she can exercise her busy legs. This throws my cute lil' plan into overdrive.
Drawer handles: My curly-haired little one is one of those super-tall Amazon babies who can already reach drawers high enough for most 2-year-olds.
Exercise Equipment: She touches the dust-covered exercise equipment more than I do. Exercise equipment is supposed to sit unused, right?
Diaper Pail: Now a walker, she charges for the diaper pail —not just her changing area. Now this is a whole other monster.
The Door: She loves looking outside at the birds. This door is never cleaned, tbh.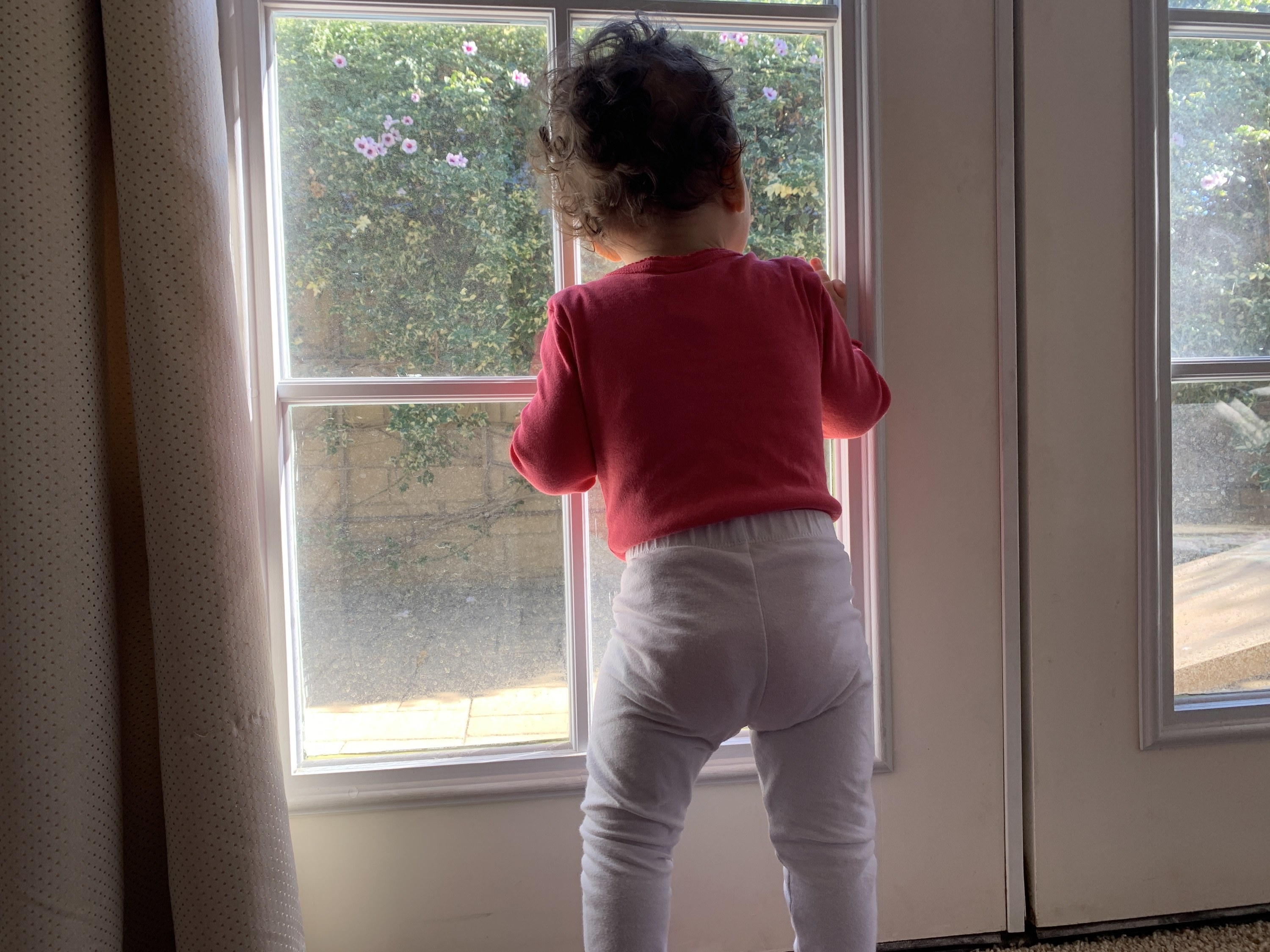 As a walker, the items she touches multiplies! I have a flash of my future and brace myself for what's to come in a year.


Here we go! I grab my Microban 24 Sanitizing Spray and I go down my list.
Spray. Spritz. Squirt.

As I wander around the house, I notice lots of handles that I didn't touch this time around but I touch often — so I get that too. While I'm at it, I toss some of her toys in the washing machine and some in the dishwasher. As for the exercise equipment — nobody touches that. I clean it, but that's not something to sanitize daily. Maybe one day.

Trying to do anything is nearly impossible with a toddler, so my sanitation stroll through the house is interrupted by an adorable milk-demanding miniature human.

I continue.

The bathroom. This is different. I use Microban 24 Bathroom Cleaner to sanitize and eliminate mold, mildew, and soap scum weekly. The drawers and cabinet handles in the bathroom get sanitized, because that's definitely something the adults touch daily. So I spray and walk away to keep killing bacteria for 24 hours, no matter how many times we touch it.** And by "spray and walk away," I mean spray and run away shouting "No! Don't touch that!" as I rescue my tot from knocking over a lamp. (I should also sanitize that lamp.)

I quickly realize that my sanitization spree is full of interruptions and that's not going to change for 17 more years. I need a new plan: I put a bottle in every room and sanitize as I go throughout the day! This developed into a habit easily.

I thought I was biting off an enormous daily routine that would leave me cleaning and sanitizing all day in the name of safety, but it really only took a few minutes off and on to kill bacteria for 24 hours on surfaces throughout our home — no matter how many times we touch them.** Now that I learned what she touches and what I touch, I simply can't unknow it. Plus, spraying things is pretty fun. I can rest assured my cuddle muffin isn't collecting extra bacteria and sticking them right in her face. I feel at peace. My previous routine is old news. Kinda like sleep. And alone time.

Microban 24 is a revolution in home sanitizing, providing people with a new way to protect their surfaces from bacteria for 24 hours.** Touch after touch, it doesn't give up. Plus, Microban 24 Sanitizing Spray and Multi-Purpose Cleaner are approved by the EPA to initially kill the virus that causes COVID-19.
*When used as directed, Microban 24 Sanitizing Spray is effective against bacteria, including Pseudomonas aeruginosa, Staphylococcus aureus, and Salmonella enterica, and viruses, including Human Coronavirus, Influenza A H1N1, and Respiratory Syncytial Virus. The EPA has approved Microban 24 to kill Sars-COV-2, the virus that causes COVID-19, in 60 seconds. Microban 24 does not provide 24-hour residual virus protection.

**When used as directed, Microban 24 is effective against S. aureus & E. aerogenes bacteria for 24 hours.