1.
Lilyfield Road - Lilyfield
Distance from the CBD: 6km
Why you should visit: At 176 Lilyfield Road the residents use over 40,000 lights to show their love for Christmas. However, the best part about this Lilyfield home just might be the life-sized moving models of Disney's Seven Dwarves... as Santa's elves, of course!
While you're in the area... If you don't mind a 25 minute drive down to the beach, 5 Waratah Street in North Bondi has been unofficially appointed as the best lights in North Bondi by the people who visit the display. It doesn't get any more true blue than six white boomers pulling a Ute, now does it?
2.
Second Street - Ashbury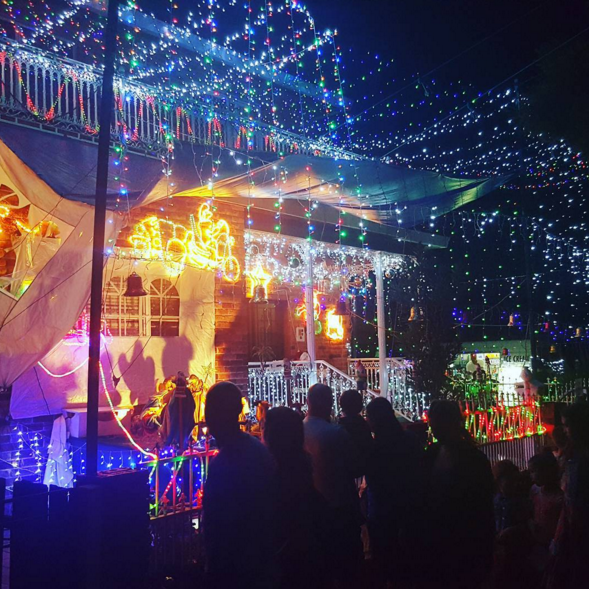 Distance from the CBD: 11.5km
Why you should visit: The residents of Second Street band together and light up their small street during the Christmas season. They try to collectively raise money for children's health, and during the busy periods at night, you'll often find an ice cream van serving icy treats to families.
While you're in the area... If you are willing to drive 20 minutes down the road you'll find that 191 Burwood Road in Concord have been putting up their display for over 20 years. It's a sight to see with over 100,000 LED lights that are linked to five different songs that play from 7.45pm to 10.30pm.
3.
Madrers Avenue - Kogarah
Distance from the CBD: 19km
Why you should visit: Boasting an impressive 50,000 lights and two window displays, 36 Madrers Avenue in Kogarah tops the houses in the street. If you decide to drop by, a singing bear will greet you as you walk along the brightly lit path of number 36.
While you're in the area... A short 20 minute drive to 20 Flanders Avenue in Matraville is well worth it when you see the effort that the residents put into their display. Every wooden character displayed was hand-cut and painted, and are a sight that need to be seen!
4.
McDonald Street - Berala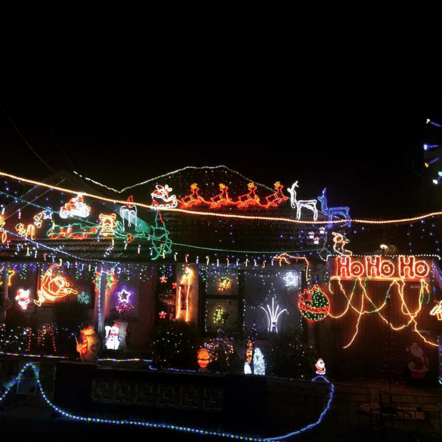 Distance from the CBD: 22km
Why you should visit: As the brightest house in Berala, 11 McDonald Street provides a show for not only local residents but also for those that flock to see the owners efforts that have grown year-by-year. As voted number one Christmas light display in Sydney last year, number 11 has upped their game with things like bubble machines and by even providing treats for the kids.
While you're in the area... In the next suburb over, 44 Kerrs Road in Lidcombe have also grown their little light display bigger and bigger as the years have gone on. They've even added an inflatable snowman and music to accompany the display.
5.
Karne Street - Roselands
Distance from the CBD: 24km
Why you should visit: 124 Karne Street have been putting their displays up for five years and now have over 100,000 lights. However, the most unique part about number 124 are their massive light-up Mickey and Minnie Mouse, Frosty the Snowman and of course, Olaf! With their display they also try to raise money for the Westmead Children's Hospital.
While you're in the area... If you love music and synchronised light shows, the 12 minute drive down to 3 Blackwood Street in Belfield will be well worth the trip. There might not be a crazy number of lights, but the 11 songs that the lights flash to more than make up for it!
6.
Earl Street - Merrylands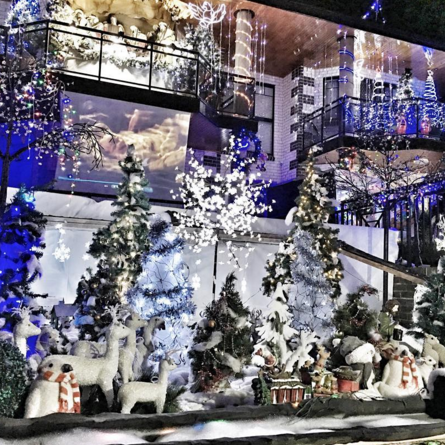 Distance from the CBD: 25km
Why you should visit: 2 Earl Street takes Christmas displays to the next level. Beyond the Winter Wonderland themed lights, there is a projector depicting the birth of Jesus and a life size nativity display set up.
While you're in the area... Why not visit 28 Derby Street, another famous Merrylands light display. There are a lot of lights, a bunch of colours and a heap of Santa's all over the house. They're also known for often raising funds for the Make-A-Wish foundation.
7.
Camellia Street - Greystanes
Distance from the CBD: 30km
Why you should visit: The Christmas lights of Camellia Street have a following of over 5,000 on Facebook which is understandable because of the sheer beauty of their displays. Some nights they even hold a sausage sizzle with proceeds going to charity.
While you're in the area... Try swinging by Cumberland Road, also in Greystanes, which is filled with bright houses and families walking around. If you're lucky, you also might be able to grab a cone or two from the ice-cream truck that is often parked out front.
8.
Grasmere Avenue - Northmead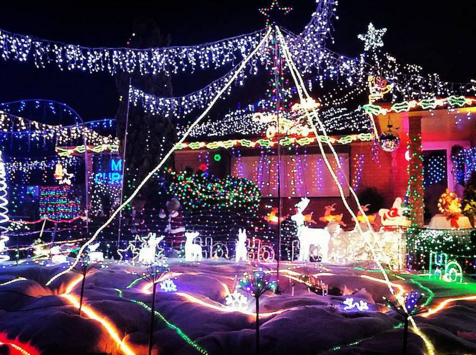 Distance from the CBD: 31km
Why you should visit: This display uses over one million lights and the resident of 45 Grasmere Avenue uses the opportunity to raise money for Ronald McDonald House through barbecues and raffles. The sheer number of lights alone is enough reason for you to come see this bright home!
While you're in the area... If you don't mind a 30 minute drive, 77 Westmore Drive in West Pennant Hills have been decorating their house for the past 8 years. Their trees are illuminated with rows of lights and there are inflatables spread all over the yard!
9.
Warbler Street - Erskine Park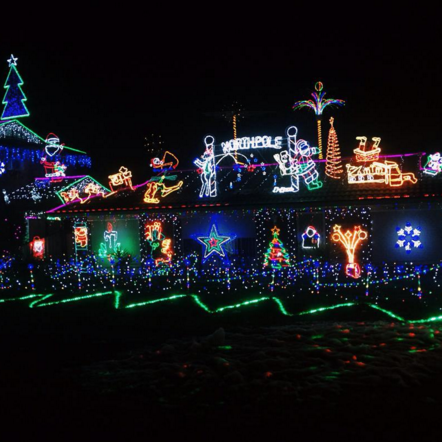 Distance from the CBD: 43km
Why you should visit: The most unique feature about the Warbler Street Christmas lights is the fact that it is a combined effort from number 74 and 76. This means that you can take that crazy panoramic house shot that you've always dreamed of! Also, if you're into Santa sleighs there's one you can hop into and take some pictures.
While you're in the area... Considering you're already in Erskine Park you might as well drop by the famous 7 Grebe Street! Unlike in the past, their display this year is a little more toned down from their usual face painting, Christmas trains and Christmas movies. However, they suggest visiting Fauna Road, also in Erskine Park, for a street filled with colourful homes!
10.
Mallee Street - Quaker's Hill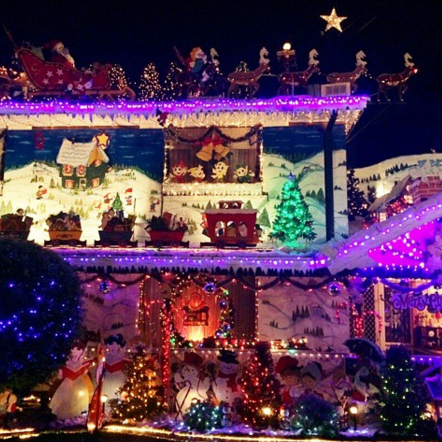 Distance from the CBD: 44km
Why you should visit: 7 Mallee Street has been lighting up the suburb of Quaker's Hill for years. An interactive nativity scene is accompanied with music and hand-cut, painted wooden features.
While you're in the area... If you're willing to drive a little further, Noble Way in Rouse Hill has a beautiful blue and white-themed light display, and Emert Parade in Emerton has some Christmas lights that you'll want to take a look at.
11.
Verrillis Grove - Oakhurst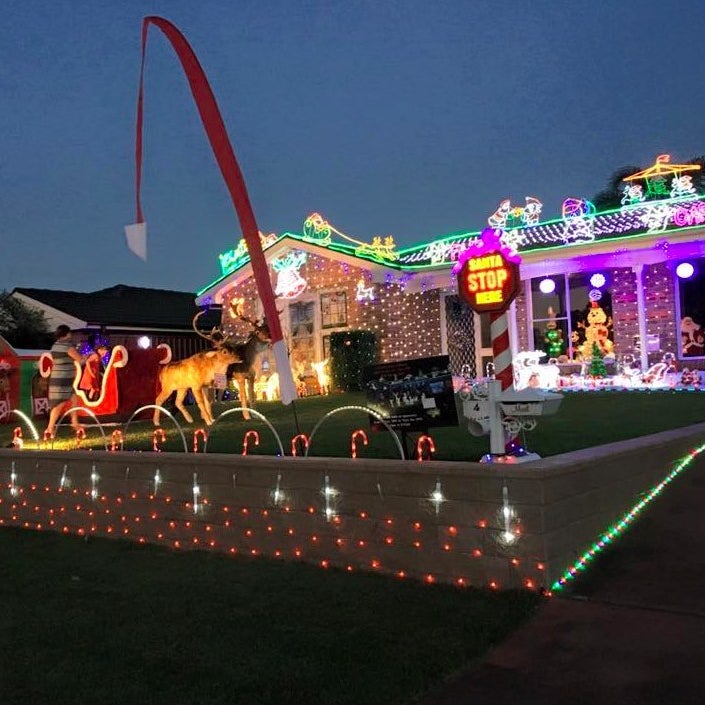 Distance from the CBD: 47km
Why you should visit: 4 Verrillis Grove take Christmas very seriously. Not only are their lights incredible but Santa often visits the house, and this year even brought with him some minions to help spread the Christmas cheer.
While you're in the area... Once you finish up in Oakhurst, take the 15 minute drive down to Lalor Park where both 48 Lawson Street and 12 Kulgoa Street have little Christmas displays that will light up the rest of your night.
12.
The Cascades - Mount Annan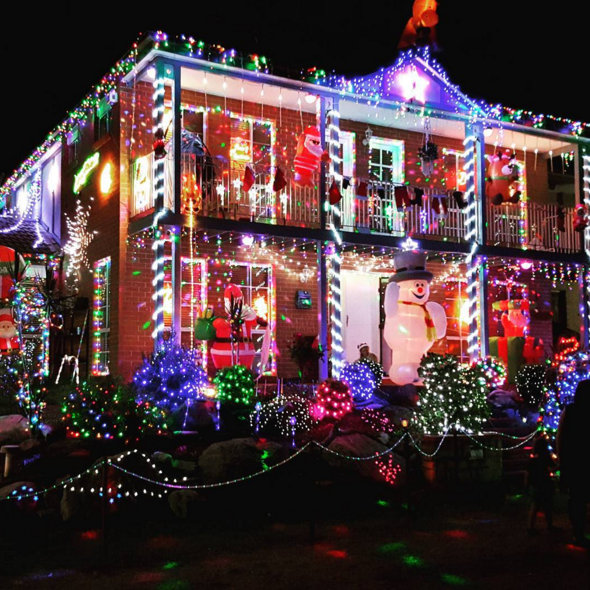 Distance from the CBD: 60km
Why you should visit: The drive is a little long but it's worth it when you see the sheer number of houses along The Cascades that get into the Christmas spirit. One of the most well-lit streets off of The Cascades is The Rapids which is filled with lights.
While you're in the area... Visit Chain-O-Ponds Circuit just off The Cascades or Waterworth Drive in Narelleanvale which is just that little bit further.
Like BuzzFeed Australia on Facebook.