24 Things You Might Not Know About Nick Offerman And Megan Mullally's Relationship
A relationship of performing, puzzles, and poodles.
1. Nick Offerman and Megan Mullally met in 2000 while doing a play in Los Angeles called The Berlin Circle.
2. At the time, Megan was 41 and assumed Nick was in his late 30s. Hoping to date someone closer to her age, she was pissed when she found out he was 29.
3. Not only that, but Nick was currently crashing on a couch in someone's basement while Megan had just finished Season 2 of Will & Grace.
4. Because Nick didn't have a TV, he had never seen an episode of her show.
5. Nick found Megan hilarious, so eventually he asked for her number. She accidentally gave him her fax.
6. They tried to avoid entering a relationship while working together, but one night after rehearsal they ended up making out in a car for two hours while listening to Beck.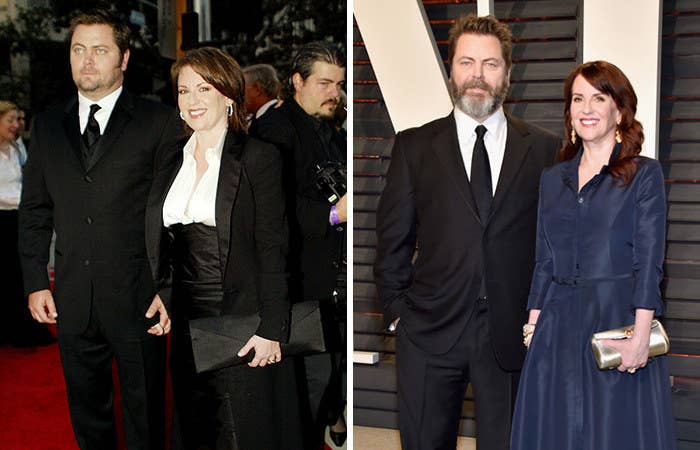 7. Megan "invited" Nick to be her boyfriend at a Glen Campbell concert on the 4th of July.
8. He wore a pair of yellow overalls to their first dinner date and even tucked his napkin into them.
9. Megan made Nick wait four months before having sex with him because she wanted to be sure he was the real deal.
10. One time she refused to let him in her bed for a couple nights because of an awful hair cut he had for a role.
11. After 18 months of dating, Nick proposed to Megan in London in 2002.
12. The woodworker that he is, Nick hand carved a heart-shaped box to hold Megan's engagement ring.
13. In September 2003, Megan and Nick invited twenty of their closest friends and family over for what their guests thought was an Emmys party, but was actually their wedding.
14. They decided to keep their wedding a secret after Megan's Will & Grace co-star Debra Messing's wedding was crashed by paparazzi.
15. Speaking of Will & Grace, once Nick and Megan were together he made it to almost every single taping of the show.
16. He even made a cameo in a Thanksgiving episode where he played a plumber who got to make out with Megan's character Karen Walker.
17. Years later, Nick landed an NBC sitcom role of his own at the age of 39 — the same age Megan was when she got her big part on Will & Grace.
18. When Nick got the news he'd be playing Ron Swanson on Parks & Recreation, Megan revealed to him a note she had written six months earlier that said, "Nick is getting this job on The Office spinoff."
19. Nick and Megan genuinely enjoy working together and have done so several times, but perhaps most famously as Ron Swanson and Tammy 2 on Parks & Rec.
20. They tried to have kids, but when it didn't happen they decided it wasn't meant to be. However, they are parents to tiny poodles.
21. In their spare time, Nick and Megan like to do weird jigsaw puzzles while listening to audiobooks.
22. They've also admitted to watching Survivor and The Bachelor/Bachelorette.
23. They've said the key to their marriage is never taking a job that'll keep them apart for more than two weeks.
24. That, and sex.