Most of the time when people visit Tennessee, Knoxville isn't the first city they travel to. And I get it — there's Nashville and Memphis, which are really great! But over in East Tennessee is another great city. It may not be as big or as bustlin', but Knoxville is definitely worth visiting.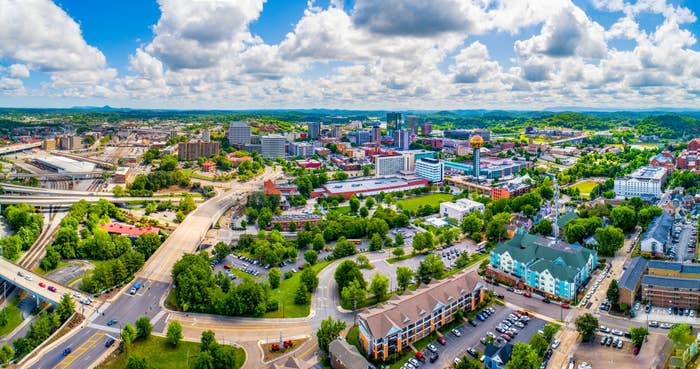 1.
First off, Knoxville is just downright charming. There are old, historic buildings with a story to tell in every direction you look.
2.
Many of these buildings are now home to incredible loft apartments, delicious restaurants, and cool bars.
3.
The food in Knoxville is actually really well-rounded and impressive. Just last year, J.C. Holdway was named one of the best new restaurants in America by both Eater and Esquire!
4.
And if you're looking for cheap eats, there's plenty of that around Knoxville as well.
5.
Speaking of cheap, happy hour around here is amazing. Seriously, $1.50 beers and $3 glasses of wine (heavy pours!) aren't hard to find.
6.
You're in luck if you're a beer drinker because it feels like there's a new brewery popping up in Knoxville every other week.
7.
And if you're not into beer that's ok because there's something for everyone. You can walk from a wine bar, to a whiskey distillery, to a cocktail lounge within like, 15 minutes.
8.
Oh and before I forget, Knoxville has an abundance of A+ coffee shops, as well.
9.
A visit to Knoxville isn't complete without stopping in Market Square. Besides food and drinks, there's also frequent events like jazz or movie nights, an ice skating rink in the winter, and a farmers' market in the warmer months.
10.
WHO DOESN'T LOVE A FARMERS' MARKET?
11.
And, if you don't feel like walking to all these places you can always catch one of these adorable — and free! — trolleys to take you around.
12.
This would be a terrible post about Knoxville if it didn't mention the Tennessee Volunteers. Seriously, this is a city with a lot of pride in its sports teams.
13.
And a lot of pride in its VERY GOOD BOY of a mascot, Smokey!
14.
While we're on the subject of good boys, Knoxville hosts a dog parade called Mardi Growl each year. Just sayin'!
15.
Knoxville also hosts several other events like food or music festivals, including Big Ears, which is a four-day celebration of avant-garde music.
16.
There are several great music venues around town, but the Tennessee Theater is truly breathtaking.
17.
In general, Knoxville is really great at celebrating art. The first Friday of every month, businesses and galleries display work by local artists, host musicians, and offer food and drink specials.
18.
Another great thing about Knoxville is all the natural beauty! Great Smoky Mountains National Park is literally a hop, skip and a jump away.
19.
But if you don't want to make the drive, Knoxville has plenty of its own nature worth bragging about including Ijams, a 300-acre nature center.
20.
Not to mention, the Tennessee River runs right through Knoxville.
21.
There's also plenty of parks, one of the must-sees being World's Fair Park. Random but the 1982 World's Fair was held right in this very spot!
22.
And that disco ball of a building is called the Sunsphere. You can't visit Knoxville without taking a picture of it, ok?
23.
So yeah, Knoxville may not be the biggest or the best city in the world, but it's definitely a scruffy little city with plenty to do and plenty to see!