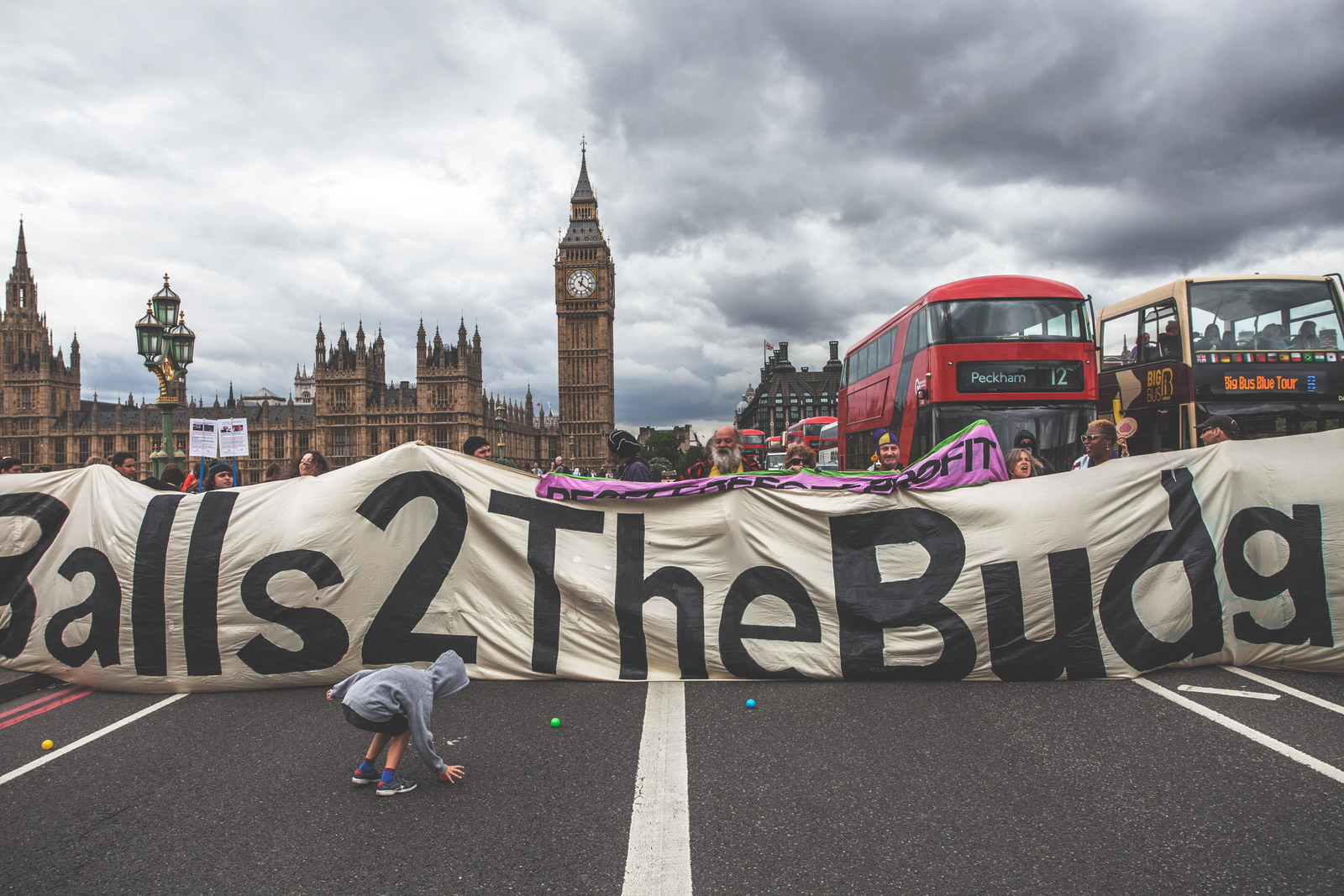 At 10:30am on Wednesday morning, as George Osborne prepared in Downing Street for his first budget of the new parliament, a group of disabled protesters were converging outside.
Tweeting using #Balls2TheBudget, the campaigners were in London to fight against cuts in welfare spending and the support provided to disabled people by the government. The chancellor later announced a series of changes that included a £12 billion cut in welfare spending per year.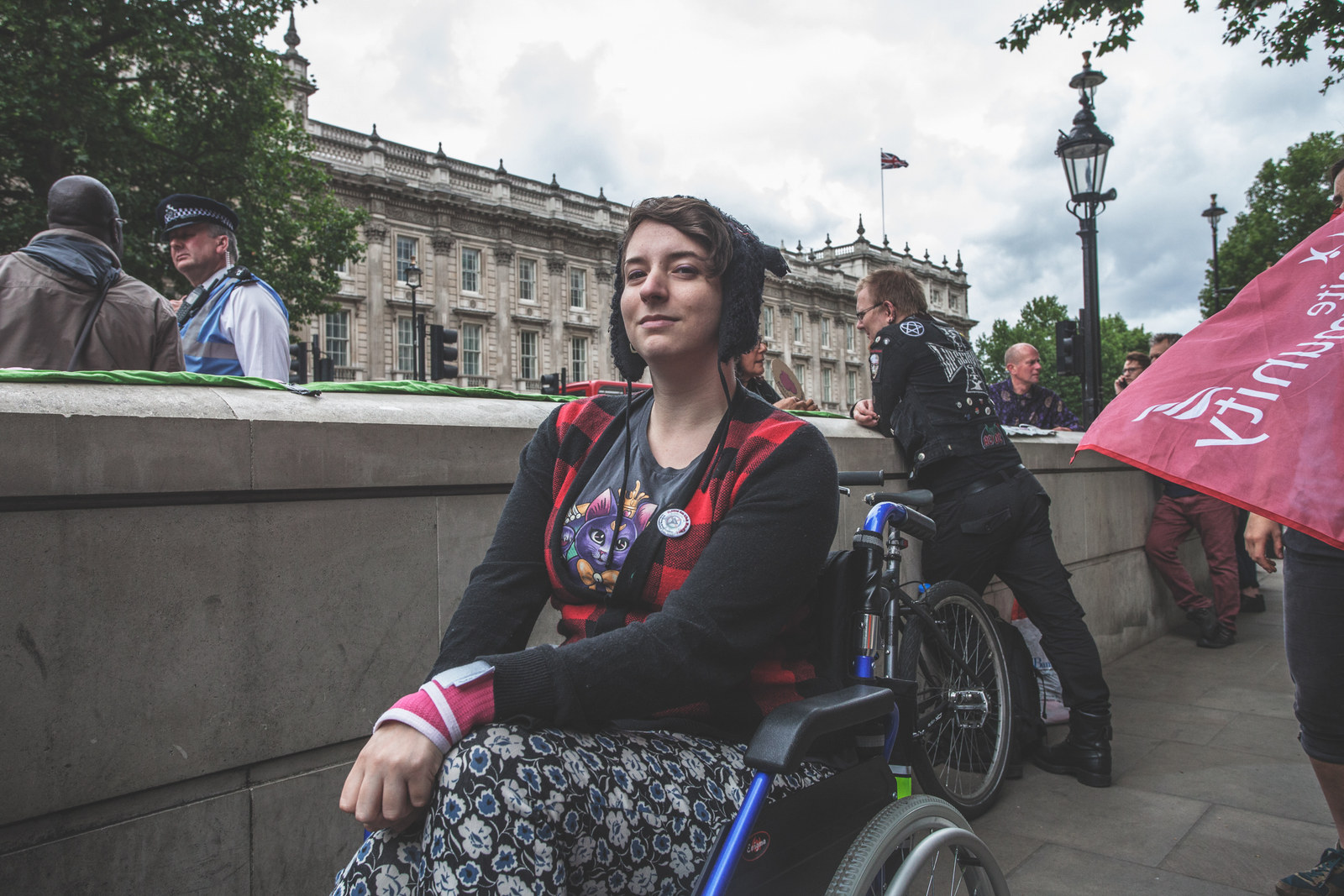 As a crowd of around 50 gathered, I got talking to Nina Grant (pictured above), who said the action was about more than the financial impact of cuts to support for the disabled.
"One thing I've noticed in the past few years is a huge amount more hostility against disabled people from other members of the public," she said. Figures from the Crown Prosecution Service (CPS) released in January show that disability hate crime is increasing fast, up 213% in five years. Experts argue that a large number of cases remain unreported.
"It's because the government are painting us as scroungers, people judge us, and think it's an act," she said. "I'm in a chair today, but I can sometimes walk a short distance on crutches. People give me dirty looks, shake their heads, and tut, thinking I live like this out of choice. I have friends who have been assaulted whilst being shouted at, 'Get a job!' All disabled people have these stories."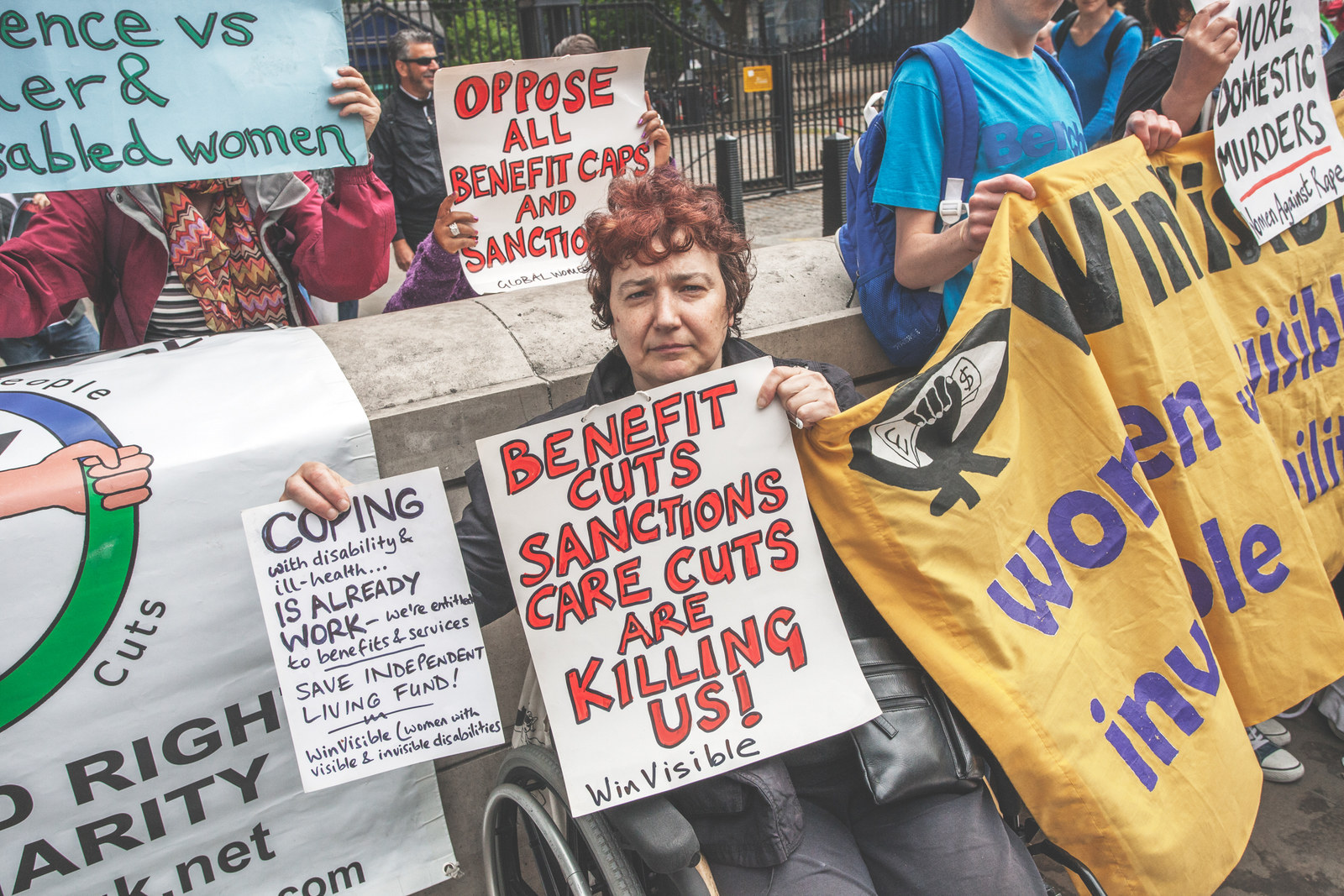 The protesters were planning on blockading the gates in an attempt to stop Osborne making it to parliament, where he was due to outline the budget for the coming year. But what was it they feared?
According to Scope, a charity that campaigns to improve the lives of the disabled, a quarter of disabled people live in poverty, even before the extra costs of being disabled are factored in.
In his budget later that day, Osborne announced that some new claimants of Employment Support Allowance (ESA) will have the value of their benefits cut by £30 per week – over £1,500 per year. ESA is a benefit for people who are unable to work due to illness or disability.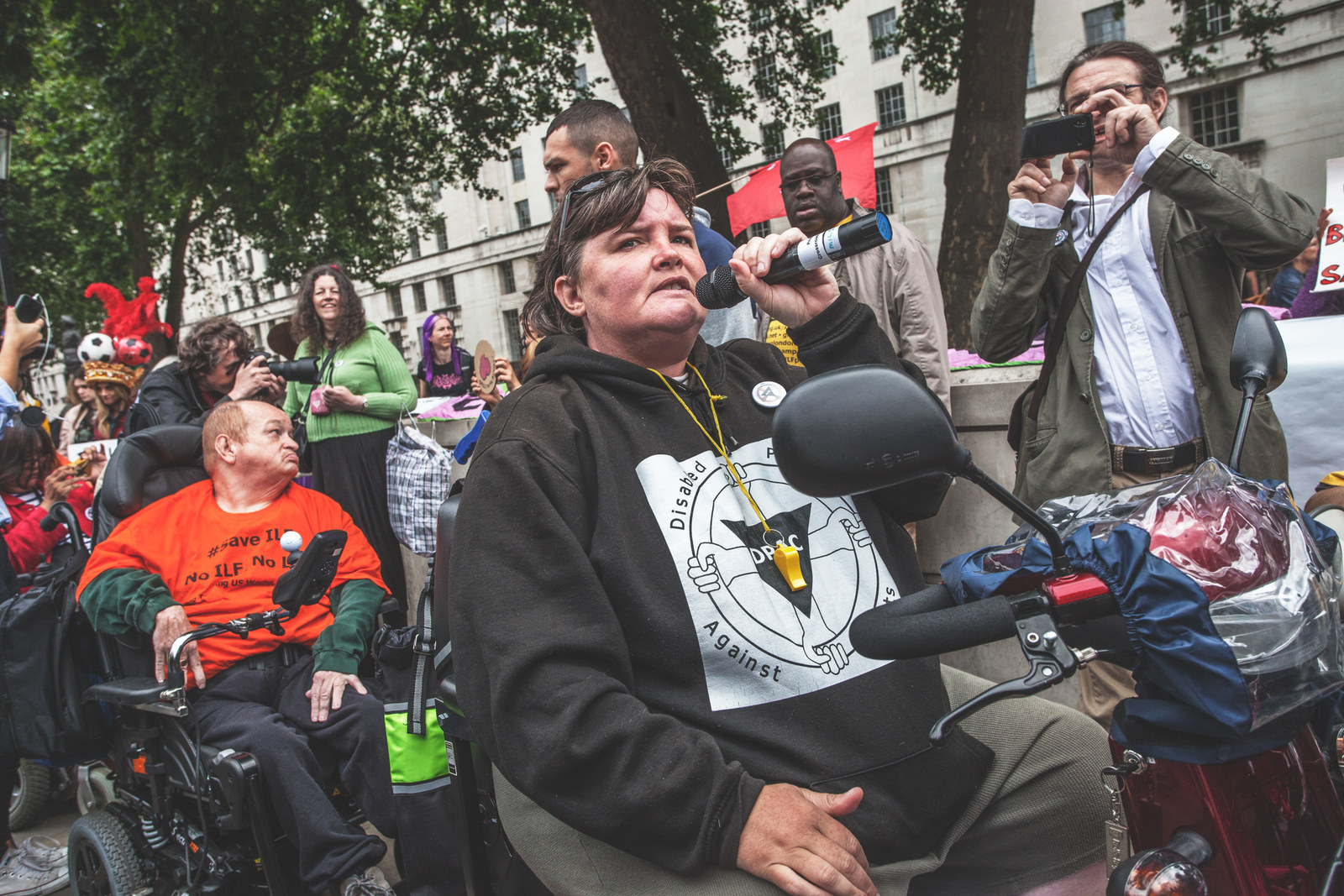 As the numbers began to steady, Paula Peters of Disabled People Against the Cuts (DPAC), which organised the protest, was given the microphone. "Get your balls ready!" she shouted.
"We're here to say 'balls' to the budget, and to fight back against the £12 billion welfare cuts. But first, a minute's silence, to remember those disabled people who've died because of a government that just doesn't care."
For Lucia Bellini (pictured above), the verdict was simple:
"These changes are going to make survival for people like me so much harder."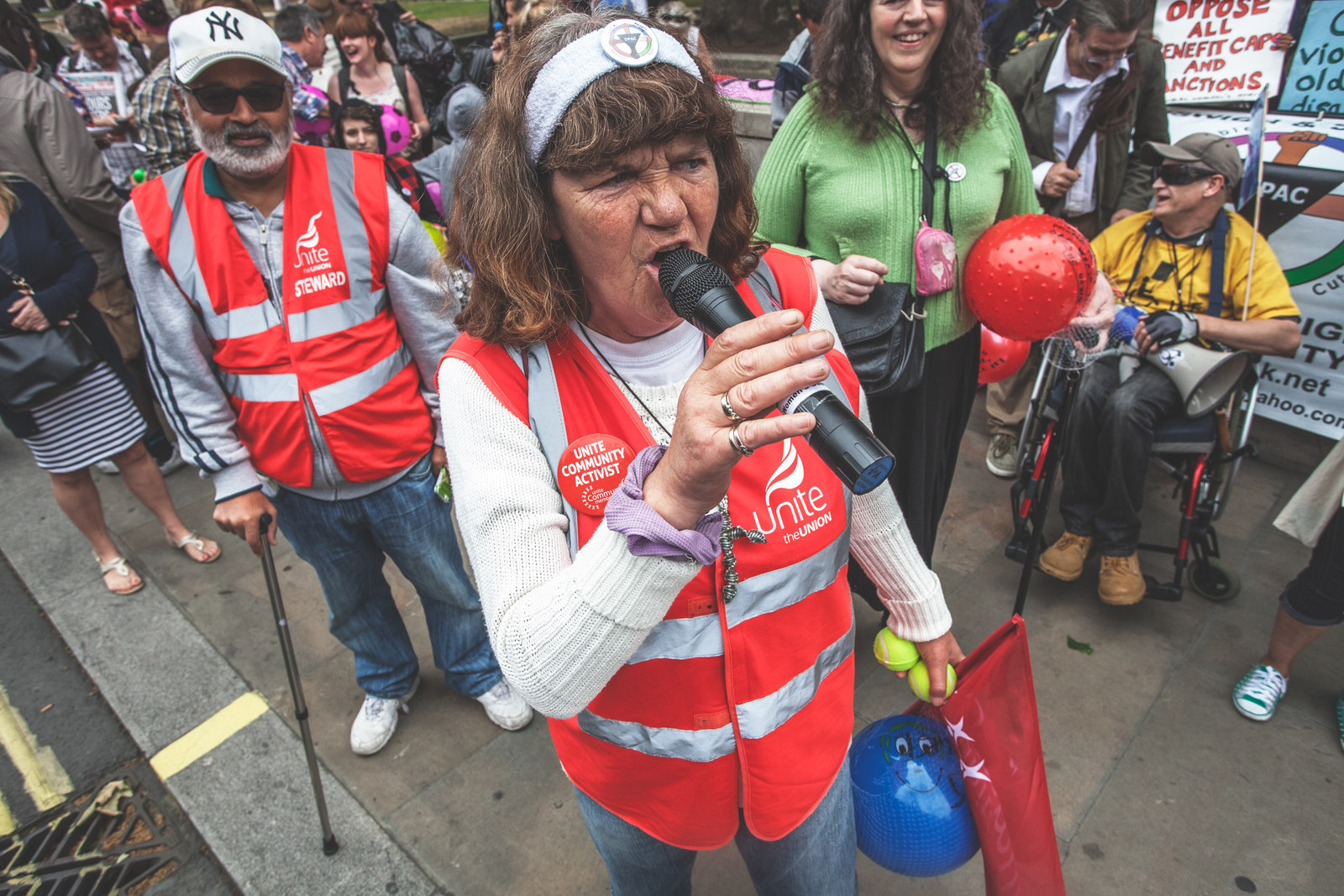 The speeches continued for a while as movements were made outside No. 10. The view of the protesters remained blocked by gates and police lines, but one chant seemed to hit a nerve more than others:

"You had a disabled son, now look what you're doing. Shame on you! Shame on you!"
This one was aimed directly at Cameron, whose son Ivan died in February 2009, aged just 6. He was born with a rare combination of cerebral palsy of severe epilepsy called Ohtahara syndrome.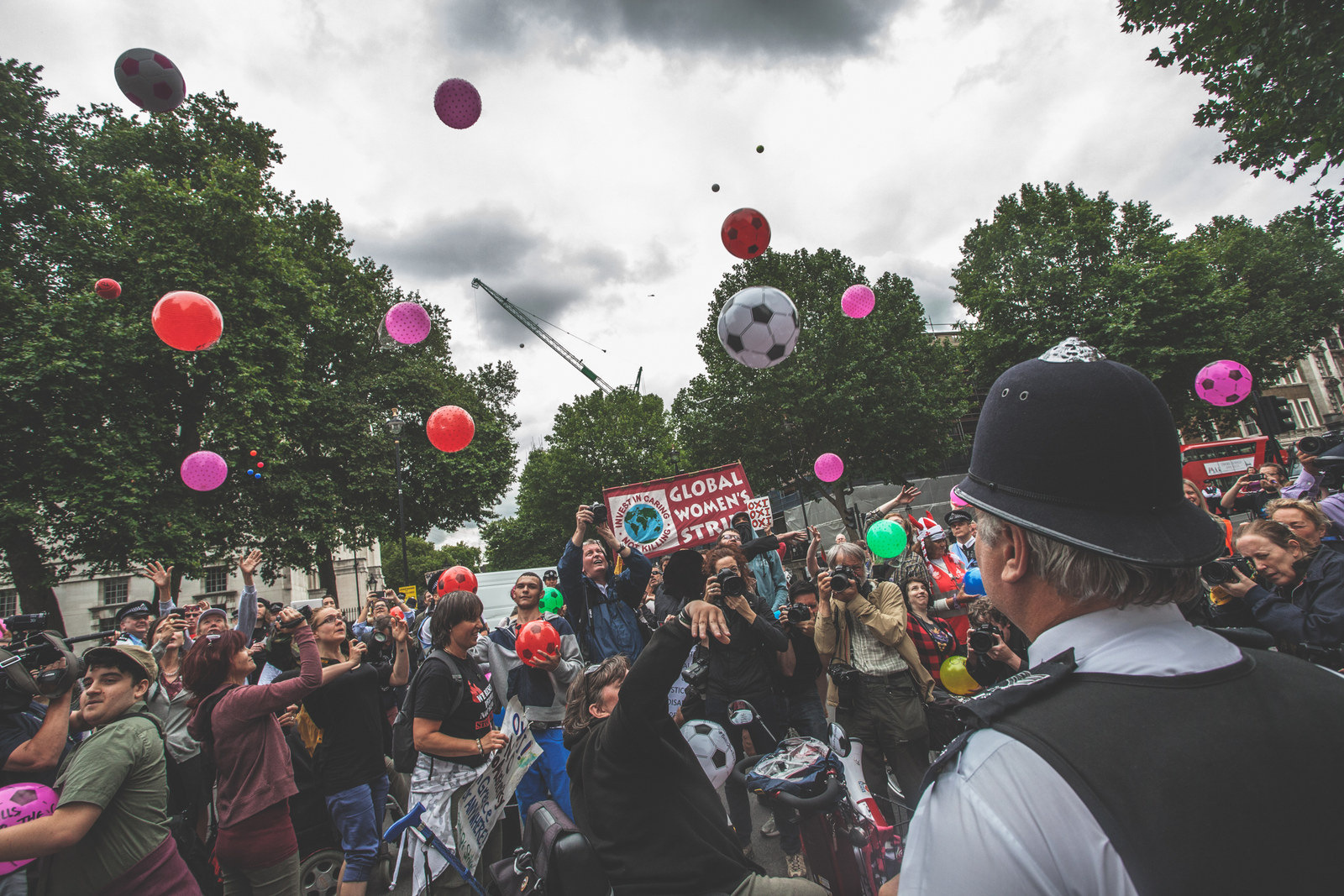 The crowd headed on to Whitehall, the central London road that houses government departments, bringing traffic to a standstill. As they stood in front of Downing Street, it became clear that Osborne had taken another route to parliament, heading through the Foreign and Commonwealth Office instead. "Let's throw the balls now anyway," came the order through the speakers, as a countdown to the throwing began.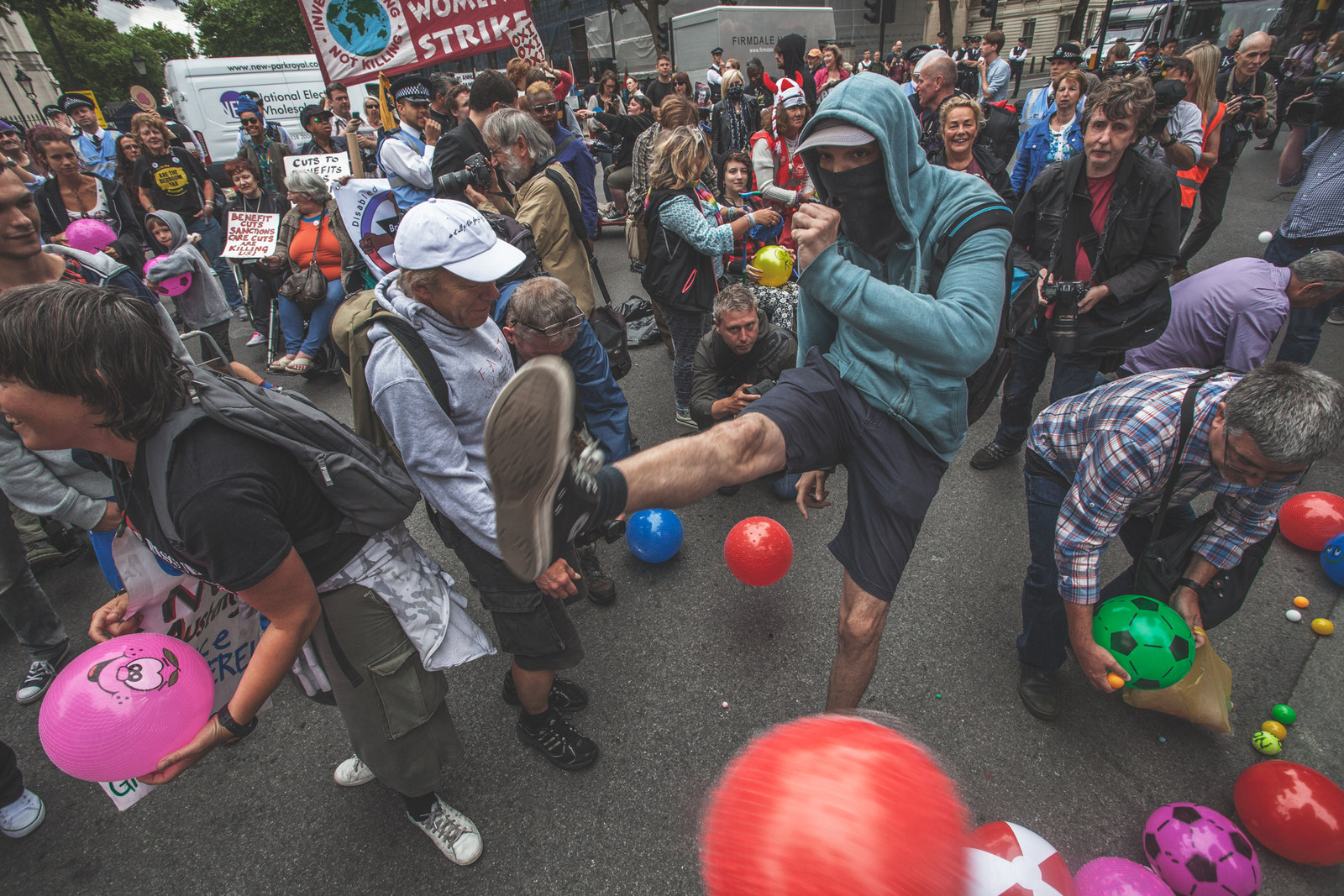 As tourists posed for selfies outside Big Ben, one motorbike driver who wasn't keen on being held up ignored police warning and drove headfirst into a banner being held across the street.
While many passers-by were clearly supportive, there were some who'd been put off by the delay this was causing to their journey. I asked Melanie Russell, who was walking through the area, what she thought.

"The reality is that some people will always complain about protests," she said, "so it doesn't really make a difference if you piss [off] those ones, does it? They need the attention, and to get that they need to be disruptive. Thankfully I'm walking so I can head off fine!"
This logic has some substance; DPAC's attempt to storm Prime Minster's Questions last week got a huge amount of attention, with BBC2 interrupting its programming to cut live to the scene.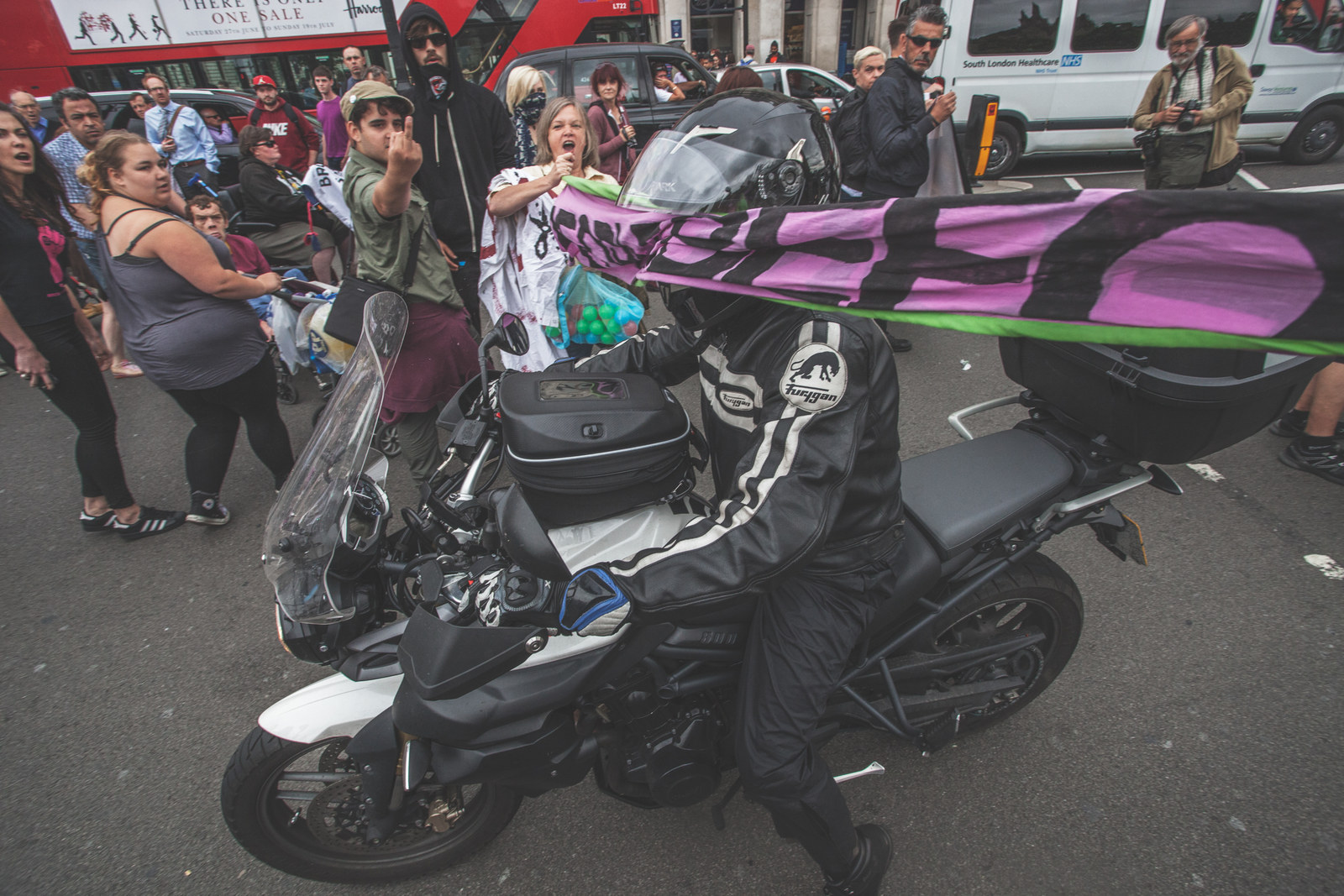 The protesters blocked the roads around Parliament Square, holding their banners defiantly.
I asked Miriam Binder, who had travelled up from Brighton, why she had come along.
"I've found things more difficult in the last five years, like most disabled people in the country," she said. "Even though I can't walk for more than about five metres, I've been required to go into medical assessments, by non-medically trained people, in a venue that is not wheelchair accessible."
Binder said she had contacted the assessors to explain she couldn't physically attend her meeting, but heard nothing in response, before having the benefits she relies on cut off for five months. "I thought I might lose my house," she said.

"I know we probably won't change Osborne's mind, but he needs to know how his actions are hurting us."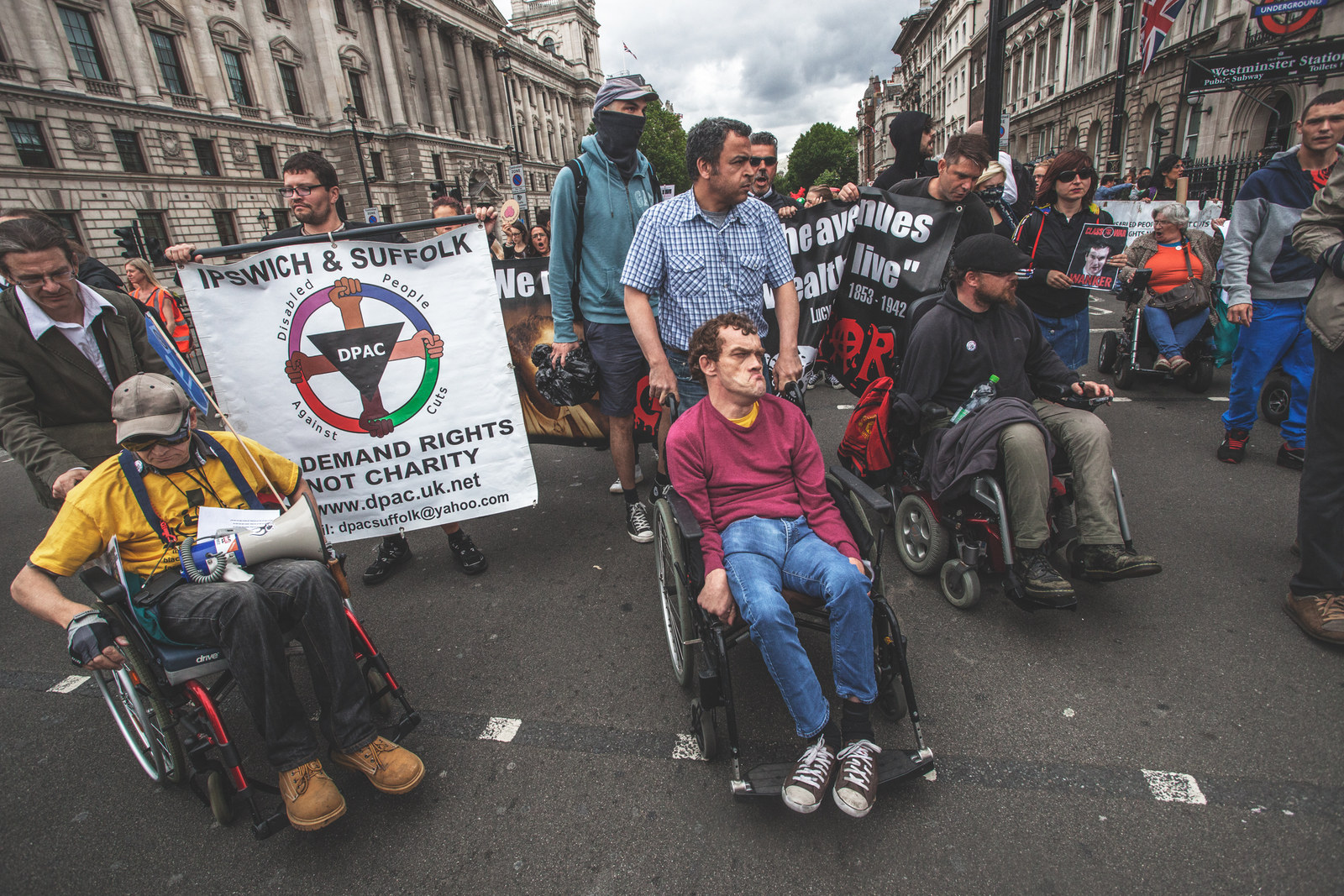 After 20 minutes of blockading the roads around parliament, the crowd headed off to Westminster Bridge, stopping the traffic as they continued to chant.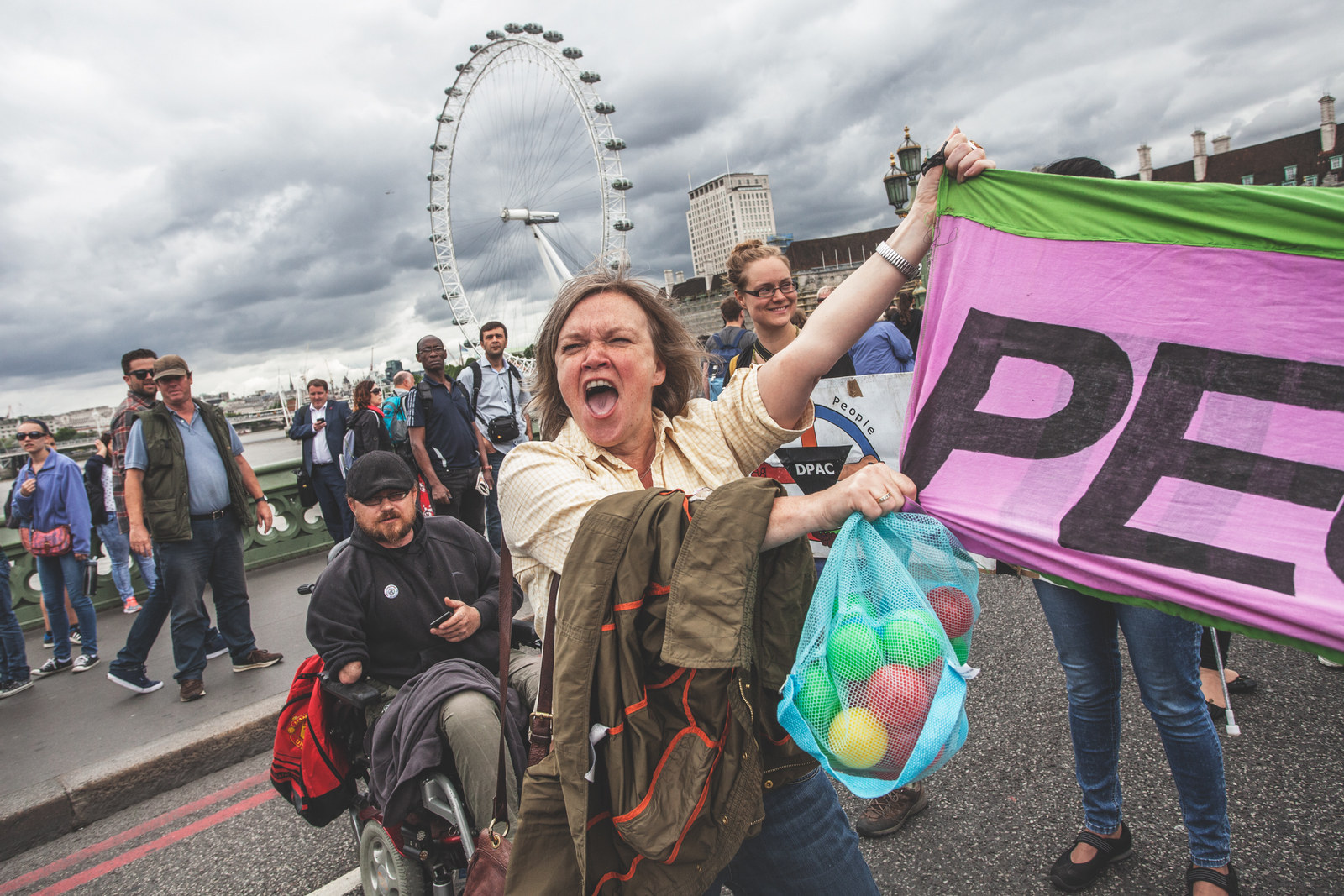 As they reached the centre of the bridge, they ground to a halt and unravelled a huge banner spanning width of the busy Thames crossing.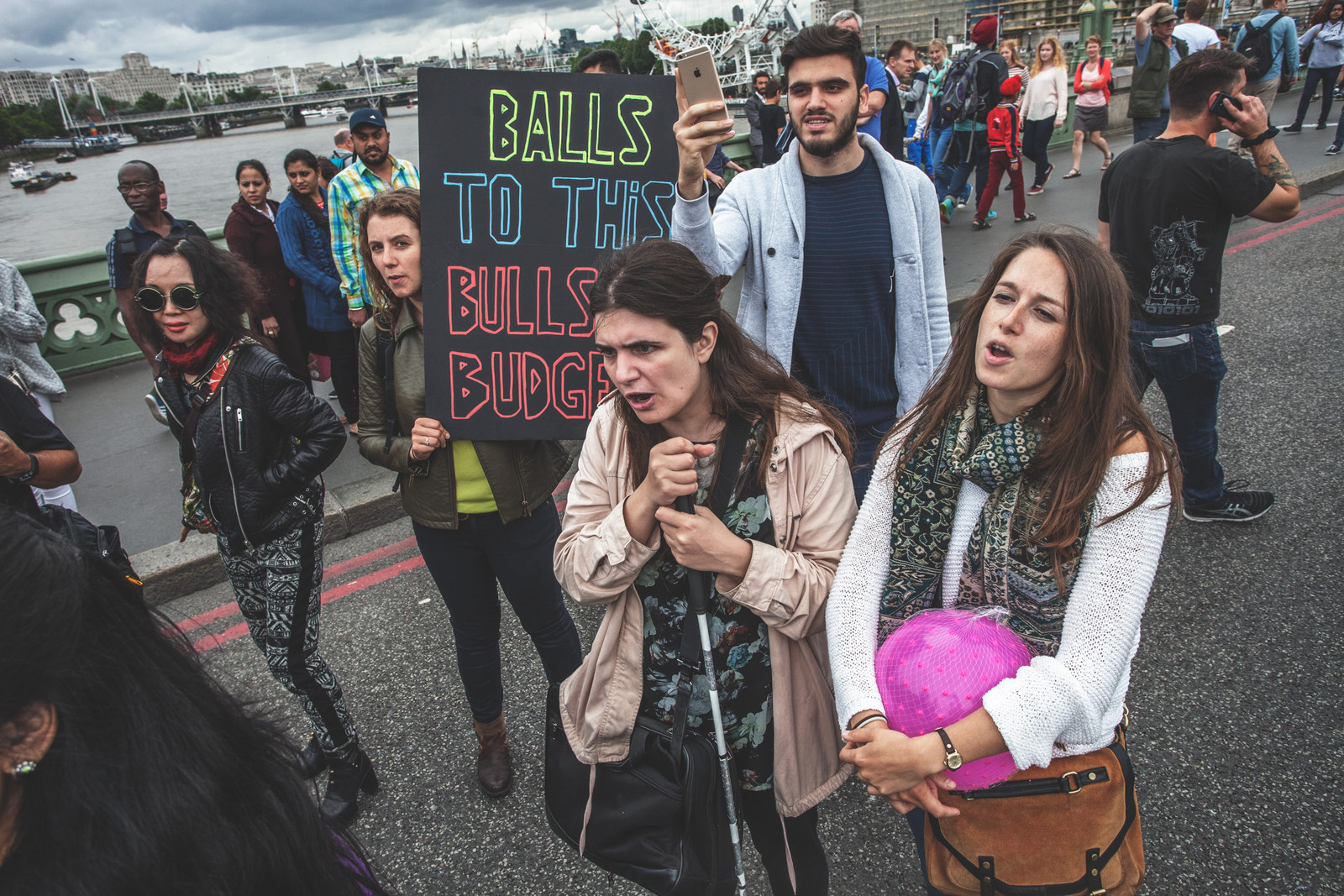 I wanted to understand what had driven these activists to such extraordinary measures to get their voices heard. I got in touch with Liz Sayce, chief executive of the charity Disability Rights UK, which has been critical of the approach to disabilities under Cameron and Osborne.
Sayce argued that there has been an assault on disabled people over the last five years, and said two-thirds of people affected by the government's "bedroom tax" are disabled, which means it hits those who find moving most challenging the hardest.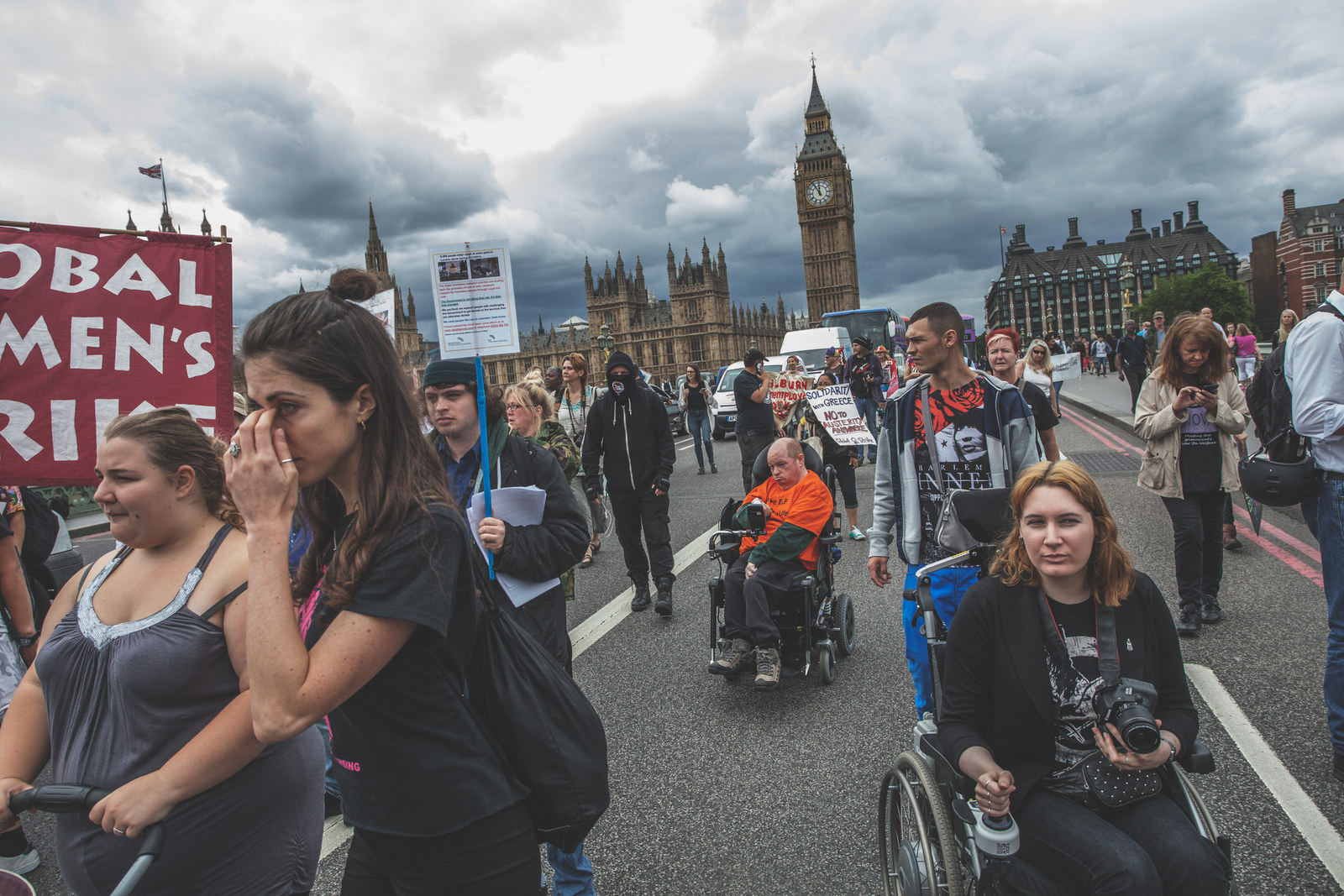 "Today's announcements offered disappointment, not practical support," Sayce said, "and will leave swathes of disabled people worse off. There might be a heatwave coming, but for many disabled people there's a chill in the air."

The chancellor, who argues that the current system creates a financial incentive to claim sickness benefits, would disagree with this assessment.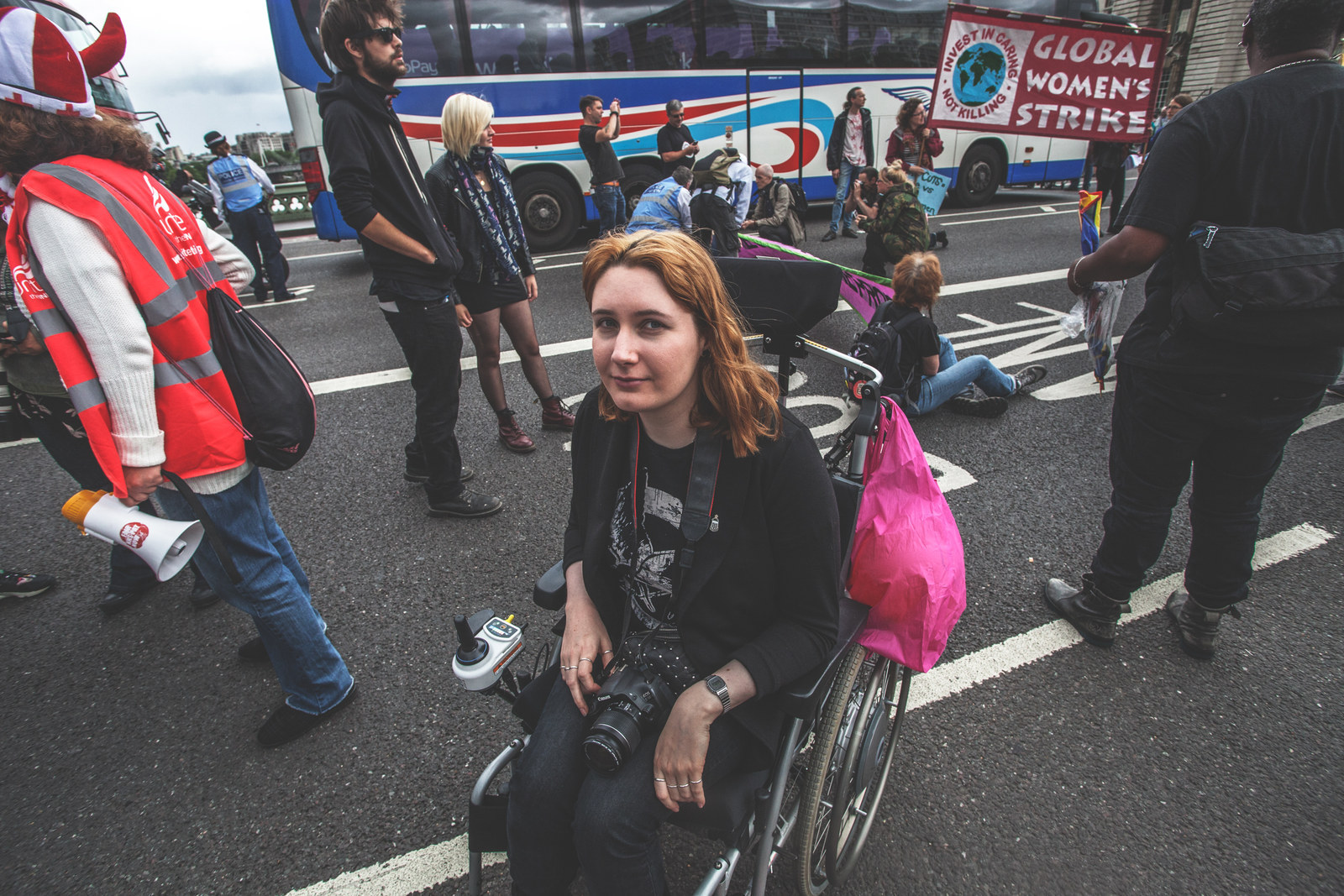 Kay Nosa, a resident of Iain Duncan Smith's constituency, was reflecting on the day's events as she blockaded the path of the buses attempting to make their journey across the capital.
"I've purposefully spent three days not doing anything, so I have the energy to be here for this protest," she said. "I don't support this budget, and neither should anyone else if you care about the lives of the disabled, as it will hurt people like me the hardest, like the cuts that came before them."
The Centre for Welfare Reform think-tank backs this up, arguing that current cuts affect disabled people nine times more than their able-bodied counterparts. The figure is 19 times for the most disabled.
"Ian Duncan Smith is the minister behind these changes," Nosa said. "He might be my MP, but he will never, ever, represent me."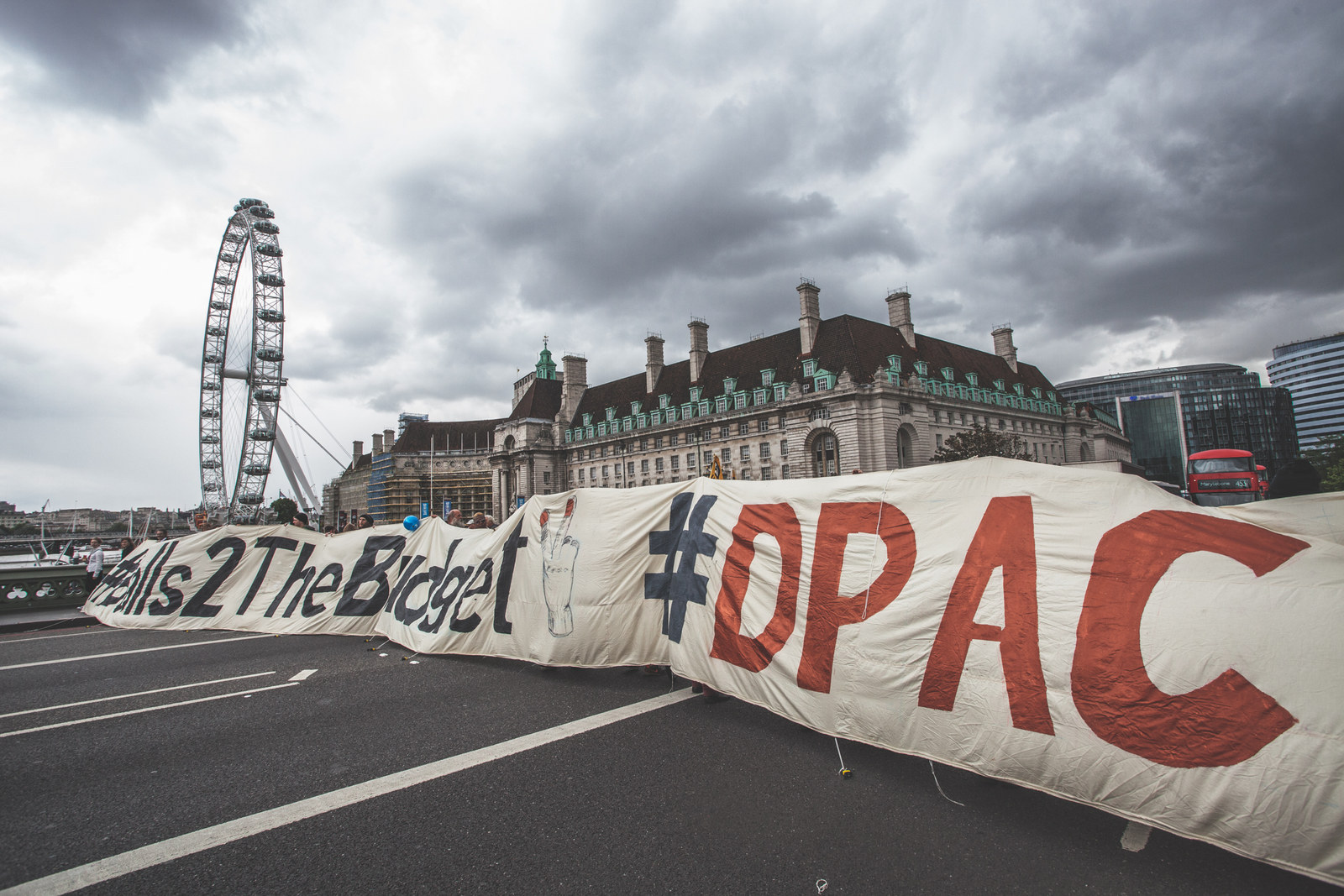 As tourists posed for selfies on the bridge, one member of London's smartly dressed workforce began to lose his temper.
An argument had broken out between a protester from Suffolk called Martin and a man in a pinstriped suit. "You can go back to your nice job and nice salary, tutting about us blocking the road," Martin said, to which the suited man interjected proudly: "I will."
Martin continued: "But there are thousands of disabled people across the country who are dying because of the actions of the current government, forced to suicide, dying of hunger."

The man, who declined to provide his name to BuzzFeed News, replied simply, "I hope that they do," before barging away through the crowd.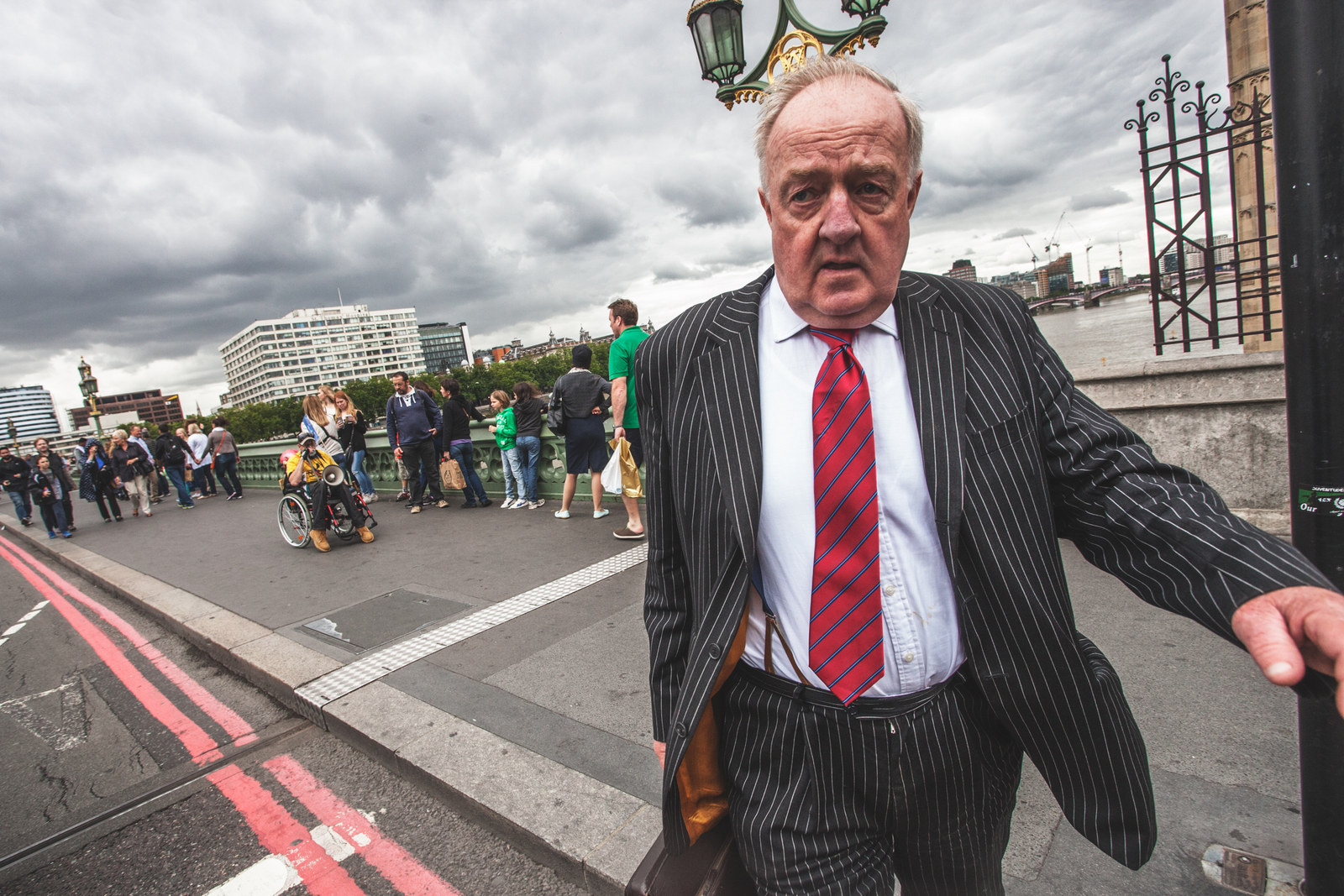 Martin furiously wheeled himself behind the man, visibly shaking with anger.
"How dare you, how dare you, you should be ashamed of yourself!" Martin screamed down his megaphone, breathing heavily as he chased the man. When I caught up with him on the other side of the bridge, Martin told me just why the man's comment had hurt him so much.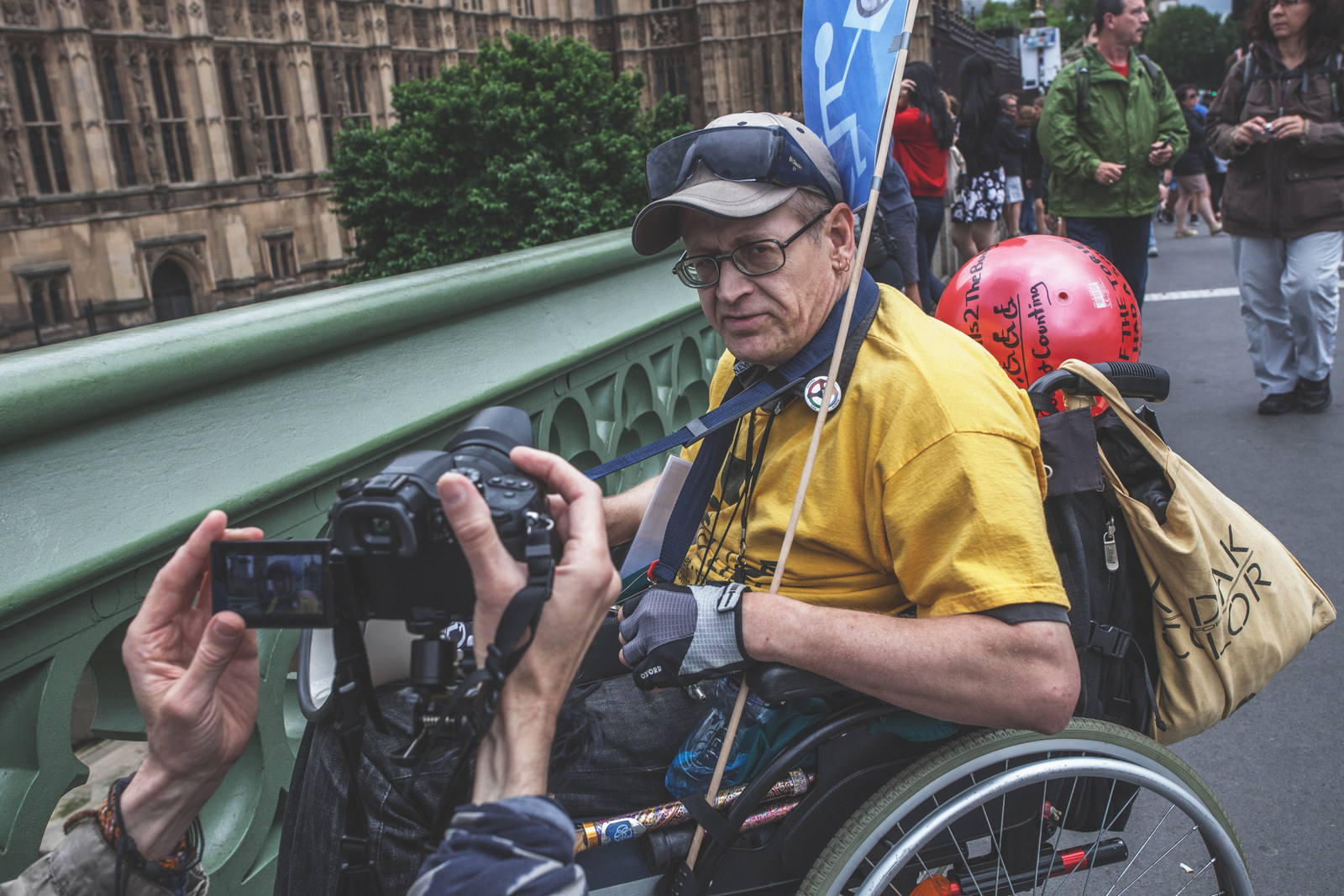 "It just shows the rhetoric of the press, and of the MPs in that building over there, is working," Martin said. "They're turning the general public and our neighbours against disabled people like me."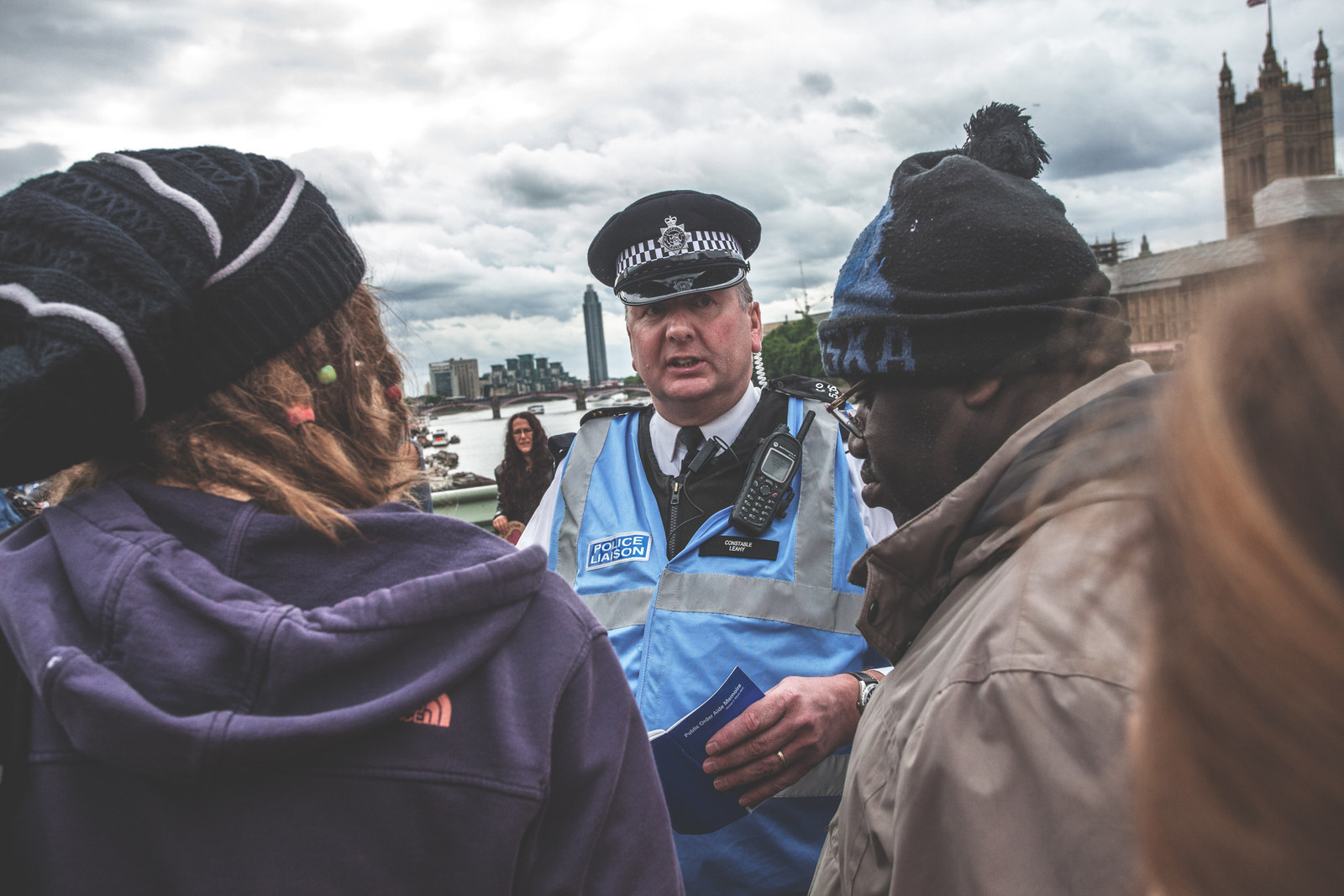 Back at the centre of the bridge, the banner still stood blocking the traffic. Having been there for around half an hour, the police liaison officers (PLOs), who acted as go-betweens with the Met and protesters, decided that enough was enough. "I don't disagree with what you're doing" said the officer, "and I've met some wonderful disabled people," but it was time for the protesters to get moving.
As the crowd slowly turned, heading back to Parliament Square, the roads around the Palace of Westminster were blocked once again.
Later the police made clear the road was now blocked illegally, and went on to make four arrests. BuzzFeed News has reached out the Metropolitan police for comment.