"They're animals. They're beasties. They're all animals. Caged animals. Take a stick with you and beat them up. Right?"
These were the words of one guard working at Yarl's Wood Immigration Removal Centre, uncovered by Channel 4 News earlier this year. "Headbutt the bitch", one guard was recorded saying. "I'd beat her up".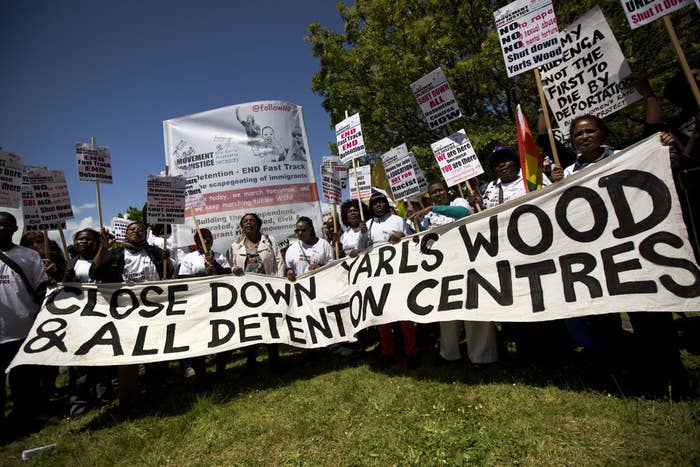 There are currently 11 centres like this in the UK, which detain people who have failed to successfully claim asylum, those waiting to find out their status, as well as some who have been denied or overstayed their visas. You can be held inside indefinitely.
Leading up to the election a lot of the rhetoric focussed on immigration within the European Union, and the free movement of people inside it, but in recent weeks the spotlight has fallen on those coming from further afield.
Just this morning, reports surfaced of one of the "largest mass migration attempts" of the year , with up to 3,000 people being rescued by ships, including HMS Bulwark, just north of Libya. It's estimated around 80,000 migrants have made the journey so far in 2015.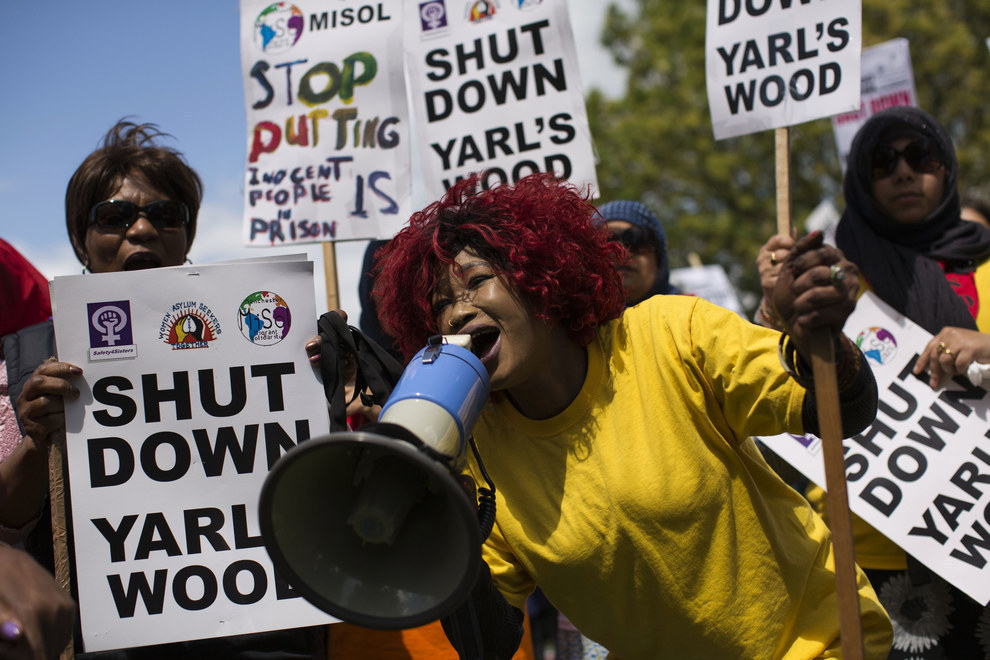 I've visited detention centres before; living in Brighton, I'm only a 20-minute train ride from Gatwick, where two centres can be found, within the perimeter of the airport complex. Unlike those, Yarl's Wood Immigration Removal Centre is in the middle of nowhere; completely invisible even from the quiet road it sits on.
I jumped in a taxi to the centre, a fifteen-minute drive into the Bedfordshire countryside. It's located on a business park, where other facilities include pet cremation, a Red Bull Formula One testing facility, a waste disposal plant, and somewhat incongruously, a centre for indoor skydiving.
According to their website, Serco, who run the centre, want to "focus on decency and respect in all aspects of care for our residents, " although its chequered history has caused campaigners to suggest otherwise.
Back in 2003, a report by the Inspector of Prisons found that Yarl's Wood was "not safe." In 2009, The Children's Commissioner for England, Sir Al Aynsley-Green, painted a worrying picture of Yarl's Wood, including children being denied access to medication, reports of violence, with children being watched by guards of the opposite sex as they got dressed.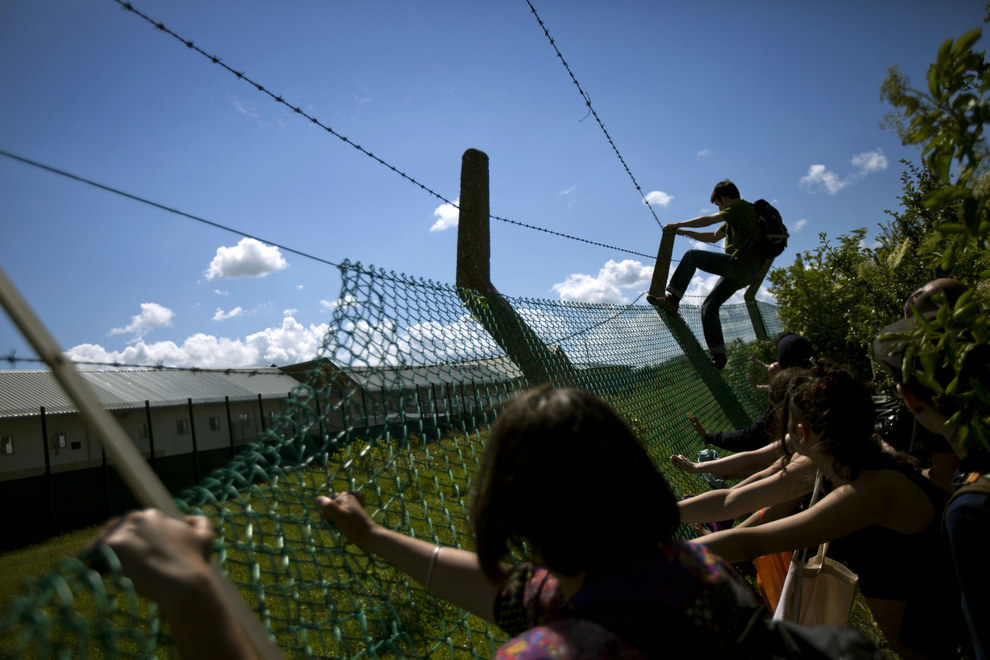 Public figures attending the protest included the comedian Josie Long, the actor Juliet Stevenson, and Shami Chakrabarti, director of Liberty. As the crowd set off along the country lane, chanting "No human is illegal", I got chatting to Susuana Antubam, the Women's Officer at the National Union of Students.
"It was only a year ago in March, when school student Yashika Bageerathi was detained at this centre at the age of 19, before being deported," she told me. "Majid Ali, a student at City of Glasgow College, is due to be deported this week. Both of these students fled their countries so they could be safe from abuse. We need to fight back."
Natalie Bennett, leader of the Green Party, had come along too.
"Britain is currently treating vulnerable people in disgraceful ways. Women who have been victims of torture and abuse in the countries from which they have fled are being tortured. Yarl's Wood is a reminder of how we need legal protection against the abuse of state power."
To the surprise of many attendees, Richard Fuller, the Tory MP for Bedford and Kempston, had turned up to show his support. He told BuzzFeed News: "The current situation is in desperate need of reform. Detention centres like this are inefficient, unjust and expensive."
In late 2014, the average cost of detention was £97 per day, which works out at over £35,000 a year. One year of detention in Colnbrook, another detention centre, costs over £70,000.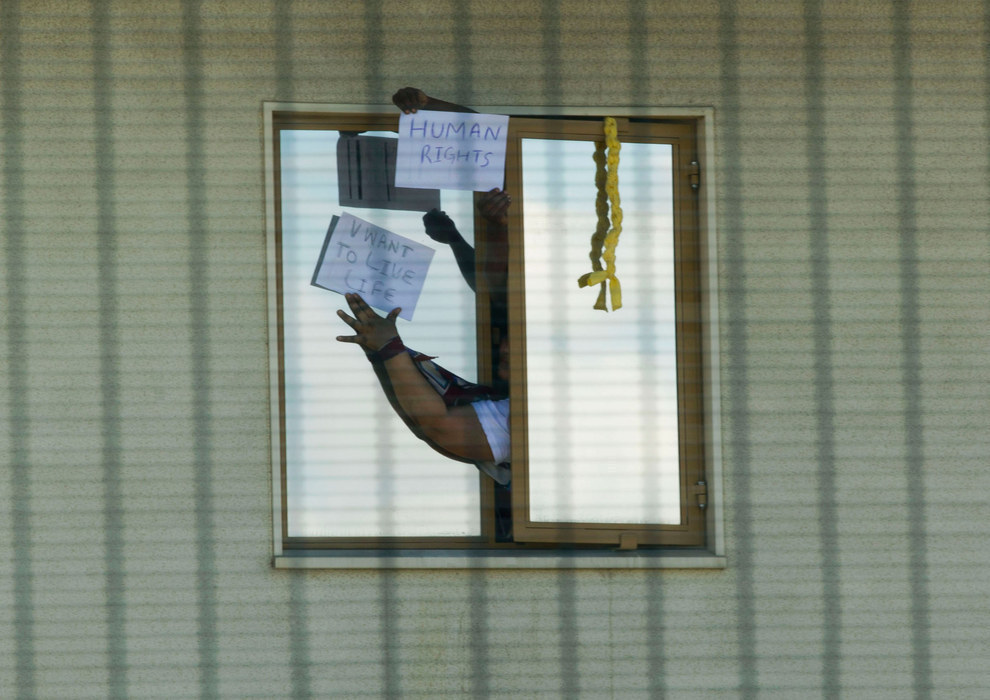 Whilst we'd been told via a phone call from one woman inside that the staff inside had laid on a free bingo game, with prizes, in an attempt to "keep [them] away from the windows," it was clear that nobody had joined them.
Makeshift banners, clothes, and tissues were waved from the restricted opening windows inside, as word got round inside that a whole load of people had turned up to support them.
The outer fences were ripped down, while the handful of local police officers watched. At first they asked the protestors calmly to "leave the fencing alone", but it wasn't long before they stepped back.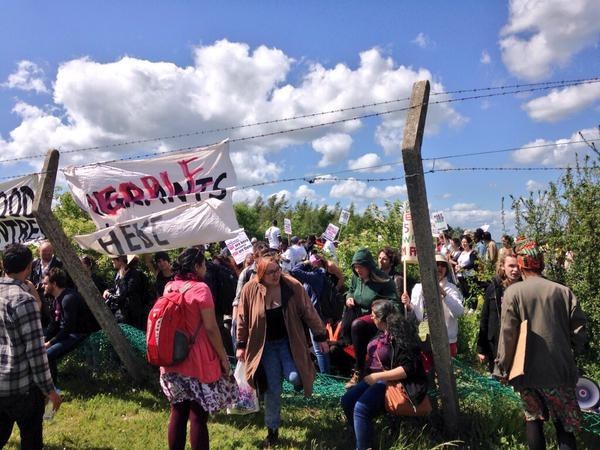 Shanice McBean, an activist with feminist direct action group Sisters Uncut, explained why people pulled down the fence.
"Some people might criticise this. To them I say the violence that is enacted on women in Yarl's Wood often includes physical and sexual violence, as well as the all too real violence of forced deportation. These are people. A fence can be replaced."
After close to an hour of chanting, with some people settling down for a picnic, the crowd hushed in order to listen to the women inside. As the sound of protesters shouting "freedom" subsided, those inside banged hard on the windows. Brook, an ex-detainee, stepped forward, and shouted "freedom sisters, be strong, we are here for you" back at them.