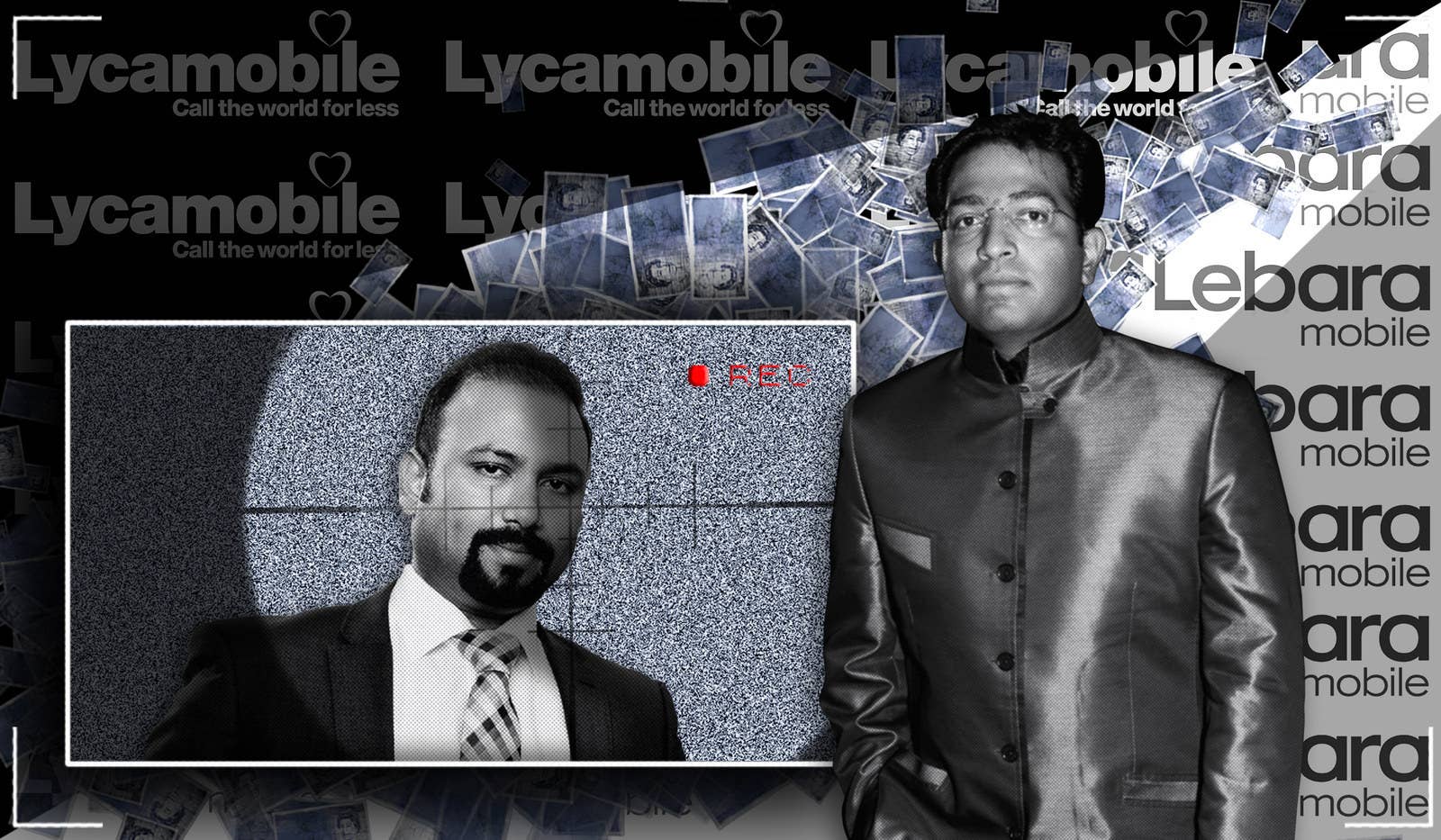 This is Part Three of a BuzzFeed News Investigation.

Part One: This Tory Donor Was Secretly Filmed Dropping Cash-Stuffed Rucksacks At Post Offices.

Part Two: Lycamobile's Offshore Empire Is Embroiled In Sri Lanka's Hunt For Stolen Assets.
Suspicious six-figure Post Office cash drops by the Lycamobile group were reported to the police as "prima facie evidence of money laundering" a year ago by the telecoms giant's biggest commercial rival, BuzzFeed News can reveal.
Lebara, a major competitor in the market for prepaid calling cards used by Europe's migrant communities, deployed a team of corporate spies to tail Lyca's bagmen all over London and reported their unorthodox cash movements to the National Crime Agency (NCA).
A major investigation by BuzzFeed News revealed this week that Lyca deploys three men to drive around in unmarked people carriers depositing rucksacks stuffed with hundreds of thousands of pounds twice a day across London. The Conservatives have accepted £1.3m from Lycamobile, and Labour MPs have demanded that the party put a freeze on any further donations from the telecoms giant and consider handing back its money.
The former director of public prosecutions Lord MacDonald QC said the cash desposits caught on film by BuzzFeed News were "deeply suspicious" and demanded an urgent investigation.
Lebara has now confirmed that it orchestrated its own wide-ranging campaign of espionage from May to September last year and passed its findings to the authorities. The operation was commissioned by the prominent law firm Mishcon de Reya, which acknowledged in a letter: "We did, on behalf of our client, engage the services of a private investigator firm to investigate in a lawful and proper manner alleged improper business dealings by Lyca.
"In the course of their investigation the investigators found prima facie evidence of money laundering which they then followed up ... After obtaining criminal legal advice, our client passed the results of the investigation to the appropriate authorities." The NCA refused to comment on what action, if any, it had taken as a result or whether the evidence had been passed to any other government agency.
Lebara insisted that its investigation was geared to probe "alleged improper business dealings by Lyca" and not to obtain commercial secrets.

BuzzFeed News has seen documents, photographs, and footage that reveal how the surveillance targeted Lycamobile chair Subaskaran Allirajah and other bosses including the firm's chief executive, Chris Tooley.

A team of private detectives – many of them former Scotland Yard detectives or government intelligence officers – also dug dirt on Lyca's finances and political connections. They pored over its donations to the Conservative party, now totalling £1.3 million, and its links to the controversial regime of a former Sri Lankan president accused of rampant corruption and war crimes.
They examined its financial accounts and noted that the company had avoided corporation tax for years by flowing money offshore through a complex network of companies.
But the most explosive of all their findings was the discovery that three cash couriers working at Lyca's east London depot were ferrying rucksacks stuffed full of around £250,000 a day to Post Offices across London.
Lebara's secret spying campaign illuminates the bitter battle for a growing and increasingly lucrative corner of the telecoms market. But it also shows how bizarre Lyca's practices seemed to a rival in exactly the same line of business. Lyca has said that its huge, scattered cash deposits are perfectly ordinary "day-to-day banking" – but Lebara was so surprised by what it saw on the footage gathered by its spies that its lawyers formed the conclusion its rival could be engaged in money laundering.
The investigation stalled last autumn because, sources say, Lebara got cold feet about its role and did not want it to become public knowledge that it had spied on its rival. The surveillance footage and reports produced by its investigators gathered dust for a year.
However, in May a source with knowledge of Lyca's business practices approached BuzzFeed News with claims about unusual cash movements at its depot. Our reporters spent the next five months investigating the tip and conducted our own surveillance that showed the bagmen were pumping up to £1 million a week into the company's Santander bank accounts through Post Office deposits. We also discovered that Lycamobile's offshore empire is facing investigation as part of an international probe into billions of dollars of state assets allegedly looted by a former Sri Lankan president. Those revelations, published this week, came as no surprise to Lebara, which was sitting on its own incendiary evidence. Today we spill the secrets of its campaign of espionage.

The black Rolls-Royce Phantom purred up the gravel drive toward Highclere Castle, where stewards were waiting to help Subaskaran Allirajah and his guests alight for a black-tie gala evening.

The aristocratic estate in Hampshire is famous as the setting for the television drama Downton Abbey. However, the rags-to-riches telecoms tycoon was oblivious to his own starring role in a modern-day spy thriller in which undercover agents were secretly filming his every move.
Surveillance specialists had put a tail on the Lycamobile chair's chauffeur-driven car for a client – Lebara – whose identity was intended to remain a closely guarded secret.
Lycamobile and Lebara are the crowning achievements of two entrepreneurial Sri Lankan refugees who escaped their country's civil war at a young age. Allirajah, now 43, went to France, a nationality he adopted, before moving to the UK as a young man with an interest in the emerging mobile telecommunications business. Ratheesan Yoganathan, now 39 and the chair of Lebara, fled to India and then to England, where he completed a degree in aeronautical engineering before going to work for Allirajah.
In 2001, he left his mentor with two other Tamil employees to set up a rival telecoms firm, initially in the Netherlands and then in the UK. Some insiders speculate that this may be the cause of bad blood between the two men. Lyca is the dominant force in the UK prepaid calling card market, with Lebara snapping at its heels. Both companies are also rivals in the low-cost money transfer market, which migrant workers in Europe use to remit their earnings to relatives in Asia, Africa, and the Middle East.
Both firms have carefully crafted socially responsible reputations by funding charitable foundations for underprivileged children and sponsorship deals in the worlds of sport and entertainment. Lebara lends support to a leading black music awards ceremony, while Lyca sponsors West Ham United football club.
Lebara said it hired agents to spy on its rival after hearing allegations of impropriety against Lyca. But one source close to the niche firm of former Scotland Yard surveillance specialists who did the work said the mission was to find dirt that Lebara could use to gain a commercial advantage over its rival. "The briefing was that Lebara was looking to take Lyca's franchises," said a well-placed source, referring to the shops where the firms sell their prepaid calling cards and SIMs.
Whatever the true motives, Lebara brought in Mishcon de Reya to act as a middleman between the company and its investigators. Last May, the law firm assembled a team of eight operatives to tail Allirajah in cars and on motorbikes from his house on millionaire's row in Chigwell, Essex. The £2 million gated family house is separated by just one mile and a golf course from where his rival Yoganathan lives in similar suburban luxury.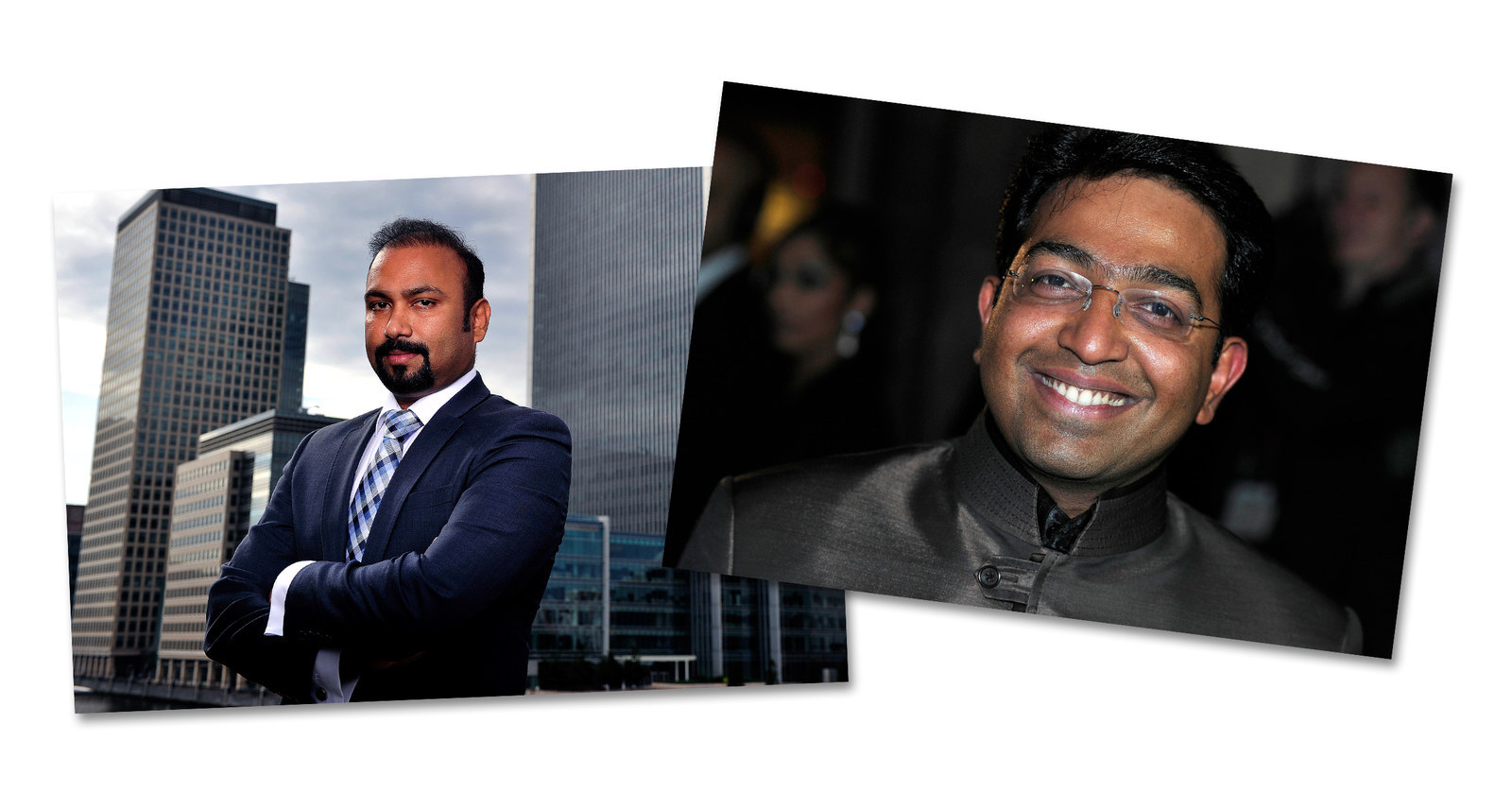 Allirajah was followed and his movements were logged and reported back. However, according to an insider, the focus of the surveillance suddenly switched shortly after the gala evening at Highclere Castle on 29 May.
The undercover team's new target was a Lyca depot on an industrial estate in Beckton, east London. Their job was to observe the comings and goings at the warehouse where Lyca stores its prepaid calling cards and – the spies would soon discover – vast amounts of cash.
Days of watching and logging developments passed before the surveillance team identified a pattern of behaviour. A group of Sri Lankan men would arrive in their own cars and leave together in a Ford Galaxy people carrier carrying a bulging rucksack or wheeling a suitcase.

The vehicle was followed as the men visited a variety of Post Offices, some as far as 17 miles from the depot. Eventually, the surveillance operatives followed the men inside the Post Office branches where they observed that large packages of cash in £20 and £50 notes were being handed over. The undercover operatives estimated that the total value of the cash going over the counter every day was in the region of £250,000. The deposits were recorded in a beige ledger-like hardback book that one courier carried.
Sometimes they were close enough to pick up what the Lyca couriers were saying to each other and the Post Office tellers. According to one log, "the cash couriers are overheard discussing a film being produced and mention the name 'Alirajah' [sic]. They joke about how they should make a film about themselves." The irony was not lost on the surveillance team who were secretly filming.
The operatives expressed surprise at the risk Lyca was taking by transporting so much money in this way and wondered why so many Post Offices in London were being used when 20 other financial institutions within a 1.5-mile radius of the depot were available.
The selection of Post Offices visited on a daily basis "does not reflect the closest, safest or most obvious possible locations to make deposits of money", one surveillance log recorded. The general consensus of the former Scotland Yard detectives was that what they were seeing was "very suspicious" and they raised the possibility that "the patterns of behaviour are associated with money laundering".
Lyca has said that it runs a cash-rich business and that its deposits are entirely above board. After BuzzFeed News conducted its own surveillance of the bag drops, the company said it was simply doing "day-to-day banking". It said today that it was "completely unaware" of Lebara's surveillance activities.
The daily routine of the Lyca cash couriers also included visits to an address in East Ham, where operatives observed what they regarded as "suspicious individuals" coming and going with "rucksacks or white plastic bags". The log reported that a 52-year-old Afghan male owned the East Ham address and was involved in distributing prepaid calling cards and was also the director of a short-lived money exchange company.

The couriers were later followed to Lyca's smoked-glass headquarters in London's Docklands, where a new target was identified.
According to a surveillance log dated 11 June, Christopher Tooley, Lyca's 50-year-old chief executive, was followed at 2:28pm to Manjal, a Docklands restaurant. Operatives sat at a nearby table eavesdropping and filming the Lyca executive having lunch with two men who they reported were discussing, among other things, the movement of money from Africa.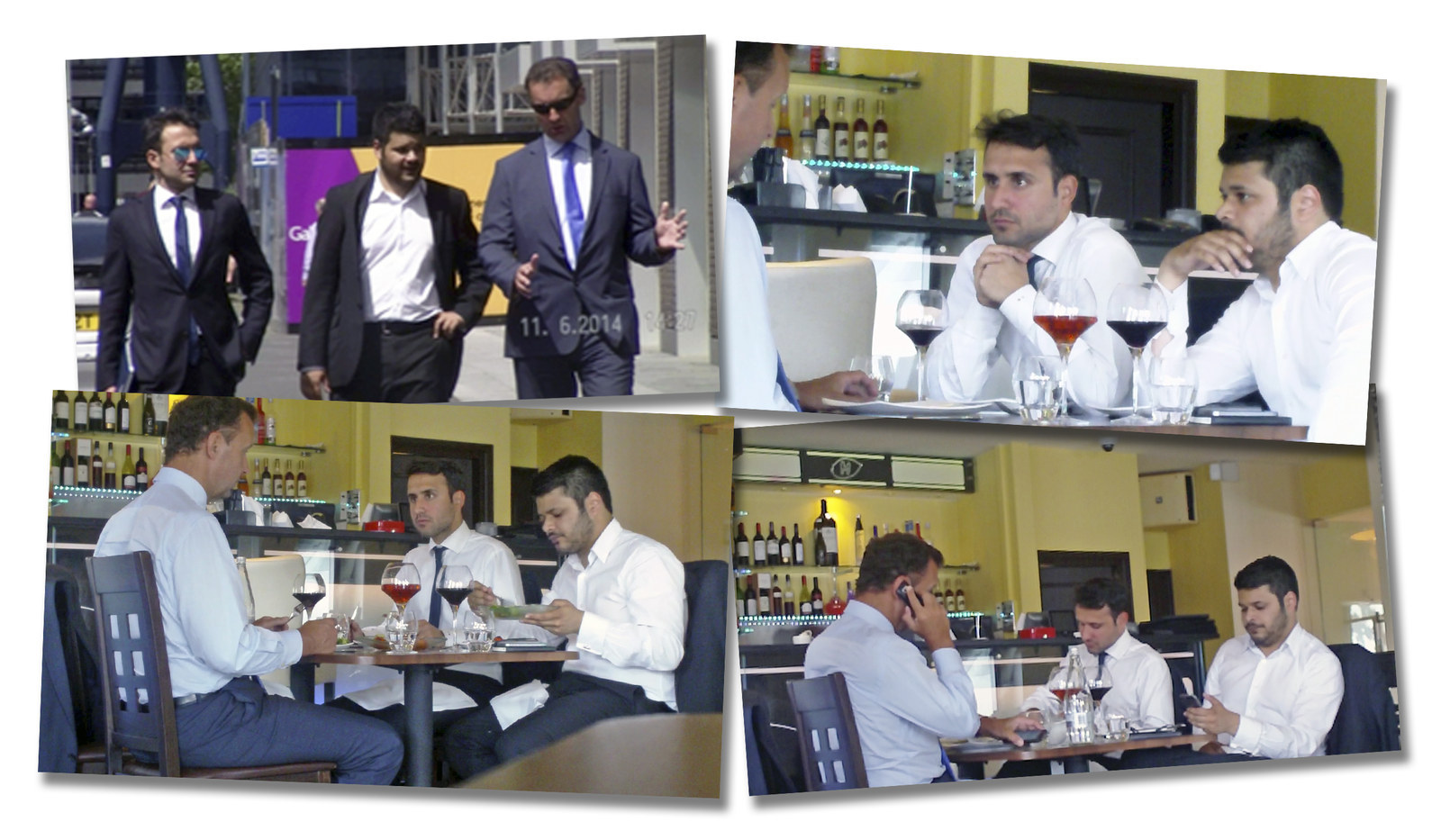 The surveillance operation also targeted a member of Allirajah's family. Sakthy Pillainayagam, believed to be the Lyca chair's brother-in-law, worked at the east London depot in a managerial role. He was secretly filmed with one of the cash couriers and followed to and from his home.
According to well-placed sources, the private investigators believed the daily six-figure cash deposits could not be understood in isolation from the company's finances. Experts were therefore enlisted to scour the accounts and balance sheets for any evidence that might point to tax evasion or other illicit financial activity.
They also traced Lyca's enviable political connections to David Cameron and Boris Johnson through its substantial donations to the Conservative party. Allirajah has bought a place in the prime minister's exclusive dining club for top donors and once paid £210,000 at a Tory fundraising gala for a bronze bust of Margaret Thatcher.
The spies were also interested in Allirajah's connections to former Sri Lankan president Mahinda Rajapaksa, whose 10-year rule, which ended this January, was mired in allegations of corruption, cronyism, and war crimes against the Tamil people. The investigators searched for evidence of any joint investments between the Rajapaksa family and the Lyca group of companies. The reports by the team of eight former intelligence officers and Scotland Yard detectives did not identify any connection between Allirajah and the despot's family. However, BuzzFeed News revealed Tuesday that a "shady" deal between the telecoms giant's offshore empire and Rajapaksa's nephew is facing investigation by Sri Lankan authorities.

In September 2014, the corporate espionage was halted and a decision made to approach to the Post Office with the findings. A well-placed source described how one of the investigators had a "strange meeting" with two senior Post Office compliance officers. The officers had come to the meeting carrying a large file, the investigator reported back, but refused to take away any of the covert footage or discuss the evidence of Lycamobile's cash deposits in any detail. A Post Office spokesperson refused to comment on the meeting or its outcome, but insisted in a statement that it was fully compliant with all its regulatory obligations and that any suggestion to the contrary would be "unfounded".
But Lebara had been told that its investigators had "found prima facie evidence of money laundering" and wasn't prepared to let the matter rest. The company sought "criminal legal advice" and then passed the results of the investigation to the National Crime Agency. However, sources say that soon afterward Lebara got cold feet about its involvement becoming public and stepped away.
Then, in May, BuzzFeed News received its own tip about Lyca's strange cash movements and began digging. Reporters began surveilling the company's depot and tailing the bagmen to their network of post offices, as well as scouring the company's accounts and interviewing sources. In the course of our own investigation, BuzzFeed News stumbled upon evidence that Lebara had enlisted corporate gumshoes to perform an almost identical surveillance operation to the one our reporters were undertaking. BuzzFeed News subsequently interviewed sources close to the 2014 spying campaign and saw footage, surveillance logs, and financial reports gathered by the investigators.
Approached at his Essex home earlier this month, Lebara owner Yoganathan made no comment when asked why his company had hired a team of spies to tail the men from Lyca, nor did he answer any other questions. Deluxion Morris, Lebara's corporate development manager, said: "As a business we do not generally comment on competitor activities, as it is not the company policy."
But just hours before this article was due to be published, BuzzFeed News received a letter from Mishcon de Reya admitting, finally, that Lebara had conducted the espionage and passed its evidence to the police.
The question now is: What, if anything, did the authorities do about it? When contacted by BuzzFeed News, the NCA did not give a clear answer. It said that, when it receives information which it believes warrants "a response," it may either lead an investigation itself or "support other agencies, coordinate and share information with partners". The statement concluded: "The NCA does not routinely comment on its sharing of information or the existence or status of investigations be they by the NCA or another agency."
Below is the letter Mishcon de Reya sent BuzzFeed News on behalf of Lebara. (For a PDF version, click here.)