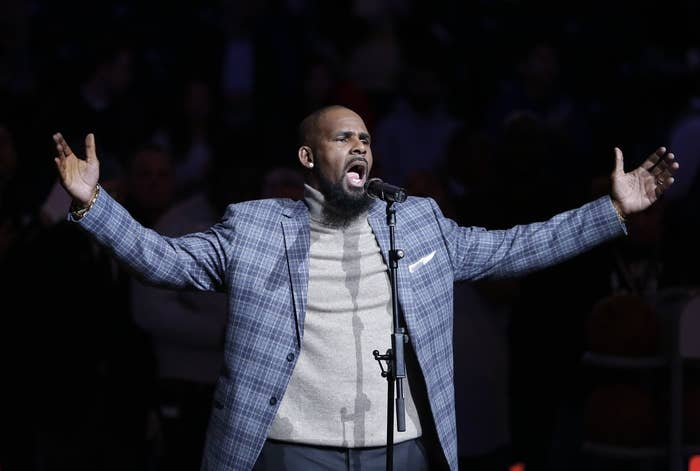 Women of color in the Hollywood-led anti–sexual harassment initiative Time's Up on Monday called for a boycott of R. Kelly and his music in response to the allegations of sexual abuse against the R&B singer.
"We demand appropriate investigations and inquiries into the allegations of R. Kelly's abuse made by women of color and their families for over two decades now," the Time's Up initiative said in a statement posted on their social media channels. "And we declare with great vigilance and a united voice to anyone who wants to silence us: Their time is up."
The group specifically called out RCA Records, Ticketmaster, Spotify, and Apple Music for producing or selling Kelly's music. They also blasted North Carolina's Greensboro Coliseum Complex for hosting a Kelly concert scheduled for May 11.
Kelly, 51, has long denied the abuse allegations against him.
"R. Kelly supports the pro-women goals of the Time's Up movement. We understand criticizing a famous artist is a good way to draw attention to those goals — and in this case, it is unjust and off-target," his representative said in a statement to BuzzFeed News, calling the criticism of him an "attempted public lynching of a black man who has made extraordinary contributions to our culture."
"We fully support the rights of women to be empowered to make their own choices," the statement added. "Time's Up has neglected to speak with any of the women who welcome R. Kelly's support, and it has rushed to judgment without the facts." The statement said he is a victim of a "greedy, conscious and malicious conspiracy to demean him."
The campaign dubbed #MuteRKelly, which originally began last year, quickly received support Monday from a number of top celebs, both female and male, as well as Tarana Burke, who is credited as being the founder of the #MeToo movement.
Tim Savage, the father of Joycelyn Savage, one of the women alleged to be involved in the singer's so-called cult, told BuzzFeed News that "it's been a long time coming to help these girls," adding that he was "very appreciative" of the #MuteRKelly campaign.
"I would love to hear from Time's Up and help them help us move in a direction to where we can bring these girls out and bring this to an end," he said.
Jerhonda Pace, a woman who said Kelly abused her when she was a minor, tweeted, "My heart is full."
#MuteRKelly was first launched last year by Oronike Odeleye and Kenyette Barnes in a bid to pressure radio stations to stop play Kelly's music. (The pair did not immediately respond to a request for comment Monday.)
"Someone had to stand up for Black women, and if I wasn't willing to do my part — no matter how small — then I couldn't continue to complain," Odeleye said on the petition's website.
"It's time for us to end this man's career. Enough is beyond enough."
On Sunday, Kelly posted a video statement to his social channels when news broke that he would be dropped from the upcoming 2018 Love Jam concert in Chicago on May 5 following protests from several members of the community.
"I've never heard of a show being canceled because of rumors," he said. "But I guess there's a first time for everything."

Savage said he was shocked by Kelly's response to the performance cancellation.

"This man feels that he has no knowledge of what has been going on for the past two years that my daughter has been in that house," Savage said.