Emma Watson is in full-on promotional mode for her upcoming film, Beauty and the Beast. And try as she might, she still can't escape people bringing up Harry Potter.
The actor appeared on last night's Jimmy Kimmel Live! where she was shown an outtake from Harry Potter and the Sorcerer's Stone — her very first film — and it's gold.
Right before the clip played, Kimmel told everyone to make sure they paid close attention to Watson...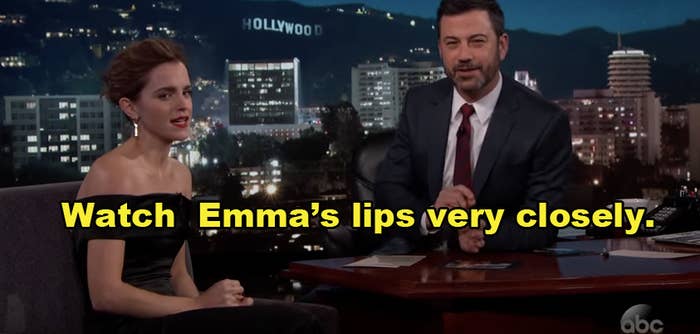 ...and Emma's face is basically like, "Uhhhh."
The outtake showed the beloved trio — Daniel Radcliffe, Emma Watson, and Rupert Grint — practicing their lines on set and discussing why they believed Professor Snape was after the Sorcerer's Stone. Do you notice anything ~interesting~ at all?
Look at Emma's lips. She's legit mouthing Daniel Radcliffe's lines, proving that Emma Watson and Hermione were very much alike.
She also did the same for Rupert Grint.
Watson then told Kimmel the story about how reading her co-stars' lines caused problems on set.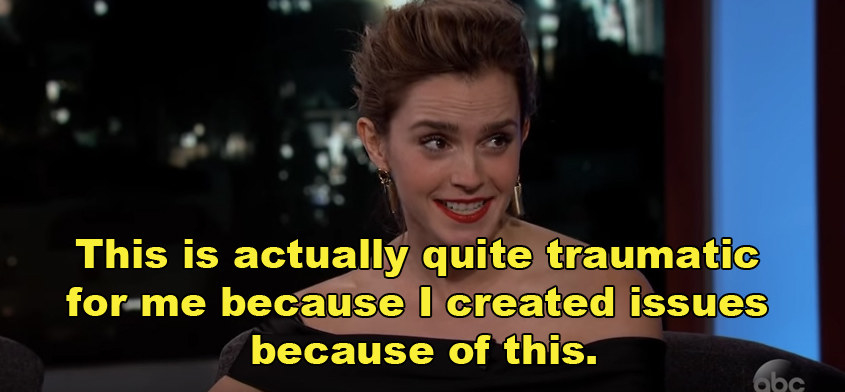 Chris Columbus, who directed the first two Potter movies, would call Watson out about it.
But she was just very serious about her job — an overachiever, just like Hermione Granger.