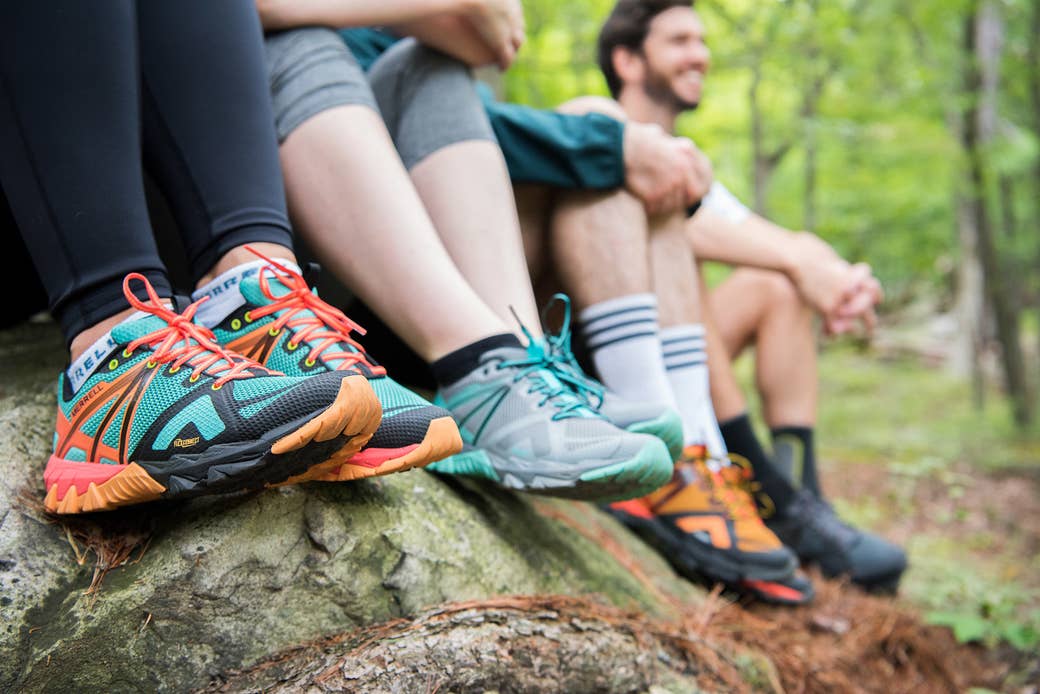 There's nothing like spending a day in nature with fresh air, green trees, and the blue sky above you…or so they say. Having lived in New York City for almost seven years, I don't spend a lot of time in nature, and that's always been fine with me. I definitely would consider myself an "indoor person," and even as a child I preferred reading or making crafts over playing outside.
So when Merrell asked me to try hiking and write about it as part of my job as a branded content writer at BuzzFeed, I was skeptical but excited! I invited two of my indoorsy coworkers Kyle and Emily to join me, along with our photographer, Sarah, and my department's token outdoorsy person, Andrew.
So why is hiking so popular?
Before heading out on the trail, I wanted to understand why hiking is more popular than ever; some people are even calling it "the new yoga." I quickly found out there's a good reason for that. According to research, spending time in nature can reduce stress, increase happiness, and improve your health.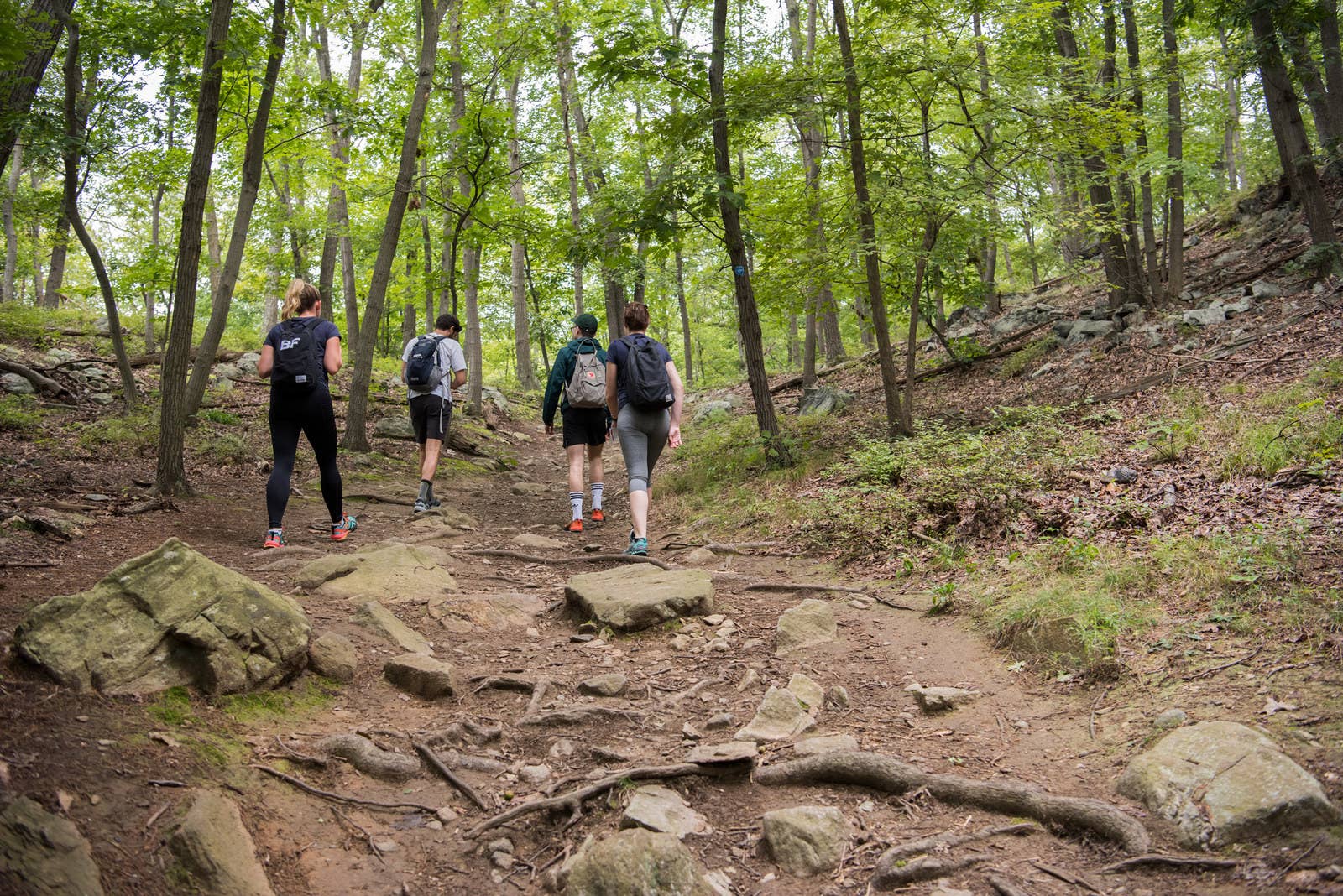 One study found that walking in nature for just 20 minutes decreases stress, while another study found that spending time in nature can actually make you more creative. And there's a ton of anecdotal evidence that being outside just makes you feel good!
Plus hiking can be a great workout. Exercising inside at a gym can get boring fast, so I definitely see the appeal of getting a satisfying workout in while exploring the great outdoors.
Before the hike
Before the hike, I gave myself some time to really think about what I was hoping to get from it. Something that interested me were the purported mental health benefits of hiking and spending time in nature. I've really made my mental wellness a priority in the past few years, and I'm always looking for new ways to reduce stress and be more mindful. I was also curious to see if hiking would actually feel like a workout. How hard could a casual stroll in the woods really be?
Kyle and Emily each had their own goals for the hike. "I want to take part in this hike to challenge myself and switch up my normal routine," Kyle said. "I just turned 25, so if I have only 75–90 years of life ahead of me, I want to make sure I'm taking advantage of every opportunity to step out of my comfort zone that comes my way."
And Emily was interested in hiking but didn't know where to start. "I had been looking for a way to go hiking (that didn't involve me wandering around the woods on my own) for a while," she said, "and I figured taking a day to get out of the city with some coworker buddies and venturing into the wilderness was a perfect opportunity to see if I'd like it!"
On the trail
We decided to head out of the city and up to Putnam County about an hour outside of Manhattan on a Friday morning in September. Andrew suggested we hike up to Anthony's Nose since it's a fairly short (but still challenging) hike with gorgeous views of the Hudson. (Merrell generously provided us all with new hiking shoes and some gear.)
The morning did not start out as planned. We were meeting in Brooklyn, and due to a subway outage, I was late, so we were about 10 minutes behind schedule. Then we realized we had locked the keys in the car and needed to wait for a guy with a wedge and a giant wire to come and let us in. On one hand, it was pretty funny, but I definitely thought, This is why I never leave the city.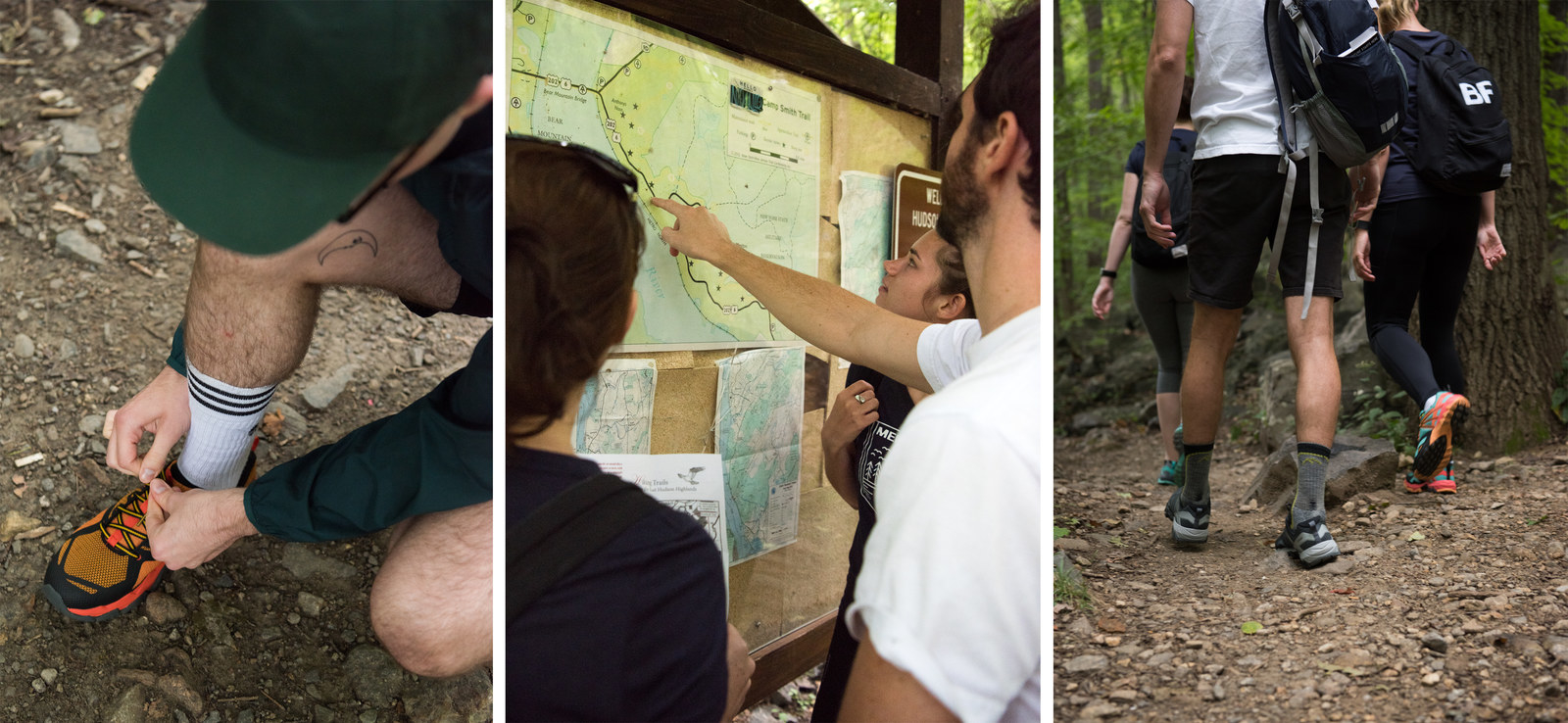 But once we got on the trail, the stress of the morning felt very far away. Andrew explained how to follow trail markers, or blazes, and we all looked at a map to get our bearings. The trail was less densely wooded and rockier than I expected, and I immediately began to notice all of the small things that make nature beautiful: colorful fungi, a crystal-clear brook, and rocks with what appeared to be shimmering quartz.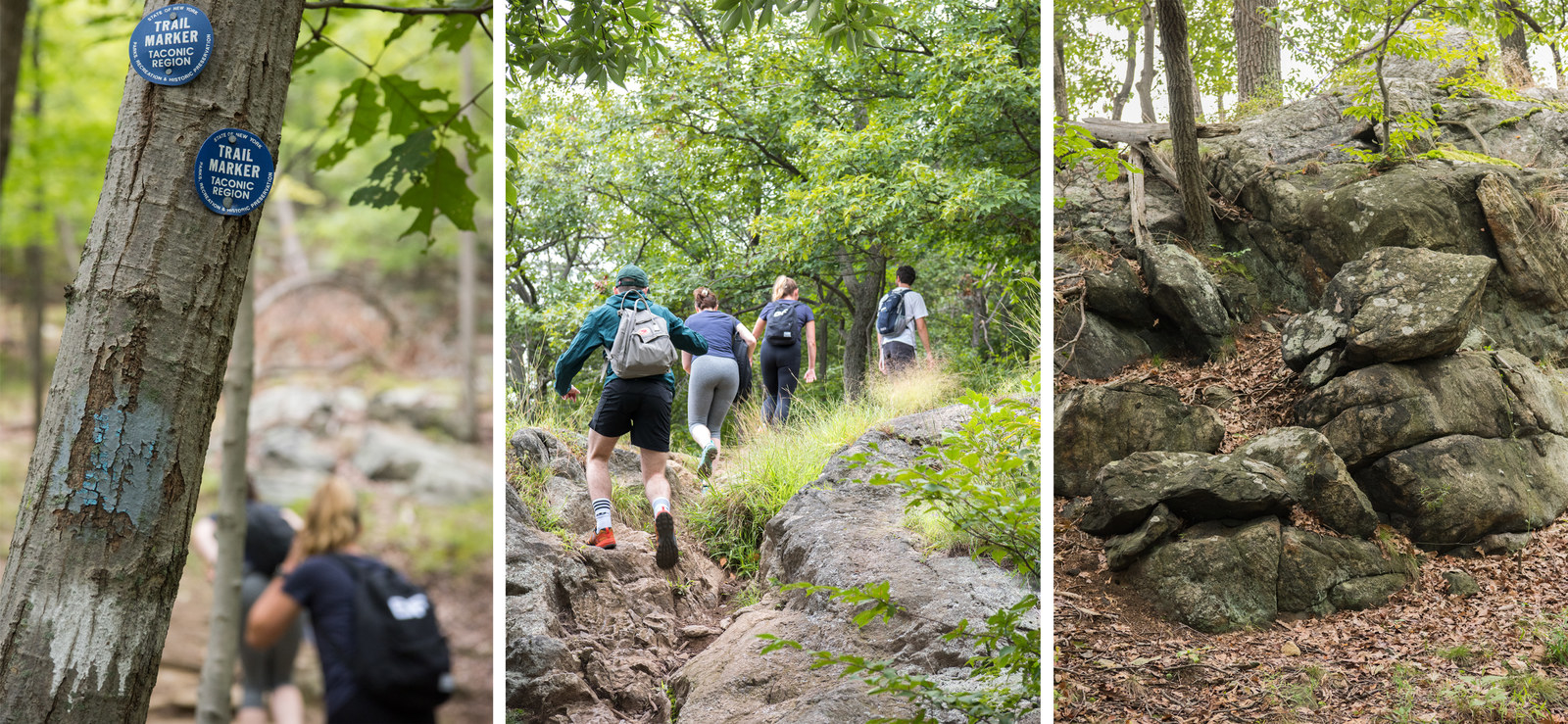 It took us about an hour and a half to get to the summit — and it was hard. There were way more rocks than I expected, and we really had to climb. Emily said she felt like her center of gravity was totally thrown off. Although we weren't moving fast, I was really out of breath. As someone who does a lot of spin classes, I was pretty surprised that hiking got my heart rate up as much as it did.
On the way up, Andrew pointed out a few scenic overlooks before finally reaching the top, where we had a picnic lunch. The view was absolutely worth the work. We could see for miles up and down the Hudson and had a spectacular view of the surrounding mountains, although it was overcast. The air just seemed cleaner up there, and we all felt a sense of accomplishment.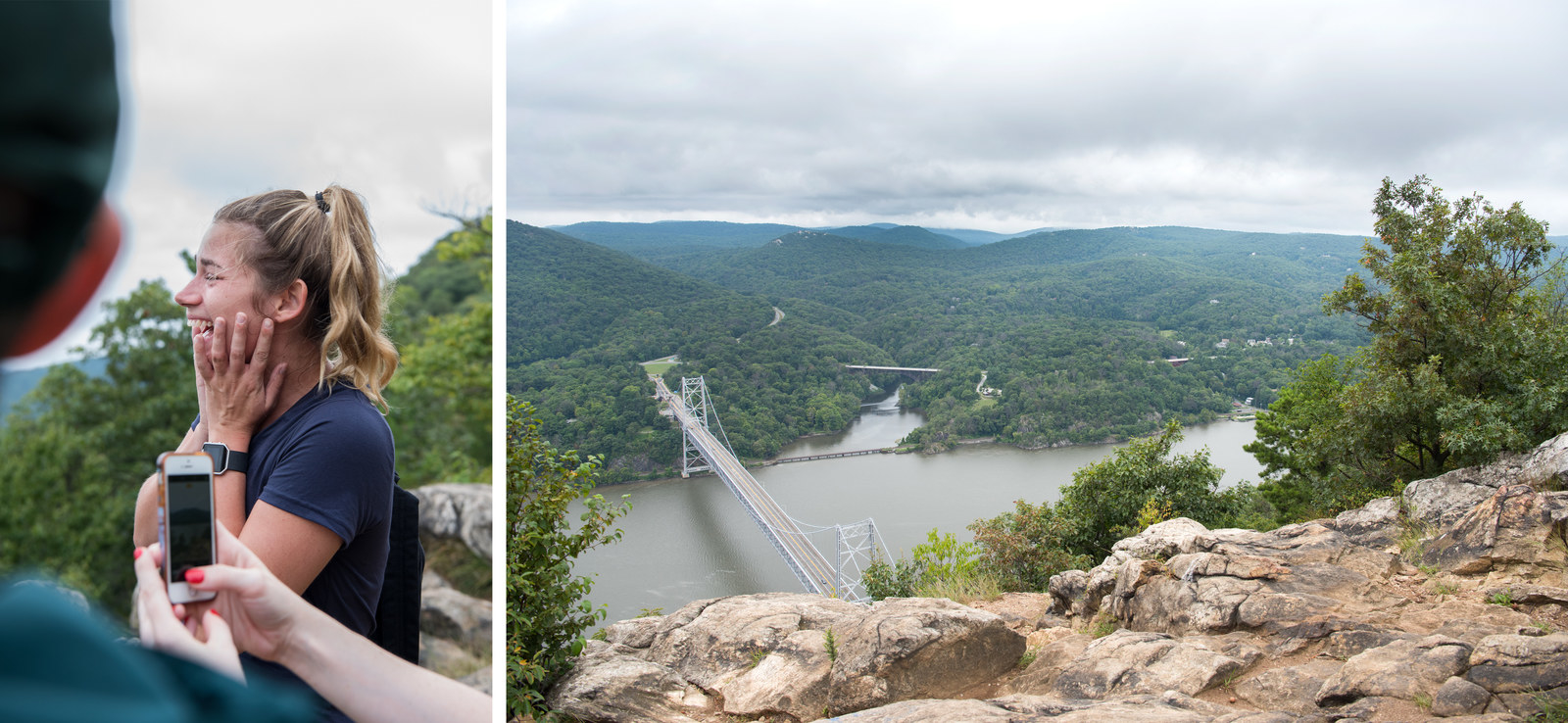 I could have sat up there all day, but unfortunately we did need to get back into the city. The hike down was a little faster, and we all felt like pros by the time we reached our car. We even found a shortcut I would have been too nervous to try on the way up.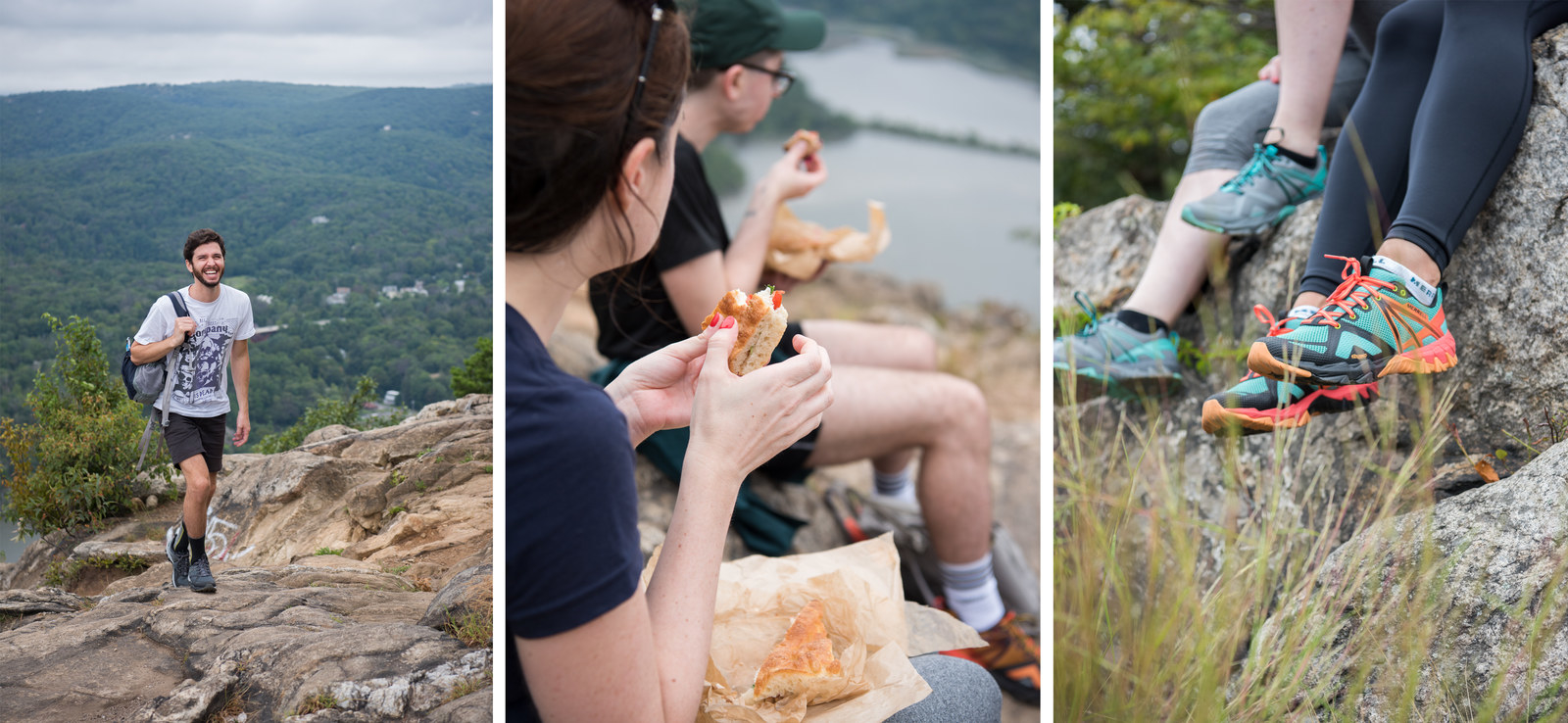 Our final thoughts
Our experience definitely surprised me…in a good way! I didn't get as dirty as I thought I would, and being in nature gave my brain a chance to rest and reset. I'm usually constantly thinking about what I have to do today, tomorrow, and next week, but after the hike, I felt like I could relax and just let that list go for a while.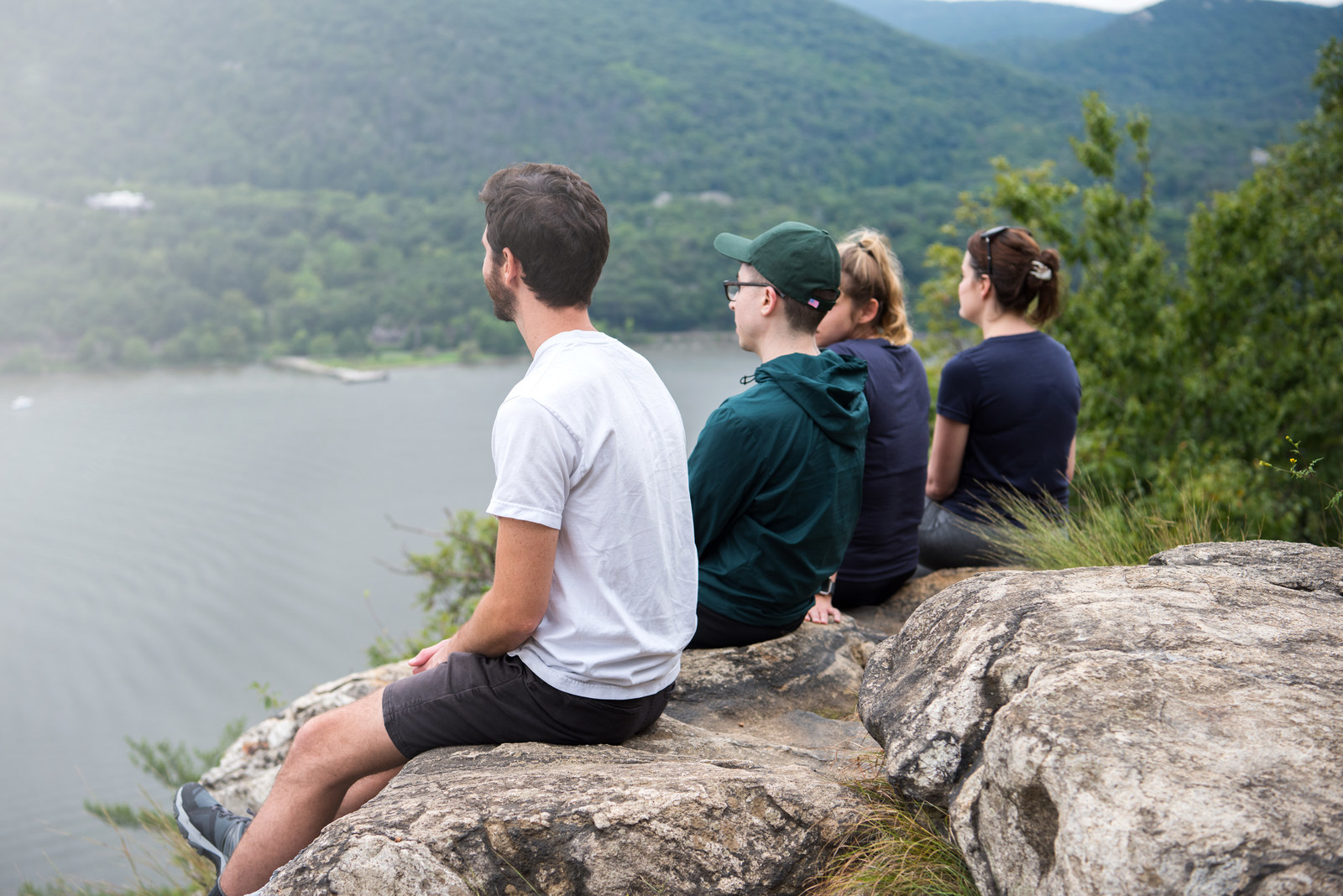 Would I go hiking again? Definitely! The difficulty of the hike surprised me the most. I'm pretty competitive and love a challenge, and since the hike, I've been doing research on similar but slightly more difficult hikes near New York. I've also been trying to arrange a hike with a group of people I volunteer with since it was such a good stress reliever, and self-care is key when you're giving your time to help others. And now I have the right shoes, so I have to use them!
Kyle and Emily enjoyed the hike too. "I didn't expect there to be so much climbing and vertical movement upward," Emily said. "I thought there would be a clear trail/path that would guide us along, but I was wrong; we were on untamed land. Luckily, Andrew knew how to read the blue trail markers on the tree or else we all would have been lost.
"Hiking was definitely more exerting that I thought it would be, but I did love how one second I was climbing upward covered in sweat and the next I was looking out over a river with a cool breeze blowing. I came back to the city happily exhausted and rejuvenated!"
Kyle said, "I was a little bit nervous going into the hike. I…hate bugs and the idea of sweating consistently for a prolonged period of time. By the time we'd hit the trail's apex, however, it all felt completely worth it. The view from the top was both breathtaking and a symbol of accomplishment.
"I just wish there'd been a ski lift going down."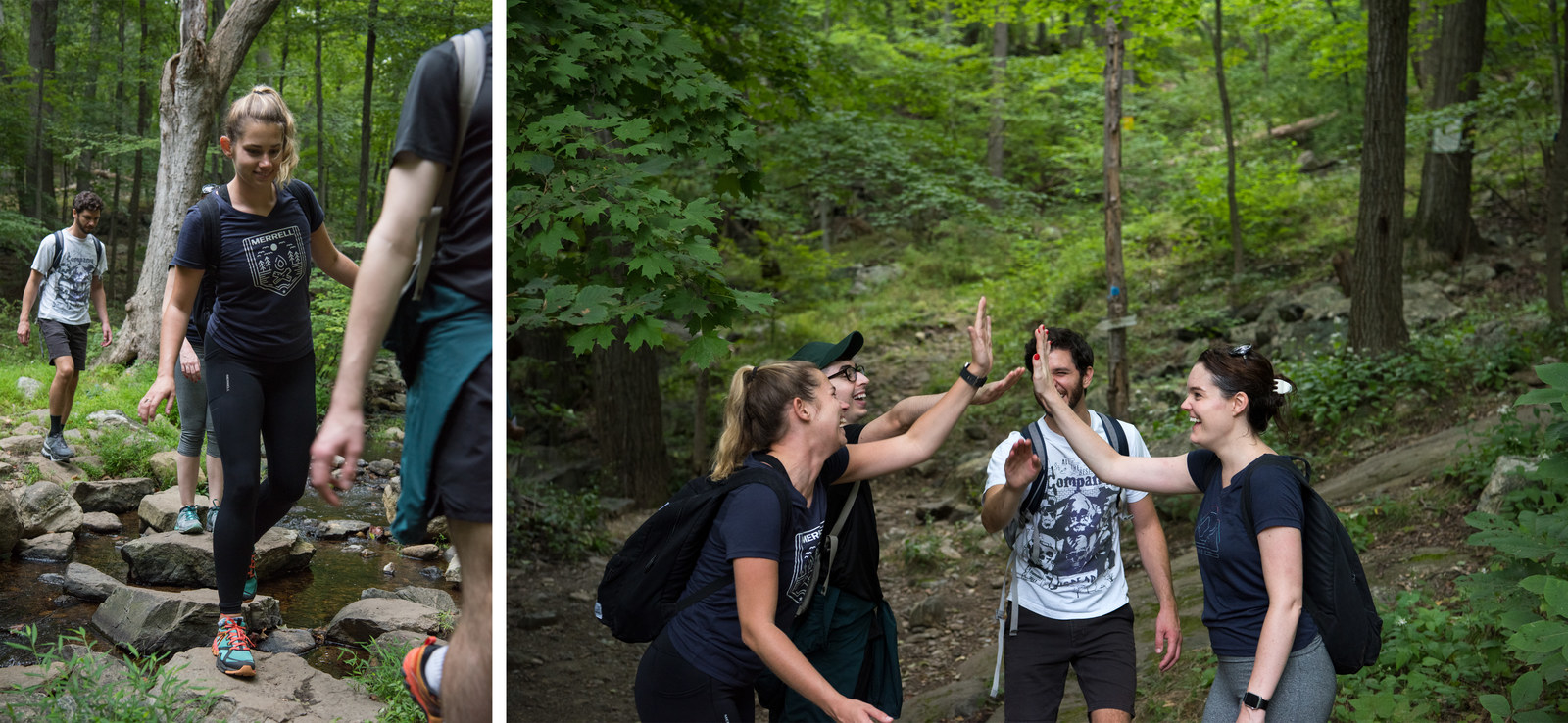 Whether you're a self-proclaimed indoor person who's just getting out on the trail for the first time or an expert hiker, Merrell has everything you need for an awesome hike!
Images by Sarah Stone / BuzzFeed