Cheese-Stuffed Mushroom Burger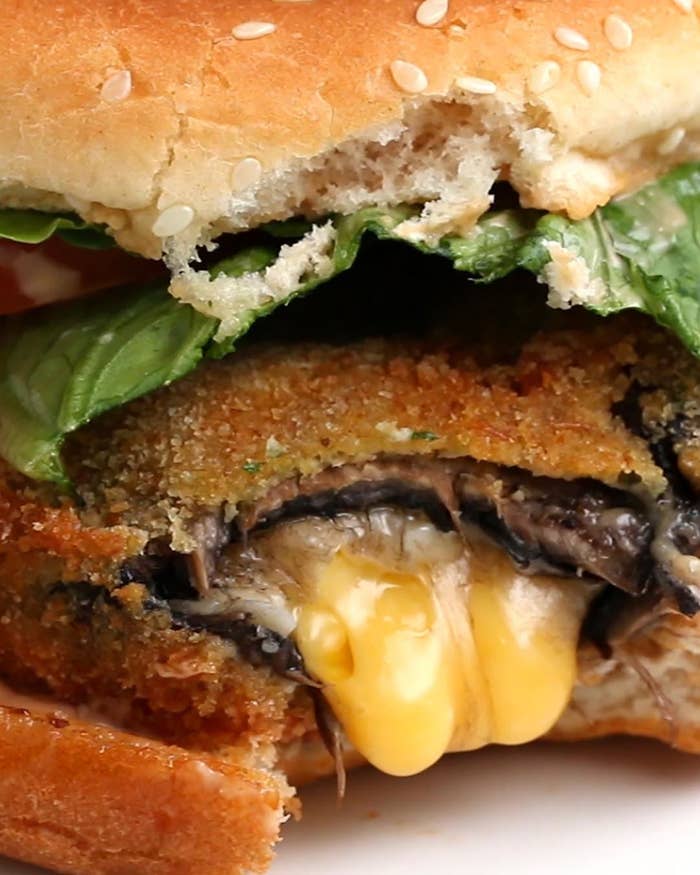 INGREDIENTS
Servings: 1
Mushroom Burger:
1 slice American cheese
1 slice Swiss cheese
2 portobello mushroom caps, de-stemmed
½ cup breadcrumbs
1 egg, beaten
½ cup flour
Vegetable oil, for deep frying
Sauce:
2 tablespoon mayonnaise
1 tablespoon ketchup
1 teaspoon worcestershire sauce
1 teaspoon garlic salt
¼ tablespoon hot chili sauce
Garnish:
Lettuce
Tomato, sliced
Onions, sliced
Pickles, sliced (optional)
Burger buns
PREPARATION
1. Line a plate with two paper towels. Place two small portobello mushroom caps on the paper towels, then cover with two more paper towels. Top with another plate.
2. Meanwhile, in a small bowl, mix together mayonnaise, ketchup, Worcestershire sauce, garlic salt, and hot chili sauce.
3. Place a slice of Swiss cheese down on a counter top, then place a slice of American cheese on top, folding the corners of the American cheese in towards the center. Do the same with Swiss cheese, forming a ball shape.
4. Place the cheese ball on one mushroom cap and then sandwich the other on top of it, pressing down to make the mushroom edges touch. Take a piece of clear plastic wrap and wrap it around the mushroom burger, twisting the sides like a piece of candy to release all of the air. Tuck the plastic wrap under the mushroom and refrigerate for 10-15 minutes.
5. Put the egg, flour, and bread crumbs into 3 separate bowls.
6. Remove plastic and coat mushroom burger in flour, egg, then bread crumbs. Dip in egg wash and bread crumbs one more time.
7. Heat vegetable oil in a large pan until it is 375ºF/190ºC and fry mushroom burger for 1-2 minutes or until golden brown.
8. Remove burger onto paper towel to drain excess oil and let cool 1-2 minutes.
9. Assemble burger, spread special sauce on buns, and enjoy!