Cinnamon Sugar Pretzel Bites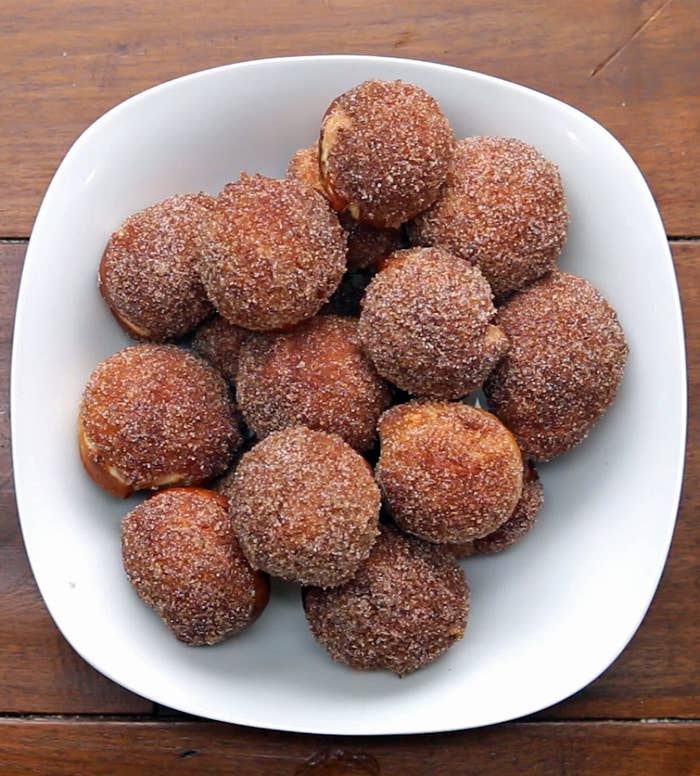 INGREDIENTS
Servings: 24 bites
For the bites:
2 ½ cups warm water
2 ¼ teaspoons instant yeast (1 packet)
1 teaspoon salt
2 tablespoon melted butter
1 tablespoon brown sugar
4 cups flour
3 eggs
For the baking soda bath:
9 cups of water
½ cup baking soda
For the cinnamon sugar coating:
¼ cup melted butter
¾ cup sugar
3 teaspoons cinnamon
For the cream cheese dip (optional):
4 ounces cream cheese, room temperature
¼ cup butter, room temperature
½ teaspoon vanilla extract
1 ½ cups powdered sugar
PREPARATION
Dissolve yeast in warm water in a large bowl. Stir together minute until mostly combined.
Add salt, sugar, butter and stir to combine.
Add flour, 1 cup at a time, until dough is thick and no longer sticky. Poke dough with finger. It should bounce back.
Flour a surface and knead dough for 3 minutes until it forms a smooth ball.
Place dough in a lightly oiled bowl, cover and let rest for 30 minutes.
Preheat oven to 425ºF/ 220ºC.
Bring 9 cups of water to a boil and add ½ cup of baking soda.
Pull bite sized pieces from large dough ball and drop into the baking soda bath. Boil 25 seconds.
Remove dough bites from baking soda bath and place on a well oiled baking sheet
Beat together your eggs and brush over each pretzel bite.
Place in oven and bake 15 minutes or until pretzel tops are golden brown
Combine sugar and cinnamon in a small bowl.
Dip each pretzel bite into melted butter then roll in cinnamon sugar mixture.
To make the cream cheese dip, combine butter and cream cheese and blend until smooth. Add powdered sugar and vanilla and stir.
Enjoy!
Want BuzzFeed Tasty right in your inbox? Sign up for our newsletter!