Breakfast Enchiladas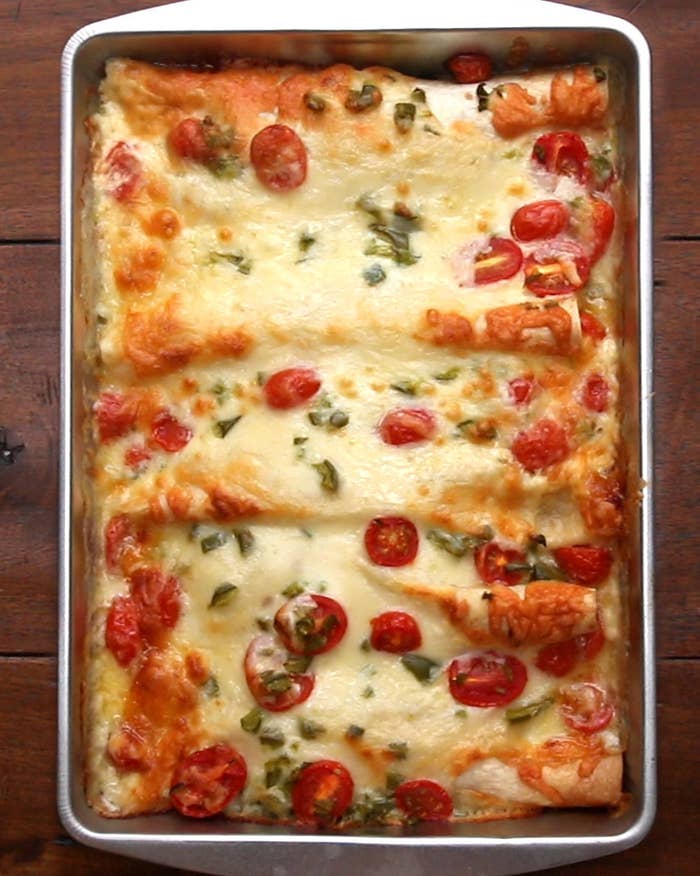 INGREDIENTS
Servings: 4-5
Cheese sauce:
1/3 cup butter
1/3 cup flour
3 cups milk
2 cups (8 ounces) shredded Cheddar cheese
1 (4.5-ounce) can chopped green chiles, undrained
3/4 teaspoon salt
Enchiladas:
1 lb. package hot ground pork sausage
2 tablespoons butter or margarine
2 onions, diced
Green pepper, diced
2 tbsp. chopped fresh cilantro
7 large eggs, beaten
Salt
Pepper
5 8-inch flour tortillas
1 jalapeño, diced
Cherry tomatoes, halved
PREPARATION
1. Melt butter in a heavy saucepan over medium-low heat; whisk in flour until smooth.
2. Whisking constantly, add milk stir until thickened
3. Add shredded cheddar and shredded jalepeño
4. Cook sausage in a large nonstick skillet over medium-high heat, stirring until sausage crumbles and is no longer pink.
5. Drain well, pressing between paper towels.
6. Melt butter in a large nonstick skillet over medium heat, add green onions and cilantro. Sauté 1 minute.
7. Add eggs, salt, and pepper, and scramble until eggs are cooked but still moist
8. Remove from heat, add 1 1/2 cups Cheese Sauce and sausage.
9. Spoon about 1/3 cup egg mixture down the center of each flour tortilla; roll up. Place, seam side down, in a lightly greased medium baking dish. Pour remaining Cheese Sauce evenly over tortillas.
10. Bake at 350° for 30 minutes or until sauce is bubbly. Serve with desired toppings.
UPDATE
A previous version of this recipe failed to include steps 7-10.
Want BuzzFeed Tasty right in your inbox? Sign up for our newsletter!