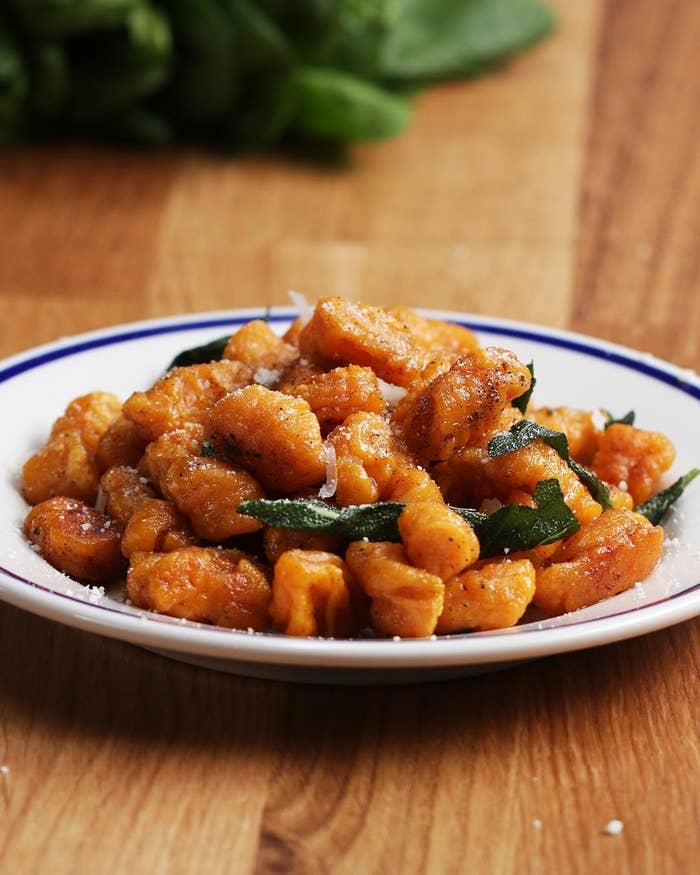 Ingredients:
for 4 servings
1 sweet potato
½ cup vegetarian parmesan cheese, grated (55 g)
1 egg
2 cups flour, plus more to dust (250 g)
2 tablespoons butter
2 leaves fresh sage
Preparation:
1. Preheat oven to 400º F (200º C).
2. Prick the sweet potato with a fork several times and bake for 40 minutes (or microwave for 5 minutes).
3. Allow potato to cool at least 5 minutes before peeling skin off.
4. In a large bowl, mash potato with masher or fork until smooth.
5. Add parmesan cheese, egg, and flour. Knead the dough until it is firm and no longer sticky, adding flour as needed, forming a ball with the dough.
6. Divide the dough into four equal parts. Take one part and roll it out into a long rope, about a 1-inch (2 ½ cm) wide.
7. Slice into ½-inch (1 cm) rectangles and set aside.
8. Using an overturned fork, slide each gnocchi over the fork prongs so they become serrated in a corkscrew shape.
9. Bring a large pot of water to a boil and add the gnocchi. Boil until the gnocchi float to the top, about 1-2 minutes. Drain in a colander.
10. In a pan over medium heat, melt butter and add sage. Simmer for 1 minute without letting butter burn.
11. Add gnocchi to pan with the sage and butter, tossing until lightly golden.
12. Top with more Parmesan cheese.
13. Enjoy!