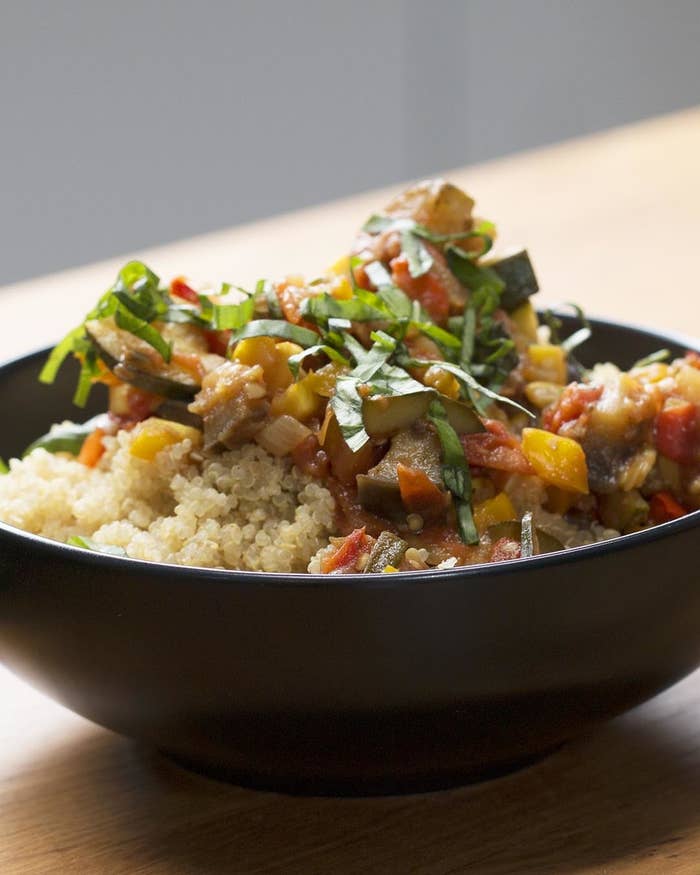 Ingredients:
for 2 servings
olive oil, for cooking
1 large eggplant, or 2 small, cubed
salt, to taste
pepper, to taste
1 red bell pepper, seeded and chopped
yellow bell pepper, seeded and chopped
1 small white onion, chopped
2 cloves garlic, minced
1 yellow squash, sliced
1 zucchini, sliced
1 tablespoon fresh thyme, chopped
3 roma tomatoes, diced
½ lemon, juiced
1 cup white quinoa, uncooked (170 g)
2 ½ cups water (600 mL)
1 tablespoon fresh basil, chopped
Preparation:
1. Heat a bit of olive oil in a large skillet over medium heat. Add the eggplant, season with salt and pepper, and cook, stirring occasionally, until golden brown and softened, 5-10 minutes. Remove from the pan and drain on paper towels.
2. Heat more oil in the pan, then add the bell peppers. Cook, stirring occasionally, until softened, 2-3 minutes.
3. Add the onion and garlic and cook, stirring, until the onions are soft and golden, about 3 minutes. Remove the peppers and onions from the pan.
4. Add the yellow squash and zucchini, season with salt and pepper, and cook squash have cooked down a bit, about 5 minutes.
5. Add the thyme and tomatoes, season with more salt, then add the lemon juice.
6. Increase the heat to high and cook until mixture is sizzling. Cook, stirring occasionally, until the tomatoes start to release their juices, about 2 minutes.
7. Return the eggplant and pepper mixture to the pan, stir to combine, then remove the pan from the heat.
8. Add the quinoa and water to a large skillet and stir to combine. Bring to a boil, then cover and reduce the heat to low. Simmer until the liquid is absorbed, about 20 minutes.
9. Spoon the vegetables over quinoa and sprinkle the basil on top. Serve warm.
10. Enjoy!