Ramen YOU Will Love And Gotta Have!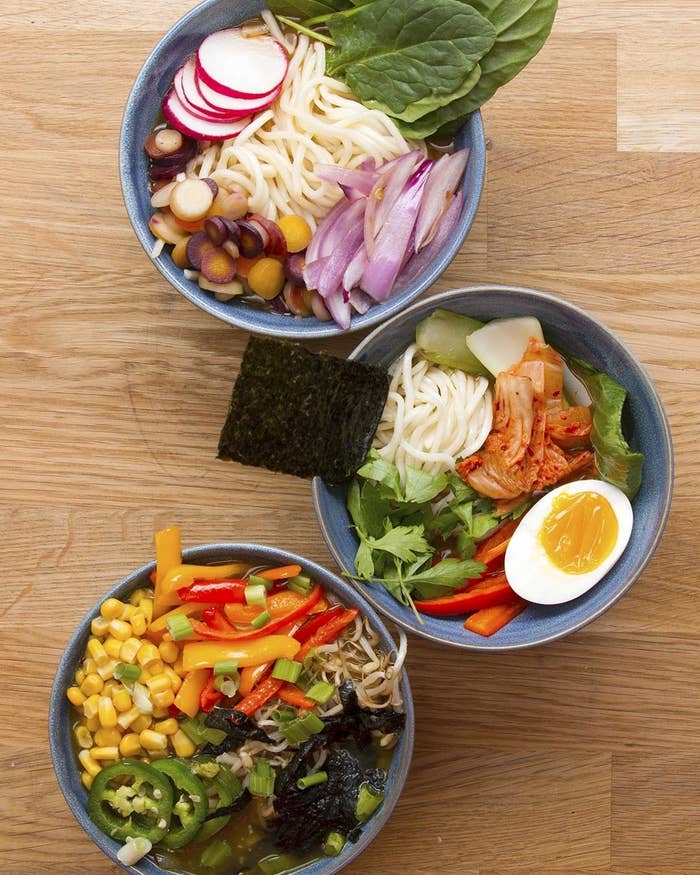 INGREDIENTS
Servings: 4-6
1 tablespoon oil
1 teaspoon sesame oil
1 tablespoon ginger, minced
6 cloves garlic, minced
1 onion, diced
6 cups vegetable stock
1 cup water
1 cup shiitake mushrooms, stems removed and sliced
1 tablespoon soy sauce
1 teaspoon miso paste
Ramen noodles
Toppings
Bok choy, sautéed
Peppers, sliced and sautéed
Parsley
Kimchi
Soft-boiled egg
Nori
Rainbow carrots, diced and sautéed
Radishes, sliced
Onions, sliced and sautéed
Spinach
Bean sprouts, sautéed
Corn
Jalapeños, sliced and sautéed
Green onions, sliced
PREPARATION
# In a large pot or Dutch oven, heat the olive oil over medium heat. Add the garlic, ginger, and onions and sauté until onions become translucent.
# Add vegetable stock, water, shiitake mushrooms, and soy sauce. Stir and simmer for at least 45 minutes, up to 3 hours. The longer you simmer, the more flavorful the broth will become.
# Uncover the pot, add the miso paste, and stir.
# Ladle the broth into a bowl and add noodles and toppings of your choice.
# Enjoy!
Inspired by: