Protein-Packed Buddha Bowl
So yum!
by
,
Protein-Packed Buddha Bowl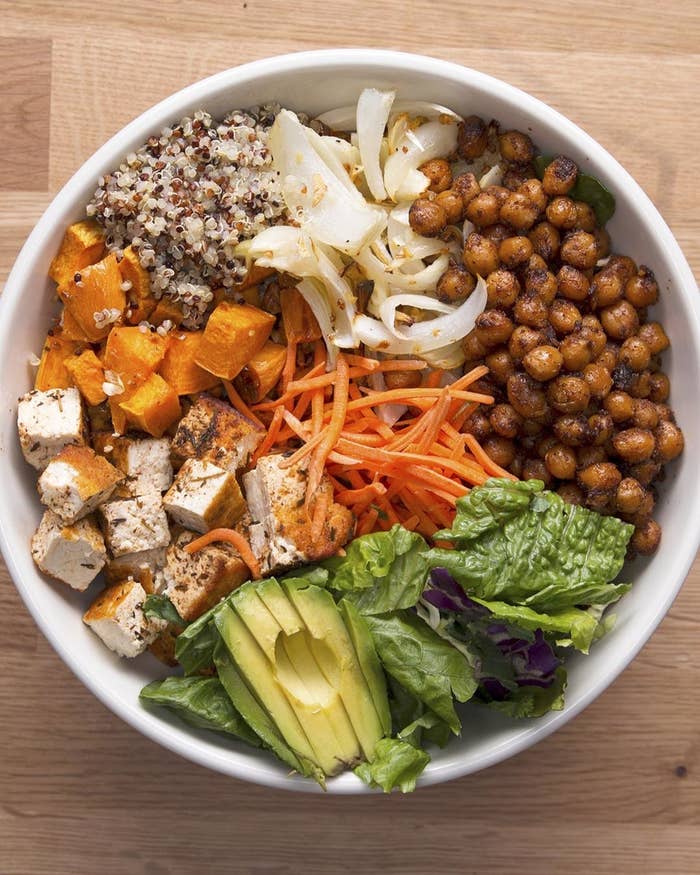 INGREDIENTS
Protein-packed Buddha Bowl
Servings: 2-4
Marinade
2 tablespoons vegetable oil
½ teaspoon sesame oil
1 teaspoon hot sauce
2 teaspoons thyme
1 teaspoon paprika
½ teaspoon salt
8 ounces tofu
1 sweet potato, peeled and cubed
1 onion, sliced
2 cloves garlic, minced
1 tablespoon oil
Salt, to taste
Pepper, to taste
1 cup chickpeas
½ teaspoon salt
½ teaspoon pepper
1 teaspoon chili powder
1 teaspoon garlic powder
¼ cup carrots, shredded
1½ cups quinoa, cooked
1 cup greens
1 avocado, sliced
Juice of 1 lemon
PREPARATION
1. Preheat oven to 400ºF(200ºC).
2. Combine marinade ingredients in a small bowl and whisk to combine.
3. Add the marinade and tofu to a container and marinate for at least 30 minutes, up to a day.
4. Lay sweet potato, onion, and garlic on a baking sheet and drizzle with oil, salt, and pepper. Bake for 20-25 minutes.
5. Add the chickpeas, salt, pepper, chili powder, and garlic powder to a bowl and stir to combine.
6. Transfer chickpeas to a skillet and cook over medium heat for about 10 minutes. Set chickpeas aside.
7. Fry the tofu in the same pan for about 10 minutes on each side. Slice tofu to your preference.
8. Combine the quinoa, carrots, greens avocado, chickpeas, and tofu in a medium-large bowl and top off with lemon juice
9. Enjoy!
Inspired by: This BuzzFeed post.