Nashville Hot Chicken As Made By Spike Mendelsohn #TastyStory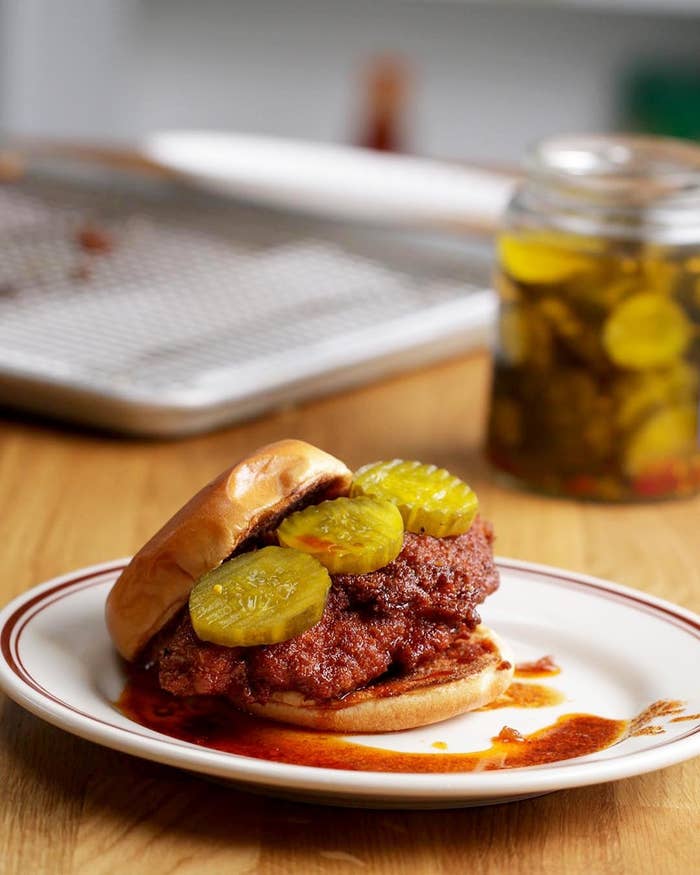 INGREDIENTS
Servings: 4
4 chicken breasts (5 ounces each)
4 extra large eggs
4 ounces whole milk
2 cups plain bread crumbs
4 brioche buns
12 bread and butter pickles
Canola oil for frying
Salt
Spicy pepper oil
4 tablespoons cayenne pepper
3 tablespoons brown sugar
1 tablespoon chili powder
1 teaspoon garlic powder
2 teaspoons Spanish paprika
16 ounces sunflower oil
PREPARATION
# Prepare the spicy pepper oil in a small mixing bowl by whisking together all the spices with the sunflower oil, until all the spices have dissolved into the oil. Set aside.
# Trim the excess fat off the sides of the chicken breast.
# Using a knife, score the chicken longways, cutting halfway through the chicken to help it cook more rapidly.
# In a medium-sized mixing bowl, crack the eggs and whisk with the milk.
# In a separate medium-sized mixing bowl, add the bread crumbs.
# Dip each chicken breast in the egg mixture, covering it completely, then transfer to the bread crumbs and coat completely. Repeat this process one more time.
# Transfer to a parchment-lined baking sheet.
# Fit a Dutch oven with thermometer and pour in oil for frying. Heat over medium-high until thermometer registers 340˚F/170˚C.
# Set the chicken breasts in, in batches, and fry for 2-3 minutes until golden brown.
# Place fried chicken on a wire rack set over a baking sheet, to drain. Sprinkle with salt.
# Transfer to the brioche buns.
# Whisk together the spicy oil so none of the seasoning settles to the bottom, and drizzle 2 tablespoons over each chicken breast.
# Add 3 bread and butter pickles on top of the chicken and place the top bun.
# Enjoy!