Deep-Fried Blooming Onion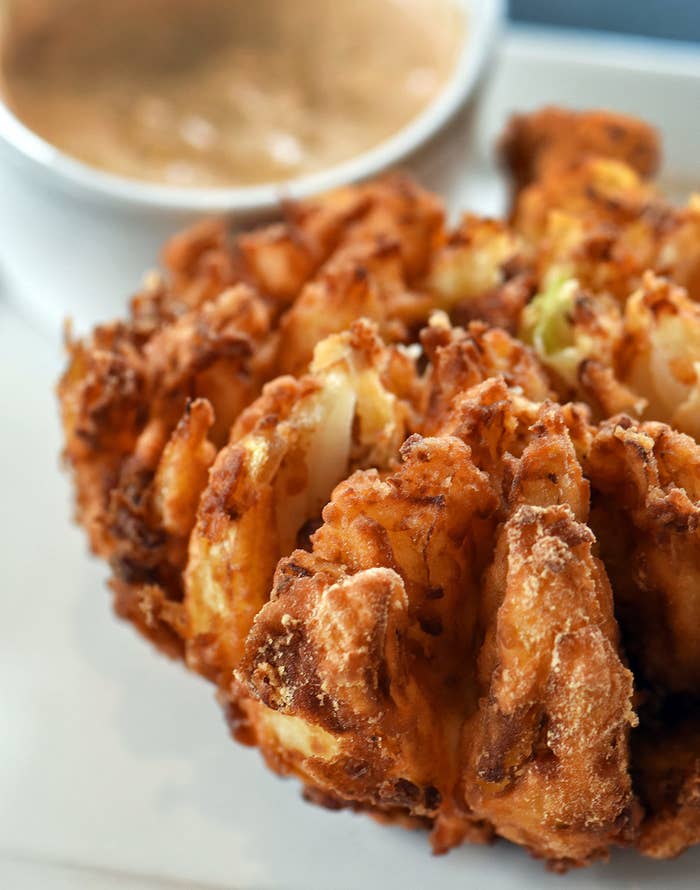 INGREDIENTS
1 large sweet onion
1½ cups milk
2 eggs
1½ cups flour
1½ Tbsp. garlic powder
1 Tbsp. paprika
2 Tsp. pepper
1 Tbsp. salt
3-4 cups canola oil
Dipping Sauce:
2 Tbsp. sour cream
2 Tbsp. mayonnaise
1½ Tbsp. ketchup
1½ Worcestershire sauce
1½ tsp. salt
1 tsp pepper
1 tbsp. paprika
PREPARATION
Cut the top of an onion and place it cut-side down.
Using a sharp knife make 4 ½-inch cuts then go back and make 3 cuts in between each quarter.
Flip the onion over and coax apart its layers or "petals". In a medium bowl, combine the eggs and the milk.
Place the onion in it, coating every petal with egg wash.
In large bowl combine flour, paprika, oregano, salt, garlic powder, and black pepper.
Place the onion in the dry mixture coating every petal.
Coat the onion in the egg wash and dry mixture one more time.
Heat canola oil to 375ºF/190ºC in a deep-fryer or dutch oven.
Place onion in the freezer for 10 minutes.
With tongs add the onion to the oil for 2 minutes or until it is browned and crispy.
Move onion to plate covered in paper towels and allow to drain for 5 minutes.
Meanwhile, in a small bowl combine sour cream, salt, pepper, paprika, mayonnaise, Worcestershire sauce, and ketchup.
Enjoy!
Want BuzzFeed Tasty right in your inbox? Sign up for our newsletter!