Eggplant Pizza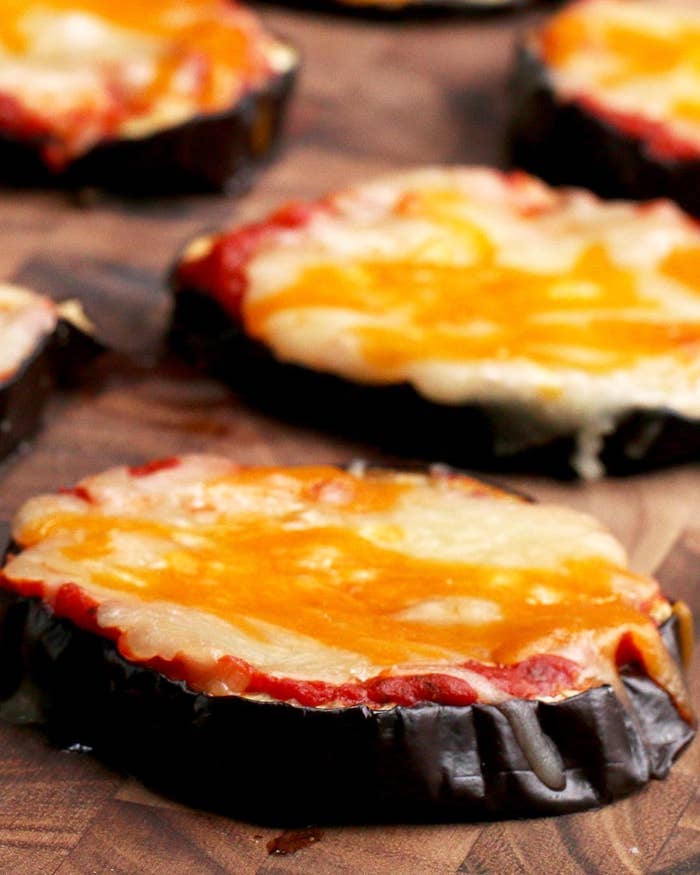 INGREDIENTS
Servings: 5-6
1 large globe eggplant
Salt
Olive oil
Pizza Sauce
1 jar marinara sauce
½ cup parmesan cheese
¼ cup fresh basil
1 tablespoon garlic powder
1 teaspoon salt
1 teaspoon pepper
½ teaspoon red pepper flake
2 cups mozzarella cheese
1 cup cheddar cheese
PREPARATION
1. Preheat oven to 350°F/180˚C.
2. Slice the eggplant into ½-inch pieces.
3. Salt the slices and leave them to "sweat" for 20 minutes then wipe them off.
4. Slather each slice with olive oil.
5. Bake for 25 minutes.
6. In a medium bowl, combine all pizza sauce ingredients and stir until homogenous.
7. Remove eggplant slices from the oven and pour about 2 tablespoons of the sauce mixture onto each one.
8. Sprinkle mozzarella and cheddar on each slice.
9. Put the slices back in the oven for 1-2 minutes to melt the cheese.
10. Allow to cool before serving.
11. Enjoy!
Want BuzzFeed Tasty right in your inbox? Sign up for our newsletter!