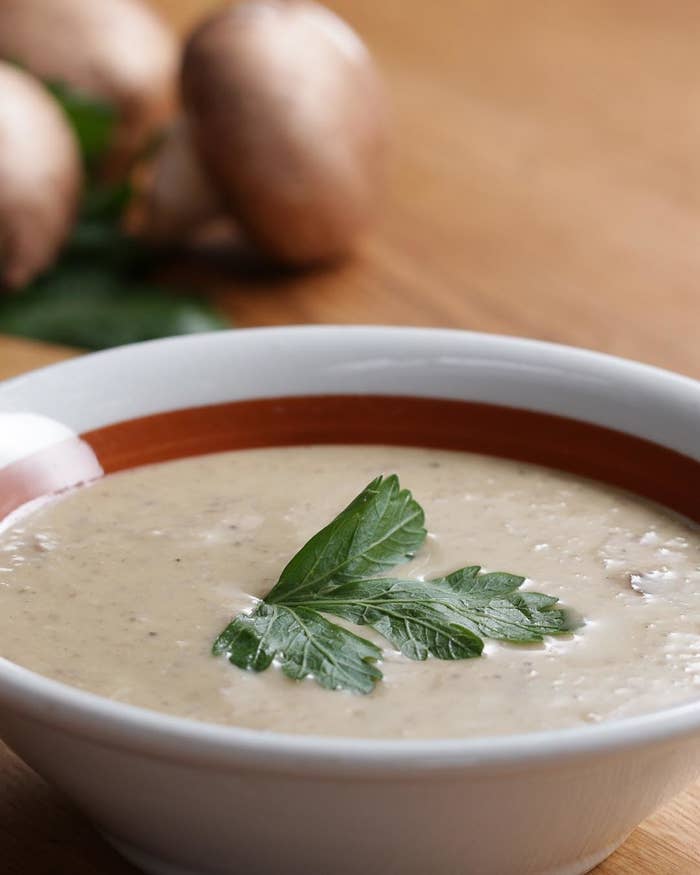 Ingredients:
for 6 servings
2 tablespoons salted butter
1 cup medium yellow onion, chopped (150 g)
2 cloves garlic, minced
1 cup white button mushroom, chopped (75 g)
1 cup cremini mushroom, chopped (75 g)
1 cup shiitake mushroom, chopped (75 g)
1 teaspoon salt
1 teaspoon pepper
2 tablespoons all-purpose flour
¼ cup white wine (60 mg)
4 cups vegetable stock (960 mL)
⅓ cup heavy cream (80 mL)
1 sprig fresh parsley, for garnish
Preparation:
1. In a large saucepan over medium-high heat, melt the butter, then add the onion and saute until translucent, 3 minutes. Add the garlic and stir, then cook for 1 more minute.
2. Add the mushrooms, salt, and pepper and cook until they begin to turn golden brown, about 5 minutes.
3. Add the flour and stir to coat the mushrooms, until combined.
4. Add the white wine, stir, and cook until combined, about 1 minute.
5. Add the vegetable stock, stir, and simmer for 15 minutes.
6. Add the heavy cream and stir to combine.
7. Blend soup to your desired consistency with an immersion blender or standing blender.
8. Serve hot, garnished with parsley.
9. Enjoy!