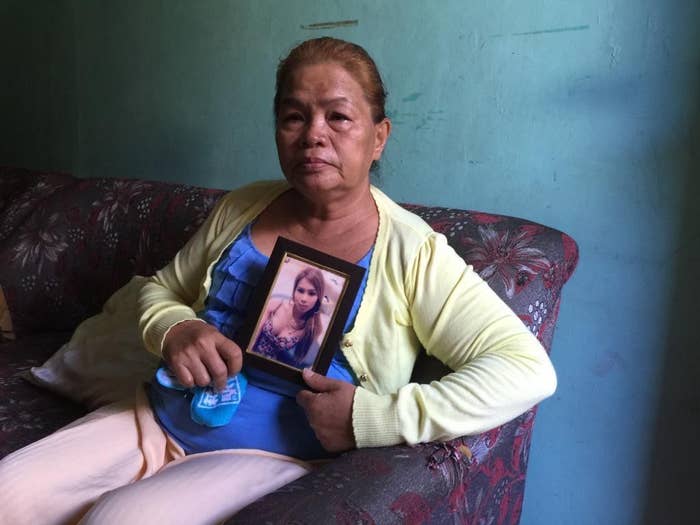 OLONGAPO, Philippines — A Philippine court on Tuesday convicted U.S. Marine Joseph Scott Pemberton for the death of a transgender Filipina woman named Jennifer Laude.
The trial was closed to press, but Pemberton's lawyers said he hired Laude for sex after the two met at a club on Oct. 11, 2014. Pemberton's lawyers told local media that he admitted to choking her in a nearby hotel room after discovering she was transgender, but claimed she was alive, though unconscious, when he left her.
"He said he felt that he was being raped — he was so repulsed and so disgusted because he did not give his consent to allow a man to do that to him," one of his attorneys said in an August 2015 news broadcast, in a point that became a key part of his defense. Another of his lawyers added: "Pemberton acted only in defense of his life and honor."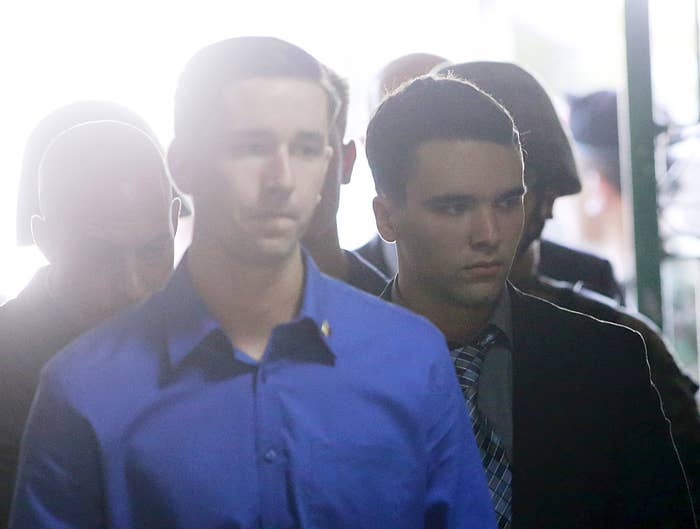 Laude's family and trans rights advocates had hoped Pemberton would be convicted of murder, which carries a sentence of 40 years to life in prison. But the judge instead convicted him of the lesser charge of homicide, with a sentence of 6 to 12 years, and fines to be paid to Laude's heirs of P4,575,520 — about $97,000.
The judge also added a fine of P30,000 — around $635 — "to set a public example, to serve as deterrent to military and civilian personnel of the United States of America … to respect every Filipino citizen, regardless of his or her sexual orientation."

Judge Roline Ginez-Jabalde said Pemberton's feeling that he was under threat could not be a defense for the killing, writing: "There is no unlawful aggression that justifies [Pemberton] to defend his honor."

However, she said that "the mitigating circumstance of passion and obfuscation should count" in Pemberton's favor.
Harry Roque, lead attorney representing the Laude family, said that the judge should not have used Jennifer's failure to disclose her transgender status as a factor in Pemberton's sentence.
"I am so angry about the mitigating circumstance for passion and obfuscation because this was a hate crime against the LGBT community," Roque said in the courthouse lobby following the verdict. "Any bigot can now claim that they lost themselves once they found out that the person they're sleeping with is a trans man or woman."
Laude's mother Julita Cabilan also expressed dissatisfaction over the decision. "I'm not satisfied with 6 to 12 years given how Jennifer died," she said in the courthouse lobby. "I am not content, but what's important is that he will be jailed, that our efforts were not in vain."
Laude's sister Michelle added: 'We're happy but it still really hurts because our sibling is still dead."
There was a stand-off, however, over whether Pemberton will be turned over to Philippine authorities following the verdict, as he was held at a local military camp under U.S. guard prior to the decision.
Ginez-Jabalde's ruling said, "Pemberton is thereby temporarily committed to New Bilibid Prison," a Philippine-controlled jail, but U.S. authorities refused to relinquish Pemberton to Philippine National Police, according to Laude's attorneys. Roque said that Pemberton's attorneys had drafted a hand-written motion asking Ginez-Jabalde to clarify her order.
After about an hour of deliberation, Ginez-Jabalde ordered that Pemberton be held at the Armed Forces of the Philippines Custodial Center inside Camp Aguinaldo, where Pemberton was held prior to the verdict. But instead of American guards, he will be under the watch of Philippine Bureau of Corrections personnel, and left the courthouse in a Philippine police vehicle. Ginez-Jabalde also specified that Pemberton is to be held for five days until the Philippine and American governments make final arrangements regarding his detention.
Laude's death became a rallying point for transgender activists in the Philippines. The involvement of a U.S. soldier helped generate unprecedented attention to trans people in the country, who have no national legal recognition or protection from discrimination.
The case also renewed controversy over the large U.S. military presence in the Philippines after American officials resisted handing Pemberton over to local authorities, citing provisions of the agreement allowing U.S. troops to operate in the country.
"It would be extremely unfair for Pemberton to remain in U.S. custody," Laude's sister, Marilou, told BuzzFeed News shortly before the verdict was announced. "He should be imprisoned here because this is where he committed the crime. We should be able to see him and visit him. They will not let us go to the U.S. if he is imprisoned there."