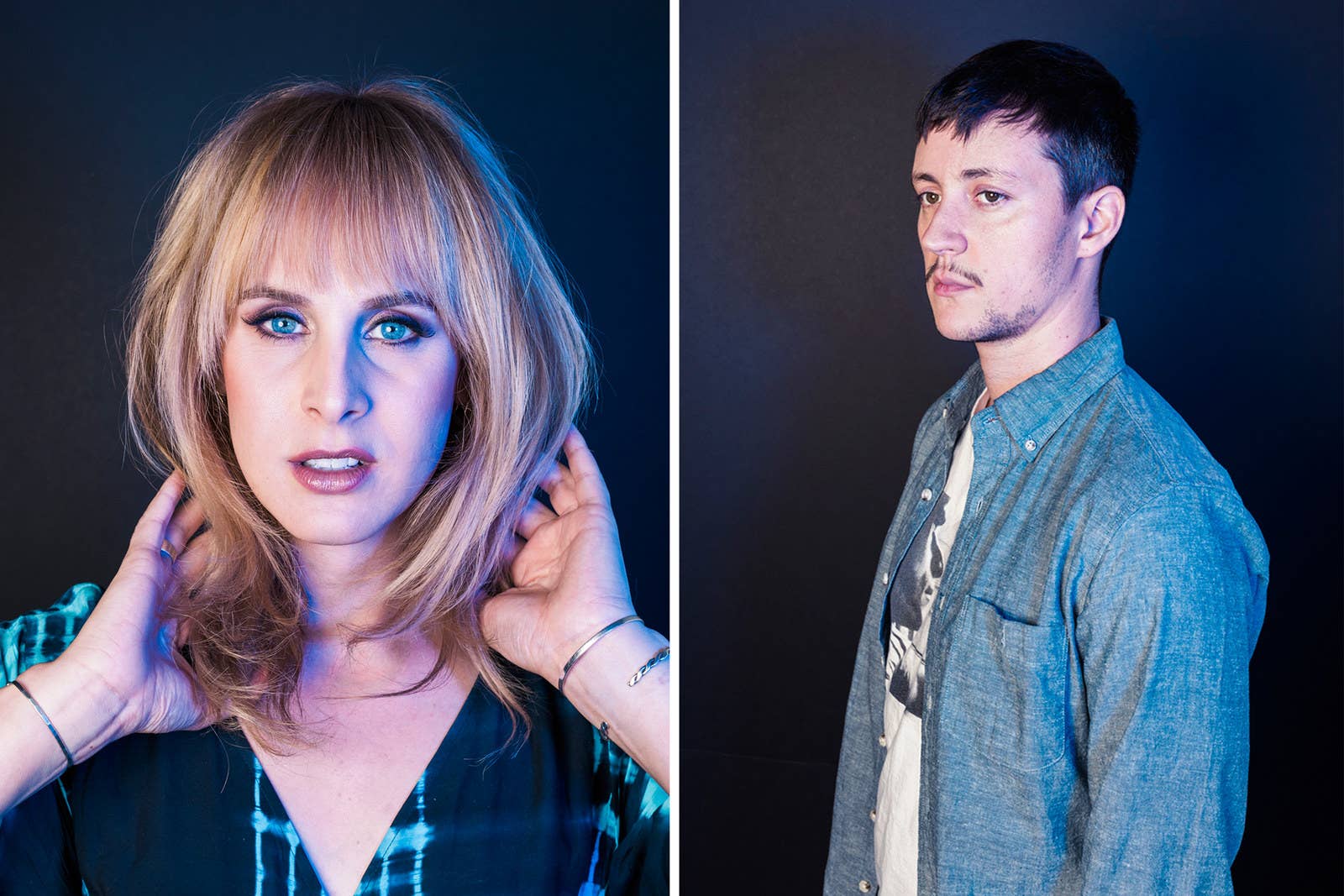 "Dude, don't be weird," Zackary Drucker told her former romantic partner Rhys Ernst during a photoshoot at BuzzFeed's studios in New York last June. As they stood beside one another, Ernst had turned his face away from Drucker, as if attempting to distance himself from her. He finally settled into a pose. The two stood close together, but looked past each other; they could have been seeing themselves in different mirrors. Their respectful, though sometimes awkward, demeanor in front of the camera speaks to complicated facets of their nearly decade-long association: former romantic partners who continue to be artistic collaborators; trans people who banded together in early transition but lead more separate lives afterward; artists who once photographed each other, but are now navigating how to be photographed by others.

Ernst and Drucker are best-known as co-producers of the award-winning Amazon show Transparent. Drucker is also one of the cast members of the Caitlyn Jenner reality show I Am Cait. But before they emerged into mainstream media, Drucker and Ernst became well-known in the art world for a series of photographs exhibited at the Whitney Biennial in 2014, which tracked both their relationship and their gender transitions. The photographs from the series have now been collected into a book, Relationship, that was published last month by Prestel.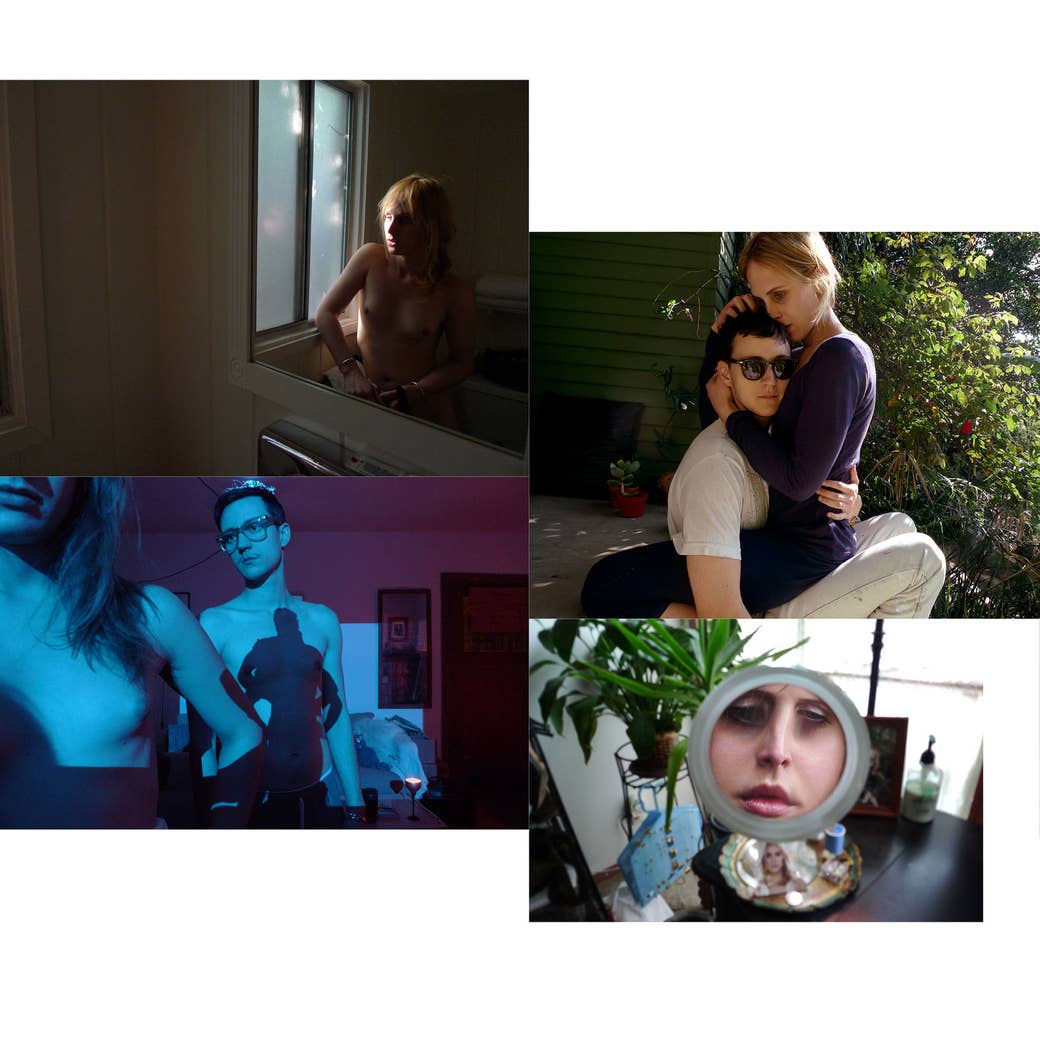 What art lovers didn't know back in 2014 was that Drucker and Ernst had been growing apart romantically for some time; they decided to break up shortly after they returned to the West Coast to film the Transparent pilot after the biennial. This trajectory is subtly tracked in Relationship: the book begins with playful images of the couple exploring their intimacy along with their transitions, and ends with the two in largely separate frames, either in the dark or behind screens.
Rhys and Drucker's romantic separation affects both their and our understanding of Relationship now, after two years have passed. The book is constructed to simultaneously evoke both the excitement of transgender people beginning transition and the nostalgia for the rare romantic relationship between two trans people of different genders — a relationship that proved ultimately fleeting when they separated after six years. As a result, Relationship is a book that is at once gorgeous and affirming, but also tinged with melancholy. It's precisely the tension that makes this version of the series even more powerful and true than when it was first exhibited.
"It's been a little bit odd for me to be totally transparent," Ernst said about publishing the book, as he settled onto a blue couch with Drucker. He's the more private of the pair and had just taken a red-eye flight from L.A., where he and Drucker are based. He discussed how unnerving it has been to see what he had first conceived as private photographs in print — ones that Drucker and Ernst were only taking for themselves until Whitney Biennial curator Stuart Comer saw them during a studio visit. "It's kind of like publishing a photo book of one's most awkward phase, or transitional phase. An adolescence."
The two certainly seemed more settled in their genders as they sat together, Ernst sporting a goatee in T-shirt and jeans, Drucker in a casual tie-dye dress, her large blue eyes framed by bangs. There was between them that familiar push and pull: the attraction that brought them together, and the circumstances that drove them apart. They sat too close to be strangers, yet with a thin invisible barrier that kept them from touching. Most other ex-couples are thrown together like this only on occasion — but both Drucker and Ernst, as artistic collaborators, continue to see each other almost every day. And certainly, broken-up couples don't typically publish books of relationship photographs that depict both the second puberty of gender transition and the first blush of a new kind of romantic relationship.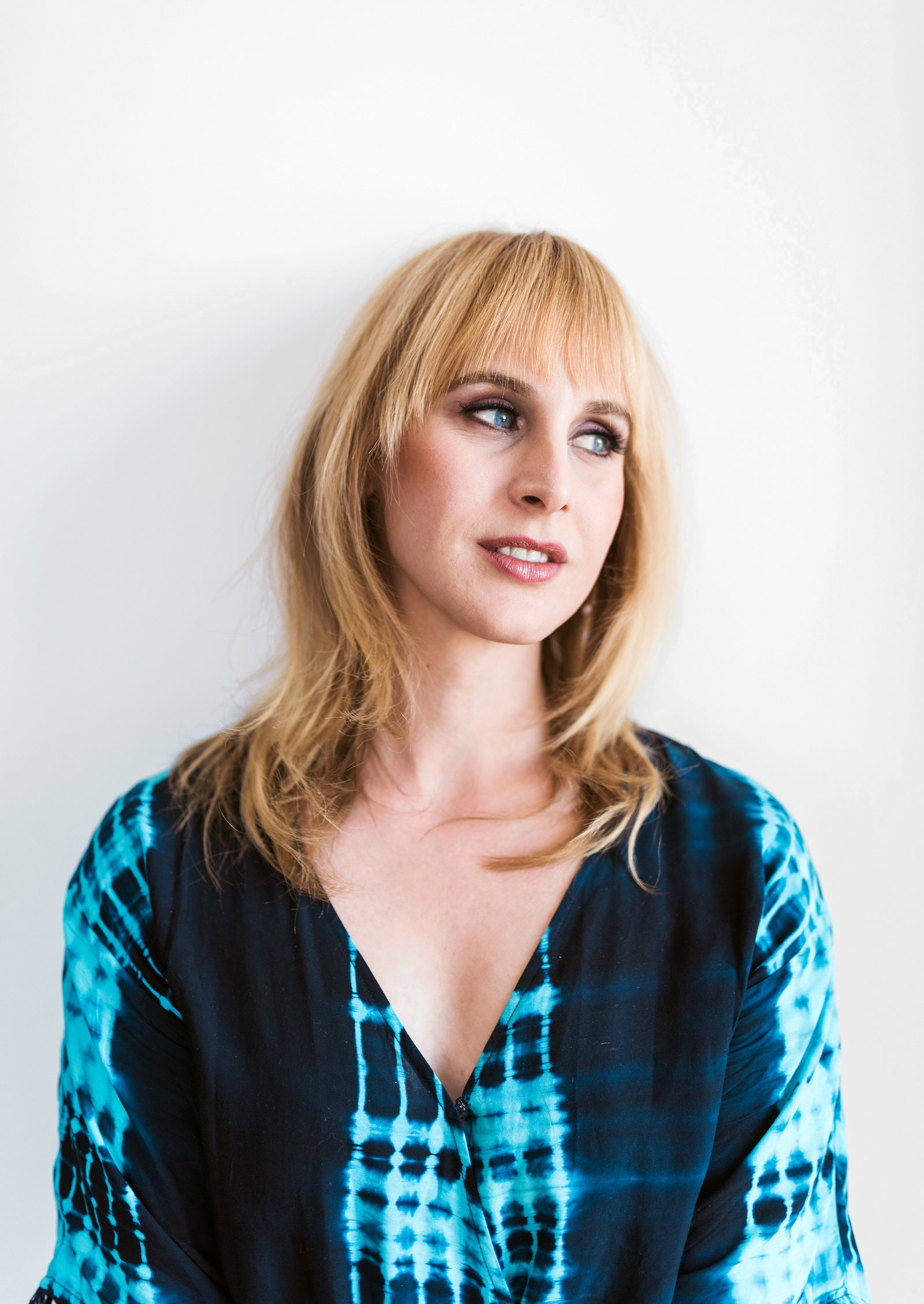 Adolescence functions along multiple fronts in the book, from Drucker and Ernst's shifting bodies to photographs that incorporate smirk-inducing visual puns, like Ernst posing with a sausage on a fork as though ready to bite. But the project also documents the bittersweet coming-of-age of two people in love, who grow into their gender identities as if passing each other through a looking glass.
Drucker chooses to focus on how her relationship with Ernst helped both of them through the second puberty of gender transition. "We could identify with the puberty experience of the other, you know, and kind of help each other understand the shift of cultural positions too," she said. Drucker described how both she and Ernst were in previous relationships with cisgender people, who had trouble with the idea that their partners would transition, so being with each other felt like a relief.
That sense of camaraderie gives Relationship its buoyancy, as the images in the book portray ingenious collaboration on both personal and artistic fronts. Drucker and Ernst's bodies and visions exist together whether they're in the same image or one is photographing the other; the photographs they make serve as both documentation of their relationship and artistic statements.
This sense that Ernst and Drucker are comrades in transition occurs throughout the book, but at Relationship's midpoint is an image that encapsulates that camaraderie, and how they serve as symbols for a new type of relationship between transgender people. Drucker is quick to point out that the two are the same height and weight, so this image, of the two standing together in front of a sunset, which was taken on their three-year anniversary, symbolizes the symmetry between the two gendered figures: the way they figuratively and literally mirror each other. What's surprising, though, is that this scene, in a photograph taken from another angle, serves as the last image in the book. Instead of the camera looking up as though the silhouettes of Drucker and Ernst are to be revered, the angle looks down to the ground at the shadows they cast: the traces of themselves, and a relationship that reached its endpoint.
"There was this strong sense of mirroring, and this frustration with ourselves that we had just projected and laminated onto the other person."
For Ernst, it's the camera that gives his relationship with Drucker its lasting quality. " I never thought about this before, but that photograph kinda reminds me of working with enlargers," Rhys said, referring to photograms where photographers put an object between light and photo paper. "It's the lasting imprints of the light and shadow that something casts and how that creates a permanence."
This is the impression Drucker and Ernst want to leave viewers — the sense that even as their relationship becomes a shadow of itself, no longer existing in real space and time, the book allows that relationship to continue to exist. Though the book is generally organized chronologically, the order isn't always strict, as they wanted the book to communicate the spiritual arc of their relationship rather than the literal.
"There was this strong sense of mirroring, and this frustration with ourselves that we had just projected and laminated onto the other person," Drucker said of the end of their relationship.
For her, the way they were so similar became a source of tension.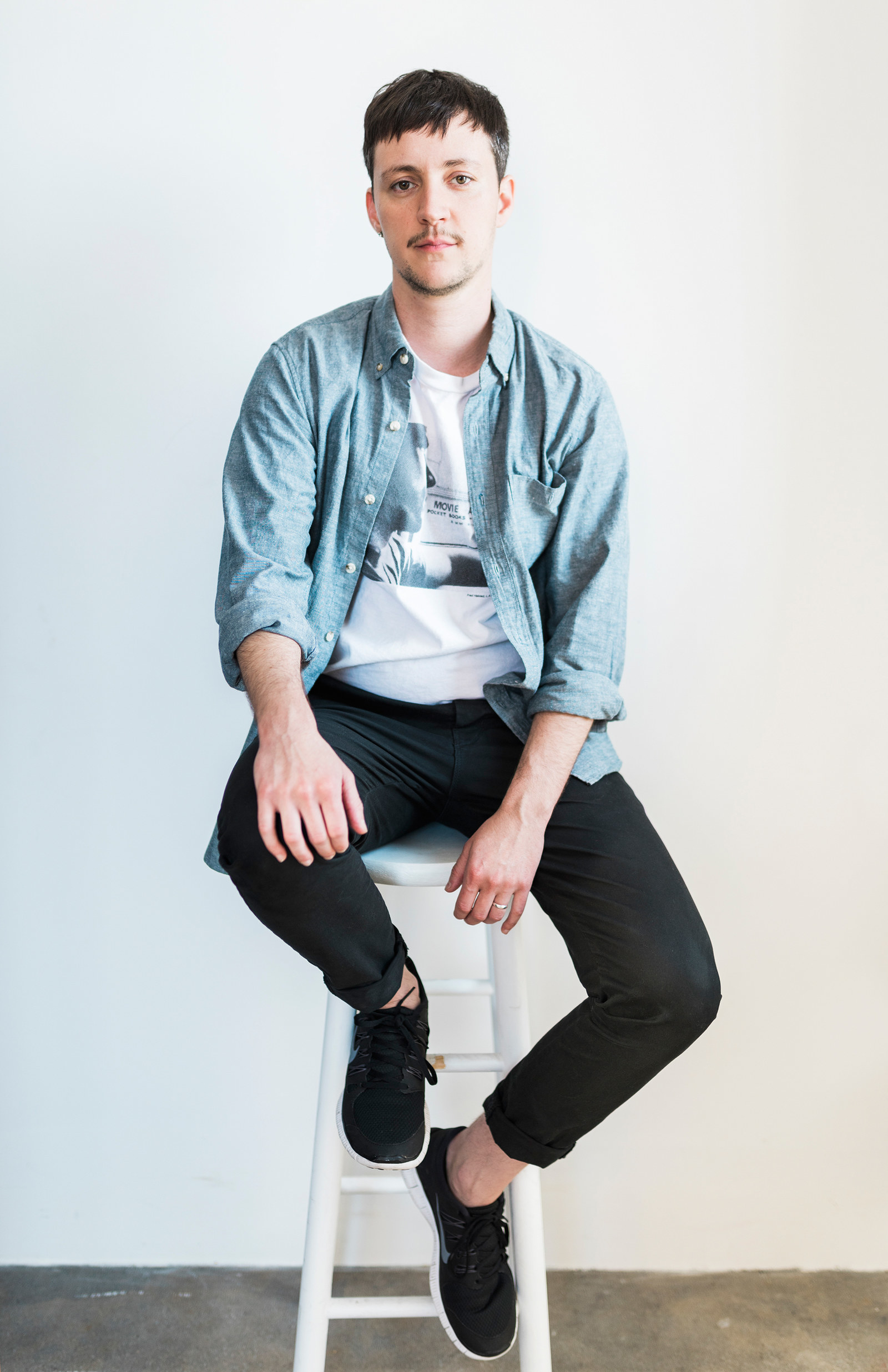 Ernst, on the other hand, found comfort in the mirroring of their lives. "We were more in sync in the first two-thirds of the relationship," he said, "and then to me, our orbits started to get more disparate, or ill-weighted, or something like that, and we were not really as in sync as we previously were." Even as both Drucker and Ernst were open to discussing how their relationship evolved and its relationship to the images they produced, they were also careful not to reveal the specifics of how that relationship ultimately ended. This elusive quality is also reflected in the images in Relationship: how both their joys and pains are hinted at rather than explicitly communicated, leaving the viewer to extrapolate on their significance.
"I think early on I had an epiphany, when Rhys and I started dating," Drucker mused, her already large eyes growing bigger with the memory. "I remember I was in the bathtub [and] I was getting ready to go into the club, before anything happened." Here she paused. "My epiphany was that Rhys and I would be together and would make an incredible series of photographs."
"Did you think 'the photographs'?" Ernst asked as he grimaced. "I don't remember you saying that." After all, part of how the couple had previously described the book was as a set of photographs they only took for themselves, until a curator discovered them and made them public.
"Maybe that wasn't a part of it," Drucker replied hesitantly. Ernst let out an awkward laugh, and said, "This was before we had gotten together, though," as though righting a mirror that was momentarily askew.
Like a photograph, the other person in a relationship, regardless of how similar they may seem, is always an imperfect mirror, their sameness a projection of a human desire for complete understanding that ultimately proves impossible. But it's exactly in that shifting place between sameness and difference, transition and permanence, that Relationship dwells, and allows the book to be a powerful chronicle of trans togetherness. •