Stuffed French Toast Pockets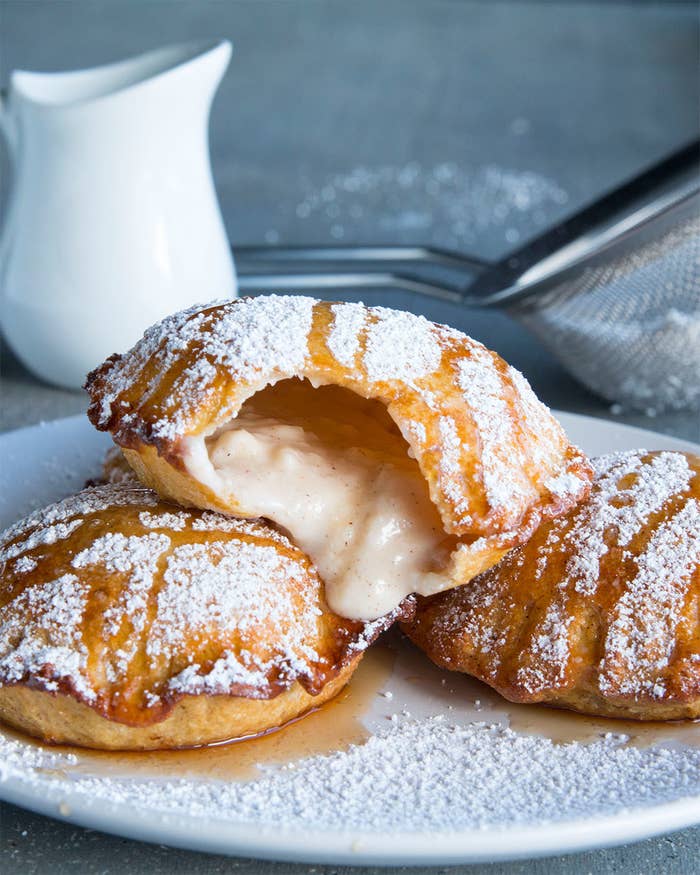 INGREDIENTS
Servings: 2-4
8 slices white bread
2 eggs
2 tablespoons milk
2 teaspoons vanilla extract
¼ teaspoon cinnamon
Filling:
4 oz cream cheese
¼ cup honey
¼ teaspoon cinnamon
Garnish:
Powdered Sugar
Syrup
PREPARATION
1. Mix the filling ingredients together in a small bowl until consistency is smooth. Chill 30 minutes.
2. Preheat oven to 400˚F/200˚C.
3. Roll each slice of bread flat with a mason jar or rolling pin.
4. Put about 1 tablespoon of filling in the center of a slice.
5. Place another slice directly on top, as if you were making a sandwich. (Be careful not to press down on the center so the filling doesn't spread).
6. Using a wide-mouth mason jar lid or biscuit/cookie cutter, press firmly down on the sandwich and remove the crust around the lid.
7. Use a knife to refine the edges of the circle. Gently release pocket from lid.
8. Press down firmly on the outer edges of the pocket with a fork to make indentations.
9. Repeat steps 4-9 for each pocket. Set pockets aside.
10. Line baking sheet with parchment paper. Place baking rack on top of parchment paper and coat with cooking spray.
11. Whisk eggs, milk, vanilla extract, and cinnamon together in a small bowl.
12. Separately dip each pocket in egg mixture, flipping to ensure it gets entirely coated. Let excess drip off.
13. Arrange 4 pockets on baking rack. Bake for 15-25 minutes or until golden brown.
14. Let cool 5-10 minutes.
15. Garnish with powdered sugar and syrup.
16. Enjoy!
Want BuzzFeed Tasty right in your inbox? Sign up for our newsletter!
If you can't see the signup box above, just go here to sign up for the BuzzFeed Gift Guide newsletter!