CHILI LIME RAINBOW SKEWERS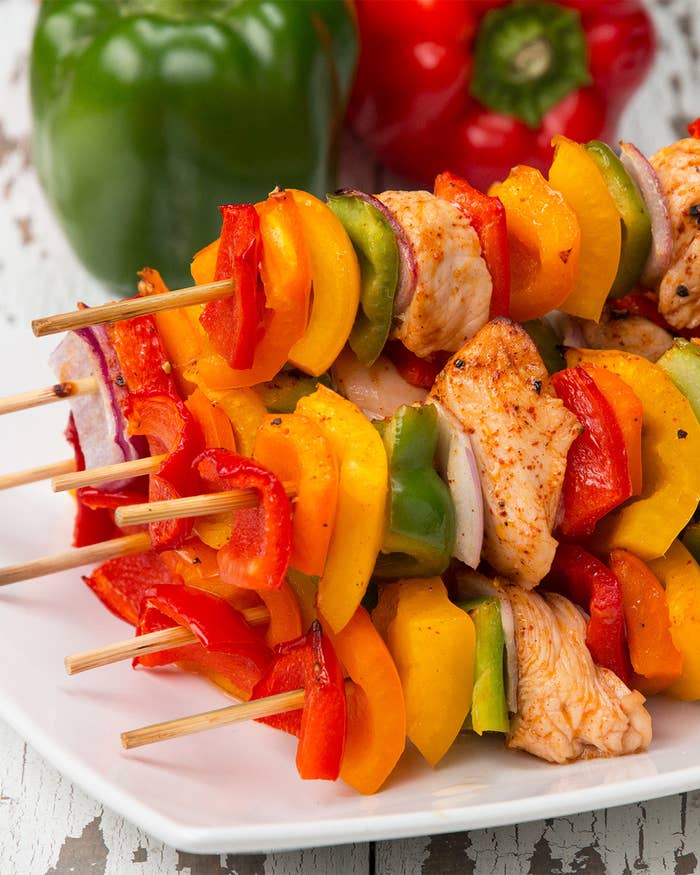 INGREDIENTS
Marinade
½ cup lime juice
¼ cup olive oil
2 tablespoons honey
1 teaspoon chili powder
1 teaspoon salt
1 teaspoon pepper
Skewers
10 wooden skewers
3 pounds chicken breast, cubed
2 red bell peppers, cut into 1-inch pieces
2 orange bell peppers, cut into 1-inch pieces
2 yellow bell peppers, cut into 1-inch pieces
2 green bell peppers, cut into 1-inch pieces
1 red onion, cut into 1-inch pieces
Cilantro, for garnish
PREPARATION
1. If baking, preheat oven to 400˚F/200˚C.
2. Soak wooden skewers in water for 5-10 minutes and set aside.
3. In a large bowl, combine the chicken with the marinade ingredients and mix. Cover with plastic wrap and marinate in the fridge for at least an hour.
4. Assemble skewers by adding red bell pepper first, followed by orange, yellow, and green bell peppers, red onion, and then marinated chicken. Repeat until skewer is full.
5. Place skewers on a baking sheet and brush with remaining marinade.
6. Bake or grill 20-30 minutes, until chicken is no longer pink.
7. Garnish with fresh chopped cilantro.
8. Enjoy!