Strawberry French Toast Bake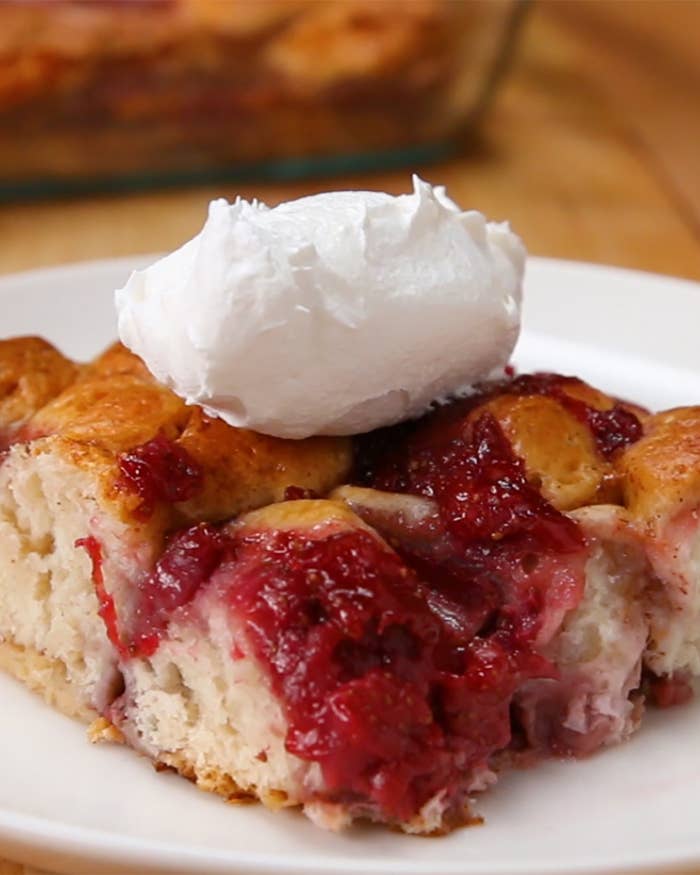 INGREDIENTS
Servings: 6-8
8 biscuits (or 1 can biscuit dough)
1 cup strawberries, quartered
Strawberry Filling
2 cups strawberries, finely diced
½ cup sugar
Egg Mixture
2 eggs
½ cup milk
½ cup maple syrup
1 teaspoon vanilla extract
½ teaspoon cinnamon
Garnish
Whipped cream
PREPARATION
1. Preheat oven 350˚F/180˚C.
2. Slice biscuits into 8 pieces and place in a greased baking dish.
3. In a saucepan on medium heat, combine strawberry filling ingredients and cook until it reaches a boil. Reduce heat to a simmer and continue to cook until filling reaches a smooth consistency. Remove from heat and set aside.
4. Combine egg mixture ingredients in a large bowl and spread evenly on top of biscuits in the baking dish. Top with strawberry filling and fresh strawberries.
5. Bake for 40-50 minutes, or until golden brown.
6. Garnish with whipped cream.
7. Serve and enjoy!