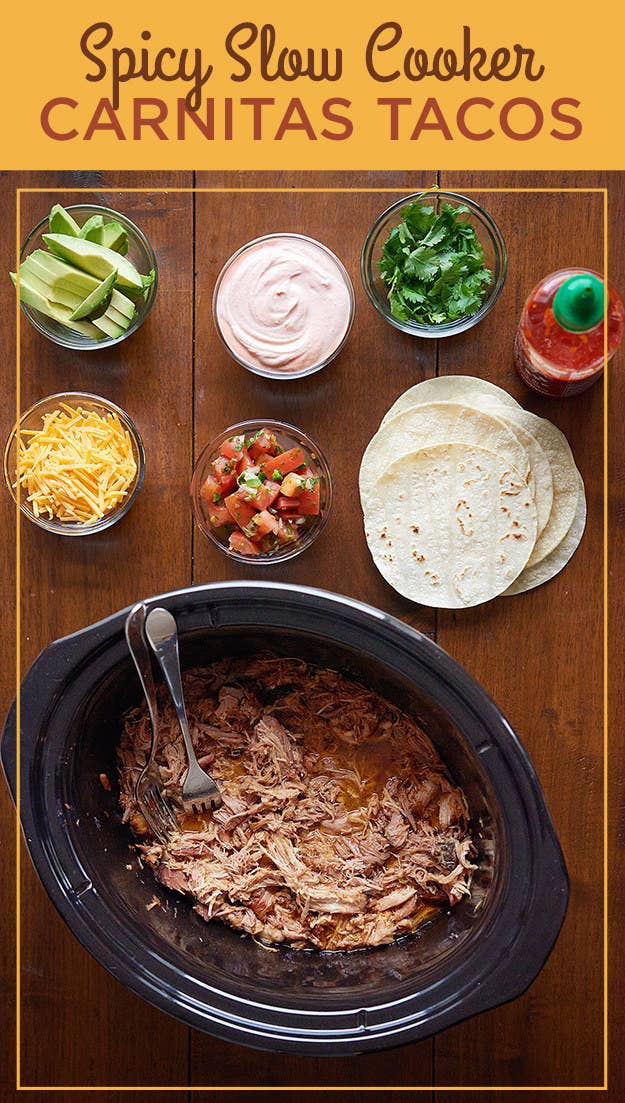 Slow cookers are the MVP of the kitchen.
That's because nothing beats a weeknight meal that practically makes itself while you're away at work or class for the day. This recipe — with its simple, 10-minute prep, and 10-hour cook time — is the perfect thing to toss in the Crock-Pot in the morning, and come home to at night.
Serve the spicy carnitas solo, over rice, piled onto nachos, or stuffed into tortillas with your favorite toppings. This version makes 6 to 8 servings, so you'll have plenty of leftovers to last through the week. (Or longer, if you decide to freeze them.)
Here's what you need to make the Crock-Pot carnitas: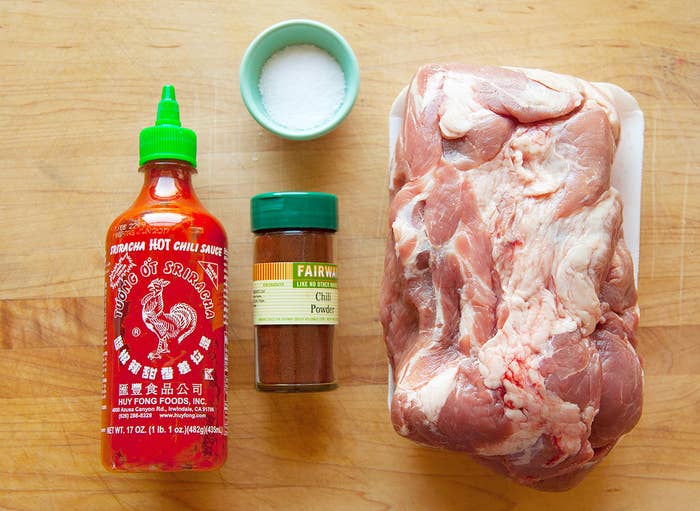 Start by trimming excess fat off the pork shoulder with your knife: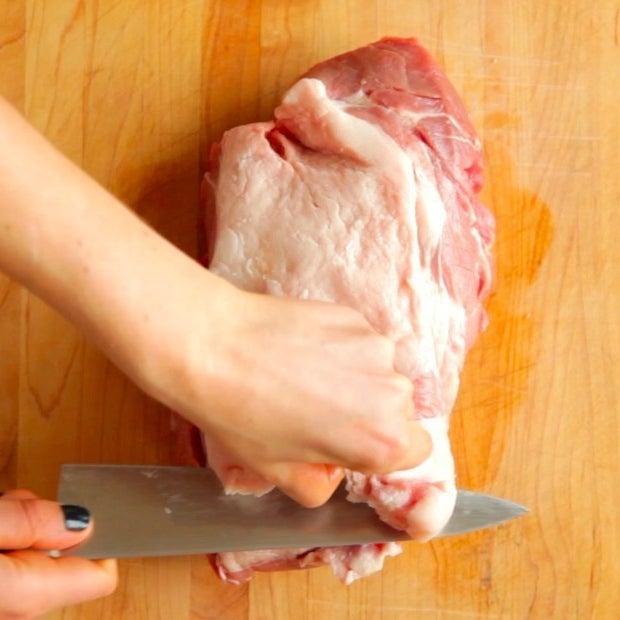 We had a pretty fatty piece — and some fat is OK — but you don't want a ton.
In a small bowl, combine the chili powder, salt, and Sriracha:
And give it a mix. This is the rub for the pork: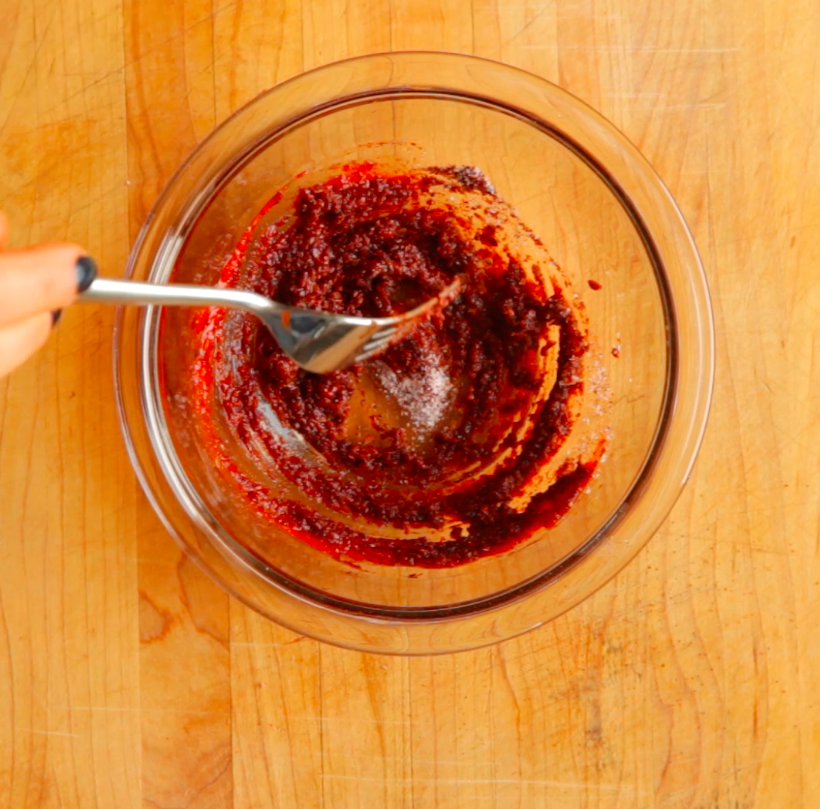 Rub the mixture all over the pork until it's evenly covered, and cook on low for 10 hours:
Then ~shred away~: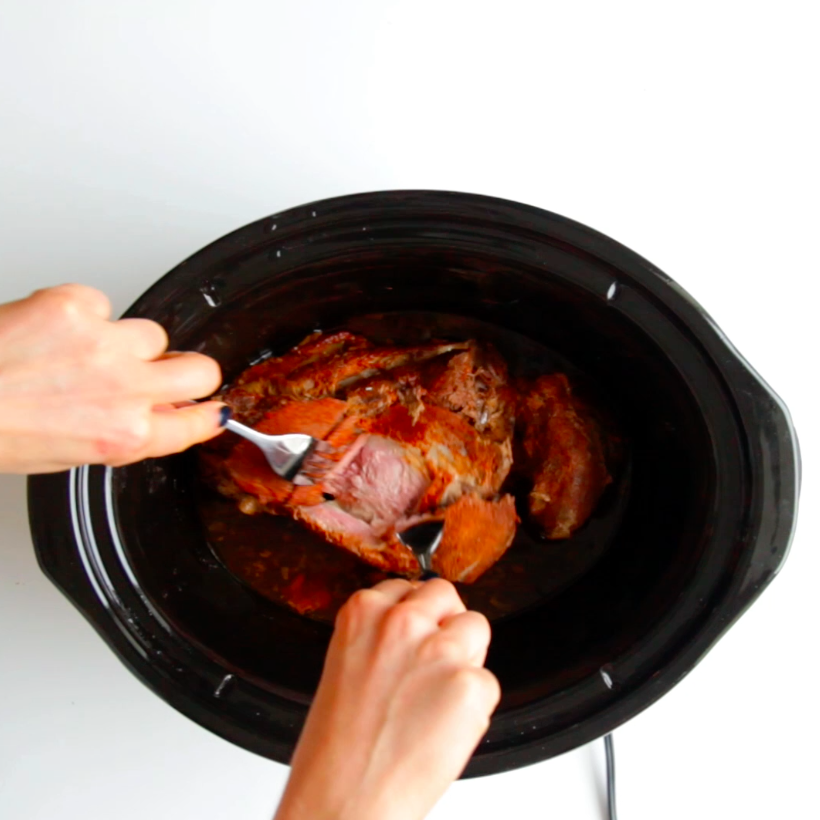 At this point, it should pull apart pretty easily with two forks: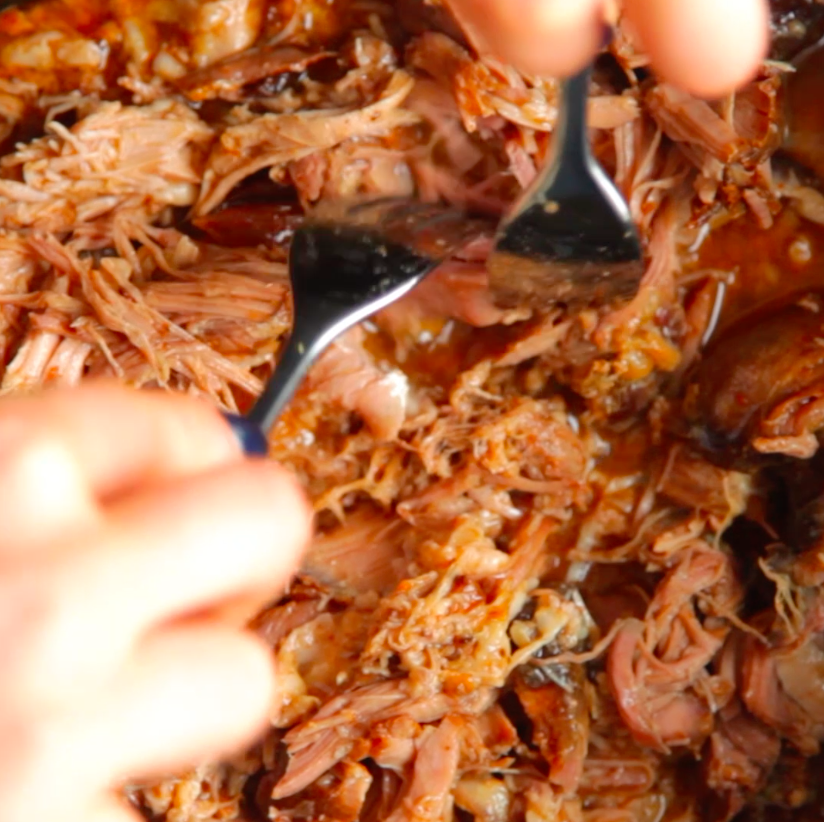 Grab your favorite toppings.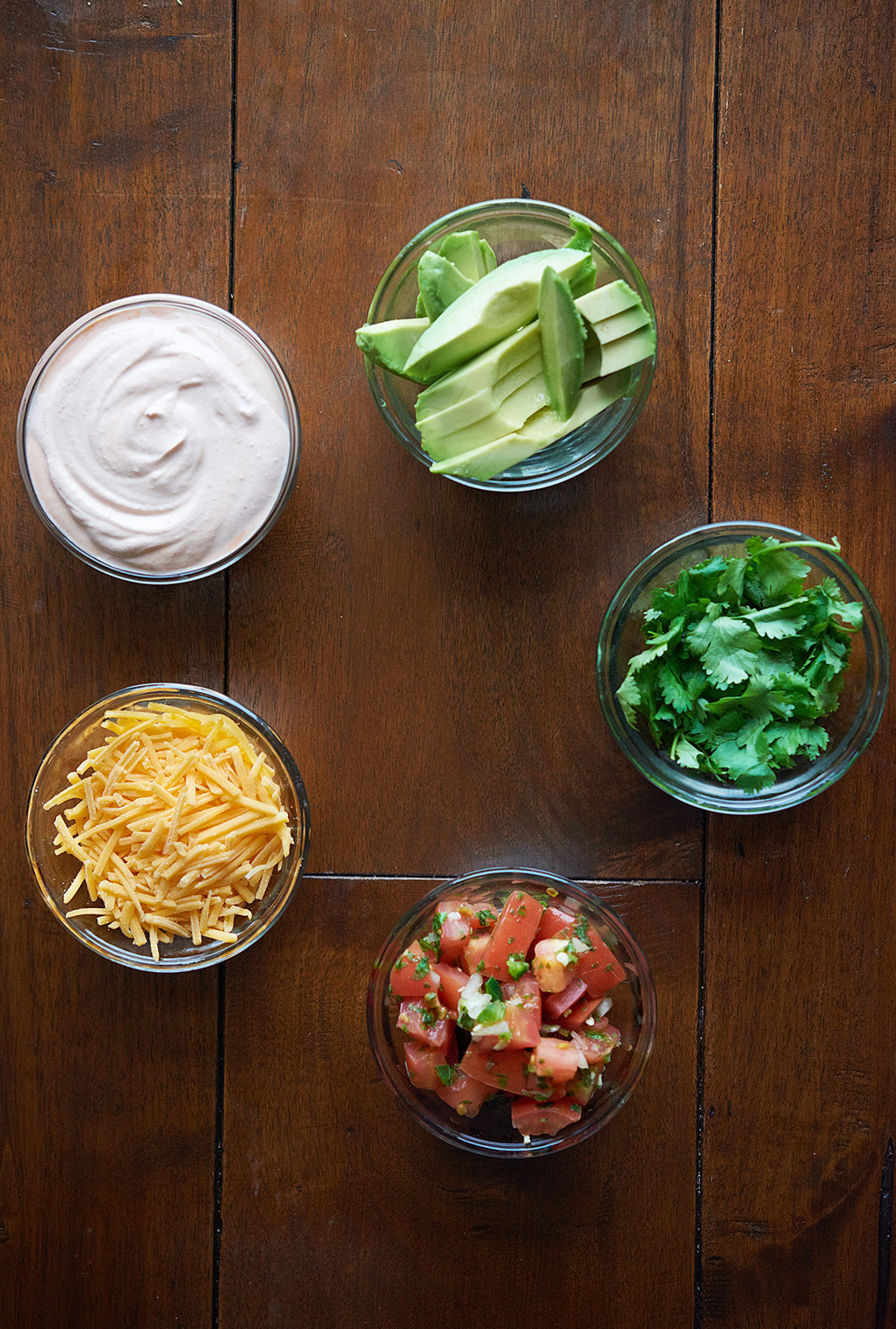 Our favorite is Sriracha + sour cream.
Pile everything on warm tortillas: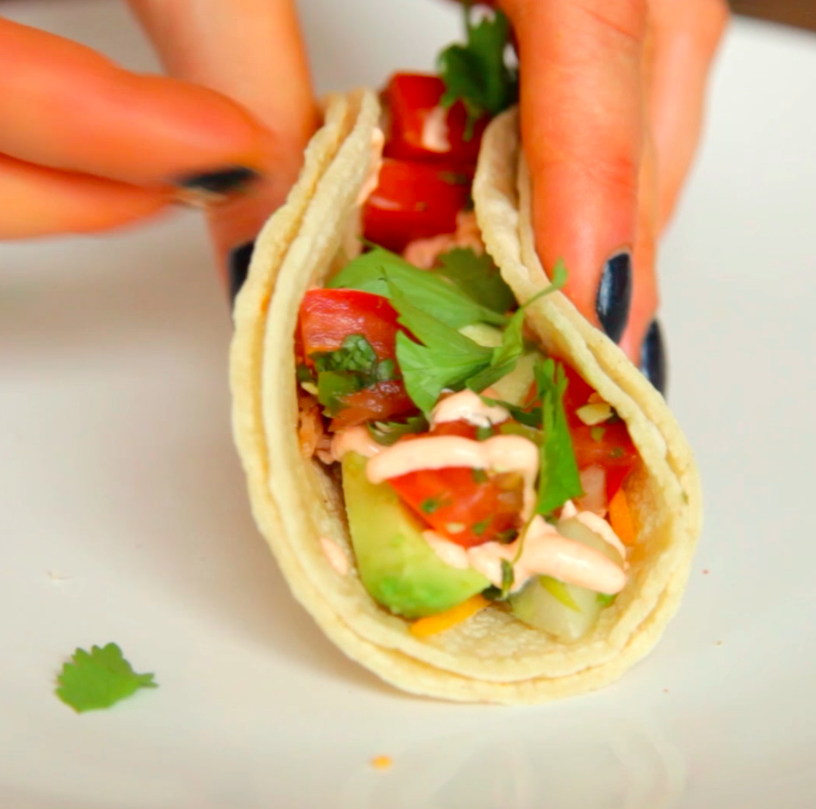 Then feast!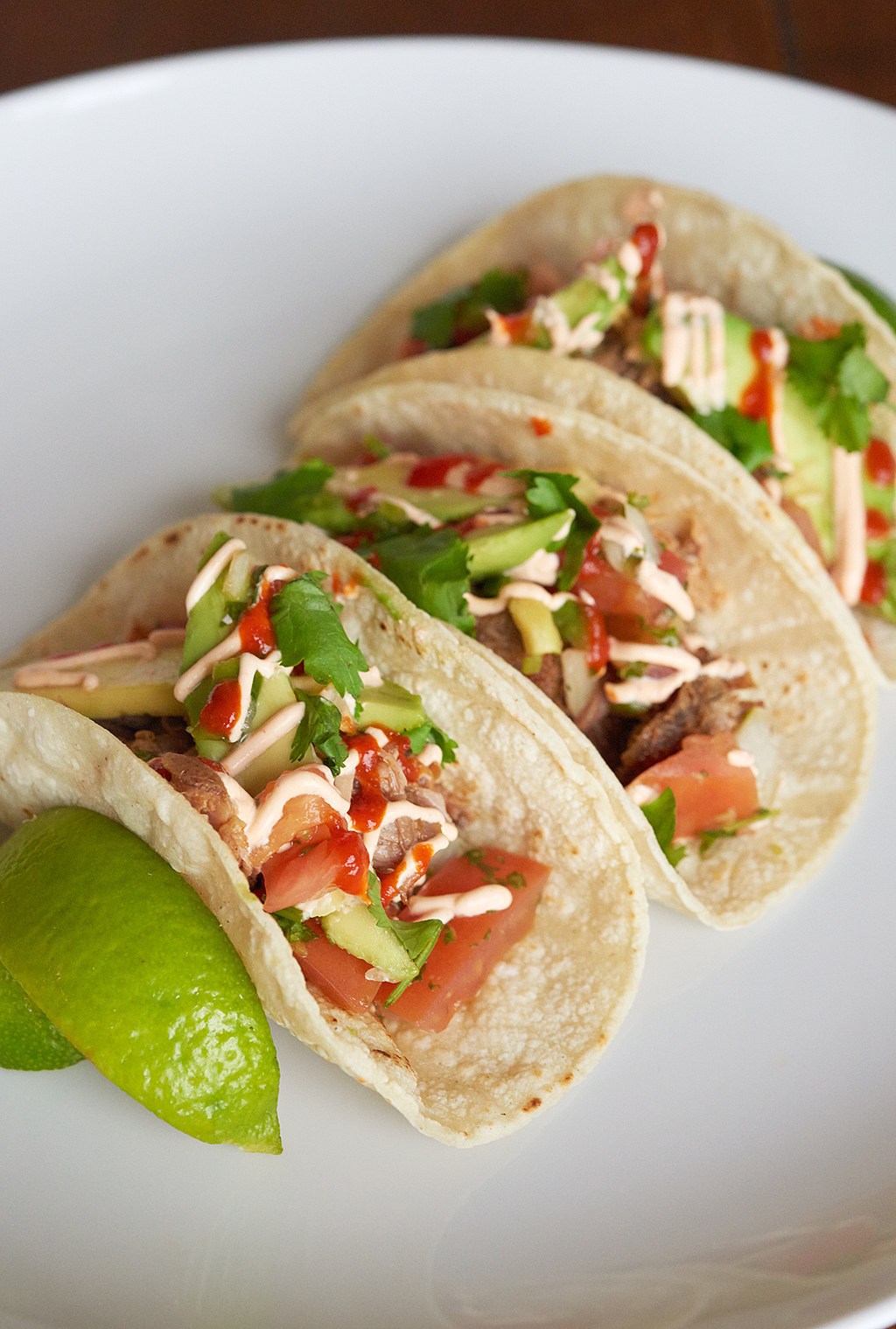 Spicy Slow Cooker Carnitas Tacos
Recipe by Christine Byrne
Makes 6 to 8 servings. If you're only feeding 2 people, you can freeze the leftovers in an airtight plastic container.
INGREDIENTS
For the pork:
1 (2-lb) boneless, skinless pork shoulder
1 Tbsp. chili powder
2 Tbsp. Sriracha
Kosher salt, to taste
For the Sriracha sour cream:
¼ cup sour cream
1 Tbsp. Sriracha
For the assembly and toppings:
Corn tortillas
Fresh cilantro
Lime wedges
Shredded cheese
Sliced avocado
Pico de gallo salsa
PREPARATION
For the pork: If there's a lot of fat on your pork shoulder, carefully cut most of it off with a sharp chef's knife. Some fat is OK, but you don't want too much.
Place the pork shoulder in a slow cooker. Combine the chili powder, Sriracha, and kosher salt in a small bowl, then rub the mixture all over the pork shoulder in the slow cooker. Cook on low for 10 hours.

For the Sriracha sour cream: Stir together the sour cream and Sriracha in a small bowl.
For the assembly: Heat the tortillas in a large skillet over high heat for about 2 minutes per side, until they're warm and a little bit browned in spots. Lay the meat in the tortillas and top with the Sriracha sour cream and other toppings of your choice.
Let leftover pork cool completely before storing in an airtight container in the fridge or freezer.