Style
What One-Size-Fits-All Beauty Products Look Like On 4 Different Women
Can the same makeup really work for everyone? We put cult favorites to the test.
Photos by Danny Kim and Sarah Kobos / Design by Alice Mongkongllite / BuzzFeed
2.

Can makeup ever ~really~ be one-size-fits-all? We wanted to find out.

Between the single-shade blushes that are marketed as built for everyone, and the lipsticks that have racked up a cult following across the board, the idea that some products are made to be universally flattering is just about everywhere.
So the four of us — resident BuzzFeeders with different skin tones, styles, and experiences with makeup in general — decided to see if that was true. We tested five different products that are often touted as "for everyone": From a brow pencil with "one color fits all" written right on the packaging, to a lipstick that scored the No. 1 spot on the list of best-selling red lipsticks in America.
6.

And here's us. (Hi!)

Photos by Danny Kim / Design by Alice Mongkongllite / BuzzFeed

Natalie: My skin is pale is with pink undertones. It's really easy for color to overpower my features if I don't apply everything delicately, and I always have to wear the lightest shade of any given foundation. Right now, that's Revlon ColorStay Whipped Créme in Ivory.

Lauren: I'm half black, half white; and I tend to fall on the warmer side of the tan or medium-tan zone for makeup. My daily foundation is Estée Lauder Double Wear in Deep Tan.

Melissa: I'm half Filipino, with medium skin and olive undertones. In the sun, my skin tends to get really dark, really fast — so I switch between a lighter and darker foundation. Right now, it's the lighter one: Laura Mercier Silk Creme in Sand Beige.

Maitland: My skin has yellow undertones, so if I lie really still, it's hard to tell that I'm actually alive. I wear MAC's lightest foundation — holla at me, MAC Studio Fix in NW10 — and even that sometimes looks too dark for me.
Photos by Danny Kim and Sarah Kobos / Design by Alice Mongkongllite / BuzzFeed
Natalie: I have gigantic lashes, so it took me a while to get this all on (I typically use a mascara with a giant spoolie — DiorShow in Pro Black — which makes it way faster to apply). Because my lashes are already pretty curled and long, it didn't bother me that the product didn't do much besides tint them. But it did take four coats to cover all of my lashes, where my normal mascara takes only one. Grade:
Lauren: I remember using Great Lash in middle school and loving it, and now I remember why: because I was scared of makeup and it barely showed up. The applicator looks like the disposable ones at beauty stores, which are cheap AF and not what I want in something I would pay for. The formula didn't do anything but slightly darken my lashes: no length, no volume, no curl, no nothin'. Grade:
Melissa: I don't really wear mascara. Mostly because my lashes are short and thin and I usually just rely on eyeliner to offset that. That said, Great Lash was fine. It darkened my lashes a bit, but didn't add volume or length. Grade:
Maitland: NOOOPE. I have pathetic wee baby lashes that require Significant Mascara to show up at all. This one just didn't do it. Great Lash darkened my lashes for sure, but didn't add any length or curl. (I also didn't put on that many coats because it clumped faster than it lengthened.) The tube is cute, but the mascara just didn't deliver anything beyond stumpy clumpies. Grade:
Photos by Sarah Kobos / Design by Alice Mongkongllite / BuzzFeed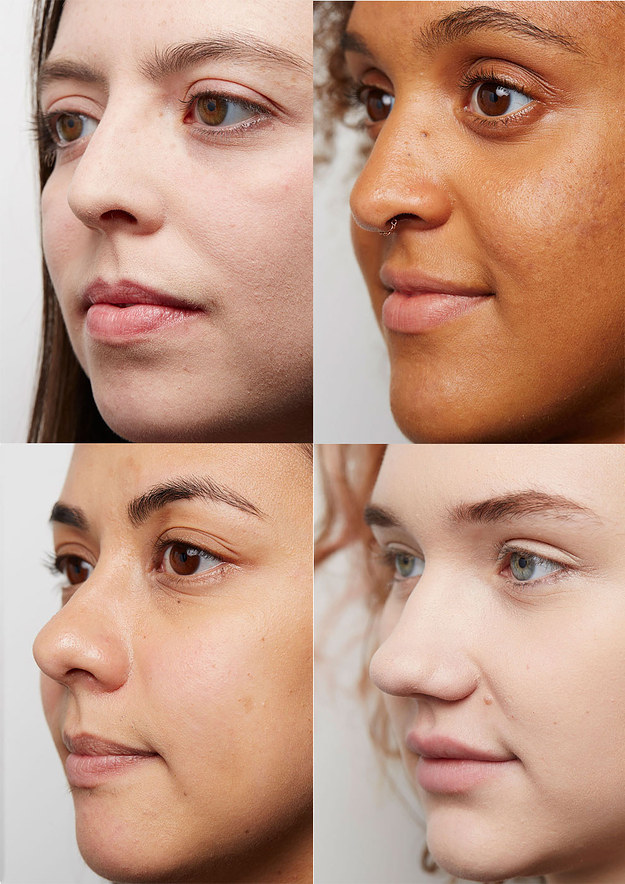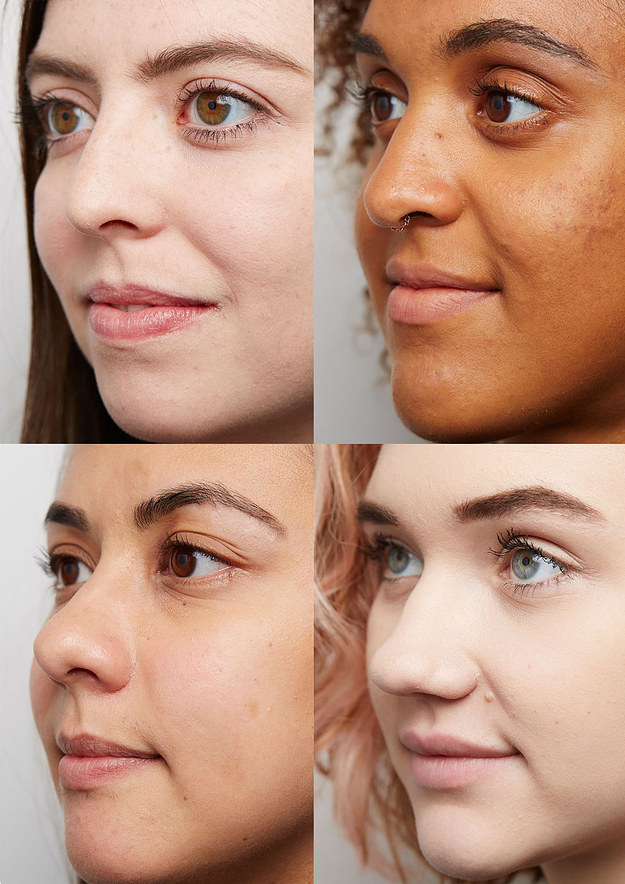 Photos by Danny Kim / Design by Sarah Kobos / BuzzFeed
Above: Before and after — brow pencil & mascara.
Natalie: I don't fill in my brows (eyebrow anything just feels like a chore to me, and I have hangups over paying to get them done), but I was pleasantly surprised by how nice this looked. It did take several layers to get my brows dark enough, though. The pink highlighter was OK, but didn't seem to make much of a noticeable difference after I blended it in — and it did need blending. Grade:
Melissa: My brows are jet black, and the pencil was more of a light brown, so it didn't really show up on me, despite my efforts to color like the best of 'em. The highlighter didn't show up, either. But admittedly, it could have been ~user error~. Before this shoot, I had no idea how to fill in my brows. And after this shoot, I still have no idea how to fill in my brows. (HALP?) Grade:
Lauren: The first thing I noticed when I applied the defining side were these weird, shimmery sparkles that made my eyebrows look like they were going gray. More layers canceled this out, but made for an extremely bold brow — more bold than I'm used to. Meanwhile, the highlighter just sat on my skin and didn't blend at all, which was hardly flattering. Grade:
Maitland: My biggest complaint is that this product should be called ~Push-Up Brow~. Always go for the pun, NYX. I fill in my eyebrows on the regs (so on the regs that I was somewhat reluctant to come to this shoot without my eyebrows on), AND I like a bold brow — but this color didn't work on me or click with my hair color. It was too dark and cool a brown, and the pink highlighter was too pink to look natural. Grade:
Photos by Danny Kim and Sarah Kobos / Design by Alice Mongkongllite / BuzzFeed
Natalie: I liked this best on my lips. It was a gentle, natural tint that I would wear every day. (But it wasn't moisturizing, so I'd suggest this under a translucent balm.) It did take a while to apply and blend. I followed the package directions and put three cat whiskers on each cheek, then blended out. After two coats, it didn't seem like enough, but after three, it seemed like too much. But after a few minutes of wearing it, the color seemed to mellow out. Grade:
Lauren: As a beauty noob, I was very intimidated by this product's liquid form. But it was surprisingly easy to apply and blend, and while I was worried it would only enhance my acne, I was assured by everyone that it was super flattering. I was also pleased with the overall feel: Some cheek stains and sticks feel way too dewy on my already-oily skin, but this stuff had a very natural finish. Grade:
Melissa: I really wanted to like this because the packaging looked like the world's smallest flask of red wine. But while the stain looks dark in the bottle, it's lighter and brighter out of it, and really sheer on skin. On my cheeks, I had to triple the three-line method that Benefit recommends just to get any color to stick. Same with lips — even after painting on several layers, the color would just kind of collect unevenly. It made me miss my go-to lip stain: Tints & Sass, a buildable cherry red. Grade:
Maitland: Being pale AF, I was worried that this would be way too pink for my cheeks. When I put it on, I had to apply a ton of product — far beyond the recommended three lines — because it just wouldn't show up. But when I took off my cheek makeup afterward to start with a clean slate for the NARS blush, the Benetint showed up: It somehow sunk ~beneath~ my foundation, so when that came off, my cheeks were stained very pink. This seems like a great product, but only if you don't have a lot of makeup on underneath. (And it gets points for smelling rosy and lovely.) Grade:
Photos by Danny Kim and Sarah Kobos / Design by Alice Mongkongllite / BuzzFeed
Natalie: I thought this looked great on me. You couldn't really see the gold shimmer on my skin, but I felt OK with that — I don't necessarily want to look like I have gold powder on my face in my day-to-day life. Grade:
Lauren: This magical fairy dust is like the lovechild of a shimmery highlighter and a perfectly neutral blush. In certain light my cheeks looked straight-up gold, and at another angle they're a rosy pink. It was flattering for sure, but kind of disorienting — in a good way! Grade:
Melissa: This fully lived up to its hype, IMO. This seemed to actually adapt and adjust based on skin tone — it showed up as a subtle rose on Natalie and Maitland, and a light, shimmery bronze on me and (even more so) on Lauren. And depending on how the light hit, that color would shift. It was also really easy to apply and build color. Would definitely wear again. Grade:
Maitland: I love how it looked so different on all of us! This is the first product that seemed to customize to the wearer and works on four actually different skin tones. I have corpse-pale skin, so it looked almost peachy on me, whereas it looked pinker on rosy undertones. Grade:
Photos by Danny Kim and Sarah Kobos / Design by Alice Mongkongllite / BuzzFeed
Natalie: I love red lipstick, so predictably, I loved this color. It's not very creamy, but that's a nice change from some of the glossier red lip colors I typically wear. It did take several coats to get it to the intensity that I thought it deserved, and to keep my lips from drying out (which they're prone to do even without lipstick on), I put on some clear balm. Grade:
Lauren: This was probably the hardest and longest lipstick application I've ever endured. It was so dry and dragging on my lips, but at least it easily wiped off my skin when I went rogue. And though the entire time it was on my lips, it felt like it was sucking every bit of moisture out of them, I do LOVE the color. It's so fun and vibrant, and not nearly as clown-like as most true-reds look on me. (My favorite — which is more of a pink or fuchsia — is Kat Von D Studded Kiss in Bachelorette.) Grade:
Melissa: Ruby Woo: You beautiful, dry desert oasis, you. Pros: It's a gorgeous, bold shade (one that I think really ~does~ fit all) and the matte consistency means it'll stay put. Cons: Applying this freehand was difficult AF for me. The formula is so dry and dense that to get the most out of it, you really need 1) a lip brush and liner, or 2) patience and skill. Unfortunately, I lacked all of the above. That said, I'd still break this out for special occasions — the color was great. Grade:
Maitland: I'm a bit of a lipstick addict, so this was the product I felt most at home in. Another MAC lipstick, Russian Red, is my go-to matte red, so I've been a fan of their formula for a while. Ruby Woo is such a beautiful, true red and really looked great on everyone. The formula is definitely somewhat drying, but it's the kind of lipstick that makes you want to leave little kisses everywhere — from your coffee mug to the tissues you use to blot your lips. Grade:
13.

To recap, here's the full (slidey) look minus the Benetint: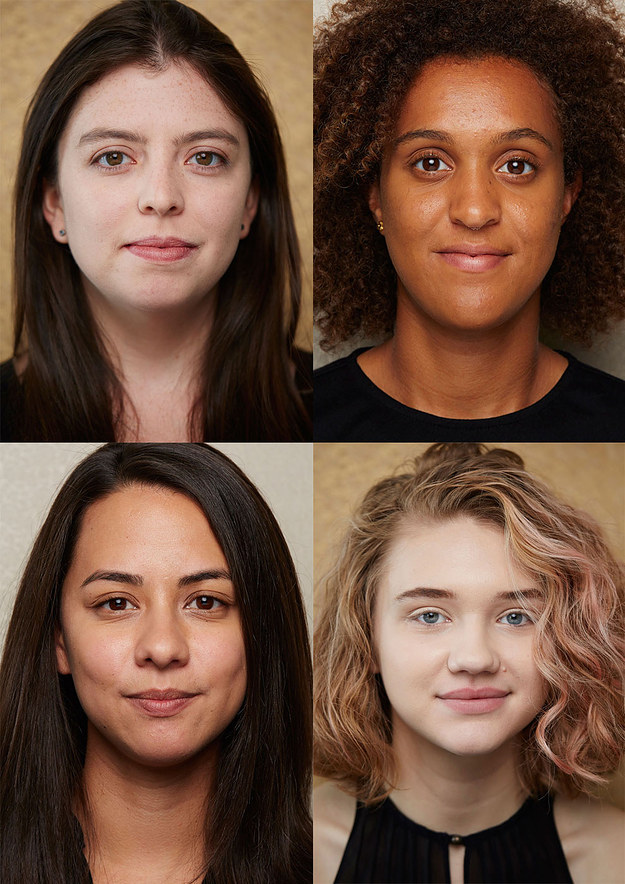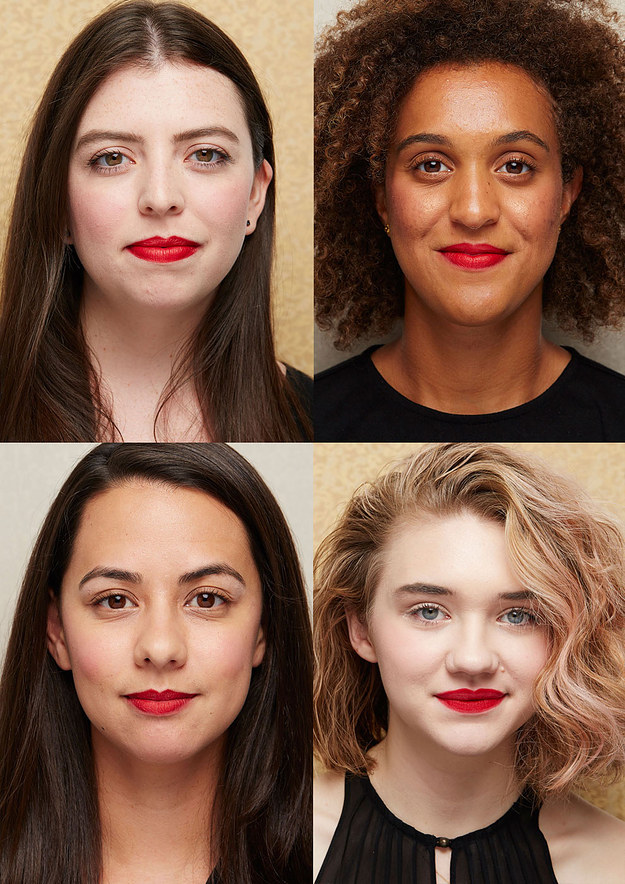 Photos by Danny Kim / Design by Sarah Kobos and Alice Mongkongllite / BuzzFeed
14.

And here's how we thought the individual products stacked up:

Photos by Danny Kim and Sarah Kobos / Design by Alice Mongkongllite / BuzzFeed
15.

So, what did we learn?

• Do your research. Read reviews, and look to real people over ad campaigns —especially when it comes to OSFA products or cult favorites. Places like MakeupAlley and r/MakeupAddiction are good places to start.

• Application and pigmentation are key. For certain products, our biggest gripe wasn't the color or shade, but the amount of time and layering that it took to achieve it. For us, ease was just as important as the end result.

• Wear what you love. Makeup can be a lot of fun, and it shouldn't be exclusive to a range of people that a brand decides is "universal." So experiment, and sample stuff that you might not otherwise. You might just walk away with a new favorite product. (We did!)
16.

TELL US: What's the makeup or beauty product that you think everyone should try? Let us know in the comments below.