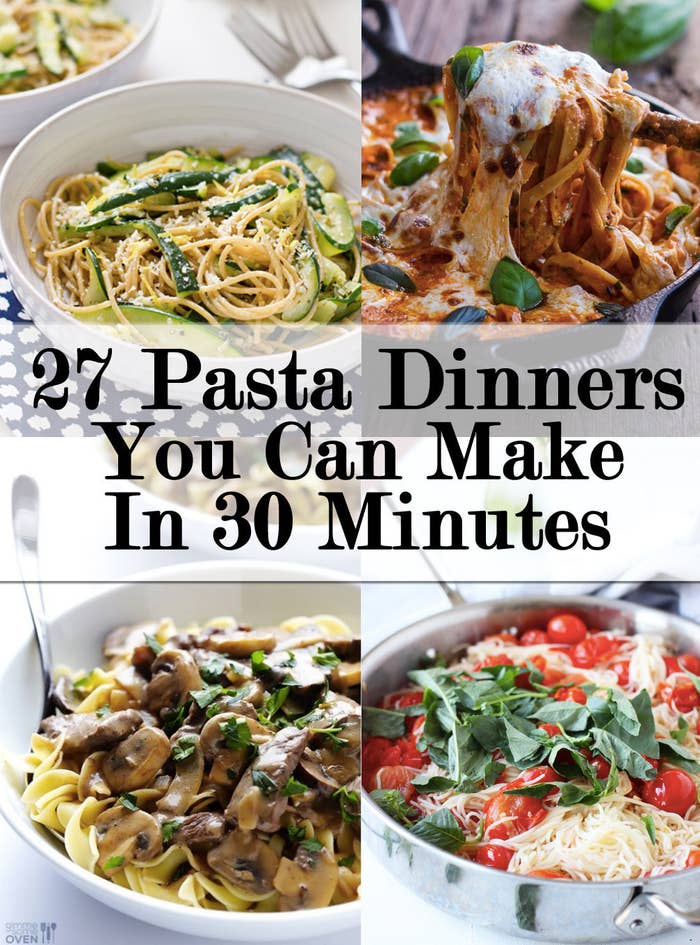 1.
15-Minute Spaghetti Carbonara 2.
One-Pot Creamy Tomato Basil Pasta Bake
3.
Spaghetti With Zucchini, Lemon, and Parmesan
4.
Oven-Baked Chicken Parmesan 5.
Fusilli With Mushrooms, Tomatoes, and Butternut Squash The easy shrimp marinade — butter, lemon, garlic, red pepper flakes, and a splash of white wine — makes all the difference. Get the recipe.
7.
Penne All'Arrabbiata 8.
Whole Wheat Penne With Sautéed Kale and Chorizo 9.
Skillet Mac 'n' Cheese Pizza 10.
One-Pot Pasta Primavera With Fresh Veggies and Mushrooms 11.
Orecchiette With Brown Butter Brussels Sprouts and Hazelnuts 12.
Easy Beef Stroganoff

13.
Creamy Vegan Tomato-Basil Pasta 14.
Five-Ingredient Pasta Salad 16.
Goat Cheese Lemon Pasta 17.
Angel Hair Pasta With Cherry Tomatoes and Basil
18.
Fettuccine With Lighter Butternut Squash Alfredo 19.
Buffalo Chicken Penne 21.
Easy Stovetop Turkey Meatballs
Simmer these in marinara sauce for 12 to 15 minutes — then serve over your favorite pasta. Get the recipe.
22.
Lighter Sundried Tomato Fettucine 25.
One-Pot Chicken Enchilada Pasta
26.
Pasta With Easy Tomato Cream Sauce 27.
Cacio e Pepe Want more great recipes? Sign up for the BuzzFeed Food newsletter and you'll get them in your inbox twice a week!