KITCHEN PEGBOARD ORGANIZER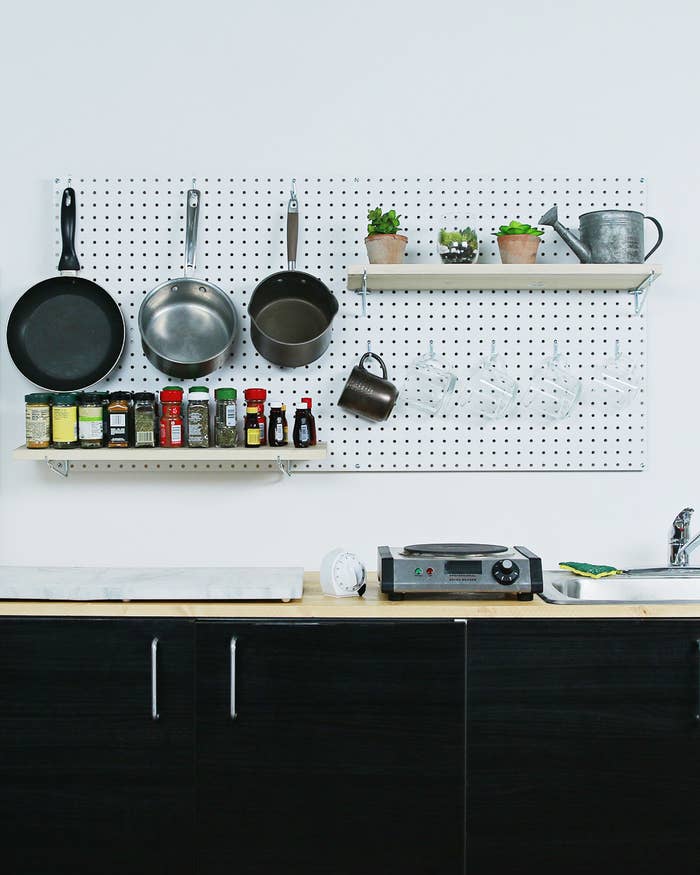 Here's what you'll need:
* Pencil
* Power drill with ¼-inch drill bit
* 2 foot x 4 foot pegboard
* (6) ¼-inch wall anchors
* (6) 1½ inch screws
* (48) ¼ inch washers
* ¼ inch screwdriver bit
* Assorted pegboard hooks
Here's what you'll do:
1. With a pencil, mark 6 dots corresponding to the corner and center holes of the pegboard.
2. Drill a hole for each dot.
3. Hammer a wall anchor into each drilled hole.
4. Place a screw into each of the corresponding holes of the pegboard.
5. Place 8 washers onto each screw.
6. Drill the screws into the anchors in the wall.
7. Place the pegboard accessories of your choice into the pegboard.
8. Hang lightweight utensils, pots, pans, and decorations onto your pegboard organizer.