1.
A reviewer-beloved veggie chopper if you've got pounds of produce in your fridge just waiting to be prepped for dinner and absolutely zero desire to spend more than five minutes chopping it all. No more tears because the recipe calls for diced onions! 
Promising review: "Best vegetable food chopper I have purchased. I have tired numerous ones, and I'm always disappointed. I have eliminated more than half my time chopping and dicing vegetables and food using this. I was leery of the quality from the reviews, but I figured give it one more try. The worst that could happen, it would be one more gadget that my kids would have to dispose of in my cabinets. I must admit, I'm glad I did purchase this vegetable chopper. Very satisfied with this chopper; worth every penny and more." —Di

Get it from Amazon for $29.99+ (available in three colors).
2.
A chew-resistant plush toy to keep everyone happy. It has an ultrasonic squeaker that only your dog can hear = you can watch TV, do work, read a book, take a nap, etc. without the incessant high-pitched squeak of your pup nomming on their toy. And there's no stuffing inside so you won't need to clean gator guts!

Promising review: "Satisfied customer and dog. Love these toys! My dog loves her squeaky toys, but it can get old having her squeak them. This is the best of both worlds. Our dog loves to squeak them, but we no longer have to hear the squeaking. It just sounds like a puff of air when she pushes on the squeaker. I can tell that she can hear the toy because when I press it and she isn't looking, she turns. So, it seems to work. She has ripped the legs and tail off, but the body is durable enough that she hasn't destroyed it yet." —Melody

Get it from Amazon for $12.99.
3.
A pack of food spikes for forgetful gardeners who have killed one too many plants. Good thing these li'l guys will feed your plants for up to two months continuously.
4.
A large capacity rotating makeup organizer that'll neatly store your makeup and skincare so you can reclaim the already limited counter space in your bathroom. 
Promising review: "I really like this product; it can fill a lot of items. I use it more to fill accessories, school stuff, and then some products. It's actually really sturdy, and it can be adjusted with the stuff on the side. Putting it together was really easy, and I had no conflicts on that matter. The capacity this thing can hold is a lot. I had a lot of stuff all over the place, and now, it's more well organized. Very satisfied with this purchase, and it's well worth the price. It also came very well-packed, and it's really good, and it spins." —Emily Weng

Get it from Amazon for $34.99. 
5.
A pack of bottle-cleaning tablets so you can reclaim your favorite thermos from the pile of forgotten mugs. These tablets will lift old stains and odors so your cups are finally usable again.
Promising review: "Wow! It feels like magic. I used this in my coffee carafe and was amazed by the result. I was looking to replace my thermal carafe because I was so fed up with being unable to get it clean looking. It was so stained from daily use that I thought it was a lost cause. I literally used everything: CLR, bleach, Bar Keepers Friend, and nothing worked. When I got this product, I was skeptical that such a small amount would actually clean my carafe. After one tablet for about an hour of sitting, I saw more results than I have seen in my many other methods. It removed just about all the stains. I was shocked. I can see clean metal now, and I wasn't expecting that. I will also add that this result required no effort on my part. I literally just dropped the tablet in and walked away. That's it!! I have actually never written an Amazon review before, and I am just so satisfied and pleased with this product that I had to share with the world. Enjoy this product and feel confident with your purchase, you won't regret it!" —Jennifer Hewins
Get 12 tablets from Amazon for $8.
6.
A "flossing toothbrush" because you could be the world's best toothbrusher and still be missing some spots. This brush has two types of bristles: flossing bristles that are 10 times thinner to really get into the grooves between your teeth and regular firm bristles that are designed to last longer than the nylon bristles your current toothbrush probably has. Reviewers say it's gentle yet effective, even on sensitive teeth!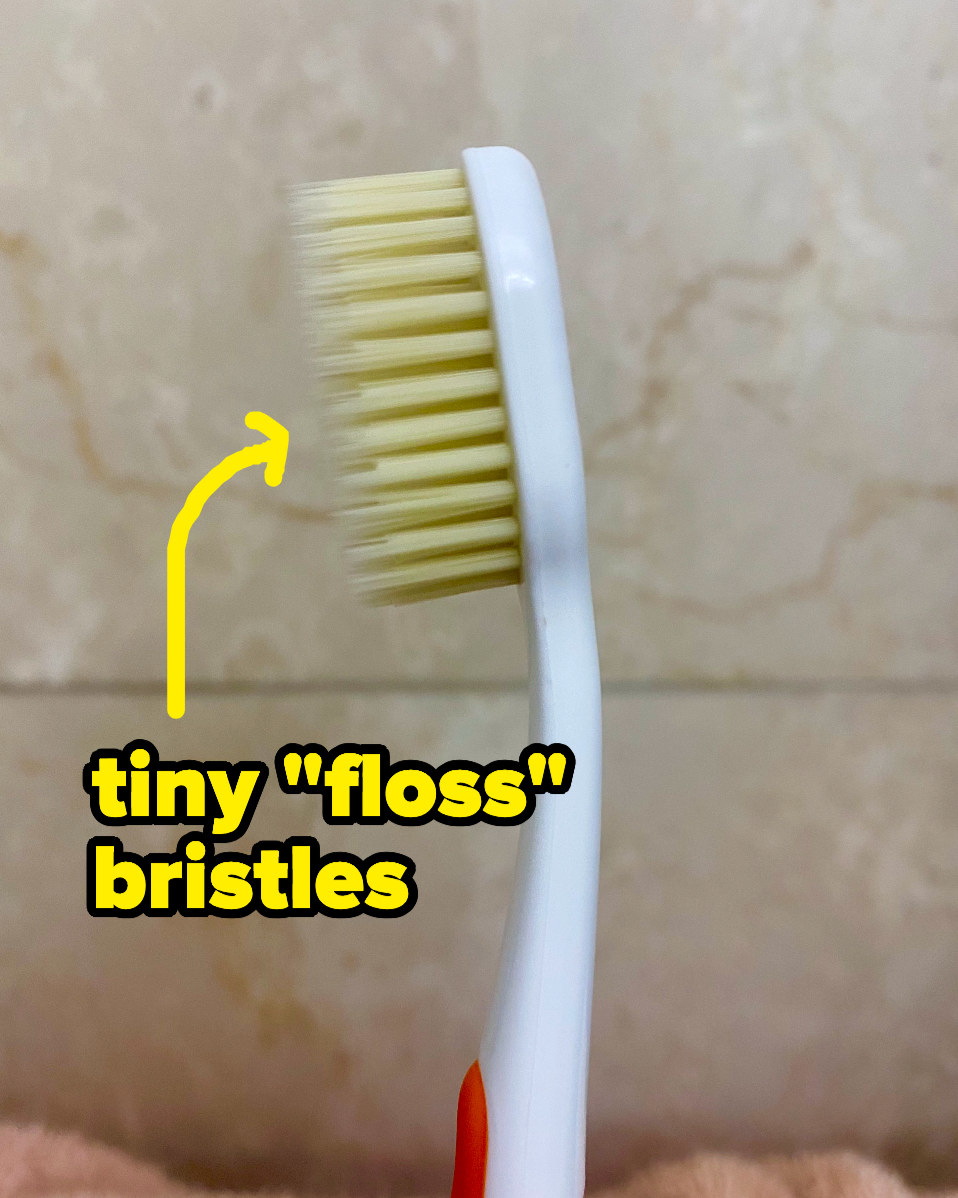 Mouthwatchers is a small business established by Ronald Plotka, DDS.
Promising review: "Pleasantly surprised and satisfied. It's soft bristled and cleans thoroughly. The brushes aren't as thick or rough like drugstore toothbrushes, and they feel as if they're getting into tight corners. I was DEFINITELY surprised at how well-made this toothbrush is. I don't often go back to the same product 'cause I prefer to 'test the waters' with different brands, but this is going to be a steady constant for me." —Natalie
Get a two-pack from Amazon for $9.90. 

7.
A bubbling clay mask if you struggle with blackheads and clogged pores. Reviewers say it de-gunks their pores without stripping the skin. And the foaming action will make it incredibly satisfying to use!
Promising review: "I cannot believe how nice this mask turned out to be. You apply it with the mini spatula it comes with, and slowly, it starts to foam up. After a few minutes, I wet my fingertips and started rubbing the foam down into my skin. It felt weird at first because for a minute there, I couldn't get the product off my face, but once I started to wash it away, it came right off. My skin felt tight after, and I applied my toner with no weird reaction. My skin also appeared nice and bright, so I'm very satisfied with this!" —MMM
Get it from Amazon for $11.88.

8.
A Bluetooth scanner for your car to tell you if your check engine light means your gas cap is loose or if you need to get your butt to a mechanic. You can also learn if it's time for an oil change and view real-time health data about your car using the accompanying app. 

Promising review: "My wife had been driving around in her 2006 Beetle convertible for weeks with the little idiot light on. She hadn't noticed any change in the car's performance, but we had already decided to donate the car to charity, and I wanted to know why the light was on. I had looked at OBD II sensors previously and an ad popped up for FIXD. I ordered one which arrived the next day. After setup, I ran the diagnostic and up came Error Codes P0411 and P0455, both related to the EVAP system. Sure enough, the gas cap was loose. I tightened it, re-ran the test, and the problems were gone. I used the FIXD to turn off the light and didn't spend any money on unnecessary repairs. I've only used it once, but so far, I'm completely satisfied with the product and the ease of use." —John E
Get it from Amazon for $28.99.
9.
K18, a leave-in reparative treatment for anyone who's put their hair through the wringer. It's fan-flipping-tastic at restoring moisture and softness in your strands if you frequently bleach or chemically treat your hair, or if you use heat-styling tools often.
I bleach my dark brown-black Asian hair blonde every six to eight weeks, so I was immediately intrigued when I first heard some stylists at my salon raving about K18. And it turns out the rest of the world loves it, too, because it was sold out at Sephora the first time I tried to buy it. I eventually snagged a mini bottle and was gobsmacked at how much softer my hair was. Seriously. I spent the whole day touching my hair, and even my boyfriend agreed that my mane was noticeably silkier. 

Olaplex was my go-to before I tried K18, and I still stand by it as a product, but I really love that K18 is a leave-in treatment rather than an in-shower mask. Having to let the Olaplex sit for 10 minutes felt like forever, especially when I wasn't taking an everything shower (you know, the ones where you exfoliate and shave). With K18, you let it sit in your hair for four minutes post-shower to activate, and then, you can style your hair (or just let it air dry like I do). 
I've found that my hair is softest the next day, so don't be discouraged if your hair looks or feels the same the day you use it. One last thing: It is pretty pricey, but a little goes a long way. The 5 mL tube I bought has lasted ~five washes, and eventually, K18 can become a maintenance product so you won't need to use it every time you wash your hair.
Promising review: "Using K18 hair mask has totally changed my hair life. I've been amazed by the results: My hair has a new texture; it feels softer and restored after just using it for five days. My frizzy and damaged hair looks better than it has ever looked. This is my new hair product that I will totally recommend to anyone. Super satisfied with it also." —sarpxoxo

Get it from Sephora for $75 (also available in a mini size).
10.
A handheld mini vacuum that'll suck up the pet hair, sand, dirt, and mud that's embedded in your car's carpets.
Promising review: "For the price, I'm satisfied. I do Uber, and it's a chore and hassle trying to find a good vacuum while on the go. And sometimes, I need to vacuum my car more than once a day. This makes it simple and convenient; it gets the job done, and I'll be saving time and money. Worth every penny. And the attachments allow me to get into those tight crevices by the seats. Something you'll never do with your local public vacuum." —Quinton M Rivers
Get it from Amazon for $31.99+ (available in white and black and in a cordless version). 
11.
A pair of joggers so soft and cozy they'll be your go-to for lounging, running errands, and exercising. Reviewers say they're not too baggy nor are they too loose, so prepare to feel like Goldilocks!

Promising reviews: "I feel very satisfied with this purchase. The joggers run perfect, and it's very comfortable. I love it!" —Verónica
Get them from Amazon for $28.99+ (available in women's sizes XS–XXL and 15 colors; reviewers love this plus-size option, too).
12.
A Baseboard Buddy because it makes cleaning easy when the dust and cobwebs are up high or down low thanks to its 4-foot extendable pole. Don't be too slow to add this to your cart! Your dirty baseboards, ceiling fans, grates, and molding are quaking.
The kit comes with one Baseboard Buddy and three reusable pads which can be used wet or dry. 
Promising review: "At first, I didn't think much about it. ... Then, I used it. It is incredible. The pole spins in any direction and secures tightly in place. The thick, absorbent cloth can be removed, washed, and put back within seconds. I cleaned my woodwork and ceiling fans without effort. Extremely satisfied." —Donnagnida
Get it from Amazon for $24.99. 
13.
An anti-humidity spray if you want to give humidity a metaphorical middle finger. This spray creates a waterproof coat around your hair that blocks out moisture (that eventually leads to frizziness). As if that wasn't already magical enough, this effect lasts up to 72 hours or through two to three shampoos!
Promising review: "I wear hair extensions, so I'm always looking for a product that can moisturize and add a lot of shine. This is the only product I tried in the last two years that actually does as advertised! All the other products I've tried prior to this are always in very tiny little containers, and this one is a nice-sized bottle that lasted me for at least a month; usually, the other products last maybe a day. The only thing that I'm not so fond of is the price, but it is worth every penny, so it's kind of hard to dispute that LOL. Just know that if you do splurge on this product, you will be satisfied and absolutely thrilled to see how soft and beautiful your hair looks again. I highly recommend!" —bridgett kinsey
Get it from Amazon for $26.60.