1.
A cuticle oil that'll restore your shredded nails after a gel mani. A combination of sweet almond oil, vitamin E, and jojoba softens the cuticle and strengthens your claws so you'll be proud to show them off.
Promising review: "This product is amazing. I've always had acrylic or dipped nails because my real nails have always been brittle and always break and peel. I decided to give my nails a break and wanted to try and grow them out. I can't even believe the outcome! They are stronger than ever and growing! I really wish I had taken a before pic to show the difference!" —JOE D.
Get it from Amazon for $8.50.
2.
A bleach-free, no-scrub weekly shower spray so soap scum and shower grime buildup goes bye bye without you ever having to wipe. Rinse it clean the next day, and you'll be amazed to see those hard water stains on your shower door are *poof* gone.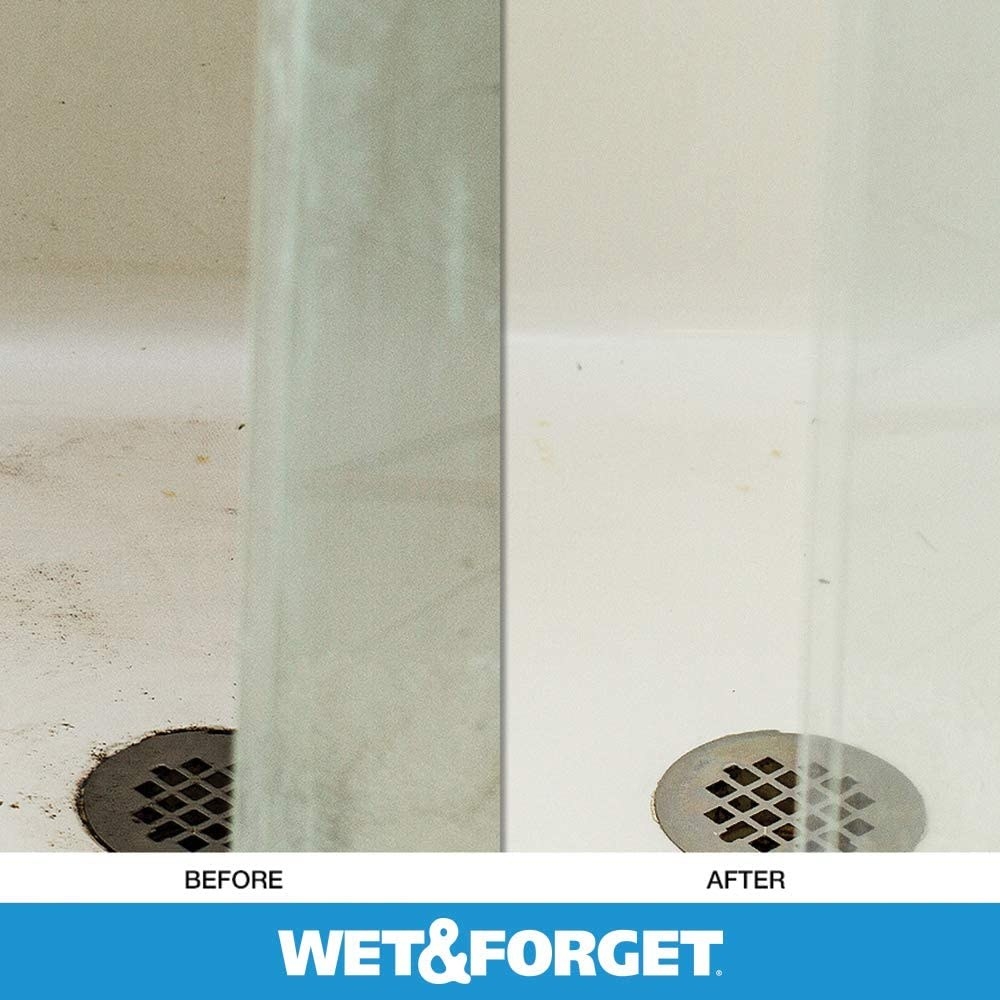 Promising review: "We cannot BEGIN to tell you what a lifesaver this is! We have two old fiberglass tubs with vinyl shower enclosures that no matter what amount of scrubbing we have done with everything from bleach to cleanser to vinegar and baking soda would NOT come clean. After I took my shower last night, I sprayed down the tub and walls. Within minutes, all the built-up water deposits and dirt and grime began to melt away in front of my eyes. I left it on overnight, and when I got up this morning, it did not look like the same tub and shower. This product is a godsend, especially for old folks like us who have difficulty getting down on our hands and knees and scrubbing anything. More importantly, it performs as advertised. We plan on using it as part of our weekly cleanup routine, in addition to purchasing the Wet and Forget Mold and Mildew Remover for use on the vinyl siding of our house. This is truly an overnight sensation!" —Amazon Customer
"I tried everything under the sun to clean the bottom of the shower. This product was the only thing that worked. Have recommended to several people since I used it the first time." —Cassie lee
Get it from Amazon for $16.89.
3.
A pack of dishwasher cleaning tablets to clean your machine as it runs. No need to sigh in frustration every time you open your dirty dishwasher to remove your "clean" dishes.
Promising review: "Convenient, easy, quick way to keep the dishwasher fresh and working at peak." —Amazon Customer
"I rarely post reviews, but this stuff has completely changed our lives. Our dishwasher, utensils, plates, and glasses were covered with dry scale and nothing we tried came close to helping. After using the tablets three times our dishwasher looks like new; our glasses are sparkling like fine china and everything else looks fabulous. Highly recommend, worth every penny, best product BY FAR!!! One great advantage is you can use it with your dishes. Some other products are used to clean the dishwasher but not to clean dishes and glasses. Buy this, you will be blown away!!! It is astounding!" —Jenny
Get a pack of six tablets from Amazon for $5.99.
4.
A bottle of Olaplex No. 3 if you're in need of a splurge-worthy repairing treatment that'll revive your dry, damaged, colored hair. As someone who spends four-plus hours bleaching my hair every six to eight weeks, I can 100% vouch for this miracle in a bottle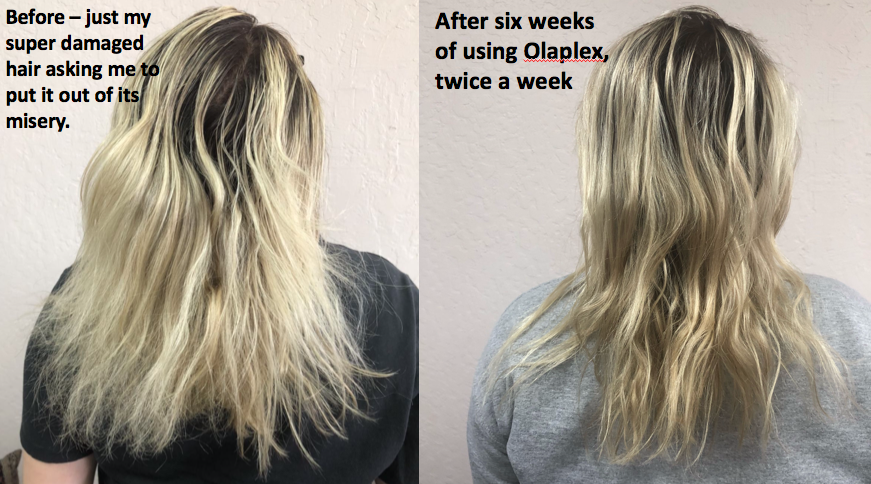 I went from very dark brown/almost black Asian hair to platinum blonde, a color I've maintained for more than four years. I truly believe the only reason I still have hair on my head is because 1. my colorist is amazing and 2. Olaplex. Despite having pretty strong hair, I remember globs of it breaking off in the shower right after I bleached my mane. In a panic, I bought a bottle of Olaplex and my hair has been thanking me ever since. I hate how expensive a single small bottle is, but I truly can't be without this. It's reduced breakage and brittleness, minimized frizziness, and just generally helped my hair look healthy.
Get it from Amazon for $28.
My colleague (pictured above) also swears by this stuff. Check out her Olaplex review here for more deets and some before and afters that'll make you buy this in bulk.
5.
A box of cleaning K-Cups for getting rid of residue in your machine and preventing flavors from transferring in just one cycle. Or have fun descaling it multiple times. Your choice!
Promising review: "Thought I was having problems with my machine. Used two cups to flush the entire coffee maker out and it started working like new. Totally satisfied!" —Dara Pazooki
Get a box of six pods from Amazon for $9.95.
6.
A teeth-whitening pen because it's a heck of a lot quicker (and tastes a lot better) than those irritating whitening strips that slip and slide all over your teeth. You can use each pen ~20 times and should expect your teeth to lighten four to eight shades.
Promising review: "I was hesitant to try a new teeth-whitening product after using harsh whitening strips that caused pain and lingering sensitivity. But, as a coffee and red wine drinker, I wanted to find a solution. This teeth whitening pen is terrific. Easy to use, works well and does not have the downside of either the strips or the $450 option at the dentist. I also really love this product since whitening my front teeth is the objective. It is a great value as I anticipate the two pens that are included will last one year. I will definitely buy this again and am very happy to recommend it." —Rebecca Shehee
Get a two-pack from Amazon for $19.99.
7.
A box of pore-tightening, skin-lifting face masks that'll truly terrify you, first because you'll look like a zombie once you've applied it, and second because it's so darn effective at reducing the appearance of wrinkles.
Promising review: "I have never written a review before but I am compelled to do so now. Let's start with what my 41-year-old face looked like. I had bumps, tiny bumps all over my skin, especially my forehead. My skin NEVER felt smooth even with the prescriptions I was give to help with these tiny bumps. Rosacea = bad bad bad. So bad that it was actually causing my cheeks to have what appeared to be thickening skin. Wrinkles, some that were quite deep. My pores were friggin huge and getting bigger day by day it seemed like. I know that it says to use this product every three days. I chose to go with every single day for the first box of eight. The results were so amazing I decided on everyday for the second box. Even more amazing results. EVERY SINGLE ISSUE LISTED ABOVE NO LONGER EXISTS!!!! I moisturize deeply after rinsing and my face looks absolutely amazing. My face did not even look like this at 30. I am hooked and I will be buying no less than three packs every single payday so I can stock up on this stuff in case they ever decide to quit selling it. If I had 10 stars available to rate I would use them and more!" —Amazon Customer
Get a box of eight masks from Amazon for $26.70.
8.
An immunity-boosting allergy supplement so your poor pup can find relief from itchy skin and allergies. These soft chews deliver a dose of probiotics and other nutrients to help improve immune function, aid digestion, promote healthy skin, and add shine to a dog's coat.
Promising review: "Absolutely the best product. It saved my itchy goldendoodle! We tried changing food, Benadryl, medicated shampoo, fish oil, everything you can imagine... nothing worked long-term. He was itching his face so badly he would make himself bleed. Had sores and scabs all over his face and neck. I bought these because they had good reviews and I was desperate. It changed his life! He no longer scratches AT ALL! His coat looks great and all of his sores are healed. He's the happiest he's been which makes me a very happy momma. He is also very picky and never eats treats... he eats these every time so that's an added bonus!" —Darcie Nation
Get them from Amazon for $26.97.
9.
A beeswax wood polisher to revive your embarrassingly worn, dinged, and dented cabinets and table quick as a flash. Plus, this method is a heck of a lot cheaper than actually replacing the wood or furniture piece, and using this polish on a regular basis can actually help keep the wood hydrated so it lasts longer.
Promising review: "Works as incredibly as the reviews said! Super fast, no strong smelly chemicals, amazing results!" —Michelle B
Get it from Amazon for $8.98.
10.
A cruelty-free lengthening mascara if you're tired of mascaras that don't live up to their promises. This one won't let you down — I promise! It's lightweight, won't transfer, doesn't smudge, and lasts all day. Consider your expectations exceeded!
Promising review: "My sister suggested Essence Lash Princess False Lash Effect and I IMMEDIATELY fell in love. It provides dramatic length and great volume. I can honestly say I can't stop looking at my eyelashes in the mirror every single day because of how awesome they look. Also, it is very long wearing. I go from an eight-hour work day right to the gym and sweat...and this stuff doesn't budge! I love it!!" —Carrie E Miller
Get it from Amazon for $4.99.
11.
A plant-based stainless-steel cleaner and polish for anyone whose family doesn't seem to understand that there are handles (handles, people!) and unnecessarily smudge the fridge with their fingerprints.
Promising review: "This is hands-down the only product that has ever perfectly cleaned my stainless steel appliances. It deserves 10 stars because nothing else comes close to removing streaks and toddler finger prints as easily and completely as this. I have tried for years to get my appliances to look like new. Everyone who has stainless should own this." —Danielle
Get a bottle from Amazon for $16.95.

12.
And a pack of AirPod cleaners because the last time you offered your buddy an earbud to listen along with you, they actually recoiled in disgust when they saw how gunked up your AirPods were. Squish the flexible square into your AirPod speaker, peel it off, and gasp in horror at the ear goop that's been dulling the sound quality.
Promising review: "I bought this after seeing it on some BuzzFeed list and thinking about how gross my AirPods probably were. When they came in the mail, I used them immediately. They got all the gunk out that was in the little holes. THEN my husband comes in and sees and wants to use them for his. I learned he has never even tried to clean his own AirPods (?!) DISGUSTING and amazing. It got everything out of his." —Amazon Customer
Get 24 from Amazon for $16.99.
13.
An eco-friendly hard water stain-remover that'll defeat stubborn soap scum and residue that's bested all your other attempts to scrub it away. It's biodegradable so the scent won't singe your nose hairs and make you gag, plus it's safe enough to use on just about anything — including shower glass, tile, granite, stainless steel, marble, brass, and porcelain.
Promising review: "I love that this product is eco friendly! I wasn't scared to use the product even though I'm pregnant. The scent kind of reminds me of toothpaste and wasn't strong. I did a quick application using an old scotch blue sponge on my bathroom shower to apply it. I left it on for about 10-15 minutes and then had my husband wash it off. He said he didn't do much scrubbing because everything just kind of came off on its own. For the corners for the shower, he used an old toothbrush to reach those difficult spots. He said those crusty areas pretty much just came off on its own with some rinsing. Amazing! I'm so glad I bought this stuff instead of some other brand I saw on Amazon which was caustic! I'd much rather wait 10 minutes for an eco friendly non toxic product to work. If you're on the fence about buying this, do it already! I wish I had discovered this sooner instead of dealing with a gross and embarrassing looking shower for so long! There were a few spots I missed or and some areas need a second application but I expected that. It took years for all that hard water to build up, I wasn't expecting it to be gone overnight. I expect the shower to look good as new after we get do a second application of this." —S. Ngov
Get it from Amazon for $18.89.
14.
A lightweight primer so you can apply your makeup to a smooth, even surface and have it stay all day. It's made with green tea extract and collagen to protect and moisturize the skin.
Promising review: "I wanted to give this product 10 stars but was only limited to five :( This stuff is AMAZING!!!! I'm almost 30 and my face has become super oily — like I can fry chicken on it by the end of the day. So for months I've neglected wearing any kind of foundation or makeup in general. After reading reviews I figured O would give this a try. The glow it gives you is AWESOME!!! It makes my skin so soft. I'm probably going to wear just this and no foundation 50% of the time. After the Texas heat..and the sun..and amounts of sweat...my face was PERFECT......STILL! No oil...no smears...no pores... This is literally sent from heaven!!!! My ONLY dislike is the fact that you cant purchase this in five-gallon buckets!" —Jessica
Get it from Amazon for $15.50.