1.
A hammered metal gold lunar garland that'll ~eclipse~ all your other bedroom decor as your favorite purchase of all time. You'll be ~over the moon~ when you see how much coziness this adds to your bedroom.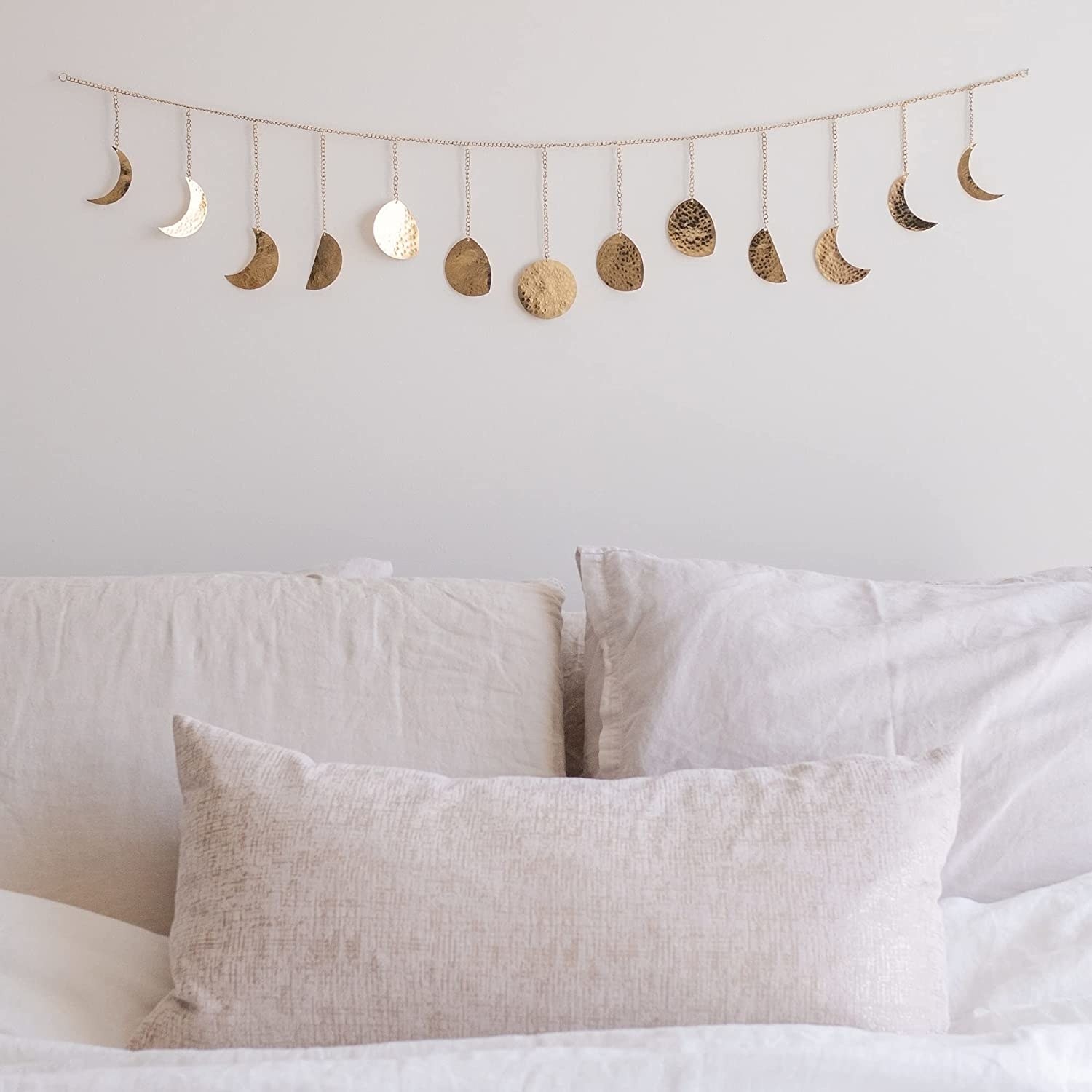 Base Roots is a woman-owned home decor shop that blends modern and traditional design elements.
Promising review: "I'm an incoming freshman this fall and I bought this to add some personality to my dorm. It has beyond exceeded my expectations! I placed it directly on top of my dorm bed as shown in the display photos and am so pleased with how it looks. It fits perfectly with the grey/white color scheme I was going for and have received numerous compliments from both my friends and RAs when they've visited. I cannot stress enough how much of an 'aesthetic feel' it adds to my dorm." —jhsgf

Get it from Amazon for $18.99.
2.
A quirky statement rug so you can bring some tropical vibes into your home.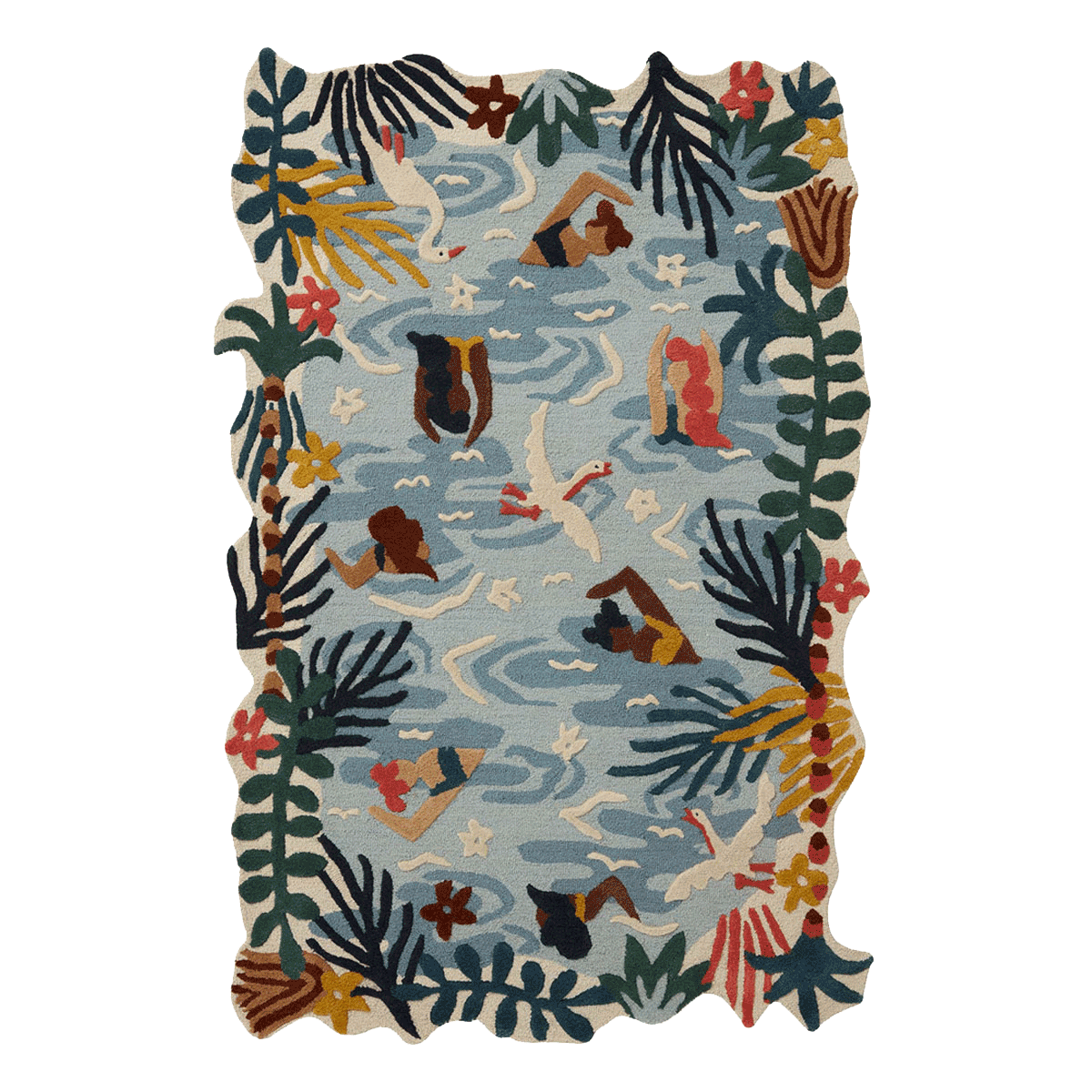 JSYK: If you like the design above with multiple swimmers and birds, you should order the larger sizes. If you order the smaller sizes, your rug will feature fewer people.
Promising review: "I love this rug! It's so unusual and lovely. The quality was really good, very thick and soft. It has different heights of shag for the different bits. I got it for my baby daughter's room, I hope she learns to crawl on it and it inspires her to swim!" —Lili
Get it from Wayfair for $59+ (available in eight sizes).
3.
An arched leaning mirror if you're looking for a downright sexy — yeah, we said that — full-length mirror to add some brightness to your room and make the space look larger.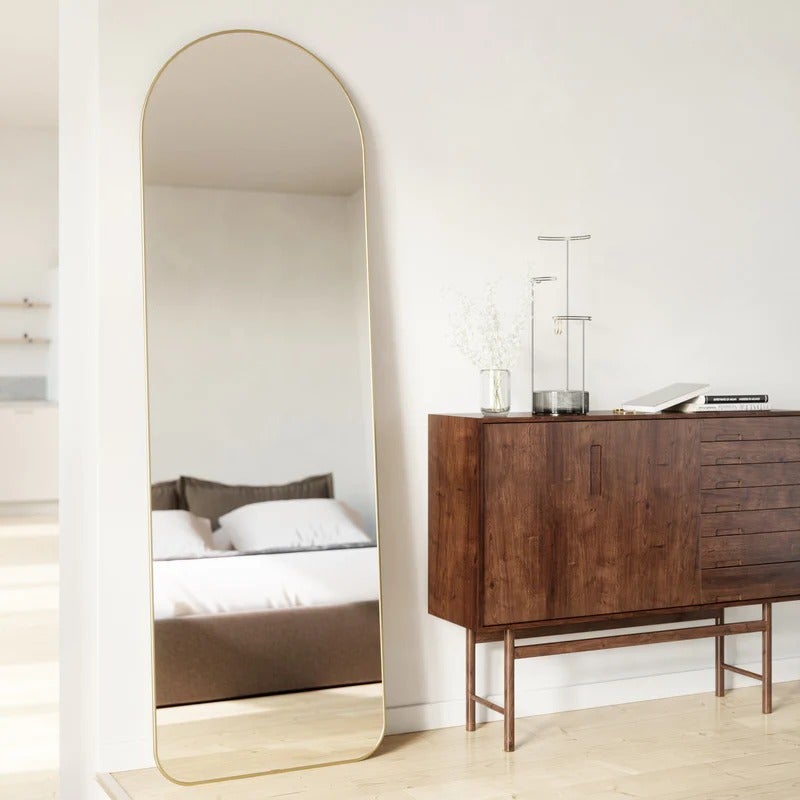 Pro tip: Place your mirror next to a window so the incoming light is reflected into the rest of the room.

If you've been looking at some very expensive standing mirrors and hemming and hawing over the $1K price tag, let me save you a bunch of money. Get this guy instead. This mirror is stunning, and the brass rim perfectly complements the gold-tone wood in my apartment. It does come with mounting hardware, which I chose not to use since I personally like the leaning look. Also, the sub $200 price tag is just *chef's kiss* given how high quality this mirror looks and feels.
Promising review: "Love this mirror, I had limited space in my bedroom due to a light switch on the right side of the wall and the mirror turned out to be perfect! Easy to hang up on the wall as well." —Sawsan

Get it from Umbra for $180 (available in brass or metallic titanium). 
4.
A prismatic window film to a) add a little privacy to certain rooms, and b) create beautiful sun cast rainbows in your new sanctuary.

Promising review: "I can't tell you how surprised and delighted we were at the rainbow effect this film has. I bought it to make a window overlooking the street more private, and I thought I would appreciate seeing the rainbow colors on the window itself. But then when the light was shining on it at the right angle, it cast these beautiful rainbow colors on the wall. So I bought a second roll to put on one of our master bedroom windows that overlooks our neighbor's patio so I don't have to draw the curtains. In the morning now, the light comes in at just the right angle to pass through the rainbow prism and cast beautiful rainbow colors on the wall. And the bed. And the cat." —J. B.

Price: $9.98+ (available in 11 sizes)
5.
A pack of floral wall decals because you've been watching home makeover shows before bed and now you fancy yourself a bit of an interior decorator. These peel and stick flowers provide all the fun of a big reveal without the stress of literally waiting for paint to dry.
Reviewers recommend mapping out where you want the stickers before placing them as the adhesive is quite sticky.
Promising review: "These were so easy to apply and were even more beautiful than I had thought. The color is rich and it makes my bedroom feel peaceful. I'm going to order another set to add some life to the adjoining bathroom." —Melissa Zimmerman
Get it from Amazon for $17.88 (available in six other designs).
6.
A set of no-show floating bookshelves for anyone without a ton of floor space that still wants to have their little library on display.
Promising review: "If you are running out of space for your books, get these bad boys right away. They are incredibly strong, can hold several heavy books, and give your bedroom an incredible look." —Amazon Customer
Get them from Amazon for $14+ (available individually or in a set of three and in two sizes).

For more recs like this, head on over to our roundup of the best small bookcases and bookshelves for small spaces.
7.
A wireless library light that'll spotlight a treasured family portrait or a collection of your favorite novels. The brightness level is adjustable (choose from warm, natural, and cool light) and controlled via remote (handy!). And you can set a timer so the lights are on when you're enjoying the cozy vibes in your living room but shut off while you're getting ready for bed so you're not using electricity overnight.
This uses three AAA batteries and includes a remote that lets you set the light to different brightnesses and schedule a timer for 15, 30, 60, or 120 minutes.
Promising review: "I really love this product, and it makes what I was wanting to use it for (illuminate some wall decor) perfectly! I've seen others use them for art/paintings and even for additional wall lighting. It's really easy to install, and having a remote to control the light settings make it extremely user friendly." —Greg
Get it from Amazon for $29.99 (available in three colors).
8.
Or, some motion-activated LED light strips so you don't have to ruin your expertly curated aesthetic with power strips, or worse, consult a costly electrician. These strips have a strong adhesive backing that'll keep them attached to all the dark nooks and crannies that need some illumination — under cabinets, around the bed frame, in the hallway, along the stairs, etc.
These charge with a standard outlet or four AA batteries. 
Promising review: "These are great; I absolutely love them. I placed them on my steps, and they are just a showstopper! Everyone had to ask about them. I especially love that you can use them connected to an outlet or without by simply placing batteries in the battery compartment. Best thing ever!!!" —Jesse
Get them from Amazon for $9.99+ (available in four lengths and in cool or warm white)
9.
A boho duvet cover if your bedroom could use an airy spring refresh. 

Promising reviews: "It was shockingly easy to put on!!! I love this; it's soft. As far as the 'fluff' goes, that depends on your duvet. This is a duvet cover...not a comforter. It's exactly as described. So pretty and folds down on my bed nicely. l got a slightly less filled new duvet to cover my place in this for the warmer months, and it looks so pretty." —Tracy
"Very surprised with this item! Super soft and easy to put on, plus looks great! Everyone loves it. I should've bought one a long time ago to make life easier. No more washing a bulky comforter all the time. Definitely recommend!!" —MeowMomma
Get it from Amazon for $34.99+ (available in sizes twin–king and 17 colors/styles; some styles do not come with a comforter).
10.
And a muslin blanket to keep you snug as a bug in a rug this spring without causing you to overheat.

Promising review: "This is the perfect throw for summer nights as it is lightweight. Yet since it is muslin, it will adjust to the climate, so I'm sure it will be so cozy during the wintertime. It's beautiful and so soft, and now, I don't have to steal my son's blankets! It is so soft, cuddly, and beautiful." —A & E

Get it from Amazon for $31.89+ (available in four sizes/styes and 11 colors)
11.
A pack of lightweight glue-on foam ceiling tiles because — surprise! — there *is* something you can do about the awful popcorn ceiling the previous homeowner installed.
Promising review: "If you're even considering doing it, JUST DO IT!! I can't even begin to tell you how easy this was, and the end result is mind blowing! When people come over (we're remodeling our newly purchased home built in 1865), their jaws drop. We put this in the sunroom/eat in kitchen area. We love it so much we'll be doing it in the bar area of the dining room. When you actually get them on the ceiling and look at your finished product, you'd never guess it's styrofoam. Caulking between the tiles was crucial to giving its overall look. That was the most difficult part. My advice (from watching hours of YouTube videos and doing research), find the center of the ceiling and work your way out. It took us two hours to do a fairly large space. We definitely overestimated how many it would take, but I'm glad we had extra on hand in the case we messed one up. Also — make sure your blade is SHARP!" —Steven
Get eight squares from Amazon for $39.71+ (also available in packs of 48 and 96).
12.
A handmade mosaic lamp for placing on your night stand so you can read by its mesmerizing light.

Promising review: "Love this lamp! The details are stunning, and lights reflected against the wall add an ambiance to our living room that is so elegant and warm. The packaging was done with care as to protect the lamp to the fullest, and assembly was easy. I'll treasure this find." —Christianne
Get it from Amazon for $55.80 (available in 11 colors).
13.
A pair of cat bookends that'll keep your books upright, much to your actual kitty's chagrin. Reviewers say these bookends are quite weighty, and they also have anti-slip stickers on the bottom = those novels aren't going anywhere (except maybe into bed with you for some nighttime reading).

Promising review: "As soon as I laid my eyes in these cute cat bookends, I knew I needed them as soon as possible. They hold up a good amount of heavy books, and since they are metal, they are pretty heavy duty and very sturdy. I highly recommend these for any avid book reader or any cat lady like myself! 😅" —Alexis Lynn Winters

Get them from Amazon for $29.90.